The best golf watch not only adds to your style but also can lower your handicap. A golf watch is a device that golfers use during the game, such as receiving distances to the fairway or the green, and other features like alerting them about water hazards and bunkers. Golf watches have a GPS antenna inside and act as a receiver to receive signals from GPS satellites. Typically these watches have a map of every single golf course around the world.
Although there are many brands of golf GPS watches, the best and most reliable brand we've found is Garmin. These watches can act like a virtual caddie who tells you important information about the course. As a result, this little accessory can provide you with a big advantage over your competitors. Whether you're a seasoned pro looking to fix minor flaws in your game, or an amateur who's teeing up for the first time, Garmin watches are a great addition to wear around while you're golfing.
Garmin is synonymous with being a reputable golf brand that delivers high-quality products, especially watches. They have a wide selection of products with different options depending on your needs. Whether you're looking for a bright and easy-to-see display, basic front-middle-back yardages, or an out-and-out fully-fledged smartwatch with various golf capabilities, they have everything you can find.
What separates Garmin from other brands is its delicate balance between convenience, usability, and high-tech features.
In a hurry? These are our top picks.
How Will a Golf Watch Improve My Game?
Before buying a watch, it's important to understand how it can improve your game.
Lower Scores
A golf GPS watch can allow you to shoot lower scores by providing accurate course information and yardages. This allows you to choose the right club and help you determine how you should approach your next shot. By taking the guesswork out of each shot, you can focus on executing a perfect swing. As a result, you'll likely save a couple of shots per round.
Ensure Faster Play
Nobody likes playing with slow golfers. No more walking around the fairway for the yardage sprinkler head. Instead, simply look down at your watch and receive accurate distances. You'll instantly know where to aim and where to avoid.
Collect Valuable Data
A golf watch isn't only a rangefinder but also a great data collection tool. You will begin to collect a history of yardages of how far you are hitting the balls with each club. Also, you'll be collecting scores, information about your swing tendencies, and other data.
The data will automatically be downloaded onto an app or computer for post-game analysis. This data is crucial for improving your game and understanding where you struggle the most.
Best Garmin Watches for Golf
So which Garmin watch is best for golf? After dozens of hours of research and testing, we've found the six best Garmin watches that they offer. We'll cover their features and who they're best designed for so you can make the judgment on which one is right for you.
Garmin Approach S62 Bundle – Best Bundle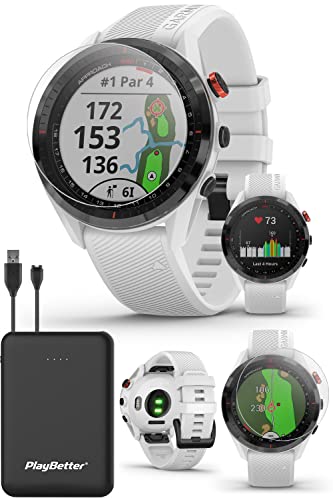 Garmin Approach S62 (White) Premium Golf GPS Watch | Built-in Virtual Caddie, Mapping & Full Color Screen | Bundle with PlayBetter Screen Protectors & Portable Brick Charger
[GARMIN APPROACH S62 PREMIUM GOLF WATCH] - Experience next-level play with this golf GPS watch for men and women featuring a virtual caddie, golf performance stats, full-color mapping, and battery life of up to 20 hours in GPS mode.
[YOUR OWN CADDIE IN A WATCH] - This Garmin golf watch offers a Virtual Caddie feature that suggests a club based on the typical distance of your swings unlike other GPS golf watches for men and women. Get the help you need with this advanced feature!
[BEST GOLF WATCH OF 2022 + SEE YOUR STATS INSTANTLY] - The Approach S62 Golf GPS Watch delivers detailed distance maps on more than 41,000 courses, hazard view, plus wind and speed direction displayed on its 13% larger display. Play easier with this touchscreen swings watch! It's unquestionably the best golf watch of 2022!
[YOUR ACTIVITY TRACKER ON THE COURSE] - This golf score counter keeps track of your heart rate while enjoying sports such as running, cycling, and swimming. The Approach S62 smartwatch also sends important notifications and access to Garmin Pay.
[GARMIN APPROACH S62 POWER BUNDLE] - **UPDATED, MORE POWERFUL PORTABLE CHARGER** Garmin Approach S62 Premium Golf Smartwatch, PlayBetter 5000mAh Portable Charger, HD Tempered Glass Screen Protectors (4-Pack) & Charging Cable
Last update on 2023-11-18 / Affiliate links / Images from Amazon Product Advertising API
The Garmin Approach S62 is, frankly, the best golf watch we've seen in the market. It has some noticeable improvements to the S60. With the bundle, you get access to a myriad of tech. The package includes the PlayBetter portable charger, 4 packs of HD screen protectors, the S62 golf watch, and a USB charging cable.
What's Improved?
We've noticed that it's much faster, especially when accessing points in the on-screen map. Previously, there was a slight delay, but the S62 is instantaneous. In addition, the hazard information has been updated. Without having to select various hazard locations on the map manually, you can toggle through the distance of various sand traps and other points to avoid.
Also, we've found the resolution to be much sharper where you can make out the details of the map. The S62 has quite a long-lasting battery as well. According to Garmin, the watch lasts up to 20 hours while you're on GPS mode. Many of the Garmin watches only last up to 15 hours. Personally, we've noticed that it lasts about 3 hours before needing a recharge.
S62 Features
Like many other Garmin models, it is compatible with iOS and Android. Users can easily record their personal scores and access over 41,000 golf courses.
With the S62, you can obtain accurate distances, letting you know how far you stand between you and the green or the hazards. Especially if you're unfamiliar with the course, having information about the hazards and geography is incredibly useful.
Also, their AutoShot feature automatically keeps track of the score and all of your shots. This allows you to gain insight into how you're performing. Based on the conditions and your previous performance from the data, the virtual caddie features advise you on what club you should use.
Garmin Approach S10 – Best for Entry Level Golfers
No products found.
The Garmin Approach S10 is the perfect golf watch for beginners and is very easy to use. It'll display distances to everything on the course, such as the greens, creeks, doglegs, and bunkers.
It doesn't have all of the fancy features that the other Garmin watches have. However, it comes at a much lower price, which is great for beginner golfers who only want to know distances.
Design
The S10 follows a square design similar to many smartwatches used to track fitness activities. It offers four buttons on the sides of the watch to help with navigation and accessing its features. This watch uses a buckle-fastened silicone that stays on securely. In addition, it is completely water-resistant, making it very useful in rainy conditions. The screen has a sunlight-readable display allowing users to read the content of their screens even when the sun is burning bright.
Main Features
Gone are the days of writing down your scores on a piece of paper. The S10 will provide a summary of how you performed from round to round. It shows data such as distance, total time, and score. As you continue to play more games, the digital scorecards will be uploaded to the Garmin Golf app. On the app, you can compete with other golfers through their tournaments and leaderboards.
Like the other watches, it displays green mapping and accurate distances. You'll be able to see exact distances for each hole along with distances to various hazards to avoid.
The watch itself has a rechargeable battery life of 12 hours on the GPS mode, allowing you to play a few rounds before charging is needed.
Garmin Approach S42 – Great for On and Off the Golf Course
No products found.
The Garmin Approach S42 is an excellent midrange to enhance your golf game and track your fitness activities off the course.
On the Course Features
On the golf course, the S42 features the Green View mapping, where you can see the true shape of the green. It allows you to better aim and strategizes your plan when putting. In addition, you can drag and drop the pin on the green for increased accuracy. Users can quickly view their distances to the front, middle, and back of the green.
Off the Course Features
It's nice to have a golf watch that works off the course as well. The S42 features the ability to track your calories, sleep, and steps to ensure optimal fitness and health. You can also receive vibration alerts for incoming calls, emails, and texts, so you never miss an important message.
Garmin Approach S62 – Best Overall Watch
Sale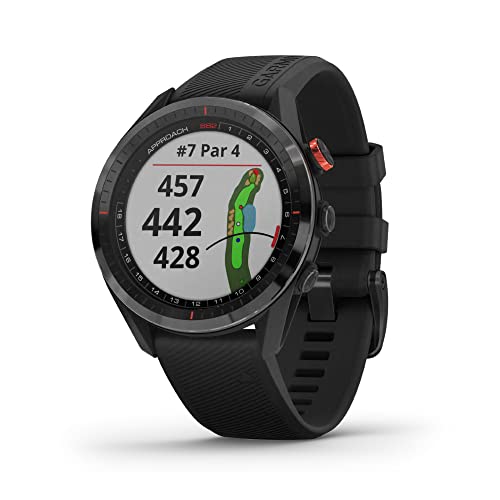 Garmin 010-02200-00 Approach S62, Premium Golf GPS Watch, Built-in Virtual Caddie, Mapping and Full Color Screen, Black
Large 1. 3" easy-to-read color touchscreen display (18% larger than Approach S60) with scratch-resistant ceramic bezel and interchangeable QuickFit bands
Battery life: up to 20 hours in GPS mode, 14 days in smartwatch mode
Virtual Caddie suggests club based on typical distance the golfer hits that club, factors in wind speed and direction, and indicates where the golfer should aim on the map
Hazard View allows you to quickly scroll through each hazard on the map
PlaysLike Distance feature accounts for uphill and downhill shots
PinPointer feature tells you the direction to the pin when you have a blind shot so you can know where the pin is —even if you can't see it
Green View feature allows manual pin positioning; quickly reference distances to the front, middle and back of the green as well as hazards and doglegs
Garmin Pay is a contactless payment solution (not all countries and payment networks are eligible) that lets you make convenient payments with your watch
Pair with the Garmin Golf app for strokes gained analysis, to participate in leaderboards and tournaments, and to gain more insights into your game
More than 41, 000 full-color CourseView maps preloaded from around the world
Last update on 2023-11-18 / Affiliate links / Images from Amazon Product Advertising API
The S62 is by far the best Garmin watch available. It's suited for all levels of golfers. Seasoned pros will enjoy the Virtual Caddie feature to enhance their game.
Ease of Use
The S62 adds a lot of upgrades compared to many other Garmin watches. For example, it has touch screen capability allowing users to scroll through pages easily. Some of the basic models use buttons and don't have touchscreen capability.
With the touchscreen, users can also drag the pin of their location to ensure the most accurate distance. We also find their flyover maps to be incredibly realistic. Users can toggle between water hazard distances, bunker, layup target, or any other location.
The S62 comes in a larger screen measured at 1.3″, 17% larger than its previous model. With the larger screen, it's much easier to use the touchscreen and easy to read all of the content.
Features
In addition, the S62 has the Virtual Caddie feature that recommends the most optimal club to use. The Virtual Caddie factors include wind speed, direction, uphill or downhill slopes, total distance, hazards, and even your previous results.
One of the big advantages of using the S62 is its impressive accuracy. It accounts for uphill and downhill slopes when calculating the yardages. Also, the watch can display wind speed and direction, so golfers may factor the conditions in and know how hard to hit the ball and where to aim.
Garmin Approach S40 – Best for Game Improvement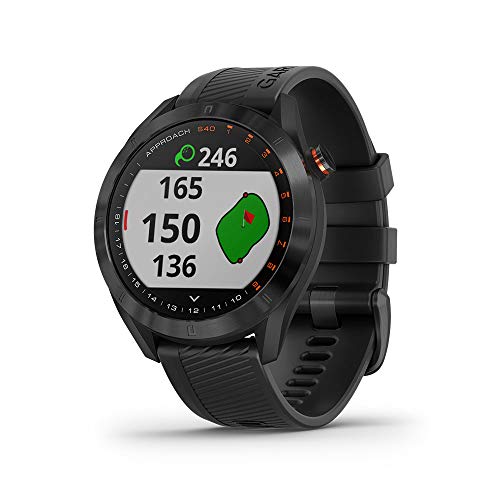 Garmin Approach S40, Stylish GPS Golf Smartwatch, Lightweight with Touchscreen Display, Black
Stylish lightweight GPS golf watch with a sunlight-readable 1 2" color touchscreen display with metal bezel and quick release bands for easy change of style or color
Preloaded with more than 41 000 courses from around the world.Strap material:Silicone
Measures and auto-records detected shot distances putts are not tracked and some other shots such as chips around the green may not be tracked pair with optional Approach CT10
Green View feature allows manual pin positioning quickly reference distances to the front middle and back of the green as well as hazards and doglegs
Tracks everyday activities such as steps sleep and includes built-in multisport profiles.Battery life up to 15 hours in GPS mode up to 10 days in smartwatch mode.Included Components: Approach S40; Charging or Data Cable; Documentation
Last update on 2023-11-18 / Affiliate links / Images from Amazon Product Advertising API
For those looking to advance their game to the next level, the Garmin Approach S40 is a great option. It offers plenty of features so that you can make better in-game adjustments.
Features
The Garmin S40 provides a shot tracking capability. Most watches simply measure the distance to a given target. However, the S40 can easily track all of your shots automatically. It will automatically measure your shots, which is crucial to understanding how you performed and where you can improve upon.
In addition, it calculates distances to the green, doglegs, and hazard, so that you can better gameplan each round. With the Green View, you can see the shape of the green and better aim your shots.
Design
The S40 is a stylish lightweight watch available in three colors: black, light gold with white band, and stainless steel with a gray band. It has a beautiful sunlight-readable display measured at 1.2″, making it easy to read even when the sun is at its brightest.
What to Look for in a Garmin Watch? – Buyers Guide
Although most Garmin watches include these features, it's important to understand what these features do so that you can take advantage of them.
Basic Distance Information
Any golf watch should have a GPS function that accurately displays yardages on the screen to act as your virtual caddie. The screen should display distances to the front, back, and center of the green. Most Garmin watches will even include yardages to doglegs and hazards.
Individual Shot Tracking Distance
If you're trying to learn how far you are hitting your shots with each golf club, it's useful to have a shot tracking distance feature. For example, you would click "begin" then hit your tee shot. Next, head over to where your golf ball landed and click "send." You'll know how far you hit your shot.
Auto-Course Recognition
Rather than having to search a particular golf course on your device manually, the golf watch should have an auto-course recognition that automatically recognizes which course you're at. This saves you time and allows you to focus on the game.
Touch to Target
Calculating the distance between you and the target should be easy to do. Many Garmin watches allow you to touch a specific location to pinpoint the distance between you and a certain point. For example, you may want to manually check the specific distances to various bunkers or layup zones to avoid.
Green Mapping
All of the Garmin Watches have the green mapping feature, which shows the actual shape of the green. This is extremely helpful when you are quite far from the green and want to know where you need to aim. With the green mapping, you'll be able to see the depth and width of the green.
 Preloaded Golf Courses
Many older golf watches require you to connect the watch to your computer and download maps of golf courses. Fortunately, the Garmin watch comes with over 42,000 golf courses worldwide. In addition, Garmin will automatically update their courses so that you're always getting the most accurate layout.
Waterproof
Waterproof watches are a must. Garmin has watches that can withstand water, which is useful for rainy days, water spills, or excessive sweating on hot days.
Touch Screen
Touch screens are a very useful feature to have. Although many golf watches use buttons on the outer edge to navigate different pages, Garmin watches use a touch screen. This makes navigation extremely easy. Some of the screens are larger, making it convenient to pinpoint locations or scroll through the apps and pages.
Long Battery Life
Battery life is a crucial component of any golf watch. Ideally, you'll want the watch to last all 18 holes. Even better if it can last multiple rounds so that you won't have to charge your watch after each round continuously.
Standard golf watches only last about 10 watches. However, many Garmin watches have a battery life that lasts between 15 to 30 hours on GPS mode. In addition, they are rechargeable, so that you won't have to buy new batteries constantly.
Swing Analysis
Some of the more advanced Garmin watches allow you to connect to tracking sensors. These provide in-depth swing analysis to track swing speed, swing path, ball speed, launch angle, and other swing metrics. This allows you to identify your swing mistakes and make adjustments to improve your game.
Fitness Tracking
Golf watches can also make great sports watch as well. Many of them offer fitness tracking for you to track data such as calories burned, miles walked, and daily steps. Some of them will even track your sleep!
Smartphone Apps
Luckily, Garmin offers an app that you can connect the watches to. These apps typically give you access to helpful resources, tools, and data to enhance your game.
With Garmin Connect, your Garmin watch will have extra features such as golf swing data, scorecard analysis, fitness activity data, and an online forum where golfers can interact with them.
Final Thoughts
After reviewing all of the Garmin watches, we believe the S62 is the best option available. It's the most high-tech of them all. Not only does it provide accurate distances, but it also has a Virtual Caddie to give you advice on which club to use. Also, the calculations are based on slopes, wind, and even your average distances off the tee.
Accessories like the golf watch can make a huge difference in your game. Whether you're in-game or practicing, it's nice to have some assistance. We hope you found our Garmin watch review helpful.
Which Garmin Watch is Best for Golf? | Our Top 5 Picks
So which Garmin watch is best for golf? After dozens of hours of research and testing, we've found the six best Garmin watches that they offer. We'll cover their features and who they're best designed for so you can make the judgment on which one is right for you.
Product In-Stock: InStock