If you are on a budget or prefer not to spend a lot of money on a pair of golf shoes, there is still a wide range of selections for you. Golf can get quite pricey because you will need the proper set of equipment to get started. And of course, this includes the shoes. Manufacturers do not hold back when it comes to the innovation and production of higher-performing, more comfortable golf shoes. They use the best quality leather, which is the reason why some shoes can be more expensive than the standard ones.
A lot of models today cost over $200, but if you are on a stricter budget, you still have options that offer great comfort, durability, and performance. When it comes to style, it is a matter of personal preference, from spiked or spikeless to sporty or traditional. So, we have made a list of the best budget golf shoes to narrow down your choices.
Skechers Performance Go Golf Elite 3
Callaway Solana Trx Golf Shoe
New Balance Men's LinksPro Golf Shoe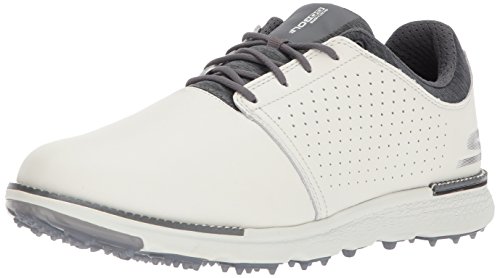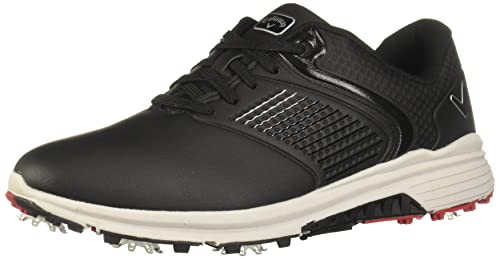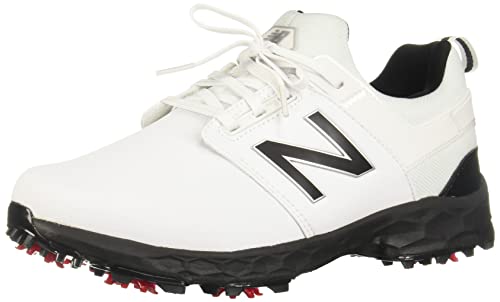 Skechers Performance Go Golf Elite 3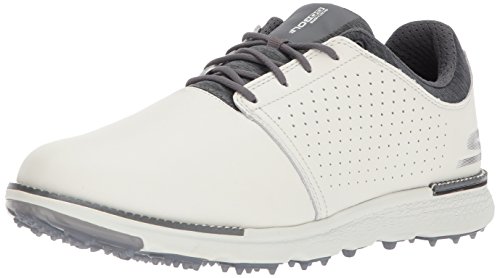 Callaway Solana Trx Golf Shoe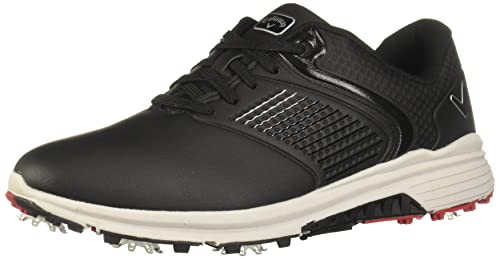 New Balance Men's LinksPro Golf Shoe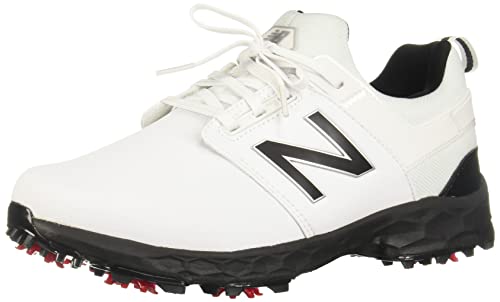 Last update on 2023-11-24 / Affiliate links / Images from Amazon Product Advertising API
Skechers Go Golf Elite 3 Golf Shoes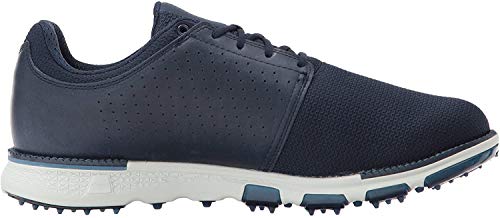 Last update on 2023-11-24 / Affiliate links / Images from Amazon Product Advertising API
Play in the highest level of comfort with the Skechers GO GOLF Elite V.3 Golf Shoes. Made with the high-performance Resamax® cushioned insole, these shoes offer unequaled comfort and support. The durable grip TPU bottom plate provides improved traction for all golf courses, while the Skechers H2GO Shield gives 100% waterproof protection and helps your feet stay dry when you play in wet conditions.
Moreover, the shoes feature the Skechers 5-GEN lightweight and responsive cushioning along with the full leather upper and DRI-LEX moisture management interior. So if you want to get comfort, complete waterproofing, and quality at an affordable price, the Skechers Go Golf Elite V. 3 might be the best budget golf shoes for you.
The shoes are available in four different colors and are also available in high quality, full-grain premium leather LX version in Charcoal with Red Trim.
Features:
Premium leather upper – smooth and deco-stitched for style, comfort, and durability
H2GO Shield technology – offers complete waterproof protection from the elements
5GEN cushioning – responsive and lightweight for remarkable comfort
Resamax insole – high-performance and cushioned to ensure lasting comfort
Spikeless TPU traction outsole – offers durable grip to improve stability on all kinds of terrain
PUMA Ignite Pwradapt Caged
Sale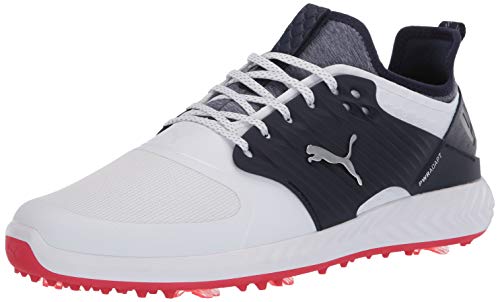 Last update on 2023-11-24 / Affiliate links / Images from Amazon Product Advertising API
The PUMA Ignite Pwradapt Caged might be the right one for you if you want the best budget golf shoes. It is designed to provide you with the power to adapt. More traction and more comfort result in PWRADAPT.
These shoes feature performance flat knit mesh and synthetic upper that is very breathable. The bootie construction replaces the common tongue to enhance comfort, fit, and support.
PWRCAGE saddle unit offers additional support and fit, while the IGNITE Foam cushioning promotes responsive energy return, stability, and comfort. Located at the heel is the heel lock window, which cups your heel and locks your foot into place as the laces are tightened.
Features:
Performance flat knit mesh and synthetic upper – highly breathable. The bootie construction replaces the standard tongue for better comfort, fit, and support
PWRCAGE saddle unit – wrapped around the medial and lateral side of the shoe and combined with the midsole, providing better support and fit
Heel lock window – part of the PWRCAGE that can be found at the heel. Locks your foot in place when the laces are tightened up
Adaptive Fit System – gives 360-degree support by means of the internal bootie
PWRADAPT technology – a combination of the overall comfort of the shoe and the innovative traction system
PWRFRAME technology – a thin layer of TPU strategically positioned in high-stress areas
IGNITE Foam cushioning – the whole length of the shoe offers responsive energy return, stability, and comfort
PRO-FIT insole – provides extra cushioning
Gripzone traction – features 7 Tornado cleats; Makes 3-dimensional traction, which adapts to your moves. It is a mixture of traction lugs or nubs with various sizes and Tornado cleats
Callaway Men's Solana XT Golf Shoe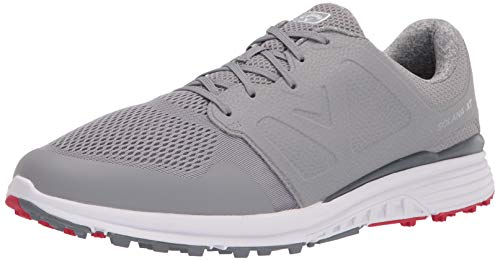 Callaway mens Solana Xt Golf Shoe, Grey, 10.5 US
Performance mesh upper with 3D stability cage for maximum support and breathability
Opti-soft EVA midsole for natural ground feel and comfort
Spikeless dura-rubber outsole with multi-directional traction lugs
5mm PLUSfoam insole for increased comfort
Last update on 2023-11-24 / Affiliate links / Images from Amazon Product Advertising API
The Callaway Solana XT might be worth your consideration if you are looking to buy the best budget golf shoes. It is perfect for men who often walk a mile in a pair of shoes, particularly on the course.
With the combination of comfort and technology, the brand has produced a sleek and spikeless golf shoe. The Dura-Rubber outsole comes with multidirectional traction-control lugs, which hold ground in every way to avoid slipping, enabling you to dig in for your perfect swing.
The lightweight performance mesh uppers equipped with Opti-Vent mesh liners create the perfect blend of protection and breathability. Opti-Soft EVA midsole is integrated with EVA insoles to ensure a natural ground feel for a comfortable ride.
Features:
Performance mesh upper – features 3D stability cage to provide top-notch support and breathability
Opti-soft EVA midsole – offers a natural ground feel for a very comfortable experience
Spikeless Dura-Rubber outsole with multidirectional traction lugs – anti-slip; promotes stability and control on any type of terrain
5mm PLUS Foam insole – maximizes comfort on each step
Opti-vent mesh liner – improves ventilation and heat management
Nike Men's Roshe G Golf Shoe
Last update on 2023-11-24 / Affiliate links / Images from Amazon Product Advertising API
The Nike Roshe G Shoe is another fantastic choice for those who are searching for the best budget golf shoes. It features a modern look with a mesh upper to ensure outstanding breathability for male golfers.
With the soft and flexible foam midsole cushions, you can count on this shoe to provide you with great comfort every step on and off the course. It has a pressure-mapped outsole that provides traction when you need it the most.
If you are a male golfer who wants to get maximum comfort as you walk and run uphill or through terrains, then the Nike Roshe G would be perfect for you. You can have this shoe as your best pick to make sure you get exceptional stability and cushioning without sacrificing style.
Features:
Mesh upper – extremely breathable. This minimal upper wraps your foot, which provides a lightweight and sock-like fit
Phylon midsole – provides durable, lightweight cushioning
Pressure-mapped outsole – features clusters of traction nubs strategically placed in high-pressure areas to ensure superior grip
Adidas Men's Tech Response Golf Shoe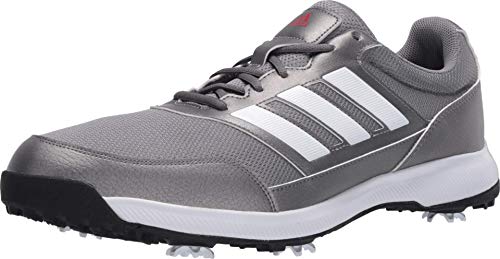 adidas Men's Tech Response 2.0 Golf Shoe, Grey, 10.5 Medium US
Lightweight, breathable, stable feel
Lace closure
Textile and synthetic upper
Durable non-marking adiwear outsole with X-Traxion primary lugs for grip and balance and green-friendly thintech EXP cleats
Lightweight Cloudfoam sockliner
Wide fit
Tour Performance wide build
Last update on 2023-11-24 / Affiliate links / Images from Amazon Product Advertising API
If you prefer a spiked shoe but would like to have the comfort of a spikeless one while walking the course, the Adidas Tech Response golf shoe could be the one for you. It is very lightweight, and it has an improved mesh upper layer to keep your feet dry even if it does not feature waterproof protection.
The shoe is built to provide you with a lightweight feel and amazing stability. The spiked sole gives optimal traction during all the phases of your swing.
The Adidas Men's Tech Response Golf Shoe is one of the most popular footwear among golfers. Not only will it make you look like a real professional, but it is also incredibly comfortable and lightweight, helping you to take your game to the next level.
Features:
Cloudfoam EVA Sockliner – delivers increased support and cushioning
ThinTech Technology – low-profile outsole technology that brings you even closer to the ground; enhances balance, stability, power transfer, footwork, and overall performance
Adiwear outsole – outstandingly durable, non-marking rubber outsole; provides a great balance of abrasion-resistance, flexibility, and traction
ThinTech EXP cleats with Traxion secondary lugs – 6-spike outsole that enhances traction, durability, stability, and green friendliness; innovative and very versatile outsole; provides excellent grip and steadiness throughout your swing
Combination of mesh and microfiber leather to improve comfort and breathability
Superb performance
FootJoy FJ Flex Golf Shoes
No products found.
The FootJoy Flex really deserves to be included in our list of the best budget golf shoes. Ideal for a quick nine holes after work or some practice time, it has a wide variety of appealing features. The styling of this shoe is on point, and it goes with multiple outfits in any of the three colors you may choose.
The Versa-Trax outsole is made with traction elements, which is great for on-course performance with wear-to-the-course flexibility. With the aid of a soft EVA midsole underfoot, the lightweight mesh upper provides extremely good comfort and breathability.
In the dry conditions the shoe is designed for; the grip is highly effective. It is really wider-fitting than the majority of the other FootJoy models, so make sure to try it before you purchase.
Comfort, without a doubt, is the stand-out feature of the FootJoy Flex Golf Shoe. You could wear it while walking 18 holes on the course and then walk home without feeling any pain or discomfort.
While it is missing waterproof protection, many golfers still opt for this shoe for hot weather, considering the lower price point. Aside from offering many advantages, Flex comes in three different colors so you can match them to your favorite summer outfit.
When you take into account the comfort, versatility, styling, and value for money, the FootJoy Flex Golf Shoe is absolutely worth buying.
Features:
Lightweight performance mesh – provides outstanding all-day comfort with extreme breathability
Versa-Trax outsole – delivers incredible grip as you walk the course
Soft EVA midsole – offers increased underfoot cushioning, improved comfort, and unmatched stability
New Balance Fresh Foam Links Pro
New Balance Men's LinksPro Golf Shoe, Black, 10.5 Wide
Waterproof microfiber leather/performance mesh upper with TPU eyestay
Exoskeleton TPU outsole designed to move with the natural motion of your foot with FastTwist 3.0 removable Pulsar cleats
10mm drop Fresh Foam innovative midsole provides ultra-cush, cloud-like feel
Molded CUSH+ insole for superior comfort
Last update on 2023-11-24 / Affiliate links / Images from Amazon Product Advertising API
The New Balance NB Fresh Foam Links Pro Golf Shoe is really worth recommending. It features the soft, supportive and adaptable Fresh Foam midsole that delivers great cushioning. This provides a cloud-like feel and stabilizes the perimeter of your foot, keeping you planted while you swing.
The waterproof leather and mesh upper aids in keeping your feet dry during wet conditions. For enhanced grip and stability, New Balance made the TPU outsole adapt to the natural movements of your foot and also added FastTwist 3.0 Pulsar cleats.
Features:
Microfiber leather and performance mesh upper – features TPU eyestay ; waterproof, durable, and breathable; Lightweight – feels like a running shoe
Bootie upper construction – hugs your foot for a snug and supportive fit
Exoskeleton TPU outsole – features FastTwist 3.0 Pulsar spikes; Exoskeleton is designed to move with the natural motion of your foot
CUSH+ cushioning – ultra-soft; provides comfort throughout the day without compromising support
Fresh Foam midsole – lightweight and ultra-cushioned
ECCO Biom 2 Hybrid Golf Shoes For Men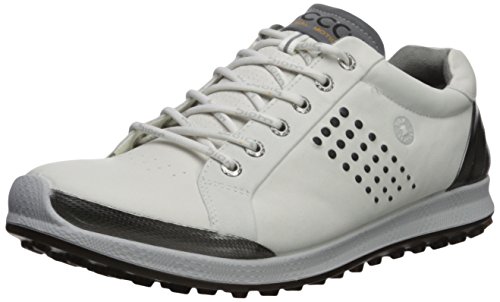 ECCO Men's Biom Hybrid 2 Hydromax Golf Shoe, White/Black, 9-9.5
Weather Resistance; Naturally soft, breathable and strong yak leather uppers are treated with HYDROMAX and an anti stain formula for superb protection from the elements
Anatomical Last Shape; Developed by scanning the feet of 2,500 athletes to provide ideal levels of support
Tour Proven Traction; Constructed from TPU; a highly durable, wear resistant material; the molded traction bars offer hundreds of traction angles for superb grip
Technical Insole System; A new, ultra premium insole with silicon printing helps prevent unwanted foot movement during the swing
Removable insole
Last update on 2023-11-24 / Affiliate links / Images from Amazon Product Advertising API
The ECCO Biom 2 Hybrid is a premium quality shoe that provides maximum comfort with a fashionable look. While it can be expensive, the shoe boasts of high-quality features, including a spikeless sole, non-slip gum rubber sole, durability, and ultra-premium insole support system that keeps golfers comfortable and tireless after every swing.
This shoe is waterproof and suitable for all kinds of weather with HydroMax weather protection technology that helps make sure your feet stay warm and dry during rainy days. It is a well-made golf shoe composed of leather and synthetic materials for exceptional durability, while the outer part is crafted from yak leather to make sure the shoe lasts longer than the normal leather.
The ECCO Biom 2 Hybrid is a classic and trendy golf shoe that is designed with various color pattern combinations along with a spikeless outsole, making it suitable to use for both on and off the course.
With enhanced technology, high-quality materials, and superior craftsmanship, the ECCO Biom 2 Hybrid is one of the most comfortable golf shoes you will ever find.
Features:
Yak leather upper – treated with Hydromax; soft, breathable, and durable. The Hydromax and anti-stain formula keeps you protected against all the elements
TPU outsole – features E-DTS Hybrid traction; extremely durable and water-resistant. Traction bars gives 800 traction points or angle
Technical insole system – premium insole that has silicon printing; helps avoid unwanted foot movement throughout the swing
The shoe is closer to the ground to increase stability
Frequently Asked Questions
What are the different types of golf shoes available on the market, and what are their features?
You will find several types of golf shoes on the market that offers style, quality, and traction.
The first one is the spiked golf shoe, which is the favorite for both younger amateurs and professional golfers. It features a rigid outsole made of compound materials that deliver strength and outstanding grip. The only downside to spiked shoes is that they can be hard on your feet during a round.
Next is the spikeless shoe that is designed to provide comfort. It features softer studs or dimples, which serve as a replacement for flared and hard plastic spikes. The outsole of spikeless shoes is softer, making them the ideal shoes for walking golfers because of their overall comfort.
Lastly, old metal spikes are still available on the market. These shoes were very popular back in the days of Jack Nicklaus and Arnold Palmer. Constructed of tough leather and hard rubber soles, the metal spike shoes have fallen in value due to their stiffness and the damage that they do on golf courses.
On top all that, golf shoes especially made for women are also available.
How long will a pair of golf shoes last?
It will depend on how often you play and practice as well as the type of course that you walk around.  All shoes stretch over the course of time as they mold to your foot and walking style.  Usually, the sole will not wear off as much as a standard shoe, but your extreme rotational movements in the golf swing causes the upper to stretch more quickly.
If you are beginning to feel a bit unstable while swinging, then it is probably time to change your shoes.  Some golf professionals own a couple of pairs – a summer pair and a winter pair, which lasts then about two years.
How do I maintain the look and performance of my golf shoes?
To maintain the look and performance of your golf shoes, it is necessary to take extra care of them. Here are the top tips that should help you keep your shoes looking as good as new for a year or two:
If you play golf frequently and can afford it, then it would be a great idea to buy two pairs.  Your feet tend to get sweaty when you walk for long periods, and having two pairs allows you to wear them alternately and give each other a chance to dry out. This also means that you can match your shoes to your golf attire.
Use a shoe horn when you put on your golf shoes to protect the back of them.
Make it a habit to keep an eye out for the wear and tear on your spikes.  You do not need to change all of them, just the ones that require replacement.
Do not leave your shoes in the trunk of your car when you are not wearing them, especially if you have been golfing in wet conditions. Warm, humid temperatures can cause the materials they are made from to break down, which decreases their lifespan.
Clean and polish your shoes after each round – a smart golfer is a happy golfer!
Best Budget Golf Shoes – Final Thoughts
Apparently, there is no limit when you search for the best budget golf shoes online. Whether you prefer a pair of spikeless shoes for your feet or the traditional, full-grain leather shoes with spikes, you have a wide range of options.
In times past, choosing the right golf shoes to buy was as simple as price, style, and comfort. But in this day and age, there is so much more to consider when deciding on your next pair of golf shoes. You should think about the type of spikes you prefer, the condition you are going to play in, and the type of laces you want. If you are frequently golfing, it would be ideal to have two pairs of shoes.
Having that said, there are people who want to play golf but are on a strict budget. That is why we have made this article to give you an idea of which golf shoes are of high quality but do not cost a lot of money.
It takes an excellent pair of golf shoes to be able to strike your shot flawlessly, so pick from our list of the best budget golf shoes above and take your game to the next level.
Best Budget Golf Shoes | Our Top 8 Picks
Looking for the best budget golf shoes? We'll help you find a pair that fits your needs. These are the eight best pairs on the market right now.
Product Currency: USD
Product In-Stock: InStock