Best Gloves for Hot Weather
Most amateur golfers tend to focus on some of the less essential accessories, such as golf hats or shoes, but disregard golf gloves. During hot weather seasons, a golf glove is extremely crucial for performance and comfort. Your hands are the only thing that touches the club, and it's vital to keep them dry. Having the right golf glove can provide a firm grip to control your swings better and keep your hand comfortable in the heat. There are a wide selection of options to choose from, such as the type of material, fit, and various brands that sell them. We'll cover the best gloves for hot weather and give you our top pick!
Our Top Pick
FootJoy Mens WeatherSoft 2 Pack
Finger Ten Men's Golf Glove
Best Value
Bionic Gloves StableGrip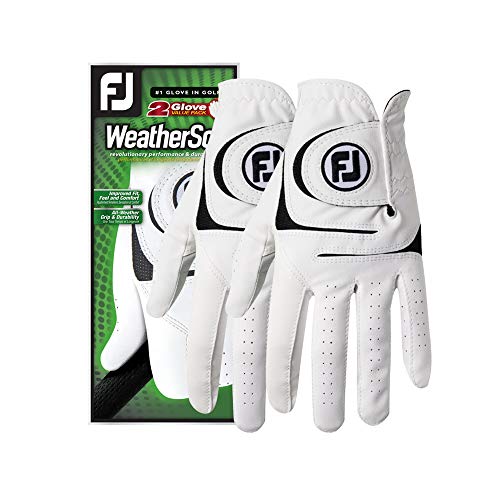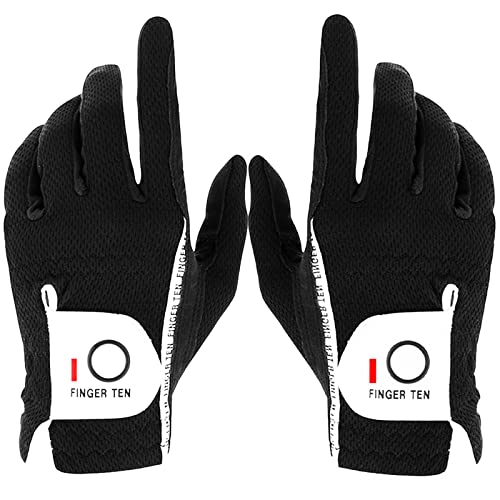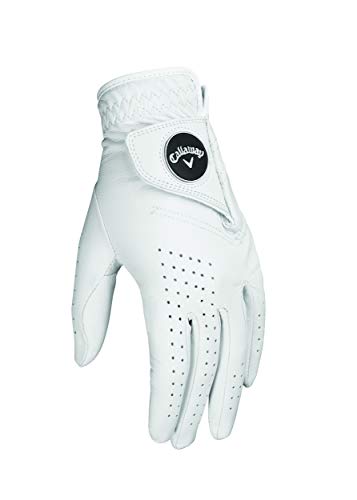 Our Top Pick
FootJoy Mens WeatherSoft 2 Pack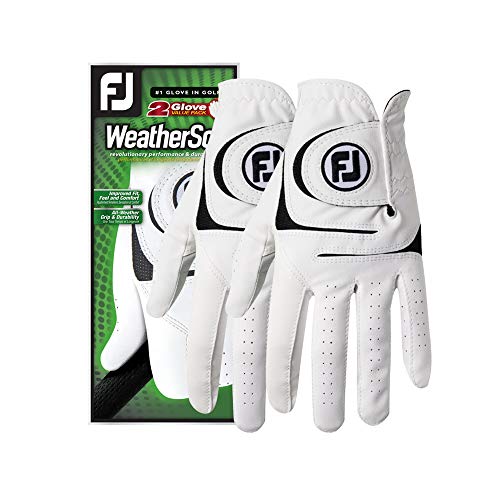 Finger Ten Men's Golf Glove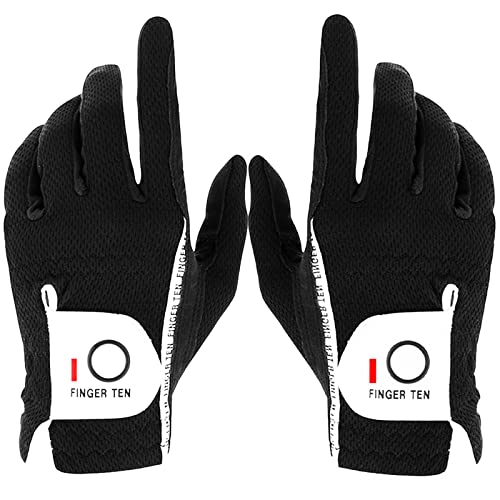 Best Value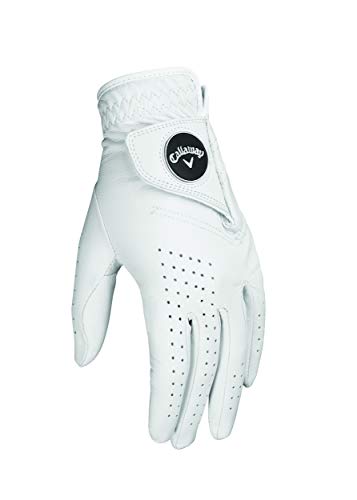 Last update on 2023-09-21 / Affiliate links / Images from Amazon Product Advertising API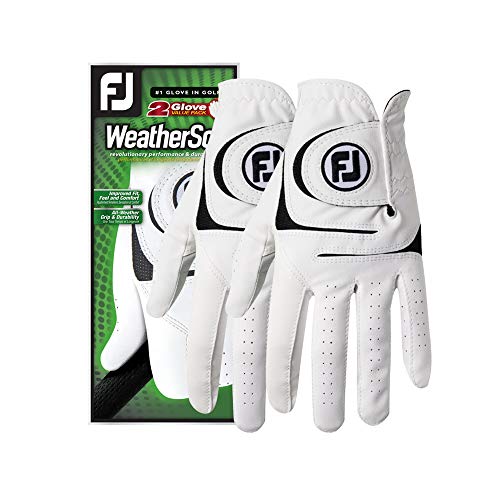 FootJoy Men's WeatherSof 2-Pack Golf Glove White Medium, Worn on Left Hand
ENHANCED DURABILITY - Advanced Performance Leather thumb and palm patch increases the feel, durability and grip performance in key stress areas.
EXTRAORDINARY FIT - Exclusive FiberSof material provides the most advanced combination of a consistent fit, soft feel, and a secure grip.
SECURE CLOSURE - Proprietary ComforTab Closure comfortably adjusts for a secure, reliable fit and feel.
BREATHABLE MESH - Soft PowerNet mesh across the knuckles improves breathability, comfort and flexibility.
Last update on 2023-09-21 / Affiliate links / Images from Amazon Product Advertising API
The FootJoy Men's WeatherSof Golf Glove is one of the best value gloves in the market. These gloves are designed for all weather conditions, especially hot weather. This glove includes a FiberSof palm that makes the glove feel extremely soft and comfortable to wear. There's also a premium Cabretta leather material strategically placed on the palm and thumb of the glove to help you have a firm grip on the club. Additionally, you get dual Powernet mesh inserts to keep your hand to add breathability and comfort. The glove also has a 3-directional tab closure to fasten your gloves on securely and is elastic for excellent flexibility. It also helps that these FootJoy gloves look aesthetically appealing with a sleek white leather exterior with black layers around the palm.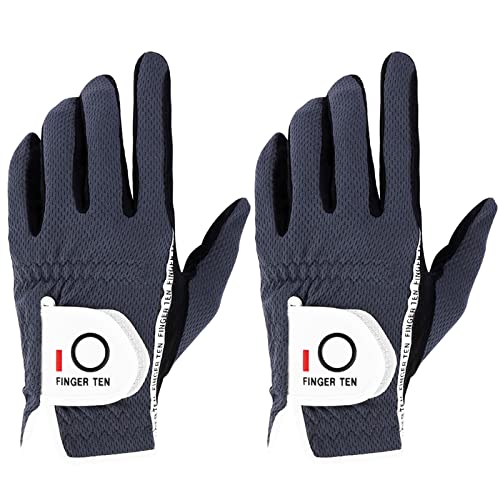 FINGER TEN Men's Golf Glove Rain Grip Pair Both Hand or 2 Pack Left Right Hand, Hot Wet Weather No Sweat, Black Gray Green, Fit Size Small Medium Large XL (Gray, Large, Left)
Develop Your Perform In Rain, Hot, Wet Conditions: A Best Choice for Rain Hot Wet Weather Daily Practice. Unbeatable Wet Weather Grip and Quick- Drying Comfort. Get Ready for Rain Play;
Quality Material To Solve Your Sweat And Moisture Problem: The High Quality 3D Performance Mesh, Provides Perfect Fit and Solve Your Moisture Wicking& Breathable. Very Lightweight and Flexible. For Golfers Who Have More Sweat In Hot Weather, Try This One. It will Develop Your Performance in More Sweat and No slip at All;
Glove Worn On Left Hand Or Right Hand Or A Pair In Size S M ML L XL Available: Please Check the Attached Picture for Hand Orientation. It is Not Only For Rain Day But Also For Your All Weather Daily Practice. Worn on Your Left Hand for Right-Handed Golfer, Worn on Your Right Hand for Left-Handed Golfer. The Sizes Conform with USA Regular Sizes. No Misunderstanding, Happy Purchase;
Please Note: If You Choose Left From Hand Orientation, You Will Get 2 Gloves For Your Left Hand; If You Choose Right From Hand Orientation, You Will Get 2 Gloves For Your Right Hand; And If You Choose Ambidextrous From Hand Orientation, You Will Get 1 Right Hand Glove And 1 Left Hand Glove.
Well Package In Good Condition: You Will Receive 2 Golf Gloves Packaged Well in Good Condition. Each Glove Will be Put in a Small Bag at First and Then put Into the Paper Package. Double Protection.
Last update on 2023-09-21 / Affiliate links / Images from Amazon Product Advertising API
The Men's Golf Gloves by Finger Ten is designed solely for weather conditions such as rain and hot weather. To combat the sweat from your palms, this glove has a high-quality 3D performance mesh designed to resist sweat and add breathability to your hands. It includes a QuikDry knit palm material to enhance your grip to provide better control. This glove comes in small, medium, large with a few color options. This glove is extremely long-lasting and will last long due to its quick-dry material. If you're prone to sweat on steamy hot days, this glove is right for you.
Sale
Bionic Gloves –Men's StableGrip Golf Glove W/Patented Natural Fit Technology Made from Long Lasting, Durable Genuine Cabretta Leather, White, Large
DURABILITY – This premium golf glove, made of genuine leather, boasts an additional pad on the palm for extra support and lifespan. This pad offers twice the amount of strength in one of the most common places where other golf gloves break down.
DON'T STRANGLE THAT CLUB–Prevent fatigue and increase grip with our patented anatomical pad relief system evening out the surface of your hand, displacing your grip pressure evenly on the club. Get a lighter grip and stay in full control the whole round.
SECOND SKIN – Say goodbye to baggy fingers and constantly re-adjusting your wrist strap. This glove's pre-rotated finger design follows the natural curvature of your hand allowing it to fit like a second skin. Refer to sizing guide for perfect fit!
PERSPIRATION MANAGEMENT – Lycra between the finger gussets, top of knuckles and running up the pointer finger offer maximum breathability and flexibility during hot, humid rounds. Terrycloth interior on high risk zones manage moisture without losing grip.
WASH ME! – No matter how hot, rainy, good or bad your round was you can wash it away and start fresh. Machine wash on the delicate cycle with mild soap and no bleach products. Cool air dry flat.
Last update on 2023-09-21 / Affiliate links / Images from Amazon Product Advertising API
The StableGrip golf gloves made by Bionic are one of the most high-tech golf gloves in the industry. This glove uses innovative anatomical relief pad systems that are intentionally positioned to even out the surface of your hand for better control. Thus pressure is distributed evenly, preventing fatigue, enhancing grip and strength. With it's patented Lyrca Web and Motion Zones, it helps to improve breathability. These zones are small little air pockets between the fingers and over the knuckles to keep your hands dry and cool. Additionally, these gloves made by Bionic have a pre-rotated finger design allowing your hand to curl a little bit more for better grip.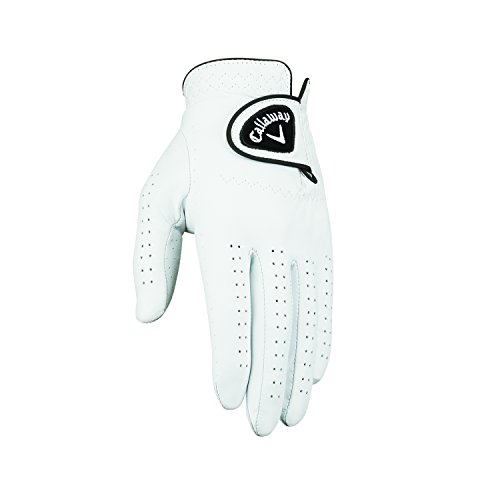 Last update on 2023-09-21 / Affiliate links / Images from Amazon Product Advertising API
The Callaway leather glove is the perfect solution for moist hands. It includes a moisture-wicking wrist cuff to absorb moisture. Also, it has a perforation on the top portion of your hands and fingers for increased breathability and moisture reduction. The cuff is also made of cotton to help keep your hands dry and feels extremely comfortable to wear. Callaway also added an exclusive Opti-fit closure to help make your hand feel like a custom fit. Their Griptac Infused leather help to add durability to keep your glove from falling apart.
RAULAM INTERNATIONAL USA Flag Golf Gloves Perfect Grip for Men and Women (Men's Medium, Left)
PRIDE OF AMERICA:Our Raulam International Golf Glove Show your American pride with our USA flag golf glove.Enjoy it to the fullest and share your spirit with others the pride colors Red, White, and Blue while you play!
LEATHER-SUBLIMATION-RUBBER LOGO:Raulam International Golf Glove made by Pearl Leather With Sublimation & Beautiful Rubber Logo.This Golf Glove Feel you more cool comfortable relax while short.Swap out sweaty, slippery gloves with one that keeps your hands consistently cool.
DURABILITY:Raulam International Golf Gloves have been tested to offer exceptional durability round after round.
TRUE SIZING:Please Choose the Right Size While Buying Our Gloves.We Have a Huge Stock Regarding all the sizes(Small,Medium,Large,XL For Both Men &Women For Both Left & Right)
REASONABLE PRICES:Like as our other product range we offer very reasonable prices.Don't sacrifice on quality our adorable gloves have a Cabertta leather palm and breathable lycra back to keep your hands and your grip happy.
Last update on 2023-09-21 / Affiliate links / Images from Amazon Product Advertising API
This Raulam Internation golf glove has a well-designed USA flag with red, white, and blue stripes. For those who want to demonstrate their American pride, this is the glove to go for! The glove is made from pearl leather-sublimation to help prevent slip from sweaty palms. Additionally, it has little holes along the fingers of the glove to help with breathability. The strap closure helps to make the glove fit securely. Although it doesn't have all the innovative features that the other gloves had, it's still an excellent option and much cheaper than its competitors.
What to Look for in the Best Gloves for Hot Weather
During the summer months, it's essential to have golf gloves. Palms get extremely sweaty, and gloves are needed to keep a tight grip on the club. Having a good grip gives you solid control over the club and won't compromise your performance. When buying a golf glove, you should consider the following factors.
Material
When you're shopping for golf gloves, you'll instantly realize that there are a handful of materials you can choose from. Each material has it's own unique strengths and weaknesses. The types of materials include leather, synthetic, and all-weather gloves. Leather might be the best option to go with. It feels like second skin and grips the club extremely well. Leather is also moisture resistant and stays soft even during wet conditions. Make sure to buy a normal size because your leather glove will stretch over time. Another excellent option is synthetic golf gloves. Synthetic gloves are very lightweight and stretchy. It's made of microfibers to keep your hand cool and feel breathable when wearing them. All-weather gloves are designed for humid and moist conditions well. It's the most water-resistant glove for golfers. These gloves grip even better during wet conditions because the glove's fibers create more friction when wet.
Size
About 50% of golfers purchase gloves that are too big for them. You should find gloves that fit tightly where the glove feels like a second skin. The glove material should depress onto your hand, and gloves should not have much space above your fingertips. One indicator that your glove is too big is if your velcro strap comes past 75% of the way across your hand. Make sure you get a smaller sized glove, if that's the case.
Breathability
Many gloves have a mesh material at the top of the glove for breathability. It's excellent to have because it prevents your hand from sweating as much and keeps your hand cool while playing. Ideally, just make sure you have ventilation for your glove and avoid buying gloves with little or no aeration. Breathability helps your hand feel cool and comfortable.
Budget
Depending on your budget, golf gloves range around $6 to $30. Since it's not very inexpensive, it is well worth it to spend a little more on the right kinds of gloves. The better gloves will last longer and provide the comfort, breathability, and grip you need to perform well on the golf course.
Our Top Pick
Our top choice for the best gloves for hot weather is the WeatherSof Golf Gloves. We give an A+ to the manufacturers who designed this glove. It's perfectly designed so that every part of the glove has a purpose. Overall, it weighs only 3.2 ounces and fits very snug with the secure strap closure. The glove has a modern design and made with both Cabretta leather and synthetic material for longer durability. The Cabretta leather is on the palm patch and thumb for better grip control, and the synthetic material helps keep your hand comfortable while wearing. It's also got these PowerNet Mesh strips along the knuckles of your handle for better breathability. These gloves are designed to resist and quickly dry out moisture, which is useful for hot weather conditions. For the price you pay, the WeatherSof gloves are an excellent value to help your golf performance.
Final Thoughts
Durability, moisture control, and comfort play a huge role when deciding which gloves to buy. Having a solid grip allows you to hold your club better and follow through on your swing. Any slippage can cause you to shift the angle of your swing and affect your performance. Compromising on comfort also can dramatically affect your golf swings. Some golfers complain that gloves can feel awkward and unnatural. However, the right glove can enhance your grip and protect you from hot weather conditions. Check out the gloves in this list and pick the one that's right for you!
Best Gloves for Hot Weather - Our Top 5 Golf Glove Picks
Our top 5 picks for the best gloves for hot weather. A full in-depth review of everything you need to know when choosing your perfect golf glove.
Product In-Stock: https://schema.org/InStock