Every golfer needs a proper and secure golf bag for their clubs. Golf clubs are typically extremely expensive, and having them replaced would be costly. Especially when traveling on an airplane, it's best to have one with soft material that can absorb impact to prevent damage. Also, having one that has handles and can roll around is convenient. In this article, we'll go over the 5 best golf bags with wheels to help you transport your clubs.
Best Value
AmazonBasics Soft-Sided Golf Travel Bag
Samsonite Hard-Sided Golf Travel Case
Best Seller
CaddyDaddy Constrictor II
Athletico Padded Golf Travel Bag
Himal Outdoors Soft-Sided Golf Travel Bag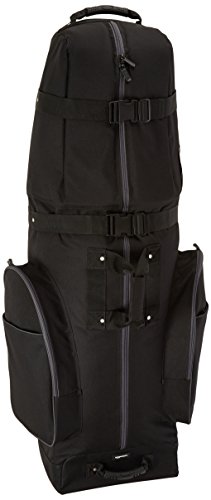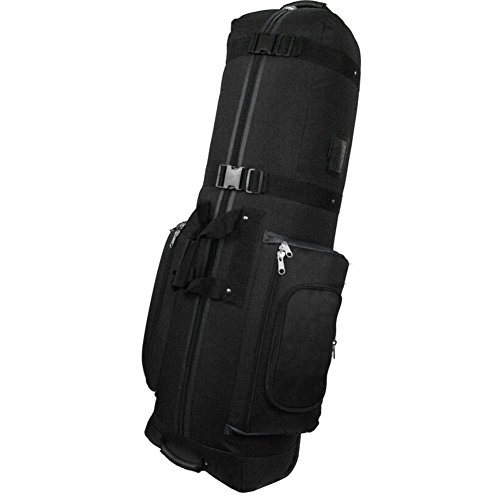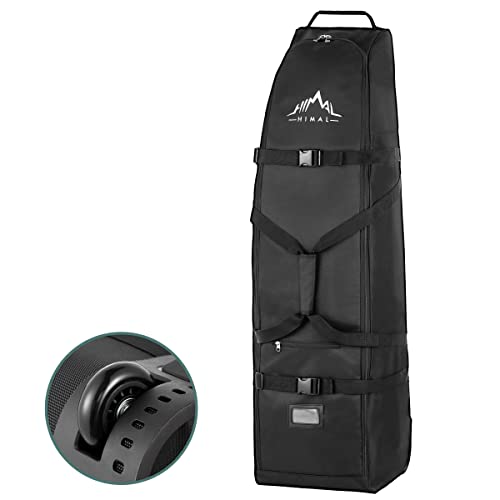 Best Value
AmazonBasics Soft-Sided Golf Travel Bag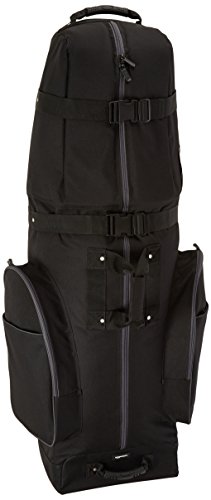 Samsonite Hard-Sided Golf Travel Case

Best Seller
CaddyDaddy Constrictor II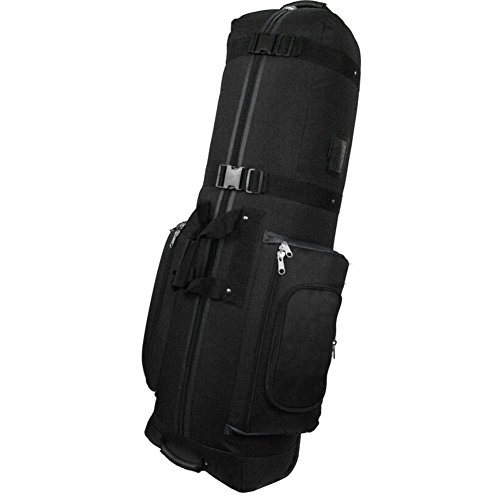 Athletico Padded Golf Travel Bag
Himal Outdoors Soft-Sided Golf Travel Bag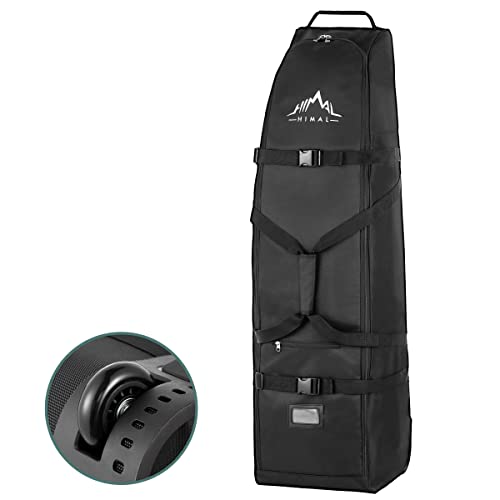 Last update on 2023-09-11 / Affiliate links / Images from Amazon Product Advertising API
Amazon Basics Soft-Sided Golf Travel Bag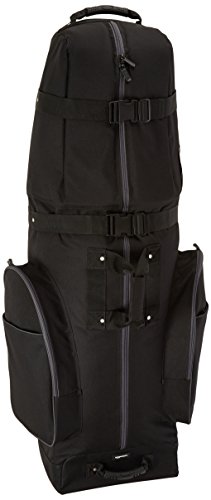 Amazon Basics Soft-Sided Golf Club Travel Bag Case With Wheels - 50 x 13 x 15 Inches, Black
Soft-sided golf travel bag for conveniently transporting a set of golf clubs (not included)
Made of durable polyester fabric; reinforced stress points; stands up on its own when holding a set of clubs
Smooth-rolling, inline-skate-style wheels; heavy-duty curb rails; well-placed, riveted handles
Compression straps keep clubs secure; heavily padded top section protects club heads
Multiple zippered compartments for storing extra gear; measures 50 by 13 by 15 inches
Last update on 2023-09-11 / Affiliate links / Images from Amazon Product Advertising API
The soft-sided golf travel bag by AmazonBasics is an extremely convenient and affordable place to keep your golf clubs. Measuring at 50x13x15 inches, it is quite spacious and comes in an aesthetic black color. With this travel bag, you don't have to worry about getting it dirty on the floor because it has the ability to stand up even with golf clubs inside. This AmazonBasics golf travel bag is constructed with nylon to ensure long-lasting durability by reinforcing stress points to prevent wear and tear from golf clubs. There are plenty of extra storage compartments and riveted handles to carry this bag. Lastly, it has smooth rolling inline skate wheels to make it easy to transport and lug around anywhere.
Features:
Includes multiple zip compartments
Measures at 50 x 13 x 15 inches
Has inline skate wheels
Made from nylon fabric
Sale

Samsonite "The Protector" Hardside And Softisde Golf Travel Bag With Shark Wheels, Waterproof Exterior, Black
The Ultimate Protection: The hardside top fully protects club heads, while the padded interiors and waterproof exterior keep your clubs safe and secure from weather and transit
High-Performance Shark Wheels: The unique Shark wheels effortlessly navigate terrain, from rugged landscapes to smooth airport floors; experience superior stability, preventing tipping or rolling over, which ensures your golf gear stays secure
Protect Your Gear: This golf travel bag holds up to 48" clubs and 10.5" bags, keeping the longest clubs protected; Two comfort grip handles ensure an easy transport
Unique Fold Up Design: Whether you are packing it in your truck, or putting it away in storage, the fold up design of The Protector Travel Golf Bag allows you to enjoy the ease of compact storage without compromising on protection and durability
Padded Quilted Interior: Protect your clubs during travel, with a padded interior, featuring extra foam cushioning on top for club heads
Last update on 2023-09-11 / Affiliate links / Images from Amazon Product Advertising API
Samsonite is a brand that is one of the world's leading brands for luggage, but now has developed a product for carrying golf clubs. This is a revolutionary product that makes it convenient and secure to travel around with your best golf clubs. There is a two-way zipper that runs along the length of the bag and a ring that locks the zipper together to secure your golf clubs. Additionally, there are four 360 degree spinner wheels located at the bottom of the case, which can pivot in any direction. This helps to provide a smooth rolling experience when lugging your golf case. There are even two inline skate wheels in the middle of one side to help you pull your case over uneven surfaces or curbs. Also, you'll find two rubber-gripped handles located on the side and top of the case to carry. This case measures at 52 x 16 x 12 inches and offers an ABS shield case to protect your golf clubs. Lastly, this sleek case provides internal quilted padding for extra foamy cushioning for additional protection.
Features:
Measures at 52 x 16 x 12 inches
Durable and light ABS shield
Internal compression straps
4 multi-directional wheels and 2 inline skate wheels
Padded foam interior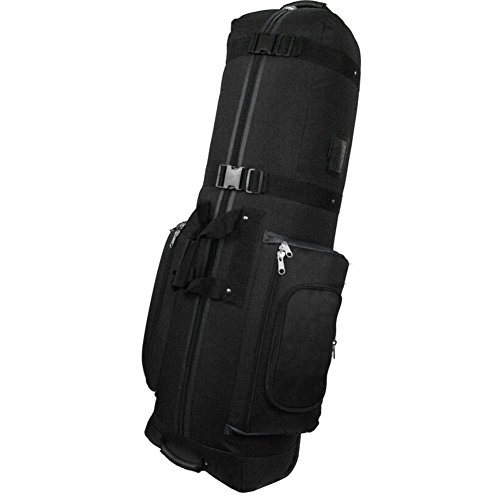 CaddyDaddy Golf Constrictor 2 Travel Cover (Black/Grey)
WARRANTY AND SERVICE: CaddyDaddy has been designing and selling high quality golf products from CHANDLER, AZ for over 20 years. We stand behind every product and include a 1 YEAR FULL REPLACEMENT WARRANTY on all travel bag purchases (2 years on the First Class bag). We even cover damage caused by airline mishandling. If you need warranty assistance, please visit our website and reach out to our US BASED customer service team. We respond within 48 hours and typically same business day.
HIGH-QUALITY MATERIAL, HEAVY PADDING ON TOP: The golf travel cover bag features 1800D fabric construction (3x the thickness of 600D fabric). Cinch straps are provided externally and internally to keep the bags from moving during travel and transportation.
PROTECT YOUR INVESTMENT: The bag also has riveted handles - nylon padding and heavy duty rubber handles for easy carry and transport. It also comes with lockable zippers and large, oversized pockets to store additional golf gear and equipment like tees, shirts, shoes, balls, etc.
EQUIPPED WITH INLINE SKATE WHEELS: Whether you are a pro on tour or are big on golf travel, this padded golf cover bag is your perfect travel companion. It also comes with 2 oversized pockets to store additional golf accessories like shoes, tees, balls, and other items.
GOLF BAG DESIGNED FOR TRAVELING: CaddyDaddy's Constrictor Golf Bag Cover is designed specifically for protecting your golf clubs and equipment while traveling - air or auto. It offers excellent value for money and is a must-have travel bag for all golfers.
Last update on 2023-09-11 / Affiliate links / Images from Amazon Product Advertising API
Caddy Daddy is one of the leading brands when it comes to golf travel bags. Its superior advantage is their 18000D nylon exterior construction to help protect your golf bag from tough weather conditions. When it comes to airport handling or rainy weather, this bag is durable to prevent the wear and tear of travel. To provide additional support to hold the clubs and prevent the bag from falling apart, there are two restraining straps with buckles. There are also four handles so you can carry the clubs conveniently from any side. For those who like to accessorize on the golf course, there is plenty of storage for other items. This bag includes three pockets on the outside of the bag to hold golf shoes, balls, rain clothes, and any other items. Caddy daddy constrictor II is extremely light, includes ¾ inches of padding and 18 inches of clubhead protection, making this the perfect golf travel bag.
Features:
Measures at 13 x 50 x 15 inches and weighs 9 pounds
Has lockable zippers
Inline skate wheels attached
Both external and internal compression strap
Heavily padded on the top of case
Sale
Athletico Padded Golf Travel Bag - Golf Travel Bags for Airlines Protects Golf Clubs
PADDED TO PROTECT YOUR EXPENSIVE GOLF EQUIPMENT - Our golf travel bags feature 5mm of padding throughout, to help protect your golf clubs during transit. This golf travel case can be used when flying on an airplane, at the airport, or for added protection in the trunk of your car.
DURABLE AND BUILT TO LAST - Our golf club carriers are built with 600D polyester and feature a vinyl base to protect the bag from scuffs and abrasions. Golf luggage can take a beating at the airport, so we've engineered our protector to take the abuse.
EASY TO CARRY & BUILT FOR COMFORT - This golf travel cover features padded, velcro-lcoking carrying handles. A padded shoulder strap further allows you to carry the bag through crowder airports with ease.
Athletico golf travel bags are backed by a 1 year warranty. If the golf bag travel case breaks at any time in the first year, receive a replacement travel golf bag.
Last update on 2023-09-11 / Affiliate links / Images from Amazon Product Advertising API
Athletic offers one of the most affordable and high-quality bags in the market. Their bag includes 5 millimeters of interior padding to ensure your golf clubs are protected. When it comes to airport travel, or even throwing it in the vehicle trunk, your bag gets tossed around. With the padding, it will prevent potential damage to your clubs. To ensure security, there are padded carrying straps and velcro for secure closure to ensure no items fall out during transportation. The bag includes a removable shoulder strap to help you carry heavier golf clubs and prevent stress on your body. Additionally, you can expect durability due to the hard vinyl base on the bottom to prevent wear and tear on the bag. When you're not using this bag, you can easily roll it up for storage.
Features:
Made with 600D polyester
5mm Interior padding throughout
Dimensions: 53 x 12 x 14 inches
Neoprene padded tote handles
Hard vinyl base
Metal zippers
Removable shoulder straps
Sale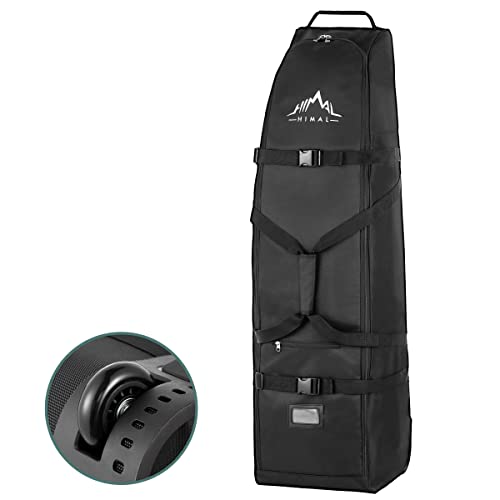 Himal Outdoors Soft-Sided Golf Travel Bag with Wheels - Heavy Duty 600D Polyester Oxford Wear-Resistant, Excellent Zipper Universal Size
Made of premium 600D heavy duty polyester oxford, tough enough to protect your golf clubs during travel.
Universal size 15 x 13 x 50 inches fits all the needs of everyday life. Enough space to hold your clubs, keys, shoes and so on.
Advanced smooth zipper design can be used for several times. The quality wheels make your trip more comfortable and convenient.
The golf bag travel case itself comes with soft cushion and carrying handles. The velcro carrying handle is particularly useful to help carry the golf club travel bag whether at airport or station.
Himal provides a true satisfaction guarantee and don't hesitate to contact us if there is any problem.
Last update on 2023-09-11 / Affiliate links / Images from Amazon Product Advertising API
The Himal golf travel bag is a multifunctional that carries more than your golf clubs. It can carry other items such as clothes, shoes, keys, and more. Himal bags come with high-quality easy-rolling wheels to transport your golf clubs through the golf course and airport. To ensure protection against damage, the bag is designed with heavy soft padding constructed from 600 D polyester. There's a neat interior strap to easily strap the clubs together, preventing any movement inside of the back. This protects your clubs from abrasions and scuffs during transportation. You can simply carry the bag using its top padded handle as well.
Features:
Measures at 13 x 15 x 50 inches
Made with 600D heavy-duty polyester
Smooth-rolling wheels
Premium zippers
Velcro carrying handle
Includes cardholders
Buyers Guide for Best Golf Bags With Wheel
Material
One of the most important factors to consider when purchasing a golf travel bag is the material that it's made of. When traveling, your golf bag can be subject to a lot of tough handling and weather conditions, which can lead to your golf club breaking apart. The best type of material to find is golf travel bags made of polyester ideally between 600D to 1800D, so there's enough density. These are high density, and durable fabrics made to absorb impact and more flexible to stretch. This means you'll be able to fit items with awkward shapes because the bag is more bendable. High-density bags ensure that the bag won't fray or tear apart because they usually have anti-tear properties in them. Another good alternative is travel bags made from ABS plastic, which are very hard and durable. They are made to handle dropping or any type of hard impact during transportation. The only problem is that these bags aren't as flexible to hold oddly shaped items in them.
Protection
Having a durable material isn't the only thing you should consider when buying a golf travel bag. Always check if there are additional layers of protection to protect your golf clubs. Golf clubs are extremely expensive. Many golf clubs range from $300 to $600, but some may cost over $2,000! The best travel bags include interior padding to protect the insides and top padding to protect the clubhead. These paddings help to provide extra cushioning and security to prevent damages to your golf clubs.
Also, you want to ensure that the bags include an interior strap to secure and hold your golf clubs in place. When traveling on the road or by plane, clubs tend to move around in the bag, which can cause dents or scratches. Interior straps can help to prevent inside movement during transportation.
Storage Space
If you're a golfer who is experienced, you likely have multiple clubs and equipment that you bring to each course. This means you need a larger bag to hold your equipment. Ensure that the compartment space is large enough to fit your golf club. You also want to check for extra zippered pockets for storage. This may help you hold shoes, tees, golf balls, rain clothes, and more. Having extra room in your golf travel bag means less room in your luggage to avoid expensive fees for overweight luggage.
Best Golf Bags With Wheels – Frequently Asked Questions
Why do you need golf travel bags?
Having a good golf travel bag will help you transport your clubs from place to place without damage. Even if you travel with your clubs once a year, it's still worth investing in a high-quality bag. Most airlines have regulations that require only specific types of golf travel bags onto their airplanes. Also, baggage handlers tend to throw bags around, which can easily damage or break your clubs. It's best to invest in a golf travel bag that has a hard case, interior padding, and interior strap to secure the clubs in place.
Which is the best golf travel bag with wheels?
In our opinion, the best golf travel bag is the Caddy Daddy Constrictor II. This is an excellent choice if you're a recreational golfer who travels semi-frequently. This travel bag is relatively inexpensive and extremely durable to protect against potential weather conditions and rough airport handling. Overall, the bag is extremely light, includes smooth wheels, offers extra storage to hold other golf accessories during travel. The Caddy Daddy is quite heavily padded and includes cinch straps to prevent any movement in the bag.
How much can you fit inside of a golf travel bag?
The amount you can store inside of a travel bag depends on the overall storage size and dimensions of the bag. Check the bag's dimensions to ensure it fits in the overhead compartments of airplanes or how much it would cost for checked bags. Some bags offer extra pockets and compartments to store shoes, clothes, and other golf equipment necessary.
Wrapping It Up
When it comes to transporting your golf clubs from place to place, we've compiled the best golf bags with wheels. These golf bags have the highest quality of material, with safety features like cushioning along with wheels to easily transport your golf equipment. Our top pick for the best golf travel bag is the Caddy Daddy Constrictor II due to it's lightweight, durability, and overall protection mechanisms. It has the high-density polyester out of all the bags for durability and includes thick padding and compression straps for security.
Best Golf Bags With Wheels | Our Top 5 Must Have Picks
Our top 5 picks of the best golf bags with wheels available on the market. A full guide of everything you need to know before picking yours.
Product In-Stock: https://schema.org/InStock