Golf is a sport that attracts gadgets, and now there is a handheld golf GPS that can help improve your overall game. A handheld golf GPS is actually one of the best investments you can make in your game of golf. This device will give you pinpoint accuracy to the flag, score tracking, and valuable statics to help you improve.
Some of the more expensive models give you an aerial view of the fairway and green, which also include wind direction to take into consideration. They also include statistics of your overall game, which you can save and look through at a later date.
There are many types of handheld golf GPS available for you with different price ranges. This article introduces some of the best handheld golf GPS devices.
In a hurry? These are our top picks.
Best Handheld Golf GPS
IZZO Swami 5000 Golf GPS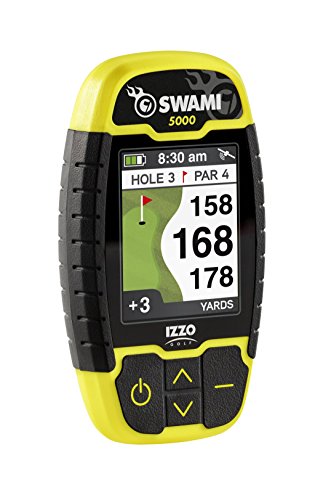 Izzo Swami 5000 Water-Resistant Handheld Golf GPS with Large Color Display
Handheld GPS: Our handheld GPS units come preloaded with over 38,000 global course maps, require no subscription fees and include free updates
Precise Measurements: Our golf GPS devices provide accurate distances to the front, center, and back of the green as well as layup and carry distances to the front and back of hazards and doglegs
Long Battery Life: Our handheld GPS units hold a charge for over 12 hours - that's 3 rounds of golf; comes with a rechargeable lithium-ion battery and easy-charge magnetic charger
Digital Scorekeeper & Color Display: Our golf GPS includes a digital scorekeeper that saves round scores; The large, vibrant 2'' color display is easy to read and operate
Last update on 2023-09-17 / Affiliate links / Images from Amazon Product Advertising API
The IZZO Swami 5000 GPS is a cutting-edge device recently launched by IZZO Golf, a company whose DNA is to make innovative products for golfers. After your first couple of holes, you will agree that this is a truly innovative GPS device.
This is an advanced GPS device in terms of functions and technologies; the IZZO Swami 5000 GPS is designed to be very easy to use but doesn't lack any functionality.
The display of the IZZO Swami 5000 is a large 2-inch color LCD screen. It enables a user to quickly read all types of information that the device can collect and display. It has a compact, ergonomic design that is easy to grip. The handy design is complemented by the optimized navigation buttons below the screen, which make it easier to navigate the settings and functions of this device.
Features
It is a water-resistant device, and its water resistance rating is IPX6.
It has a large 2-inch color display.
It has an amazing record on its user's experience, which enhances the golfing experience.
This device is capable of showing shot distance measurement.
It has quite an impressive digital scorecard.
How long does it take for the Swami to find a golf course?
It depends on when you last used the Swami 5000. If this is the first time you turn it on after purchase, or if it has not been used for a long time, the satellite tracking time is less than three minutes. If your last trip were a few hours ago, it would be less than a minute. If you've been using it in the last hour, it will take less than 30 seconds.
How accurate is the Swami 5000?
Test reports showed that the Swami 5000 is accurate to the exact distance or within a meter even when comparing course markings.
Conclusion
With its many features and functions, the IZZO Swami 5000 can definitely improve your game without taking it away from experience. It can give you precise distances to key points on green and specific hazards. With these types of functions, you can see why this device can be useful for training and tournaments as it does not contain any illegal functions or skills.
Garmin Approach G30 Golf GPS
Garmin Approach G30, Handheld Golf GPS with 2.3-inch Color Touchscreen Display, Black
Sleek, compact handheld golf GPS with 2.3-inch color touchscreen display.Control Method:Touch.Special Feature:Bluetooth.
High-sensitivity GPS acquires satellites quickly to show distance to greens, hazards and doglegs
Preloaded with more than 40,000 courses worldwide
Full-color course mapping with Touch Targeting feature
Green View allows you to place the pin in the correct location for the day, which improves distance accuracy
Last update on 2023-09-17 / Affiliate links / Images from Amazon Product Advertising API
The Garmin Approach G30 golf GPS is one of the most stylish and versatile handheld GPS devices ever! It's small enough to be easily put in and out of your pocket, and it has a million exciting golf features and functions that both amateur and professional golfers will find useful.
This watch has a larger screen than most GPS devices, which makes it perfect for those who love to play different courses as it gives them a floating view of the holes they want to play while familiarization purposes before starting.
Features
The Garmin Approach G30 display is a 2.3-inch color display with a relatively high-resolution screen.
It offers a great user experience, and this is because the resolution is crisp and clear. It is easier to use the device and get the information you need quickly.
Its main function is to measure distances.
It also shows distances to hazards and doglegs.
The device works well with the TruSwing analyzer, and when you combine the two, you can learn more about your swing and train yourself to be a successful ball hitter.
It has a digital scorecard that allows you to record your game quickly, and it can record up to four different players.
How accurate is the Garmin Approach G30?
The device has a highly sensitive sensor that picks up GPS signals relatively quickly and calculates distances based on its precise maps, and provides you with precise distances. In short, it is correct in that you can trust the numbers it provides with confidence, which it does very accurately.
Is the Garmin Approach G30 waterproof?
The device appears to be waterproof. However, the company says nothing about the water rating. It is, therefore, best to try to avoid prolonged contact between this device and water.
Conclusion
It can basically do everything any other Garmin device can do: it can measure distances accurately, it can show you the layout of the green, it can hold points, and it's slimmer and more compact.
GolfBuddy Voice 2 Golf GPS
Golf Buddy Voice 2 Talking GPS Rangefinder, Long Lasting Battery Golf Distance Range Finder, Preloaded with 40,000 Worldwide Courses, Easy-to-use Golf Navigation for Hat (Voice 2_Black)
[Applications] Check distance information simultaneously on the audio and screen / easy to use talking Golf GPS / Provide a green view(Right & Left) / Can be played without the way by hanging it on a hat or belt / Adjustable audio guide volume (0 - 5)
[Features] Accurate QZSS GPS reception / Convenient voice guidance / Displays the distance from the current position to the front, middle, and back of the green at once; Shot distance measurement function
[Features] Over 40,000 courses in 170 countries around the world and free updates via USB sync
[Product Specifications] Clear 1-inch LCD / Audio Level: Adjustable levels from 0 to 5 levels; Continuous usage time: Golf mode: Up to 14 hours (54 hole round) / IPX3 level waterproof / Size: 1.8 x 1.9 x 0.5 inches (45 x 45.5 x 13.0 mm); Weight: 1.1 oz (32 g) / Languages: English, French, Spanish, Italian, German, Chinese, Japanese, Korean
Last update on 2023-09-17 / Affiliate links / Images from Amazon Product Advertising API
The GolfBuddy Voice 2 Golf GPS is an upgraded version of the well-known GolfBuddy Voice. In addition to the basic functions of its predecessor, it has additional features that make it one of the best handheld golf GPS devices currently available. When you arrive at the course, it will automatically recognize it and its holes thanks to its automatic course and hole recognition function. The main function of this device is to measure the distance between the user and various points on the green, and it works very well.
GolfBuddy Voice 2 Golf GPS has four different operating modes.
The first operating mode is the standard model, which shows distances to the front, back, and center of the green.
The second mode is the dynamic green view mode, which shows the true green shape from your approach angle.
The third mode is the time mode, which shows how long you have been playing golf.
The final mode is the distance measurement mode, which measures the distance your shot has traveled.
Features
Long-lasting battery life of up to 14 hours.
The GolfBuddy Voice 2 can read out the distances to you, and it supports up to 11 major global languages, with 8 of them already preloaded. Users have the opportunity to select between a male and a female voice option.
The GolfBuddy Voice 2 can be carried/ worn in three different ways (on the wrist, as a belt clip, and can also be worn on a golf cap).
It is waterproof.
How accurate is the GolfBuddy Voice 2 Golf GPS?
Voice 2 is very accurate and consistent when compared to a laser rangefinder.
How long does the GolfBuddy Voice 2 Golf GPS take to recharge?
This typically takes around 2 hours to charge fully.
Conclusion
The device is also light and therefore easy to transport. It will definitely worth the value and can be regarded as money well spent. The GolfBuddy Voice 2 is undoubtedly an upgrade of the original GolfBuddy Voice device. The battery has also had a huge upgrade to 14 hours, which is 5 hours longer than the original version.
SkyCaddie SX500 Golf GPS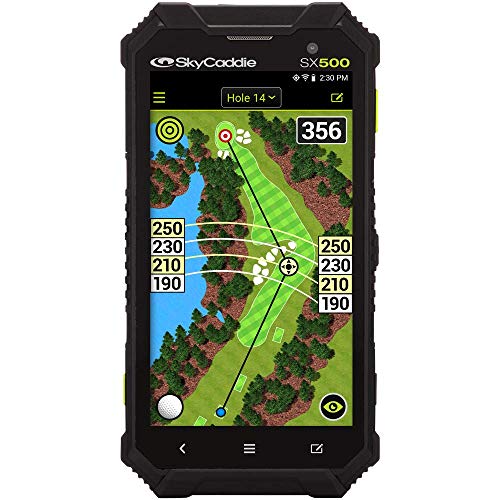 SkyCaddie SX500, Handheld Golf GPS, Black
Golf's largest & most brilliant high definition 5" touch screen
Preloaded with over 35, 000 of sky Golf's ground-verified, error-corrected maps for unmatched accuracy. Battery - Hi-capacity rechargeable Li-Polymer battery. 12-14 hours continuous use
Halve with integrated targets. Simply double tap or pinch & zoom to reveal up to 40 geo-referenced targets per hole for critical distances to hazards, carries & layups
Dynamic halve rotates the fairway and orients the green from your current position and angle of Attach as you move from the tee to the green
Cut the cord Wi-Fi connectivity to streamline updates, register & course downloads on demand. No need to connect to a computer
Included components: micro usb cable, wall charger
Last update on 2023-09-17 / Affiliate links / Images from Amazon Product Advertising API
The SkyCaddie SX500 GPS is the device you get when you want a premium golf GPS experience! It's a fantastic and useful golf device that you wouldn't compare to anything else. The device has a rugged, smartphone-like appearance that many users are sure to love. The sturdy edges and the design of the smartphone make it easy to grip and use.
Features
The design is waterproof.
The screen of the device is a 5-inch HD touchscreen that offers a wonderful visual experience.
The information displayed on this screen is extremely easy to read because of the size of the device.
Most golfers will find it very easy as it works like a smartphone. At the bottom are tactile buttons that make it even easier to access the main menu, enter scores, or go back a page.
It has good battery life, and that is due to the size of the battery.
The SkyCaddie SX500 GPS uses multiple satellite systems to provide more accurate readings and distances, even in locations where other GPS devices would have difficulty.
You can view all critical distances to key points on the green, including distances to the flag, hazards, distances, and structures.
This device can accurately measure every shot you hit and suggest which club you normally use to hit certain distances.
The SkyCaddie can also quickly record your scores, performance and keep track of all your stats, including fairway strokes and total putts.
The SkyCaddie SX500 is Wi-Fi capable. You don't have to plug it into a computer to update courses.
What is the battery life on the SkyCaddie SX500 Golf GPS?
This device has a large battery with which all functions can be operated for 14 hours.
Is the SkyCaddie SX500 tournament legal?
Yes. All functions of this SkyCaddie device are compliant with USGA regulations. However, you should always check with tournament organizers for local regulations before using the SkyCaddie SX500 Golf GPS.
Conclusion
The SkyCaddie SX500 is an unrivaled GPS device in terms of design and accuracy. It has a glossy HD display that gives users the perfect view of the hole they are playing. It can measure distances with military precision and provide distances to hazards. Since this is a powerful device with first-class features, the annual subscription is well justified.
Best Handheld Golf GPS – Wrapping Things Up
Well, there you have it. Our guide of the Best Handheld Golf GPS devices currently available on the market. All the options above would suit most golfers perfectly fine. It all depends on which feature you're looking for and your budget.
If budget isn't an issue, we highly recommend the SkyCaddie SX500. This handheld GPS device offers so much functionality and is one of the highest-reviewed products in this catalog on Amazon.com. We especially loved the large screen for ease of use and the overall quality.
If you're looking for a cheaper alternative, then the GolfBuddy Voice 2 is a great choice. In comparison, this does lack in some of the more advanced features and large screen. This still does the job perfectly fine and has a remarkable battery life of up to 14 hours so that you can golf all day long!