A putter is one of the most essential pieces of equipment you carry in your bag when playing golf. It is a club you use to make relatively short and low-speed swings, and the objective is to roll the ball into the hole from a short distance away.
Putters make a small difference in your game. But small differences can matter a lot. Using a putter when playing miniature golf is essential, as this strategy is made to help you score very well. When looking for one, make sure it suits your putting style.
There are various types of putters you can get without breaking the bank. It is necessary to look at the different aspects, such as the size, weight, and design. However, choosing the right putter for you is not only based on your golfing techniques but also your budget. For this reason, we have done the hunting and created a list of the best putters under $150.
Last update on 2023-03-23 / Affiliate links / Images from Amazon Product Advertising API
Best Putters Under $150 – Our Top Picks
Odyssey White Hot Pro 2.0 Putter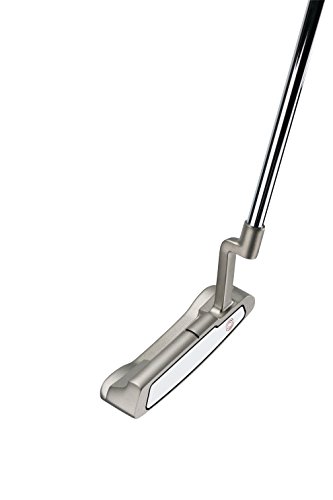 Odyssey Hot Pro 2.0 #1 Putter (White), Right Hand, 34-Inch
The #1 Insert On Tour: A new and improved version of the #1 insert on Tour is highly engineered for more consistent sound, feel and performance across the striking surface
Proven Head Shape Performance for Every Player: The White Hot Pro line includes a handful of major winning, Tour proven head shapes like the #1, #7, #5, #2, #7 CS, #9, 2-Ball, and the Rossie
Mallet Designs: We've also developed a few new head shapes including a high MOI mallet with a modified Hi-Def alignment system (V-Line) and ultra high MOI HAVOK
Last update on 2023-03-23 / Affiliate links / Images from Amazon Product Advertising API
First and foremost, the Odyssey White Hot Pro 2.0 is one of the best putters that cost less than $150. It has a much darker color than its predecessor because it is designed to have a sleek look. Setting aside the design, this putter has other features that make it a favorite for many golfers.
The Odyssey White Hot Pro 2.0 comes with excellent features. One of them is the enhanced White Hot Inserts, which provides the putter with a fantastic look and feel. This putter is perfect for golfers who are having trouble squaring the clubface at impact. Additionally, the heel/toe weighting ensures a sizeable sweet spot for great forgiveness, but the forgiveness may decrease if you miss that sweet spot. Taking everything into account, this putter is an ideal choice if you need to get one at an affordable price.
Features:
White-hot inserts – provide the putter with a great feel and sound. Plus, it enhances the overall performance of the club.
Heel/toe weighting – promotes greater feedback and more forgiveness.
Alignment aids – offer more accuracy and consistency for golfers.
Full shaft offset – keeps your hands ahead of the ball on strike to make sure that you always get an upward strike.
Eyefit system – enables you to select the proper head based on the setup.
Wilson Staff 8802 Milled Putter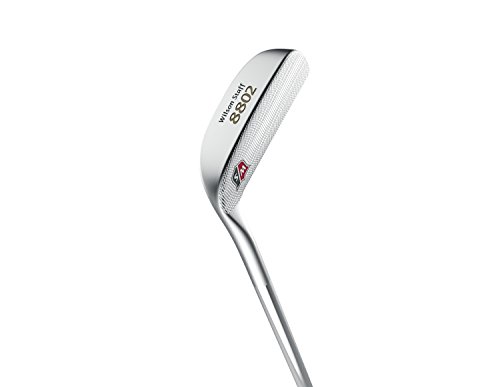 Wilson Staff 8802 Milled Putter, MRH, 35"
Classic head shape: revives the famous 8802 played by many major winners, designed with modern head weighting (335 grams) for today's greens
Double milled face: offers the ultimate in precision, feel & feedback
Stylish head cover: compliments the putters vintage design
Last update on 2023-03-23 / Affiliate links / Images from Amazon Product Advertising API
Another high-quality putter that costs less than $150 is the Wilson Staff 8802. It looks so elegant even if it has a classic and simple design. The putter is milled from 304 stainless steel, giving it the greatest level of accuracy, response, and feel. It is also double milled, so it has a flat face that is perfect for the role.
The Wilson Staff 8802 Milled putter has a simple design without unnecessary bells or whistles. It also has a classic head, which is made entirely out of steel. The ball that is coming off the club feels soft and awesome. The putter also gives a great response and helps you roll it better consistently. It is suitable for you if you are looking for the best putter under $150 with a classic look.
Features:
Classic head shape – looks like the old versions used by some champions of the past.
Premium willing – ensures outstanding feel and accuracy.
Modern components – such as the True Temper Head Shaft, is designed to provide the putter with an excellent feel with the flared tip that melts into the hosel.
Fashionable headcover – complements the classic design of the putter and protects the head from getting damaged
TaylorMade TP Collection Soto Putter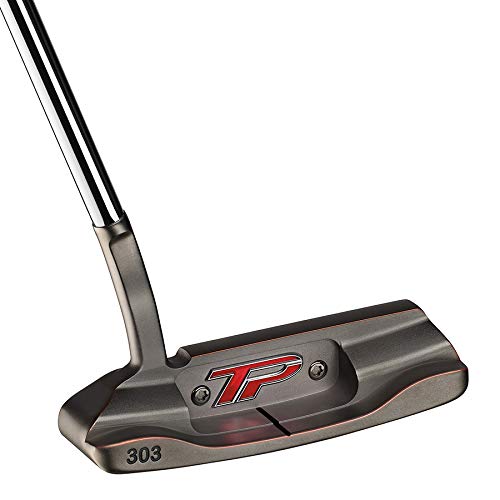 Last update on 2023-03-23 / Affiliate links / Images from Amazon Product Advertising API
The TaylorMade TP Collection Soto is for anyone who is looking for quality. This putter comes with improved consistency, strength, and precision, which will absolutely boost your performance.
The TaylorMade TP Collection Soto is milled from 303 stainless steel and has a Tour Satin finish for that high-end look. The short and rounded contours give it a smooth appearance, while the cavity has a single sightline for a perfect alignment.
This putter has a slight toe-hang designed to help you get the head back to square frequently if you have a moderate arc to your stroke. The two 10-gram weights in the sole design offers the necessary adjustability, which will enable you to find the proper weight for your putter.
TaylorMade utilized the gunmetal 6061 aluminum for a tour-level roll off the face. The Pure Roll technology helps produce topspin on the golf ball during the impact to provide a better and more consistent roll for enhanced feel, distance, and precision control. This putter should be perfect for you if you need one below $150.
Features:
Milled 303 stainless steel head and a finish of tour satin – gives the putter a premium look and excellent feel
Adjustable weights for the sole – makes the swing-weight playable
Strategically positioned sightlines – aid in the alignment
Two stock grip and a variety of validated grip
The wide range of toe helps the putter fit any stroke
Odyssey 2018 Red O-works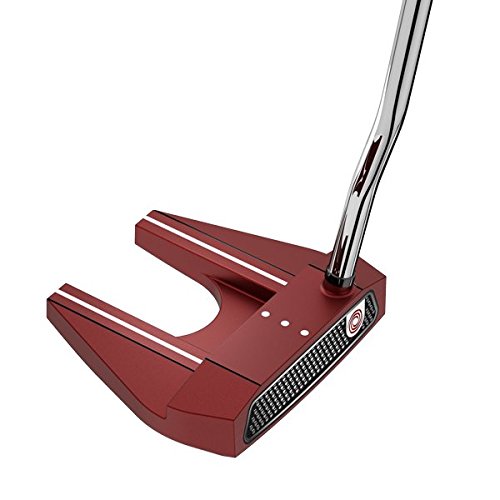 Odyssey 2018 Red O-Works Putters
Unmatched Roll with our New Micro hinge Face Insert
New color options with traditional black and alternative Red
New Tour Proven head shapes for a wide range of player profiles
Grip option 1: Superstroke Slim 2.0 with counter core technology
Grip option 2: Winn AVS Mid-Size Pistol
Last update on 2023-03-23 / Affiliate links / Images from Amazon Product Advertising API
Finally, the Odyssey 2018 Red O-works is one of the best putters under $150. It is designed to help golfers to get more forward roll in their swing. This feature is essential when you are holing putts.
It is made possible by the new Micro Hinge Insert Technology. This insert has two components molded together for ultimate performance and feel. The Micro Hinge plate consists of hinges that flex and rebound through impact. This makes more topspin and causes the ball to roll faster. The Thermoplastic Elastomer Inner Layer gives a soft feel as well. This putter has another feature called Versa Alignment Technology, which will help you hit more accurately.
The Odyssey 2018 Red O-works is a perfect choice for those looking for a putter, whether you are a low, mid, or high handicapper. Its color and shape look modern and stylish. You will surely love the design as well as its excellent performance.
This putter comes under $150. It has so many features, including a mallet head with alignment lines on the face. The Micro Hinge Face Insert, sole weighting, Tank counterbalance, and weighted alignment wings are some of the reasons why this putter is one of the best-equipped golf clubs.
Regardless of your stroke, this club provides top-notch roll and topspin. This means that it can be used by any type of golfer, irrespective of their skill. This putter also produces an excellent sound at impact. The moderate toe hang makes it ideal for golfers who use slight arcs in their putting stroke. If you need a putter that you can have for less than $150, then this might be the right one to buy.
Features:
Micro hinge face insert – ensures unmatched roll
New color options such as red and black
New head shape for a wide range of players
Two Grip Options –
Option 1: Superstroke Slim 2.0
Option 2: Winn AVS Mid-size Pistol
How to Choose the Perfect Putter
For many players, the game of golf would be much easier without putting. Whether it's judging a 40-foot winder or holding your nerve over a 4-foot downhill, putting can cause a round of golf to either be very successful or totally ruined. For this reason, it is necessary to have the right putter for you. This will help you make more successful putts. Here are the different types of putters you can find on the market.
Type of putting stroke
Prior to taking a look at some of the putters available, you must be aware of the two main styles of putting. The majority of golfers fall into one of the two putting stroke categories, which is the straight or slight arc. The type of stroke that you have will determine the putter that would suit you best.
The straight putting style describes a golfer who tries to keep the club path straight back and forth while keeping the putter's face angle square to the target. On the other hand, golfers who putt with a slight arc takes the club back slightly inside, return to the square, and finish on the slight arc to the left. Throughout the stroke, you will open the face on the backstroke, close to the ball square through impact, and finish with a slightly closed putter face.
Head Balancing
The first feature of a putter to consider is the head balancing. You will need either a toe-hang putter or a face-balanced putter based on whether your stroke is a slight arc or straight arc.
Using a toe-hang putter will provide you with a higher chance to putt with a consistent arc, while a face-balanced putter enables you to easily sustain a square putter face throughout the stroke.
Do a quick test if you want to see whether a putter is toe-hang or face-balanced. You have to balance the shaft horizontally across your open palm, letting the head rotate to its natural resting position. If the putter's toe hangs down or to the side, then it is a toe-hang putter. If the face points straight to the sky, then it is a face-balanced putter.
Head Shape and Weight
After choosing whether you need a toe-hang or a face-balanced putter, pay attention to the head shape and weight. Your choice will be based not only on your personal preference but also on the type of greens you play on as well as your standard of golf. If you can strike a sweet spot of a putter consistently, then a blade-style putter may suit you. This type normally offers less forgiveness but gives a more traditional vibe. If you need help keeping your stroke unfailing and striking your putts strongly, a mallet putter may be more ideal for you.
When it comes to weight, the putter you will choose can also be based on your preference and the greens that you usually play on. If you tend to putt on slower greens, you should consider getting a slightly heavier putter. If you prefer putting on faster greens, you should consider using a lighter one.
Shaft Length
The proper length of your putter is something that preferably would be determined by a PGA professional. But here are some general guidelines from PnP Golf that can help you.
Under 5 feet = 32 inches or smaller
5'0" to 5'2" = 32.5 inches
5'2" to 5'4" = 33 inches
5'4" to 5'6" = 33.5 inches
5'6" to 5'8" = 34 inches
5'8" to 6'0" = 34.5 inches
6'0" to 6'2" = 35 inches
6'2" to 6'4" = 35.5 inches
Above 6'4" = 36 inches
Please note that these are general guidelines according to height and do not factor your putting style, arm length, and posture.
Type of Grip
Last but not least is the type of grip. There are so many different grip styles currently available on the market. You can choose the grip for your putter based on your personal preference, but there are other factors to consider. First off, using a wider type of grip will separate your hands on the golf club, which could help reduce wrist hinge/flicking in the putting stroke. Plus, a slightly heavier grip will provide the sensation of heavier head weight.
Conclusion
With all this in mind, you can pick the perfect putter for your game and start to hole more putts. If you are looking for the right putter that will not cost you a fortune, then you may consider having any of the best putters under $150 mentioned above.
Moreover, if you want to putt like a tour professional, then practicing with a purpose and controlling your speed while having the right putter are a step in the right direction.