Dressing up for golf doesn't just have an aesthetic appeal but provides functional benefits as well. Just like any sport, golf has specifically designed shoes that enhance the performance on the course. These shoes are specifically designed to provide comfort, support, protection, traction, and breathability while you're playing golf.
When it comes to women's golf shoes, there are many options to choose from. As a result, it can be difficult to sift through the options and choose a pair that fits your needs. In this article, we'll cover exactly what you should be looking for and the five most comfortable womens golf shoes on the market.
Budget Friendly
Skechers Women's Go
Popular
Adidas Women's Adipure
Durable
Under Armour Women's HOVR
Highly Reviewed
New Balance Women's Fresh Foam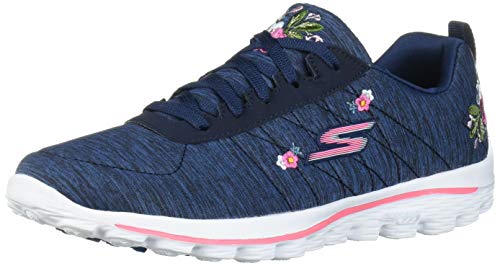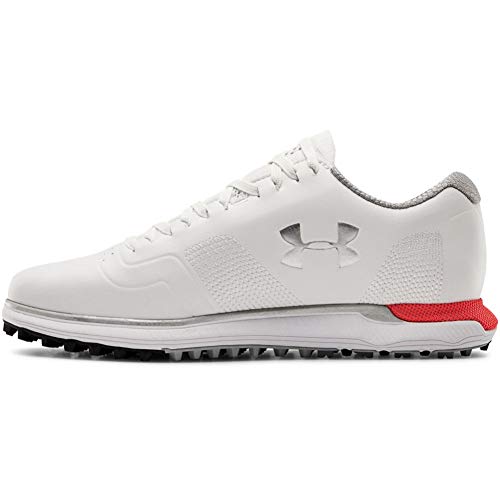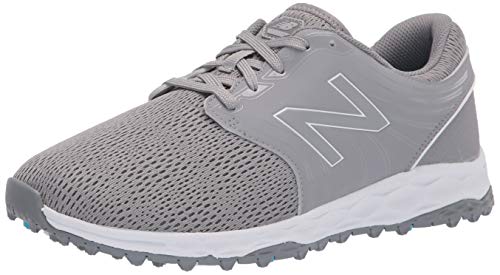 Budget Friendly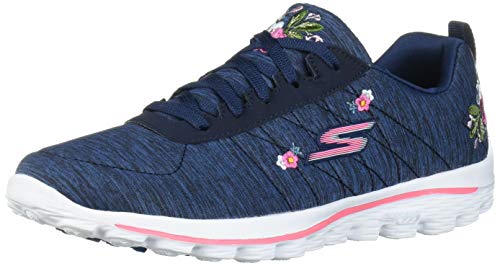 Popular
Durable
Under Armour Women's HOVR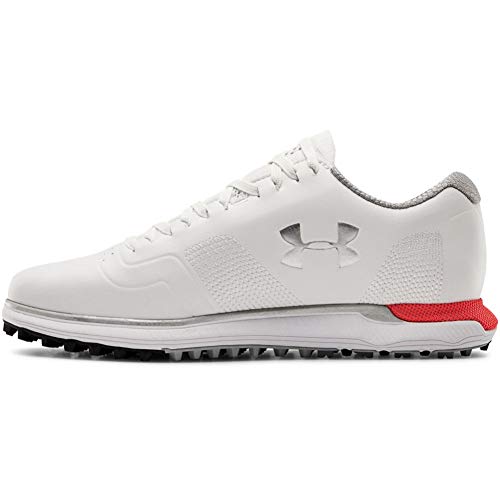 Highly Reviewed
New Balance Women's Fresh Foam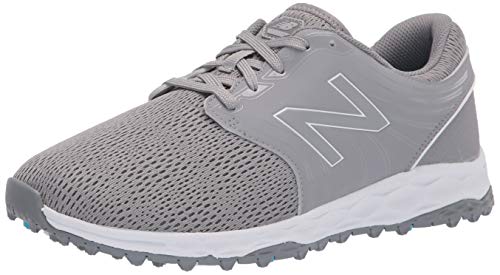 Last update on 2023-09-12 / Affiliate links / Images from Amazon Product Advertising API
Five Most Comfortable Women's Golf Shoes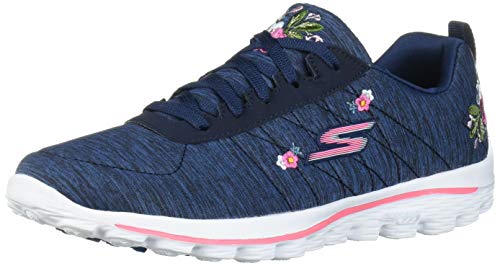 Last update on 2023-09-12 / Affiliate links / Images from Amazon Product Advertising API
When it comes to style, performance and comfort, you'll be hardpressed to find golf shoes better than the Skechers Women's Go. Like many Skecher's models, they feature a breathable mesh upper allowing air and moisture to pass through. This means you won't have to worry about sweaty feet, bad odor, or your feet soaked in the rain.
These shoes also feature a wide-tox box design with 2mm more width to give your feet extra room to work with. The Women's Go is ideal for women with plantar fasciitis, ankle pain, wide feet, or any type of foot condition.
Skechers has incorporated their signature Goga Max technology into these shoes, which is a full length of cushioning on the soles of the foot. It provides high-rebound cushioning to minimize the impact of walking, especially on the concrete ground. In addition, it can provide tremendous energy return as your plant and pivot your feet for maximum power on your swing.
Last update on 2023-09-12 / Affiliate links / Images from Amazon Product Advertising API
As we were researching and testing women's golf shoes, the Adidas Women's Adipure was by far the most stylish and trendy shoe of them all. It features three different color scheme options where it has a base white or black color. And then there are accents of grey, chalk coral, or real coral. There are little holes that allow for breathability on the outer portion of the shoe, but they also add visual appeal. Not to mention, just having the Adidas logo on the side of your shoe makes it stylish and complements your outfit.
It comes with its revolutionary midsole design called Pure Motion, which maximizes comfort and overall durability. The midsole has shock absorbent qualities that remove the impact of walking to feel like you're walking on a cloud. In addition, you'll receive excellent energy return allowing you to pivot your feet and shift the weight from heel to toe seamlessly on your swing, thus maximizing your power.
On the bottom, it uses a spineless outsole combine with its pure motion lugs for enhanced traction. These lugs are strategically places to grip the turf, prevent you from slipping on your swings, and provide a solid base even on uneven grounds.
Sale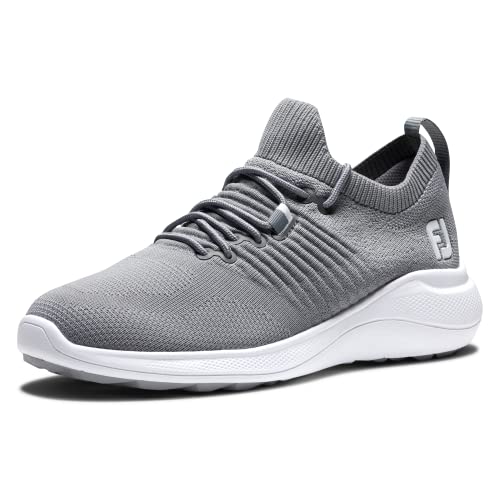 FootJoy Women's Fj Flex Xp Previous Season Style Golf Shoe, Light Grey, 5.5
PERFORMANCE MESH - Lightweight performance mesh delivers incredible comfort, breathability and all-day comfort.
COMPLETE SUPPORT - A soft EVA midsole provides increased underfoot cushioning, enhanced comfort and exceptional stability.
VERSATILE TRACTION - The Versa-Trax outsole is engineered with traction elements to create an outsole that is perfect for on course performance with wear-to-the-course versatility. Each traction zone maximizes traction during your swing and provides exceptional grip when walking the course.
LASER SPORT FIT - Offers a full rounded toe character with a standard fit across the forefoot and instep. A toe spring and a slightly narrow heel completes the athletic profile.
WATERPROOF - FootJoy warrants that this golf shoe will be waterproof in normal use for one year (U.S. Warranty).
Last update on 2023-09-12 / Affiliate links / Images from Amazon Product Advertising API
The FootJoy Women's FJ Flex Xp is perhaps the most trendy and versatile option we've seen, providing the best combination of on and off-course functionality to the footwear. Unlike most golf shoes, it has a more textured feel and look, almost a ribbed effect. As a result, the Flex XP can ensure that the shoes are flexible, soft, and light while wearing them. At the top, it has a full-rounded toe character across the instep and forefoot, giving you extra wiggle room and preventing your feet from feeling constrained.
Flex XP features a high-end performance mesh material that delivers all-day comfort and breathability. On the bottom, FootJoy incorporated their unique Versa-Trax outsole. It has traction elements, which provide excellent grip on the course and maximizes traction during your swing.
Sale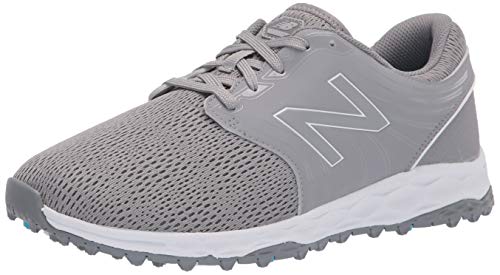 New Balance womens Fresh Foam Breathe Golf Shoe, Grey, 8.5 Wide US
Breathable performance mesh upper with supportive synthetic overlays
Smart rubber spikeless outsole has pressure mapping colors to highlight key performance zones
10mm drop* Fresh Foam innovative midsole provides ultra-cush, cloud-like feel
Molded CUSH+ insole for superior comfort
Last update on 2023-09-12 / Affiliate links / Images from Amazon Product Advertising API
If you're tired of your feet feeling sore or swelling up after a long day of golf, you want to consider the New Balance Fresh Foam. These uses incorporate the Fresh Foam, which adds additional and softer foam material into the shoe. The toe box is spacious and soft, which allows giving your feet more room to work with. A wider-toe box keeps you comfortable and prevents you from receiving blisters, especially when walking on concrete.
The top of the shoe is made of a soft, breathable mesh. It has molded pod line on the heel and sides to keep the foot from sliding. Also, the sidewalls extend higher up on the shoe, giving you a nice "bucket seat" feel for a secure fit and ankle protection. These shoes are especially useful for people who walk in 18 or 36-hole courses.  The shoe's design is neutral and best used for medium to high arches that do not require pronation control.
On the outsoles of the shoe, there is ground contact EVA, so you have the balanced and stable feel of the ground. This puts you in control rather than feeling bouncy or a little wobbly when you pivot your feet.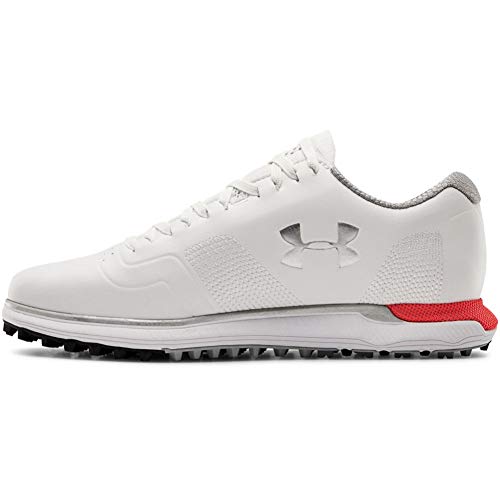 Under Armour Women's HOVR Fade Spikeless Golf Shoe, White (101)/Beta, 7
Breathable microfiber upper provides comfortable, lightweight support
1 Year Limited Waterproof Warranty
UA HOVR technology placement supports natrual movement of the foot during your swing & provides 'zero gravity feel' to maintain energy return that helps eliminate impact step after step
Compression mesh Energy Web contains & molds UA HOVR foam to give back the energy you put in
Knit tongue construction for enhanced fit & breathability
Last update on 2023-09-12 / Affiliate links / Images from Amazon Product Advertising API
Under Armour has long been a leading brand for athletic wear, but now they are also one of the best brands for women's golf shoes. These shoes feature HOVR, an innovative midsole material made to deliver high-energy foam with soft material for minimizing impact. As you walk a lot, this can impact the joints on your knees, feet, and other parts of the lower extremities.
Also, the HOVR technology provides a zero-gravity feel to provide excellent energy return. This energy return gives you a boost as you shift your weight from heel to toe so that you can hit the ball with greater power.
Like many golf shoes, it has a breathable microfiber upper allowing air and moisture to pass through. Under Armour even offers a full one-year limited waterproof warranty, demonstrating that it delivers their confidence in the water-repellent features. It features a knit tongue construction to help secure your feet, prevents sliding, and offer ankle support.
What to Consider When Buying a Women's Golf Shoes
When you're comparing different golf shoes, it's important to understand the differences in features and what makes each shoe unique. We'll discuss some of the characteristics of women's golf shoes so that you can make your own judgment and find the ones that are right for you.
Spiked or Spikeless
When it comes to all-day comfort and versatility, spikeless shoes are a clear winner. That's why we've included only spikeless shoes in our list of comfortable women's golf shoes. They also are much more durable than spiked shoes. However, the downside is that spikeless shoes don't provide the same level of traction, grip, and non-slip qualities as spiked shoes. You'll want to look for spikeless shoes with excellent traction technology, such as the VersaTrax by FootJoy. They have plenty of strong treads that keep your feet planted and prevent slipping in wet conditions.
Style
There are two common types of women's golf shoes: leather or mesh material. The leather is more traditional and has been around for a long time. Leather is water-resistant and is great to use in all weather conditions. In addition, leather tends to have a more luxurious or premium look compared to mesh. However, it can feel too stiff or require some time to break in the new shoe. Thus, wearing leather shoes can be uncomfortable to wear at first.
In contrast, mesh material sport a more athletic look and allows air and moisture to pass through. This keeps your feet cool and dry for a long time. Not to mention, it'll let out any bad odors that can linger from your feet. We feel that mesh material is the more comfortable option of the two.
Waterproof
Golf shoes should have water repellent or water-resistant properties to ensure that you use them in all conditions. There's nothing worse than having your feet soaking wet from sweat or rainwater. A golf manufacturer will use various materials and technology to have these water-resistant qualities.
As mentioned above, leather is an excellent material that repels water. For mesh shoes, they tend to incorporate a synthetic microfiber that adds an overlay structure to prevent water or moisture from getting inside your shoes. Manufacturers of golf shoes use innovative technology such as the Biom Hybrid 3 or the Gore-Tex lining to repel water or create an impenetrable membrane that prevents water from passing through.
Lightweight
Having lightweight golf shoes will ensure that you don't feel bogged down by your footwear. The shoes should be flexible, giving you a full range of motion and letting you easily bend your foot or pivot as needed. Some common features make up a lightweight golf shoe, such as mesh uppers, ortholite insoles, and foam cushioning.
Foot Conditions
If you're someone with a foot condition such as bunions, hammertoe, plantar fasciitis, or even low or high arches, you should consider wide-toe box shoes. These provide extra room to ensure that your foot doesn't feel too constricted. In addition, they may even have adjustable arches so that you can customize the amount of support you need. In addition, you should look for shoes that minimize the impact of walking or any cardiovascular-related activities. For example, some shoulds have a low-profile EVA outsole designed to be shock absorbent to keep your feet comfortable, secure, and safe.
Most Comfortable Womens Golf Shoes – Final Thoughts
Now that you know the top five most comfortable womens golf shoes in the market and you like best. Although some manufacturers may have the most premium-end technology or game enhancement features, remember that nothing beats having optimal support and comfort. When your feet are comfortable, you can excel and perform your best on the golf course. Not to mention, comfort will prevent any pain or injuries while you're wearing them.
Years ago, it would be difficult to find a good pair of golf shoes because there weren't many options to choose from. Today, the sport has grown tremendously, and many of the top brands such as Adidas, Nikes, FootJoy, Ecco, and New Balance create many different pairs of women's golf shoes. We've hoped you've found our article insightful and has helped you with your decision for your next pair of shoes.