For any high handicapper looking to get a little extra boost off the tee, you've come to the right place. There's nothing worse than hitting some balls into the trees, water, or in the rough. Forgiving drivers have enough stability and forgiveness to negate the effects of bad shots that are off-centered or simply slow swing speeds.
To help you with your journey to find the best drivers, we've thoroughly researched and tested many drivers in the market. We've compiled the top 5 most forgiving drivers for the high handicapper, along with a buyers guide sharing what to look out for.
In a hurry? These are our top picks.
5 Most Forgiving Drivers
Below are our picks for the most forgiving, stable, and shot-correcting drivers in the market.
TaylorMade SIM2 Max Driver – Best Overall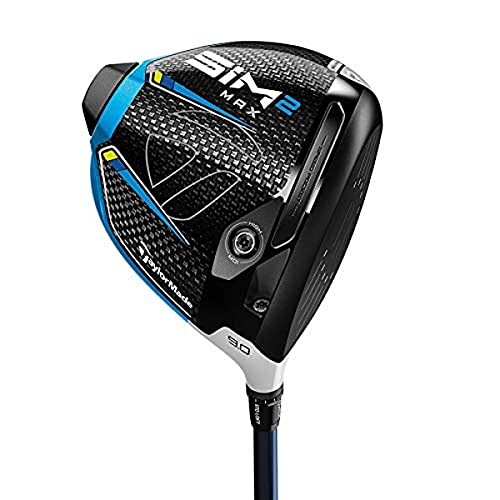 TaylorMade SIM 2 Max Driver Mens Right Hand Graphite Stiff 9 Degree Ventus Blue
New Forged Ring Construction. Forged from a lightweight and high strength aluminum that is milled to an exacting shape, it unites a massive rear weight, a full carbon sole, crown and a new milled back cup face.
SIM Inertia Generator. The asymmetric Inertia Generator is designed to provide faster club head speed through advancedgeometry and aerodynamic analytics.
Speed Injected Twist Face. Improves ball speed by calibrating each head to the threshold of the legal speed limit with corrective face curvature also protecting against heel and toe mis-hits.
Thru-Slot Speed Pocket. Our most flexible Speed Pocket design engineered to maximize ball speeds and produce additional forgiveness on low face strikes.
Split Mass Weighting. Designed to enhance forgiveness while allowing for pinpoint target swing weights during custom assembly.
Last update on 2023-09-11 / Affiliate links / Images from Amazon Product Advertising API
When it comes to forgiveness, we believe the TaylorMade SIM2 can compete with any driver in the market. This driver has a 24g of back weight to provide additional forgiveness along with a five percent larger clubface than it's the previous model.
Also, the SIM2 features a speed-injected twisted clubface that has corrective face curvatures in the sides to protect against toe and heel mishits
Cobra Radspeed XB Driver – Best for Distance
Sale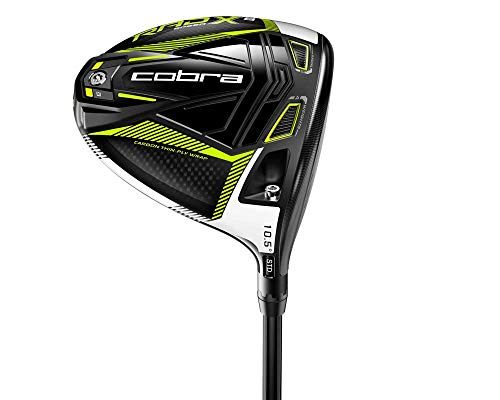 Cobra Golf 2021 Radspeed XB Driver Gloss Black-Turbo Yellow (Men's Right Hand, Project X Hzrdrus RDX Blue, Stiff Flex, 10.5), Standard
Radial Weighting Technology-Radial Weighting is the strategic placement of weight relative to the CG to optimize speed, forgiveness, and flight direction from the fairway or off the tee
CNC Milled Infinity Face-An infinity edge face design expands the milled area by 95% to increase the zone of maximum ball speed
Thin-Ply Carbon Crown-The Carbon Wrap Crown system features a new carbon fiber material that is 30% thinner which creates another 6 grams of discretionary weight
Lighter T-Bar Chassis-A refined T-Bar speed chassis design is 7 grams lighter, giving us even more discretionary weight to position mass within the frame to optimize performance
Extreme Back Weighting-The Radspeed XB Driver frame features 20g positioned in the back (14g of fixed and 6g of adjustable weight)
Last update on 2023-09-11 / Affiliate links / Images from Amazon Product Advertising API
High handicapper players tend to struggle with getting enough ball flight and distance into their drives. The Cobra Radspeed XB Driver is designed for those who want more stability and distance in their shots. It features 8g of fixed weight on the front side and 20g of weight positioned in the back, which enhances the forgiving nature of the driver.
This radial technology is their strategic placement of weight engineered to optimize flight direction, forgiveness, and speed. The driver has a T-bar chassis that is 7g lighter than most drivers positioning the weight mass forward. As a result, the ball spin decreases, and the ball speed increases.
Callaway Epic Max Driver – Optimal Performance Across the Face
Sale
Callaway Golf 2021 Epic Max Driver (Right-Handed, IM10 50G, Regular, 10.5 degrees) , Black
Epic MAX uses Artificial Intelligence to engineer a NEW formula for speed in our most forgiving Epic driver ever.
Epic ball speeds start with our new A.I.-designed Jailbreak Speed Frame. By applying Artificial Intelligence, this new structure improves stability in the horizontal and torsional direction as well.
Our A.I.-designed Flash Face is specifically engineered to optimize the Jailbreak Speed Frame, promoting fast speeds across a more expansive area.
Epic MAX creates exceptionally high forgiveness, starting with a lighter, stronger Triaxial Carbon material that saves over 19 grams of weight vs. titanium. Our engineers have redistributed that saved weight to promote high launch and more forgiveness.
With a 17g sliding rear weight, golfers have extensive adjustability to promote the ball flight that they want to play. Combined with the OptiFit hosel, the Epic MAX provides up to 20 yards of shot shape correction.
Last update on 2023-09-11 / Affiliate links / Images from Amazon Product Advertising API
The Callaway Epic Max Driver utilizes their new Jailbreak AI speed frame, enhancing the club's torsional and horizontal stability. This improves the overall ball speed when it meets the clubface. The face has a more expansive and wider surface to correct for any off-center hits.
In addition, the Epic Max Driver promotes shot-shaping corrective features with their 17g sliding rear weight. The Optifit Hosel and sliding weight can help adjust the ball flight straighter despite bad shots. This driver offers up to 20 yards of shot shaping correction for golfers.
It also uses Triaxial carbon, which saves about 19g of weight compared to titanium. The saved weight is more effectively used for more forgiveness and better ball flight.
Cobra King Speedzone Driver – Best for Slower Swing Speeds
Sale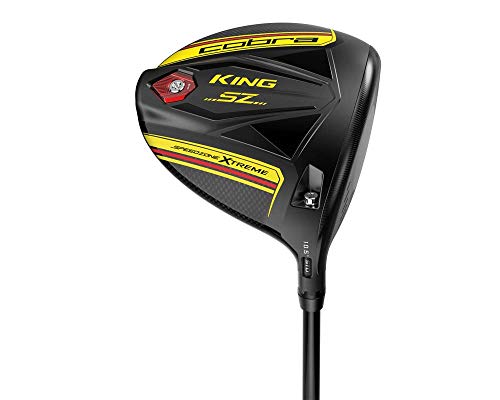 Cobra Golf 2020 Speedzone Extreme Driver Black-Yellow (Men's, Right Hand, MCA Tensei AV Blue 65, Stiff Flex, 9.0)
CNC Milled Infinity Face-The Power Zone-The face is the engine of the driver and foundation for speed.
Titanium Speed Chassis-The Strength Zone-A Newly designed T-Bar Speed Chassis is lighter and stronger to withstand high speed collisions and deliver excellent stability and feel.
360 Carbon Wrap Crown-The Light Zone-A 360 Carbon wrap crown covers 50% of the club body, adding stiffness to the chassis while saving 25 grams of discretionary weight that we moved low, back, and to the perimeter.
Speed back Weighting-The LOW CG Zone-69 grams of mass is positioned as low as possible, creating the most efficient transfer of energy to the ball and speed that you can relish every time you step on the tee.
Speed back Shape-The Aero Zone-A streamlined shape with milled perimeter leading edges harness airflow with ultimate precision for maximum acceleration power.
Last update on 2023-09-11 / Affiliate links / Images from Amazon Product Advertising API
Don't you hate missing the center of the clubface? With their infinity edge design, the mill area expands by 95% up to the absolute legal limit. This ensures that individuals with slower swing speeds can get the maximum accuracy needed to ensure high ball flights.
In addition, we enjoy their low CG speed back weighting, which purposely positions the weight to the bottom to maximize the transfer of energy. As a result, the ball will fly straighter and farther. Since the weight also is wide, even the effects of off-center hits will be negated. For individuals who frequently slice the ball, this feature is incredibly helpful.
Cleveland Launcher HB Turbo – Budget-friendly
Cleveland Golf Launcher Turbo Driver 10.5 R LH, Black
Turbocharged cup face: The new turbocharged cup face, enhanced with a new variable face, provides higher COR over a larger impact area for increased ball speeds and more distance.
HI bore Crown: The redesigned HI Bore Crown lowers the center-of-gravity (CG) by 2. 2mm, enabling a lower CG position for optimal launch conditions.
Deep weighting: discretionary mass savings positioned for significant increases to MOI, delivering more speed.
Ultralight hostel: external and internal weight reduction, redistributed low and deep for a higher launch and more forgiveness.
Counter balanced shaft design: specifically designed for the launcher HB Turbo driver, the MIYAZAKI C. Kuma center of gravity is relocated higher toward the grip, enabling additional head mass for increased MOI.
included components: Driver, headcover
Last update on 2023-09-11 / Affiliate links / Images from Amazon Product Advertising API
For individuals who struggle with hitting drives that go straight and far, the Cleveland Launcher HB Turbo aims to solve this issue. This driver utilizes a Turbocharged cup face extending beyond the front in a cup shape. As a result, users will experience faster ball speeds across many points in the clubface.
Their redesigned HiBore Crown lowers the weight by 2.2 mm to produce greater forgiveness and higher launch. The weighting scheme on the driver also reduces the impact of off-centered strikes.
What to Look For When Buying a Forgiving Driver for High Handicapper
There are many factors to consider when looking for a forgiving driver for high handicappers. We've broken down the biggest factors, so you know what to look for when making your purchase.
Forgiveness
The term forgiveness refers to the design in a golf club that reduces the effect of poor contact and bad swings with the golf ball. Typically, there are unique characteristics that make a golf club more forgiving such as:
A bigger clubhead
An offset feature, where the clubface is setback from the hosel allowing users to square the face more easily.
The shaft is softer and more flexible
The soles have more bounce
A driver with plenty of forgiveness should provide assistance when it comes to off-center hits and feels easy to swing. As a result, you should notice a big improvement in your direction, ball speed, and distance.
Launch
Due to slow swing speeds, high handicappers tend to struggle to produce enough air and launch behind their swings. Look for drivers that will enhance your launch and air time. This includes a softer and more flexible shaft and higher loft.
Value
You want to look for drivers that give you the best features for its price. We've aimed to provide drivers at various price points. Make sure you use a driver that is durable and has everything you need. The last thing you want is a driver that you'll need to replace in a few months.
Accommodates Your Swing Speed
The shaft affects your performance significantly. It will determine the consistency of your shots and determine how the ball flies through the air. Most high handicappers have a swing speed of 70-90 mph, meaning you should have a very flexible shaft. The flexible shaft will promote a more consistent and straighter ball flight.
Adjustability
Adjustable lofts can be very effective in enhancing your game. The driver's shafts can be unscrewed from the head and rotated to decrease and increase the loft angle of the driver from 9 degrees to 14 degrees. By adjusting the angles, you can increase the accuracy of your drives and how far you hit the ball on your drives.
Loft Options
Many high handicappers fail to realize that the loft of a driver equates to the ball height. When it comes to your drives, it's best to maximize the height, especially for high handicappers who have slower swing speeds.
Frequently Asked Questions
Why Do High Handicappers Need Specific Golf Drivers?
Drivers are arguably one of the most important clubs to have in your arsenal. They're designed with the purpose of getting the maximum distance off of your tee. The design of the driver is made to affect the ball speed, launch, spin, and trajectory.
High handicappers need a specific driver to minimize the effects of their slow swing speeds and off-centered shots. If used on a professional driver designed for a mid or low handicapper, the off-center hits will cause slices that cause inaccuracy and loss of distance. Also, low swing speeds will result in slow ball speeds and poor ball trajectories. That's why it's crucial to pick a driver that suits your precision and swing speed.
How Often Should I Purchase a Driver?
Although many golf manufacturers tend to release new drivers every year or multiple times per year, you won't need to buy the latest one every time. Most drivers can last between two to four years before you need to replace them. However, this depends on your skill level, how to take care of it, and your playing style.
How Many Drivers Should I Own?
In most golf courses, you're only allowed to carry up to 14 clubs in your golfing bag. That means carrying one driver should suffice. Ideally, you'll want to choose an adjustable driver so that you can maximize distance and shot shaping.
How Do You Choose the Right Shaft?
Shafts come in varying degrees of flexibility. Low handicappers need more stiff shafts, while high handicappers should use more flexible shafts.
A shaft that is too flexible for your swing speed may cause inconsistent release points. If the shaft is too stiff for your swing speed, that'll cause you not to produce the maximum launch trajectory and swing speed.
Typically, shafts are labelled as:
L, which stands for ladies
A or M, which stands for amateur or senior flex
R means regular
S for stiff
X denotes extra stiff
For high handicappers, we suggest using a shaft that is labelled A or M to maximize your ball speed, launching angle, and spin rate.
How Do I Know that the Driver is Intended for High Handicappers?
It can be confusing to know which driver is geared towards high handicappers. Some manufacturers may release misleading information to persuade customers to purchase their products. Here are a few things you should consider to determine whether a driver is intended for a beginner.
Clubhead size: For beginners, the bigger the club size, the better. Most golf courses allow for a maximum of 460cc in clubhead size, which is the size you should aim for. A bigger clubhead size means that there will be a bigger sweet spot and a larger room for error.
Shaft flexibility: Every shaft should have enough flexibility to support your swing speed. For high handicappers, you'll want the most flexible shafts in the market because they'll help you carry more distance and keep your ball straight.
Forgiveness: Off-center hits are one of the most common issues for a beginner. Forgiveness will help to keep the ball straight and with a high trajectory even if the hit is off-target.
Most Forgiving Driver For High Handicapper – Final Verdict
As mentioned, we believe the TaylorMade Sims2 Max Driver provides the best combination of stability, forgiveness, and flexibility. Using its speed-injected face and back-shifted weight, you can easily drive balls faster and straighter than before.
Make sure to read through our buyer's guide to understand the key factors that make up forgiveness. Getting a driver that suits your swing speeds will ensure that you maximize and enhance your game.
Most Forgiving Driver for High Handicapper | Our Top 5
Our top 5 most forgiving driver for high handicappers. These drivers are specifically designed to give high handicappers more control over their ball flight.
Product In-Stock: InStock