If you're new to the wonderful world of golf, or simply haven't been able to lower your handicap yet, you may be in the market for fresh wedges to help improve your game. Wedges are also referred to as scoring clubs for a reason, so make sure you take a bit of extra time picking out the proper wedge for your type of play. Here we discuss the most important features to consider when shopping for gap wedges, along with our top picks for high handicappers.
Our Top Pick
Cleveland CBX 2 Wedge
Budget Friendly
Callaway Mack Daddy CB Wedge
Highly Reviewed
Pinemeadow PGX Wedge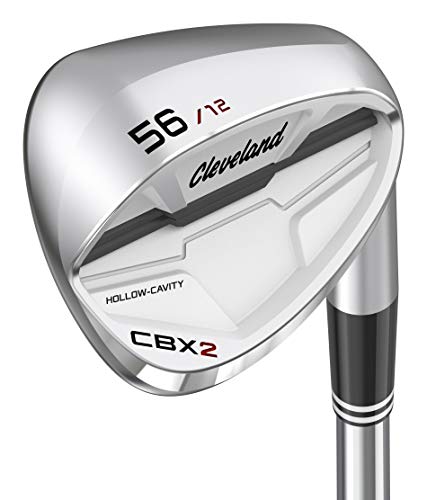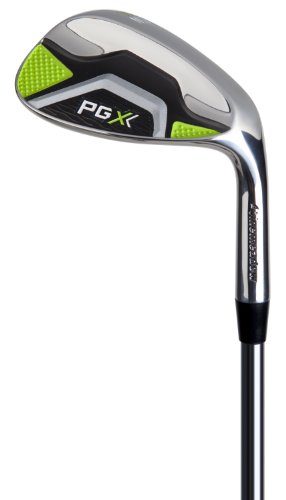 Our Top Pick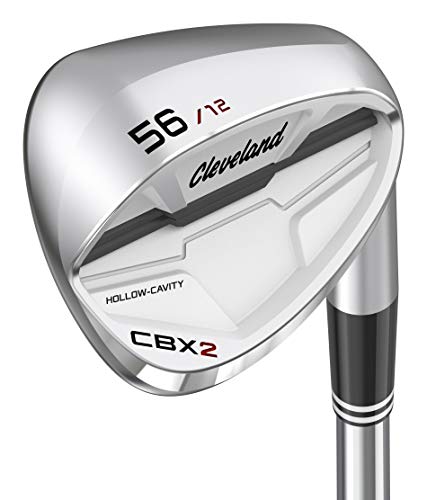 Budget Friendly
Callaway Mack Daddy CB Wedge
Highly Reviewed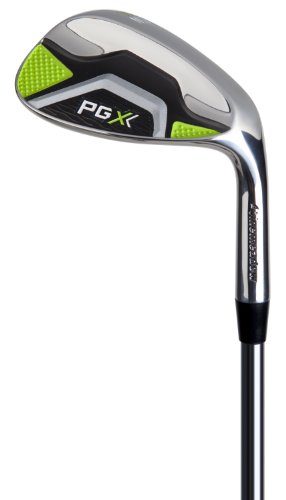 Last update on 2023-08-26 / Affiliate links / Images from Amazon Product Advertising API
Types of Wedges
Unlike your irons 1 through 9 that are separated by about 3° loft increments, the degree of loft on wedges can be up to 20° apart. So, when you're investing in a set of wedges or trying to decide which ones to take to the course, it's up to you to ensure the gaps between the lofts of your clubs are even (ideally between 3° to 5°). This will help guarantee your ability to cover as many various distances and conditions as possible.
With that said, there are four main types of wedges to choose from:
Pitching – 45°-49° loft: 100+ yard shots, long trajectory
Gap – 50°-54° loft: 80-100-yard shots, distances shorter than your pitching wedge but farther than a sand wedge
Sand – 54°-58° loft: to escape bunkers, sand, or tall grass
Lob – 59°-65° loft: 30- yards or less, high trajectory and soft landing
Here we discuss the best gap wedges for high handicappers, the wedges that add versatility to your short game by filling the gap between sand and pitching wedges.
Gap Wedge Features to Consider
Price
The very first thing to take into account is the price tag. For anyone just starting out, it might be easier to stick to using the wedges included with your iron set. On the other hand, you can purchase some very reasonably priced wedges that can make all the difference in your game or go all-out and try a tour brand wedge. Determine how much you're willing to fork out, and the first hurdle in your gap wedge search is out of the way.
Number of Wedges
With the game rules restricting you to carry just 14 clubs, you will need to choose how many wedges to take in your bag. The majority of players tend to take between two and four, but you need to base your choice on your own personal play. If you feel you need more versatility and short game options, for instance, load up on wedges.
Lofts and Gaps
Loft refers to the angle of the club face in relation to the shaft. Wedges are your clubs with the highest lofts, from 45° to 65°. The higher this angle is, the more trajectory you'll get from it but also the less distance you'll get out of it. Gap wedges should typically be between 48-54° and will help you gain tighter shot dispersion along with the best trajectory and distance for more variety and confidence in your short game.
Gaps refer to the differences in loft from club to club. Ideally, you want to have a gap of 4° between your 9-iron to your pitching wedge and then between the rest of your wedges too.
The degree of loft you need between your wedges is tremendously easier to determine after you've decided how many wedges you're taking with you. If you plan to use your iron set pitching wedge, make sure you check what its loft is to determine what your gap wedge's loft should ideally be.
If you opt out of your iron set wedges, you will need to know what the loft of your 9-iron is in order to calculate the optimal pitching wedge loft is for you, and then choose your gap wedge loft based on that.
It may sound tedious, but your short game will hugely benefit from taking a bit of extra time to work out the best gaps and lofts for your needs.
Bounce
Bounce is the curved part of the head of the wedge which makes contact with the ground. More specifically, bounce is the angle created between the leading edge of the club and the lowest part of the sole when the wedge is placed flat. The higher the bounce, the higher your lead edge will be. It is also labelled appropriately – it prevents digs and snags in the turf by bouncing off of it instead.
Your personal swing style and type of play are the most important factors in choosing how much bounce you need. Lower bounce clubs (0°-10°) are ideal for players with low angles of attack or who use a sweeping action, in tight lies, and dry, firm conditions. If you have a steep angle of attack, tend to dig more, or frequently play on damper courses, a standard bounce (10°-16°) will suit best, while a higher bounce (16°+) will further help prevent digging in bunkers.
For beginners or high handicappers, the best wedge options are those with more bounce as they will help you get a cleaner shot. However, for a gap wedge specifically, it is better to have less bounce to promote more of a sweeping stroke than digging.
With such a variety of conditions of turf and bunkers out there, it is almost as important to be armed with different bounces as it is to have multiple lofts.
Sole Grind
Just like the bottom of your shoe, the sole of the wedge refers to the bottom of the club. When speaking of sole grind, it usually refers to the heel or the toe being grinded to further shape the club in order to suit specific conditions.
Although mostly used for versatility to increase the playability of the club in various conditions, some players use grinds purely to take away material from the heel of the club. This will bring the club face closer to the ground for easier opening when at address, so you can get the wedge to sit well when you need to.
A sole grind will also alter the bounce of the wedge, so take note of this and seek advice from professionals if you're looking to customize your club.
Note: for beginners or high handicappers, your best bet may be to keep it simple and not worry too much about clubs with plenty of bounce and grind options. When you're just starting out, you likely won't be able to notice much difference in a few degrees of bounce, so check for a versatile sole grind and standard bounce so the wedge can be used in a range of conditions.
Grooves
Often compared to tire treads, the grooves on the club face provide grip on the ball. They will also produce backspin which in turn, lessens the distance capabilities of the wedge.
Recently, the use of deep grooves in wedges has been banned due to creating more backspin and thus, giving golfers an unfair advantage. Because of this new rule, the styles of grooves on wedges are classified by two types: laser-etching or a vintage finish. You will typically find laser-etched grooves create maximum spin by optimizing ball-to-face friction.
Finish
Although various finishes are mainly for cosmetic purposes, it is worth noting that a duller finish is less likely to reflect light on sunny days, and chrome or nickel finishes are typically more durable, keeping their color and appearance longer.
However, an oil can, unplated or raw finish will be specially designed to rust over time. While that may sound like a negative characteristic, the rust actually helps to add friction and a bit of spin to the ball, which can be advantage for some players… If they're able to turn a blind eye to the unfortunate appearance of rusty clubs, that is.
Forgiveness
Lastly, high handicappers should consider the amount of forgiveness the wedge has. Although not nearly as pertinent as putter forgiveness, the added assistance will be favorable for many players with a high handicap.
Forgiveness comes in the form of wider soles, larger heads, and cavity backs on wedges. While the sole will help get the ball up and increase forgiveness in the strike, the cavity back will add weight in the perimeter for better forgiveness.
With all of these features considered, here are our favorite gap wedge options for beginners and high handicappers.
Top Picks – Best Gap Wedge for High Handicappers
Cleveland CBX 2 Wedge
Last update on 2023-08-26 / Affiliate links / Images from Amazon Product Advertising API
The CBX 2 will help get your shot closer to the hole with its extra forgiveness in comparison to the RTX Zipcore, its sister model. This is achieved by the maximized MOI with weight placed in the toe and a hollow chamber toward the heel that also provides a solid feel. According to Cleveland, this leads to 25% more of shots being hit from the sweet spot.
Users find these clubheads very stable with the wide sole also promoting gliding of the wedge rather than digging. The Gelback TPU insert further enhances the feel of these clubs by reducing the vibrations and the large profile at address helps inspire confidence. Furthermore, the laser milling and Tour Zip grooves help provide even more spin and extra stopping power.
Although some fans of traditional blades may find these clubs a touch too clunky, inconsistent players will appreciate the forgiveness gains of the club, making up for its appearance.
Tour Edge Hot Launch E521 Wedge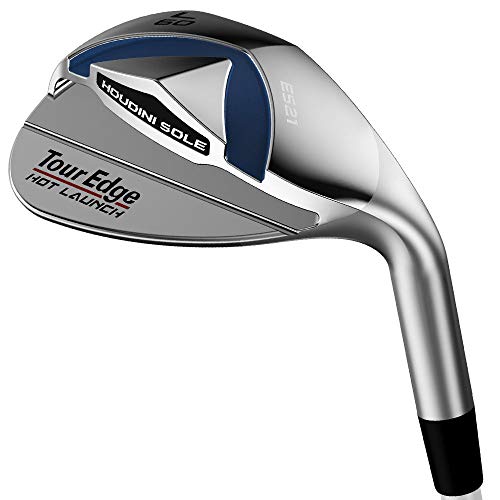 Tour Edge Hot Launch E521 Gap Wedge 52 (KBS Max 80, Stiff) Golf
Tour Edge Hot Launch E521 Wedges
Super-Wide Sole - The super-wide sole and heavier head weight of the E521 Wedge helps to eliminate flubs for superior contact. It is engineered to versatility by adding extreme performance benefits to chipping, pitch shots, explosion shots out of the sand, shots out of the rough, flop shots and with bump-and-run shots.
Super-Deep Undercut Cavity - This extremely deep undercut cavity dramatically lowers the Center of Gravity for the ultimate in wedge forgiveness. It redistributes mass for enhanced flight control and to create a higher launch with increased spin for extreme playability from the sand and rough.
Extra Large Face Design - An oversized face design on the E Series wedge provides more striking area for enhanced consistency and accuracy. It also raises the Moment of Inertia (MOI) for enhanced precision around greens. enhance playability from the sand and rough.
Maximized Grooves - The grooves of the E521 Wedge are maximized to USGA depth and sharpness to provide maximum spin and control.
Last update on 2023-08-27 / Affiliate links / Images from Amazon Product Advertising API
These clubs will help enhance confidence and consistency as the large club face and super wide sole help increase comfort levels. While the wide sole won't appeal to mid-low handicappers with better short game, it will be appreciated by high handicappers looking for a more forgiving wedge with the ability to help deliver cleaner strikes more consistently.
The Houdini sole is ultra-wide and designed to reduce interaction with the turf by 35 percent with 14 degrees of bounce. This will promote gliding of the wedge rather than digging into the turf or sand, while the weight is distributed low and deep which will help get the ball in the air.
The oversized face gives an extra-large striking area to enhance consistency as well as accuracy, so this wedge is the perfect choice for anyone looking to improve their game.
Callaway Mack Daddy CB Wedge
Callaway Golf Mack Daddy CB Wedge
Due to unprecedented demand across the industry, causing a shortage of shafts and grip, we may need to substitute for an equivalent premium shaft/grip.
More Spin from Groove-In-Groove Technology
Four Sole Grinds to Suit a Variety of Playing Styles, Attack Angles and Course Conditions
Broad Range of Lofts and Bounce Combinations
Satisfying Feel from Soft Carbon Steel, Precise CG Locations and Crisp Turf Interaction
Platinum Chrome or Black Matte Finish
Last update on 2023-08-27 / Affiliate links / Images from Amazon Product Advertising API
Specifically aimed at mid to high handicappers, these incredibly forgiving wedges are user friendly with a wide sole to help provide a wider margin for error. These clubs can be compared to the Callaway Jaws MD5 but with more forgiveness, ideal for high handicappers.
These cavity-back wedges offer great spin control and promote consistency and confidence for game improvement. Anyone struggling around the greens will appreciate these wedges for achieving consistent, good contact especially when chipping and pitching.
The full sole grind and moderate bounce will help with turf interaction while the Jaws grooves add extra grip and spin. These clubs are a fantastic blend of a deep cavity back for inspiring confidence with a classy look.
Wilson Harmonized Golf Wedge
Sale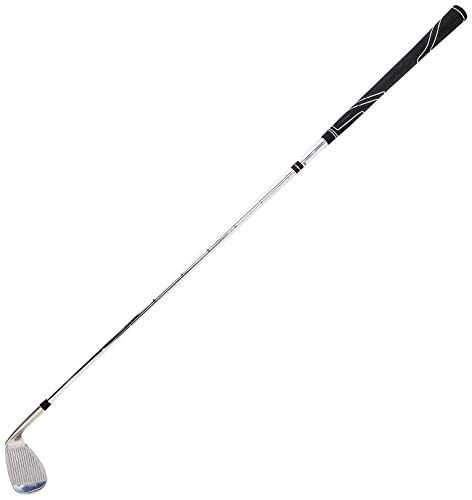 WILSON Sporting Goods Harmonized Golf Gap Wedge, Left Hand, Steel, Wedge, 52-degrees
Classic, high polish finish and classic blade shape
Perfect club for getting your ball close to the pin
True Temper steel irons for high performance and reliability
Sole grind allows players to open the club face further to hit higher shots with more accuracy, therefore improving performance
Blade shape with modified bounce angles for dead stop spin and versatility from the sand, rough, or fairway
Last update on 2023-08-27 / Affiliate links / Images from Amazon Product Advertising API
For a gap wedge with a lower price that doesn't sacrifice performance, try the Wilson Harmonized Golf Wedge. These clubs are very straightforward without all of the potentially overwhelming bounce and loft options on higher-end wedges.
These wedges inspire confidence around the greens with the aggressive grooves and impressive levels of forgiveness. The bounce angles make these wedges very versatile while they also offer a range of six lofts from 50-64°.
A clean, classic look with a black finish to reduce glare and minimize distraction increases the visual appeal of these clubs. The irons are True Temper steel that are mid-weight shafts nearly as stiff as a regular steel shaft.
TaylorMade Golf Milled Grind 2.0 (MG2) Hi-Toe Wedge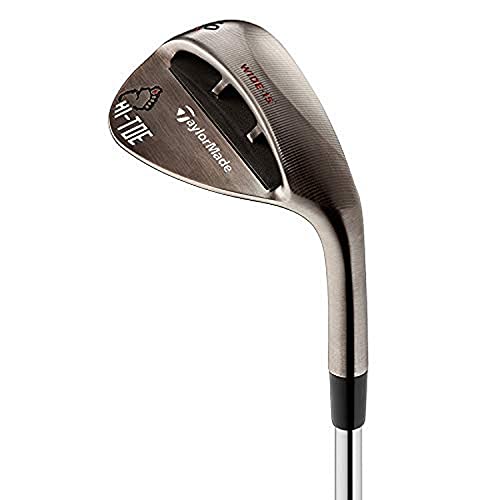 TaylorMade Milled Grind Hi Toe Raw Wedge Mens Right Hand Steel Stiff Big Foot 56.15
Thick-Thin Design. A thinner topline along with additional mass redistributed nearer to the top of the spine allows engineers to optimize CG location for precise flight and enhanced feel.
New Aged Copper Finish. Slightly tarnished look creating a classic rich reveal.
Milled Grind. Milled Grind wedges ensure precision where it matters most. The process maximizes consistency when crafting each sole for repeatable performance and turf interaction.
Raw Face Technology designed for increased spin, precision and feel as well as laser etching. The face will rust over time and was engineered to preserve consistent spin throughout the life of the wedge.
Full Face Scoring Lines. Designed to ensure consistent ball contact out of the deep rough and increase spin on off-center strikes.
Last update on 2023-08-26 / Affiliate links / Images from Amazon Product Advertising API
For an incredibly forgiving wedge with fantastic performance, the MG2 Hi-Toe is a fabulous choice. High handicappers will appreciate the forgiveness while its versatility allows it to be used in bunkers, rough, and short grass alike.
The broad, flat sole of this wedge promotes a sweeping motion by preventing digging into the ground by the leading edge, while the raw face frames the ball nicely for extra help with alignment. The Raw Face Technology helps reduce skid and increase friction at impact for a more stable shot with maximum spin.
The shaft is available in two different options: graphite and steel. Although the graphite option is slightly more expensive, both are fantastic quality and prevent too high a trajectory.
The copper finish is not only unique in looks initially but will also get better with age as it darkens over time for even more of a classic look.
Cobra King Black Wedge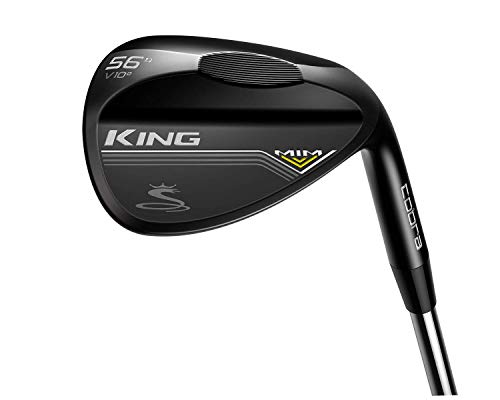 Last update on 2023-08-27 / Affiliate links / Images from Amazon Product Advertising API
With 100% CNC Milling on the face of these clubs, you will find yourself impressed by the consistency, accuracy, and spin levels across the entire face of this wedge. Cobra have engineered a technology they refer to as Variable Face Roughness (VFR) that maximizes spin even in the face area without any grooves.
These attractive wedges will last longer thanks to Cobra designing them to outlast any other clubs they have produced. The construction of this club is Metal Injection Molded (MIM) 304 stainless steel with a new Diamonized Black Metal (DBM) finish for enhanced durability and reduced glare as well as sleek styling.
Featuring six different loft options for all your gapping needs, they also come in three sole choices: Versatile, Classic, and WideLow. Depending on your shot style and whether you dig into the ground or not, each design has something different to suit every player and style of shot.
Pinemeadow PGX Wedge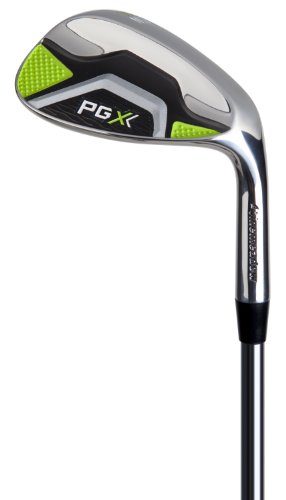 Pinemeadow Golf PGX Wedge
Equipped with a steel shaft and standard Pine meadow grip
Midsize wedge sole helps provide accurate play from any lie
Tour shape and sharp leading edge
Last update on 2023-08-27 / Affiliate links / Images from Amazon Product Advertising API
The best benefit of the Pinemeadow PGX Wedge is the price tag – you won't get a better bang for your buck on any other club.  These wedges are clean, simple, and forgiving in three loft options (52, 56, and 60). They aren't built for low handicap players as the basic steel shafts simply aren't heavy enough but are perfect for beginners with a substantial face area and high forgiveness.
The wide sole on the club head makes for a more forgiving wedge as it narrows toward the toe, and the Tour shape and sharp leading edge make these wedges quite appealing. Unfortunately, there are no sole grind options when ordering this wedge, but it is surprisingly versatile despite this.
Although the spin capabilities and feel of this wedge won't be as spectacular as that of more expensive options, users find these clubs offer decent shot consistency – better than average in fact, with great accuracy and control. It is a surprisingly versatile club that is able to handle most shot conditions thanks to its excellent bounce.
As a great value for money option, these clubs are amongst the lowest priced on the market for anyone not looking to make a big commitment by dishing out a lot of dough for a premium club. You could even purchase a set of three and still spend less than you would for one high-end wedge.
Best Gap Wedge For High Handicap – Conclusion
It can take some time to refine your search for the best gap wedge, with so many options on the market and plenty of features to consider. So, start by factoring in how much you are prepared to pay and go from there. Regardless of your play style, you can't go wrong with any of our top picks!
Best Gap Wedge for High Handicapper | Our Top 5
Buyers guide to the 5 best gap wedge for high handicappers. Includes pros and cons, as well as a detailed discussion of each product.
Product Currency: USD
Product In-Stock: InStock