Every golfer has different preferences when it comes to choosing golf gear. While some prefer their scoring clubs to have a high level of forgiveness, others put the level of spin at the top of their list. The best options for gap wedges are those which provide a great blend of all the best features. So, to improve your short game and help you choose the best tool for the job, check out our recommendations for the best gap wedge for mid handicappers.
Our Top Pick
Callaway Golf Mack Daddy 5 JAWS Wedge
Budget Friendly
Mizuno T20 Golf Wedge
Premium Option
TaylorMade Milled Grind Hi-Toe Wedge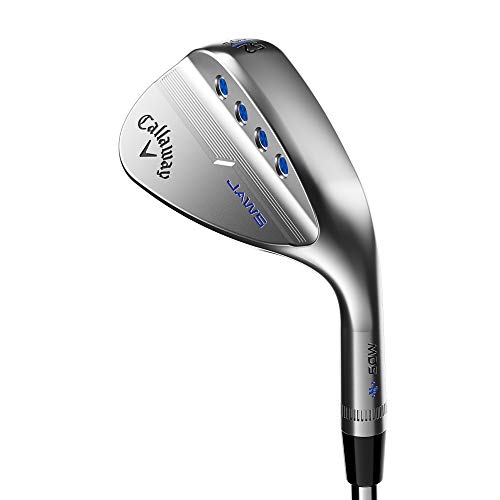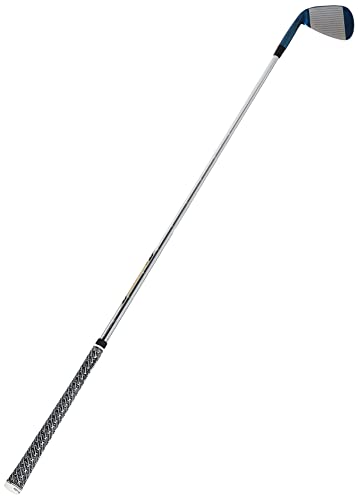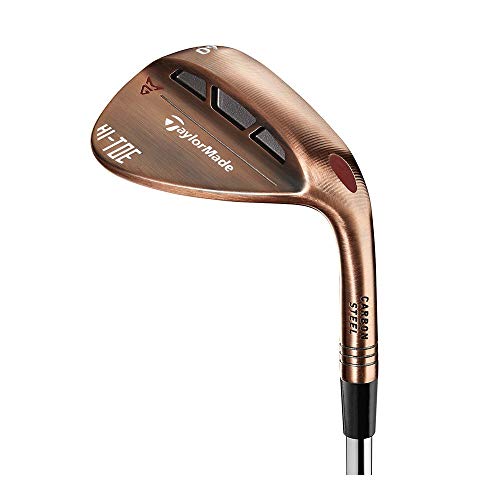 Our Top Pick
Callaway Golf Mack Daddy 5 JAWS Wedge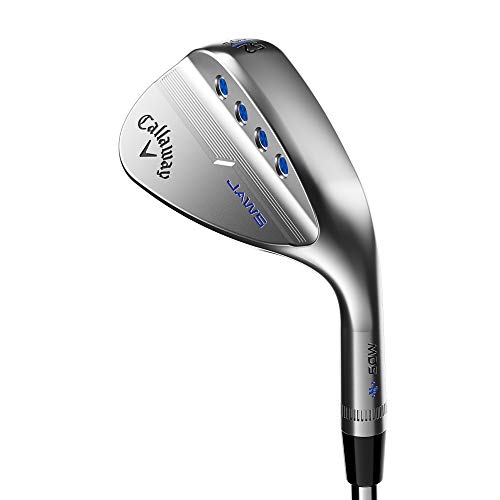 Budget Friendly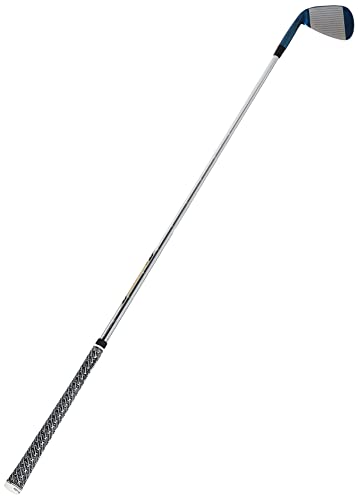 Premium Option
TaylorMade Milled Grind Hi-Toe Wedge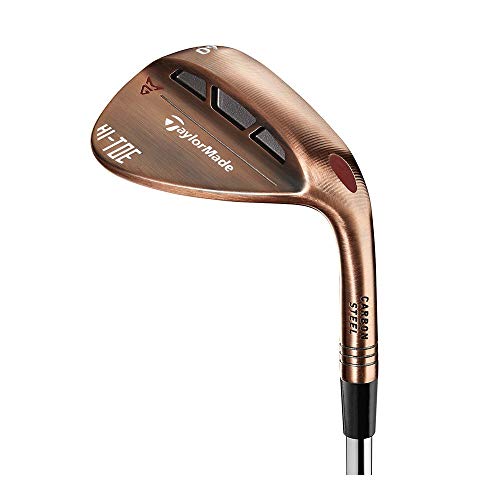 Last update on 2023-09-11 / Affiliate links / Images from Amazon Product Advertising API
Types of Wedges
Firstly, there are four main types of wedges to consider:
Pitching – loft of 45°-49°, to put the ball high in the air
Sand – loft 54°-58°, to get out of sand and tall grass
Gap – between a sand and pitching wedge with loft of 50°-54°
Lob – loft of 59°-65°, high trajectory, soft landing and limited rolling
Here we are focusing on gap wedges, for a club in between a sand and a pitching wedge that is ideal for full, pitch, bump and run, and bunker shots at a hole roughly 80-100 yards away.
Gap Wedge Features to Consider
Often referred to as scoring clubs, wedges require flexibility to be used in various playing conditions from sand to the rough. There are many things to consider when trying to narrow your search for the right golf wedges, from the loft to the grooves on the club, and every player requiring different features to suit their personal needs. So, keep these features in mind when making your selection.
Loft
In terms of considerations for buying a gap wedge, loft is one of the most important. The angle of the wedge relative to the shaft has a huge impact on your ball's trajectory – the higher the angle, the higher the trajectory. The downside of the increased elevation is less distance as wedges produce more backspin.
Hence, golfers usually keep a few different wedges with multiple lofts in their possession to suit all types of situations. The loft of wedge clubs typically ranges from 45° to 65°, with the proper gap between the wedges you choose being anywhere from 3° to 5° – you're aiming to cover the most distance possible.
To determine the best loft for your gap wedge, you will need to check the loft on your pitching wedge and ideally pick a gap wedge with a loft 4° higher than that.
Bounce
When discussing the bounce of a wedge, we're talking about the part that comes into contact with the ground – the part that saves it from digging into the turf. How you choose the right bounce comes down to the way you play. If you sweep the ball, you'll want a wedge with less bounce, but if you're more likely to dig the golf ball, you'll require a wedge with more bounce.
You can break bounces into three categories:
Low bounce wedges: 0-5° bounce
Medium bounce wedges: 6-10° bounce
High bounce wedges: 10-14°
Finding the right bounce for your gap wedge is crucial to improving your game, as it will promote consistency and more accurate contact and distance control.
Sole Grinds
There is a wide range of sole grind options available for further enhancement of the playability of clubs. By grinding the heel or the toe of the wedge, you can cater to specific needs in various conditions and alter the bounce of the club.
For instance, if you're looking to bring the face closer to the ground, you can choose a sole grind that removes material from the heel of the wedge which will make it easier to open up the club face at address.
It is always best to try out a few options and see which suits you best before making your purchase.
Grooves
In relation to backspin, you'll want to check out the grooves on the wedge. The ball is gripped by the grooves which also produce spin. The deeper the groove, the more the backspin, although the depth has restrictions due to golfers gaining unfair advantages.
Finish
In spite of rust typically getting a bad reputation and degrading looks, many players seek out raw or unplated finishes that are engineered to rust over time. The rust can increase spin and add friction for better shots.
Chrome and nickel finishes will be quite durable while duller, darker finishes help to reduce glare and prevent distractions on sunny days.
Forgiveness
Wedges with larger heads, wider soles, and cavity backs will be more forgiving than traditional blade styles. Cavity backs increase perimeter-weighting which in turn, improves forgiveness while the wider sole helps enhance stability and gets the ball up in the air.
Shaft Type
Although most gap wedge shafts are made of steel, you could also opt for a graphite shaft. Steel tends to be more durable than graphite alternatives, while also helping to control your shot. However, graphite can absorb some of the shock from the shot along with providing some extra distance.
Top Picks – Best Gap Wedge for Mid Handicappers
TaylorMade Golf MG2 Wedge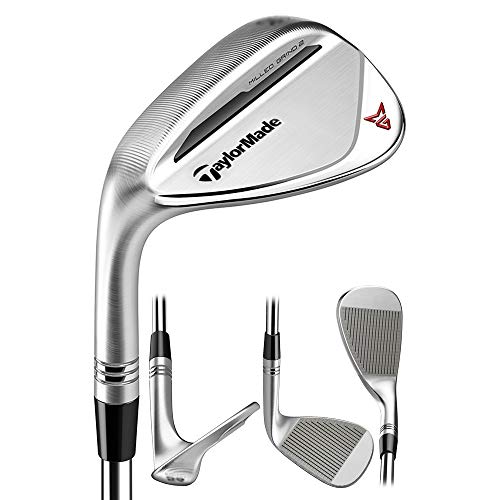 Milled Grind 2 Wedge, HB60.12, Chrome, Left Hand, Stiff Flex
Raw Face Technology: MG2's face features several new innovations engineered to maximize spin; the ZTP RAW Groove Design is engineered for more greenside spin, with sharper, narrower, and deeper grooves in the face, as well as laser etching
Milled Grind Sole: The milling process maximizes consistency, maintaining tolerance levels difficult for a human to repeat; the result is a precisely crafted grind on each and every wedge that produces optimal turf interaction and consistent performance
Thick-Thin Head Design: By redistributing mass, we are able to optimize CG location for precise flight and enhanced feel
TPU Insert: The TPU Insert in the back cavity of the wedge is designed to provide vibration dampening, creating a solid, positive feel at impact
Two Finish Options: Available in both matte black and satin chrome, this wedge is designed to suit the eye of any golfer's style
Last update on 2023-09-11 / Affiliate links / Images from Amazon Product Advertising API
These incredibly versatile wedges offer up 23 choices for loft and bounce, six sole grind options, and four types of finish for a completely customized club. As our top pick for the best gap wedge, these clubs can fill every gap thanks to the long list of loft and bounce options.
Producing better distance control and consistent direction than the previous SM7 model, these wedges are more stable with a solid feel and great versatility. Players boast of a "buttery" feel to these clubs, without any "clicky" sounds at impact and an incredibly smooth feel off the face.
A lengthened hosel and high-density tungsten weight in the toe enhances the MOI, increasing it by 7% and altering the center of gravity. This will help the face square up at impact while improving the stability and forgiveness and as such, help produce more consistent swings and spin. Because of this new CG design, you will struggle to find a more accurate or forgiving model – these wedges have been the most popular on the PGA Tour for over 15 years for good reason.
The patented Spin Milled grooves are 100% inspected with every single groove on the head being individually cut, followed by micro grooves in between these for as much spin as possible. These grooves produce impressive spin while the heat treatment applied to them adds durability without sacrificing the feel. According to Titleist, these clubs have the most durable groove in golf.
One downside to these clubs is the fact you will likely have to spend more on golf balls, as the club face cuts up the covers of your balls pretty quickly.
Cleveland Golf RTX Zipcore Wedge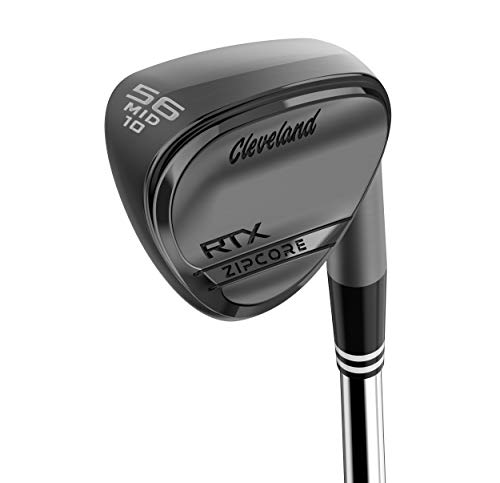 Last update on 2023-09-11 / Affiliate links / Images from Amazon Product Advertising API
The RTX Zipcore is one of the highest spinning wedges on the market. As a sister model to the CBX 2, the RTX Zipcore suits more accomplished wedge players while still helping a wide range of players thanks to its forgiveness.
Cleveland has introduced new UltiZip grooves, 7.3% deeper, 11% sharper, and 7.4% closer together than the previous generation for a noticeable increase in groove contact area. In addition to this, the Zipcore is more consistent and has increased spin in any conditions thanks to two more grooves added to the club face. This also improves alignment and confidence for more consistency.
These soft-feeling clubs offer fantastic value for money with consistent distance control even on strikes that aren't so clean. Many players are impressed with the levels of spin – this wedge is one of the highest-spinning clubs on the market – and there are plenty of options for loft and sole grinds to get your optimal club. The versatility of these wedges helps improve comfort for players, thanks to the sole grinds.
Looks wise, these clubs come in three finishes: Tour Satin, Black Satin, and Tour Rack (Raw), with more on the way.
Callaway Golf Mack Daddy 5 JAWS Wedge
Sale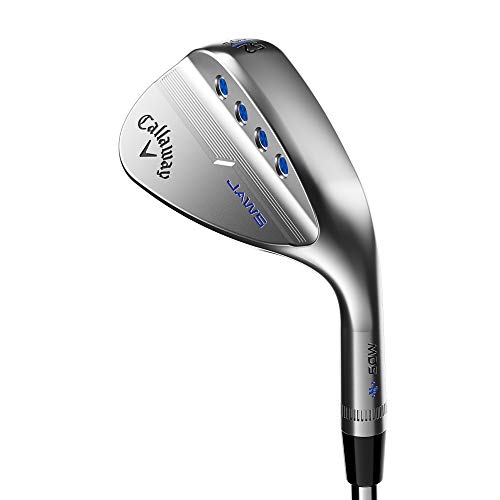 Callaway Mack Daddy 5 Jaws Wedge (Platinum Chrome, Right Hand, 56.0 degrees, S-Grind, 10* Bounce, Steel)
Due to unprecedented demand across the industry, causing a shortage of shafts and grip, we may need to substitute for an equivalent premium shaft/grip.
Precisely shaped by Callaway Chief Designer Roger Cleveland for a beautiful look and extraordinary feel from 8620 mild carbon steel.
The new tour-tested w and C grinds are both updated to make it easy to play a wider variety of greenside shots.
Head shaping progresses from traditional shaped lob and sand wedges to a compact player preferred design in the gap and pitching wedges for a seamless transition into an iron set.
Stock shaft options include true Temper Tour issue 115 (steel) and project x Catalyst 80 (graphite). Stock grip is lambkin's UTX in black/blue.
Last update on 2023-09-11 / Affiliate links / Images from Amazon Product Advertising API
As one of the best all-around gap wedges on the market, the Mack Daddy 5 comes with a variety of sole grind and loft options to suit your wedge needs.
These clubs are excellent for creating spin while maintaining a soft feel and fabulous grip with the Lamkin UTX grip. The spin is maximized with the grooves designed with a wall angle of 37° for sharper, maximum spin and grip.
The two finishes to choose from, satin chrome or tour grey, are both premium looks that minimize glare and distractions. The traditional shape of these clubs will appeal to many, although others might not enjoy the amount of taper in the hosel.
TaylorMade Golf Milled Grind 2.0 (MG2) Hi-Toe Wedge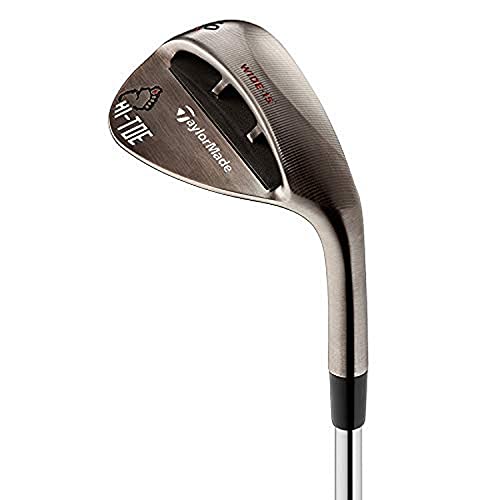 TaylorMade Milled Grind Hi Toe Raw Wedge Mens Right Hand Steel Stiff Big Foot 56.15
Thick-Thin Design. A thinner topline along with additional mass redistributed nearer to the top of the spine allows engineers to optimize CG location for precise flight and enhanced feel.
New Aged Copper Finish. Slightly tarnished look creating a classic rich reveal.
Milled Grind. Milled Grind wedges ensure precision where it matters most. The process maximizes consistency when crafting each sole for repeatable performance and turf interaction.
Raw Face Technology designed for increased spin, precision and feel as well as laser etching. The face will rust over time and was engineered to preserve consistent spin throughout the life of the wedge.
Full Face Scoring Lines. Designed to ensure consistent ball contact out of the deep rough and increase spin on off-center strikes.
Last update on 2023-09-11 / Affiliate links / Images from Amazon Product Advertising API
Featuring low, standard, or high bounce models to cater to a wide range of players and conditions, these wedges have been engineered for more spin and a lower launch. These clubs have a large triangular profile and wide, flat, asymmetric C-Grind sole for great playability and confidence at address, alongside a TPU insert in the back cavity with vibration reduction for a solid feel at impact.
The Hi-Toe design creates a higher center of gravity and anti-dig leading edge for better control and spin while ensuring gliding rather than digging. At the same time, the ZTP RAW Groove Design with sharper, narrower and deeper grooves and laser etching helping increase spin even on off-center strikes while also ensuring consistent ball contact. Altogether making this a nice, forgiving wedge with maximum consistency.
The MG2 achieves increased levels of spin, precision, and feel with its combination of precision milling and Raw Face Technology. With less skid and more friction upon impact, you get a more consistent, stable shot with optimal spin. The raw-finish face means you get the benefit of gaining rust on the face over time without sacrificing the original finish on the rest of the club head – the best of both worlds.
The raw face has another benefit at address – it frames the ball well for added alignment aid, while also minimizing the glare that comes with fresh chrome finishes. However, users say it feels almost like sandpaper and can cut up your ball quickly.
Mizuno T20 Golf Wedge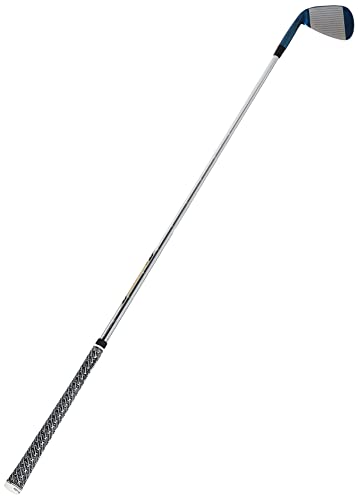 Mizuno T20 Golf Wedge 46 Degree Blue Ion Finish (6 Bounce, Right Hand)
Hydro flow micro grooves: laser etched microscopic grooves help channel away moisture for maximum spin in wet conditions
Weight placed high, discreetly within a tapered blade for increased spin and vertical stability from off center strikes
Grain flow forged HD: enhanced grain flow forging process that increases grain density in the impact area for the ultimate soft, solid, consistent feel
Precise CNC milled grooves
Premium Components include a dynamic gold Tour issue S400 wedge shaft, golf Pride grip . 60 round grip, and your choice of stain chrome or Blue Ion finish
Last update on 2023-09-11 / Affiliate links / Images from Amazon Product Advertising API
One of the best features of Mizuno clubs is their soft feel, which also produces a nice gentle sound. This is complemented by a straight leading edge for alignment assistance and excellent forgiveness on those off-center hits.
The club features CNC Milled grooves to help create consistent distances and high levels of spin, even if the conditions are damp – the new Hydroflow Micro Grooves help release moisture thanks to their vertical etching.
Although these wedges have three options for loft-specific sole grinds (STD Bevel, Subtle M, or Aggressive C), this unfortunately is not marked on the club head and can lead to a bit of confusion if you're not entirely sure which is which.
This wedge has a nice visual appeal as well, with the blue ion finish and teardrop profile. There is also now a raw finish option included, so if you're looking for a club that will rust over time, this is a great choice.
Best Gap Wedge For Mid Handicapper – Final Thoughts
Because every golfer is different and each club has its own plethora of features to consider, choosing the best gap wedge for mid handicappers can be challenging. However, with all things considered, our top picks should help you decide on a club with the ideal design for you. Put the proper gap wedge in your bag and you'll increase your confidence and ability to make shots and thus, hopefully put you into the low handicap category soon.
Best Gap Wedge For Mid Handicapper | Our Top 5 Picks
Our review of the top 5 best gap wedge for mid handicappers. Read our buyers guide to find out what you should be looking at when shopping around for your next golf club.
Product Currency: USD
Product In-Stock: InStock