They say, "Drive for show, putt for dough", but with putting being the most challenging part of the game to master, golfers need all the help they can get. Arguably the most difficult aspect of putting, distance control is also potentially the most important putting skill to have.
Although reliable putting really boils down to proper practice and skill, controlling your speed is key to lowering your score; more often than not, incorrect speed is the problem, not improper control of direction. In fact, studies show that distance control makes up 80% of putting performance.
So, the answer to your putting problems often lies in your ability to manage how far your ball goes. Focus on your distance more than direction; even if your shot is off-center, you're more likely to have a two-putt instead of three with the ball being closer to the target.
Although your skill set plays a role in distance control, the type of putter you choose also has a substantial impact. So, read on for tips on how to improve and our top picks for the best putter for distance control.
Highly Reviewed
Odyssey Stroke Lab Black Putter
Our Top Pick
TaylorMade Golf Spider X Putter
Budget Friendly
Cleveland Golf Huntington Beach Putter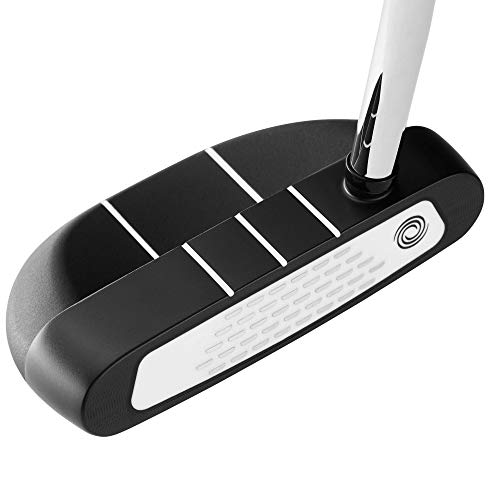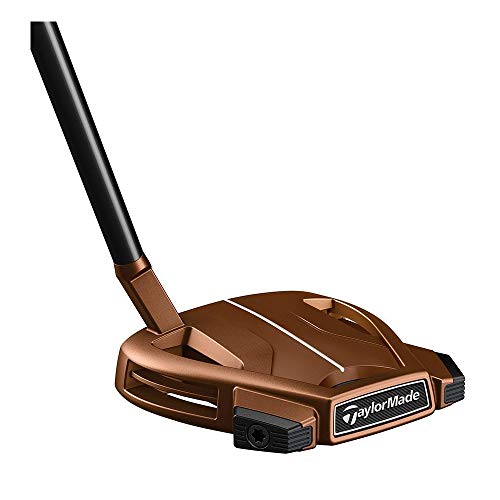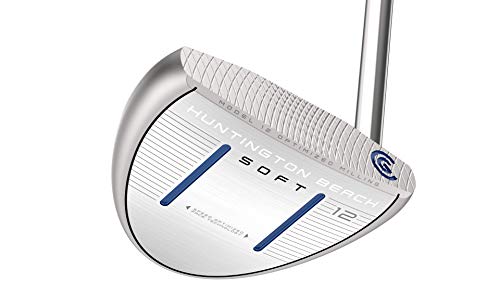 Highly Reviewed
Odyssey Stroke Lab Black Putter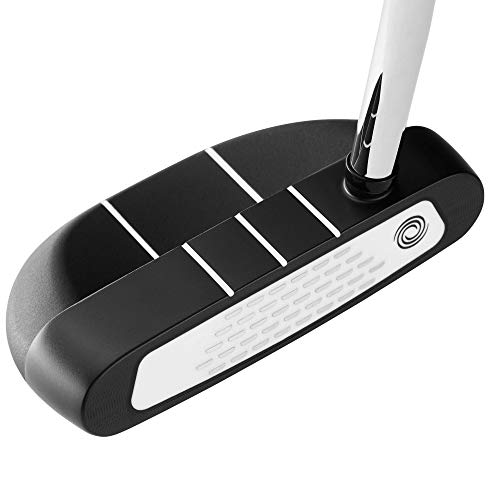 Our Top Pick
TaylorMade Golf Spider X Putter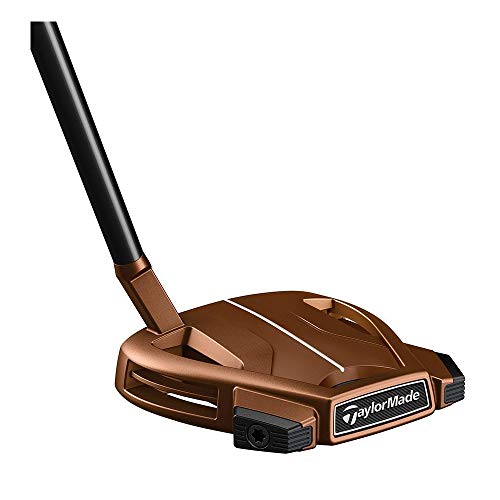 Budget Friendly
Cleveland Golf Huntington Beach Putter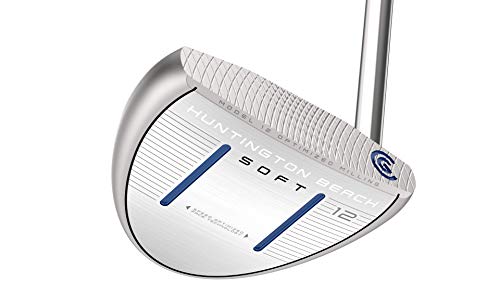 Last update on 2023-11-08 / Affiliate links / Images from Amazon Product Advertising API
How to Improve your Distance Control
Distance control is influenced by several factors, but the main ones are center face contact, putter mass, loft, and putter length. However, one of the most significant determinants is swing consistency.
Swing Consistency
The more consistent your swing is, the more likely you are to keep hitting the center of your club face and thus, the better distance control you'll have. If you keep the rhythm and speed of your stroke the same, the only thing you need to change is how hard you hit the ball. But instead of tapping the ball sometimes and smashing it others, maintain the same speed but adjust the length of your stroke to match that of your putt.
Try thinking of it this way: if speed = distance/time, and you keep the speed the same alongside solid timing, you end up getting the same distance with every putt. In other words, for shorter putts, simply use a short backswing, and vice versa – longer backswings for longer putts.
Putter Length
When you toss a ball to someone, you rarely have trouble with hitting the target at varying distances. So why does it seem so hard to get accurate distance with a putter? Well, when you're throwing a ball, it is resting in your hand and your brain is able to naturally figure out how high to raise your arm to get the ball to propel the right distance as your arm drops. When using a club to hit the ball, you're giving yourself a lever and if that isn't the optimal length for you, your body's natural tendencies will be thrown off.
If the putter is too long, you'll find your timing is disrupted and your hands will hit the finish position earlier than your brain expects it to, and the opposite for a club too short. Even the best hand/eye coordination cannot make up for incorrect club length – it just isn't natural.
You might notice that the majority of putters straight off the rack are 35" long. This is like a clothing store selling only size medium shirts with the odd small here and there. Just because most putters in store are this length, that doesn't mean it necessarily suits you.
So, with all that said, how do you decide how long of a putter you need? Here's the most accurate way to measure yourself for club length:
Get set up to the ball in a comfortable position with your eyes over the ball, comfortably bent at the knees and hips.
Allow your arms to hang straight down from your shoulders.
Get someone to take two measurements with your palms together: one from the middle of your palms directly to the ground, and the other from the middle of your palms to the center of the ball.
Use the Pythagorean Theorem (A2+B2=C2) to get your proper length, where your ideal length = the square root of (first measurement x first measurement + second measurement x second measurement) + 3".
Now, all that might seem a bit too technical, complicated, and unnecessary. So, alternatively, you can just measure the distance from right above the top of your hands to the ground for putter length, or if you really just don't want to measure anything and know your height already, follow this as a general rule of thumb:
Under five feet tall: > 32 inches
Five feet to 5'4": roughly 33 inches
5'5" to 5'10": roughly 34 inches
5'10" or taller: 35+ inches
Of course, getting the right length won't magically make you an immaculate putter, but even merely understanding how the length of your putter affects your putting will get you on the right track for improving your distance control.
Center Face Contact
Consistently hitting the center of the putter face is one of the main factors in controlling your distance. Although a putt off the heel will go farther than a putt off the toe, neither will travel as far as a strike in the center of the face – putts falling short are often due to off-center contact.
So, look for a putter that encourages center hits and is forgiving even if you don't hit that sweet spot.
Putter Mass
Naturally, a heavier putter will end up sending your ball a farther distance than a lighter one. A more lightweight putter is also more difficult to maintain consistency with, in terms of distance and directional control, whereas a putter that is too heavy won't really affect directional control but will have a noticeable impact on distance.
Loft
Unlike a golf ball on a tee, when taking a shot on the green you might notice the ball is pushed slightly down in the grass. Therefore, to lift the ball up and get a smooth roll, loft is needed.
This can be tricky to perfect; too little loft results in the ball being driven into the green before starting to roll quickly, whereas too much loft will increase hopping and skidding before starting a nice roll. According to Scotty Cameron, the optimal putter loft is 3.5°, although Odyssey putters use 3° of loft.
Ultimately, the best loft is customized to you as different golfers have different stroke tendencies that affect how much loft they use at impact. As a general rule though, go for a putter with less loft (or standard 3-4°) as too much will send the ball too high, and an airborne putt will lessen your distance control.
Milled Face vs Insert
There have long been arguments about whether milled or insert putters are better for distance control, with many under the impression that inserts give you a leg up in this department. However, research done on the matter have proved this is not the case. In fact, technology has come far enough that there's minimal variance between the two, especially with deep milling providing softer sound and thus, a softer feel.
With that said, usually you can easily notice on milled putters when you haven't hit that center sweet spot as the click sound will let you know right away. This leads to better consistency and thus, improved distance control.
So, after all that technical talk, take a look at our list of the best putter for distance control to aid in your golf game improvement.
Best Putter for Distance Control
Callaway Odyssey Stroke Lab Black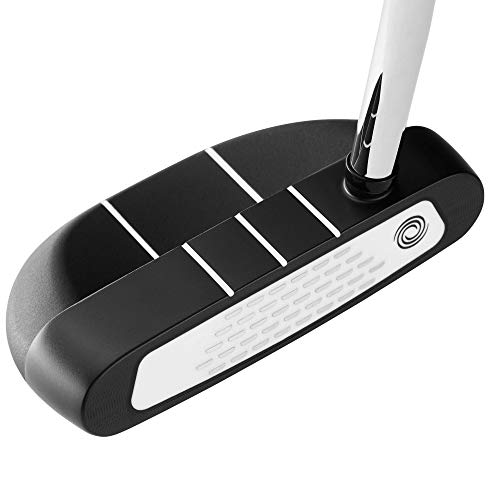 Odyssey Stroke Lab Black Putter (Right Hand, 34", Rossie, Oversize Grip)
Stroke Lab Black is engineered with one simple goal: to help golfers make more putts.
It features an innovative multi-material Stroke Lab shaft saves 40 grams of weight, which is redistributed to the head and grip end of the putter. This completely rebalances the putter for improved tempo and consistency in the stroke.
Provides a firmer feel and enhanced sound at impact while maintaining the same roll benefits of our Tour-proven White Hot Micro hinge Insert.
The combination of an elegant black PVD and coating give these high performance Stroke Lab Putters a clean, rich and premium look.
Last update on 2023-11-08 / Affiliate links / Images from Amazon Product Advertising API
Type: Mallet (Seven, Seven S, Seven Slant, Bird of Prey, R-Line Arrow, Ten, Ten Slant) and Blade (One, Double Wide, Double Wide Flow, Rossie, Rossie Flow)
These putters are top of the line when it comes to encouraging distance control, thanks to the revamped weight distribution helping to control distance, on top of a graphite shaft with steel tip to encourage consistent strokes.
Stroke Lab shafts are 40 grams lighter than that of traditional steel, which Odyssey has created by incorporating graphite with steel. This makes the shaft just 75 grams, allowing that saved weight to be redistributed into the head with two sole weights. This leads to a dramatic impact on the stroke: improved consistency of the back swing, ball speed and direction, and face-angle at impact. With a better feel comes better ability to repeat the same stroke each time.
This line has a wide variety of options fitting all players: left- or right-hand orientation, oversize or pistol grip, multiple blade and mallet styles, and various lengths as well to suit all preferences. The black PVD and coating of these high-performance putters also gives an elegant, premium appearance.
Cleveland Golf Huntington Beach SOFT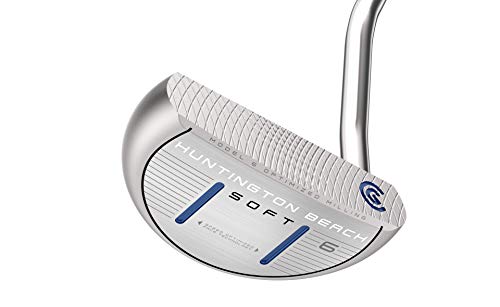 Cleveland Golf Huntington Beach SOFT Putter #6 35", Right Hand
Speed optimized face technology produces consistent distance on every putt, even mishits
Diamond CNC milling pattern with deep grooves provides soft feel with a true roll that starts on-line
Optimized CG location through strategic weight redistribution provides solid feel and stability for straighter putts
6 Tour-proven shapes will suit any golfer's stroke and style
Last update on 2023-11-08 / Affiliate links / Images from Amazon Product Advertising API
Type: Blade (Soft 1, 3, 4, and 8), or Mallet (Soft 2, 6, 6C, 10, and 11)
The SOFT (Speed Optimized Face Technology) feature of this putter is perfect for helping to control distance as it leads to consistent speed control and distance performance. This is due to the technology normalizing ball speed across the face of the putter, even on those off-center hits. Cleveland have taken this one step further than other brands by designing milling specific to each model, so regardless of which putter head you choose and where you strike the ball, the speed and distance control will be consistent and optimized.
With a wide variety of Tour-proven head shapes, you should have no trouble choosing a putter that suits you. All of the putters in this collection have optimized centers of gravity to give users great stability, while the unique patterns on the face increase friction for a soft feel at impact and consistent roll, and as a result, better distance control and consistency overall.
TaylorMade Golf Spider X Putters
TaylorMade Golf Spider X Putter, Copper, #3 Hosel, Left Hand, 35"
The X Philosophy: Spider X revolutionizes the way we achieve optimal stability and alignment by reengineering the mass properties of the head and introducing a new optically engineered True Path Alignment System
Increased Stability: Spider X features a redesigned head with a steel frame that is 30% heavier to minimize twisting
The X Design: New True Path Alignment System helps visualize the intended target line for improved putting accuracy; Spider X improves mass properties and stability by utilizing a heavy 320g frame with extreme perimeter weighting
Redesigned Weight Ports: Redesigned weight ports (2g, 6g, or 12g) enable personalization of feel and stability
Last update on 2023-11-08 / Affiliate links / Images from Amazon Product Advertising API
Type: Mallet
One of the most forgiving putters on the market suitable for both arc and straight stroke players, the Spider X club provides optimal control and less backspin with the 45-degree angle and groove technology. Plus, with a higher MOI there is more forgiveness, and you are less likely to lose ball speed on mishits, thus improving the distance, roll and ultimately, consistency.
The deeper, Pure Roll Surlyn insert on this line of putters provides a firmer feel and solid sound to help you judge your putts. This audio feedback will help improve your swing consistency, while the groove technology will help enhance accuracy and distance control by promoting forward spin.
Another feature to mention here is the appearance – the design of a black on white line provides an easy alignment aid to help you keep your putts heading where you intend them to. However, if you aren't a fan of the striking, wide white line, they have another option of an all-black head with a single white line.
Cleveland Golf Frontline Elevado Single Bend Putter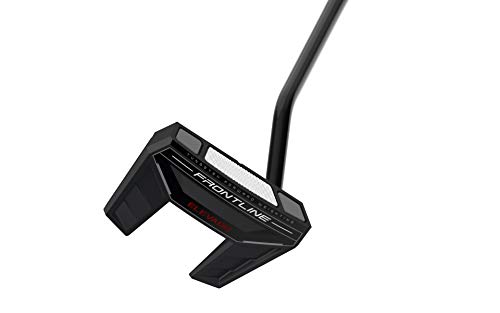 Cleveland Golf Frontline Putter Elevado Single Bend 34" Black
Forward weights - with tungsten forward weighting and the center of gravity positioned closer to the face, Frontline provides better stability through impact for straighter, more accurate putts.
Speed optimized face Technology - Cleveland proprietary speed optimized face Technology pattern normalizes ball speed across the face, ensuring consistent distance performance on all your putts.
Better aim - achieve perfect alignment on every putt, regardless of where your eyes are at address, with Cleveland's proprietary 2135 technology.
Additional hostel configurations - find a superior fit for your stroke type with two different* hostel configurations to suit every player's needs. Featured on the El EVA Do, cero, and ISO models.
Stroke Type: Straight
Last update on 2023-11-08 / Affiliate links / Images from Amazon Product Advertising API
Type: Mallet
As the flagship model of Cleveland's Frontline collection, the Elevado improves consistency and accuracy with its Tungsten Forward Weighting and two stability wings. With the center of gravity pushed forward and two tungsten weights in the club face, straighter putts are promoted, while increasing stability and accuracy.
With this weight setup, the sound at impact is muted. Although some golfers prefer a softer sound, the majority will want more obvious audio feedback to check center face hit frequency.
For better distance control specifically, the combination of Speed Optimized Face Technology and 2135 Technology helps to regulate ball speed, provide truer roll, ensure consistency of distance performance, and provide optimal alignment.
Ideal for straight stroke types and anyone that wants the forgiveness of a larger head but prefers the more traditional look of a blade, the Elevado comes with a stock Lamkin grip with a flat face to assist in keeping you square. If you aren't a fan of the Elevado model in particular, the Frontline range carries a total of seven head shapes, so you have plenty of alternative options available.
Pinemeadow Black Zinc Style 103 Putter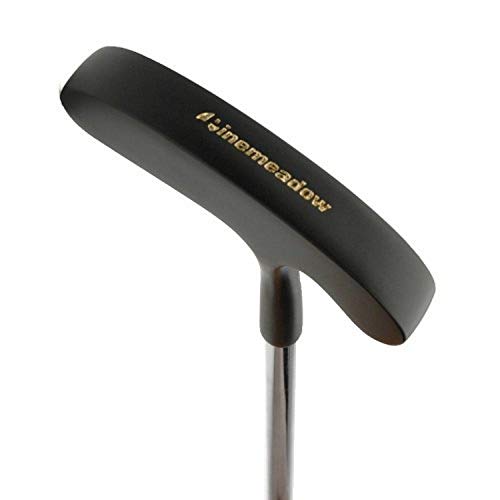 Last update on 2023-11-08 / Affiliate links / Images from Amazon Product Advertising API
For a classic, simple blade style putter with comparable performance to brand names at an affordable price, try Pinemeadow's Black Zinc Style 103 putter. The online company with factory-direct pricing claims the features and performance of this putter are comparable to that of the classic Titleist Bullseye Style putters – cue the nostalgia for the putters many grew up using.
The die cast zinc alloy construction provides a solid feel and great, smooth balance throughout the stroke which helps control speed, while the simplicity of the design eliminates distractions to help you focus on the feel, thus benefitting your distance control.
The putter is much lighter than many available today, which may appeal to some, but others might want to add weights.
Best Putter for Distance Control – Conclusion
Regardless of how much you study and read about methods of improving your distance control, you won't actually be able to work on it until you get on the green. However, you can fast forward your progress by getting a basic understanding of the principles involved with controlling distance and choosing one of our top picks for the best putter for distance control.