If you prefer golf balls that hit perfectly straight-line drives with maximum distance, then you've come to the right place. The most important factor to consider is how fast the ball spins while it's in flight. Of course, golfers still need to ensure that their golf swing has the proper form so that the ball doesn't veer towards the right or left.
But no golf equipment can make up the difference on straight-line paths than a low spin rate golf ball. Low spin golf balls typically have fewer layers but more dimples. The dimples help with the aerodynamics of the ball to ensure greater distance traveled. We've compiled a list of golf balls that hit the straightest balls. From this list, you'll be able to find the best golf ball to hit straight that is suitable for your preferences.
Limited for time? This is our recommendation for the best golf ball to hit straight.
Top 10 Golf Balls to Hit Straight
---
Bridgestone E12 Speed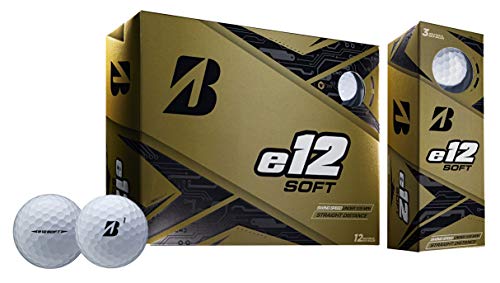 Bridgestone Golf e12 Soft Golf Balls, White
Active Acceleration Mantle: e12 SOFT features the Active Acceleration Mantle which is comprised of a new High Performance Polymer material with added surfactant that creates increased thrust and higher initial ball velocity at impact.
Delta Dimple: The e12 SOFT utilizes Bridgestone's patented Delta Wing Dimple pattern for less drag and smoother airflow when the ball is in flight. The enhanced aerodynamics increase the straight distance properties of e12 SOFT.
Country Of Origin : United States
Package Dimensions : 10" L x 2" W x 6" H
Last update on 2023-09-12 / Affiliate links / Images from Amazon Product Advertising API
The calling card of the Bridgestone E12 Speed is its impeccable straight line shot. Its signature difference is the delta wing pattern dimple design made for smoother airflow during ball flight and less drag. This helps remove the resistance during flight while also ensuring the ball stays straight while in the air. The purpose of this ball is to provide plenty of ball speed, straight flight, and low spin. However, this ball is recommended for players with over 105 mph in swing speed, meaning ideally for mid handicappers.
Callaway Warbird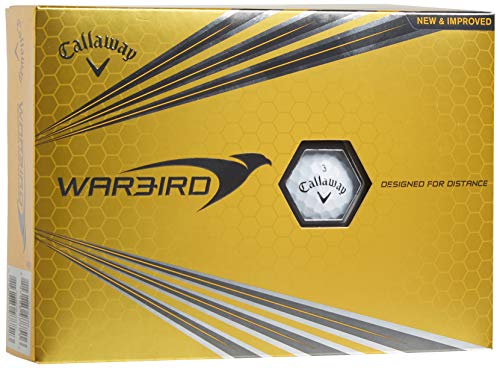 Callaway Warbird Golf Ball, Prior Generation, (One Dozen), White, Prior Generation
Callaway's renowned HEX Aerodynamics reduce drag and promote high launch for increased speed, hang-time and distance
The extra-large high-energy core is highly compressible to unlock more potential distance at any swing speed
Thin, high-sensory ionomer cover works with the core to promote super-satisfying feel off every club
The package weight of the product is 9.1 pounds
Last update on 2023-09-12 / Affiliate links / Images from Amazon Product Advertising API
The Callaway Warbird is one of the most affordable balls in the market for optimizing distance and straight shots. These balls are made with a soft compression core ensuring that it activates even with individuals with a low-speed golf swing. The cover is surprisingly thin. However, it doesn't sacrifice the distance or speed off the tee. It includes unique HEX aerodynamics made for penetrating distance and stable ball flight. This ball can hold its straight-line path even in very windy conditions. The Callaway Warbird also comes in both white and yellow colors.
Callaway Super Hot 55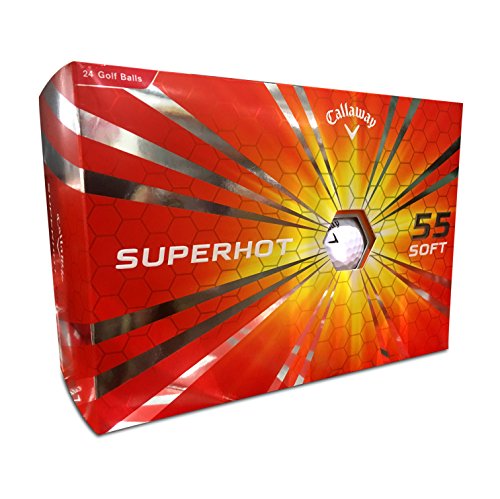 Callaway Superhot 55 Soft Golf Balls (Pack of 24 Balls)
Callaway Brand - 24 balls included per box
Low Drag HEX Aerodynamics keeps the ball in the air longer
Soft Mantle & Cover System creates low spin for less hooks and slices
High Velocity Core & Trionomer Cover combine for incredible ball speed
Outstanding ball for long straight shots at a very reasonable per ball price
Last update on 2023-09-12 / Affiliate links / Images from Amazon Product Advertising API
This is by far one of the best golf balls for flying long and straight. The Callaway Super Hot 55 has an incredibly low compression rating of 55. These balls are ideal for golfers who don't mind sacrificing accuracy for better distance and straight paths. The Super Hot 55 is made of very soft trigonometry surlyn cover with a mantle layer to limit spins, allowing for more straight shots. It's Hex aerodynamic dimples create better lift, longer carry, and less drag.
Volvik Vivid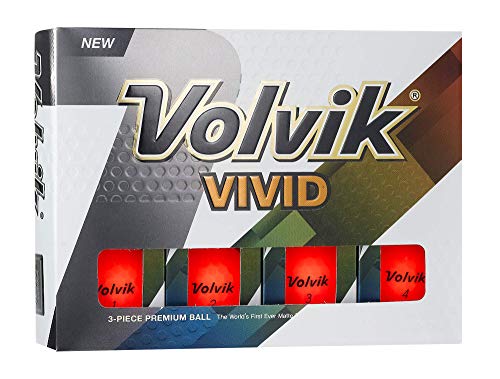 Last update on 2023-09-12 / Affiliate links / Images from Amazon Product Advertising API
Never worry about losing your golf balls again! The Volvik Vivid golf balls are available in many neon bright colors. This includes blue, green, jade, matte purple, orange, pink, red, sherbert orange, white, yellow, and an assortment of colors. Since the balls are so bright, it almost feels as if the dimples aren't there. These balls are ideal for mid-cap players, specifically golfers with a swing speed between 70 to 100 mph. Volvik Vivid balls have a compression rating of 75, which is a medium to low score to help with maximizing ball speed. It has a 322 dimple pattern made to create stability during ball flight. The construction is a three-piece multi-layer made to reduce overall driver spin.
Tilteist Velocity
Sale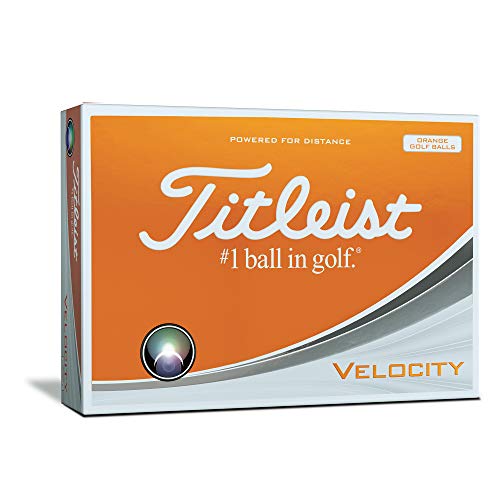 Last update on 2023-09-12 / Affiliate links / Images from Amazon Product Advertising API
The Tilteist Velocity balls are universally recognized as one of the best golf balls in the market. These balls are made with a softer core with deep downrange distance for even slow swing speeds. When the core is compressed and activated, it initiates a fast velocity. However, the short game and putting is playable compared to other straight balls, which are almost unplayable. Tilteist Velocity uses a NAZ plus cover designed for a low long game spin and higher ball speed. It also offers a unique 328 tetrahedral dimple pattern to ensure longer carry and higher flights on every straight shot.
Titleist AVX
Sale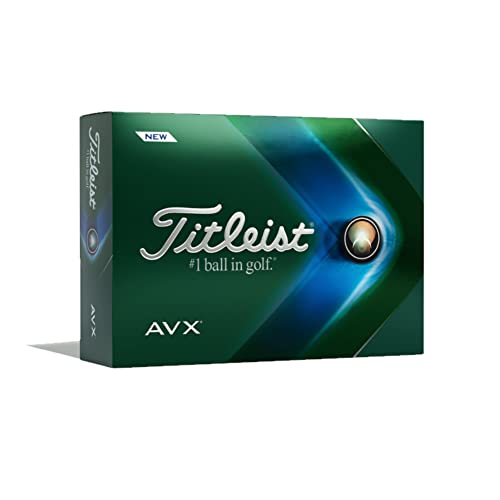 Last update on 2023-09-12 / Affiliate links / Images from Amazon Product Advertising API
The Titleist AVX was originally designed to improve upon the Pro V1 golf balls. One of the first things we've noticed is it's 352 dimple design. This dimple pattern has sharper and steep sides with a flat center to cause a lower flight. The AVX has a very flexible casing layer to help to limit spin and enhance speed, especially while in flight. Unlike many other balls that use a surthyn material, this one has a patented GRN41 urethane cover designed for a soft feel and better ball control.
Pinnacle Rush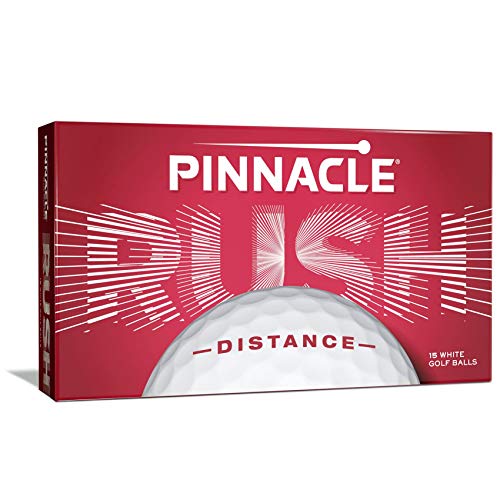 Pinnacle Golf Rush 15-Ball White
Dialed-up for peak performance
The core is the engine. Pinnacle rush contains a proprietary, high-energy core for fast ball speed helping all golfers hit the ball farther with every club
Our advanced icosahedral dimple design with 332 Dimples along with a soft, durable ionomer cover combine for great feel and a consistent, powerful ball flight
Last update on 2023-09-12 / Affiliate links / Images from Amazon Product Advertising API
The Pinnacle Rush golf balls are manufactured to help golfers of all levels improve distance and straight-line shots. These balls include an advanced icosahedral dimple pattern, softcover, and solid core for a very stable and consistent flight. Its 322 dimple design is made for longer shots hitting off the tee and better straight-line path despite weather conditions. It's low compression core aids in reducing spin to generate faster ball speeds.
Wilson Staff Duo Soft Optix Golf Balls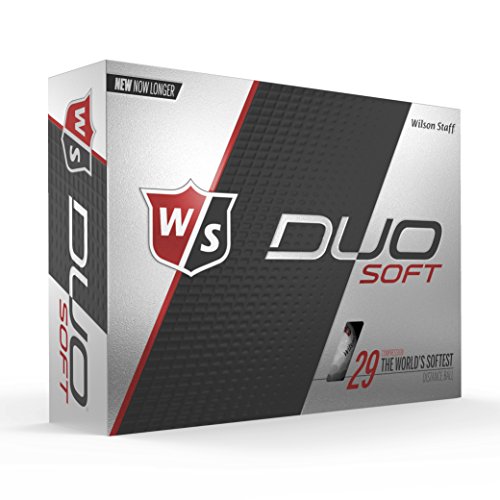 WILSON Staff DUO Golf Ball, Soft, White
At a ground-breaking 29, Duo soft has the lowest compression, best feel of all competitive premium 2-piece golf balls
Longest distance performance of all competitive premium 2-piece golf balls
The lowest driver spin RATE of all competitive premium 2-piece balls for straightest flight off the Tee
Hard ionomer blend for exceptional distance performance
New and improved dimple pattern for maximum aerodynamic flight
Last update on 2023-09-12 / Affiliate links / Images from Amazon Product Advertising API
Wilson Staff Duo golf balls have one of the most attractive golf balls out there. It comes in multiple colors, such as matte white, pink, yellow, orange, green, and red. For a two-piece golf ball, it has a 29 compression score rating, where previously it had been 40. The combination of their reduced compression score along with their new, more shallow dimple design enables users to hit straighter and longer shots easily. This ball is ideal for slow golf swingers willing to sacrifice some of the control and stoppage on the greens for some extra distance.
TaylorMade Noodle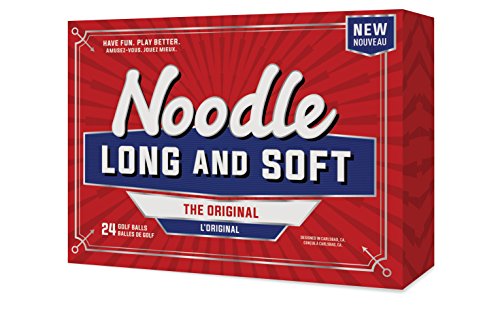 Last update on 2023-09-12 / Affiliate links / Images from Amazon Product Advertising API
The TaylorMade Noodle golf balls are by far one of the most affordable ones in the market. The signature soft and long balls are meant to improve the feel and distance of the ball. Its proprietary 342 dimple pattern helps with aerodynamics so that it flies through the airflow and against the wind with ease. For a two-piece ball, it has a low compression of 34, so you can be assured of maximum distance. Since these balls cost about $1 per ball, you won't mind losing them as much as the expensive ones! These balls are designed for high handicap players with swing speeds below 90 mph. You can read our full noodle golf ball review here.
BridgeStone E6
Sale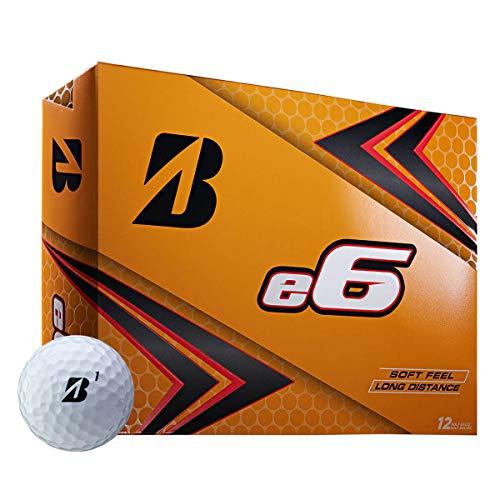 Last update on 2023-09-12 / Affiliate links / Images from Amazon Product Advertising API
The BridgeStone E6 is designed to generate straight and long distance by limiting the air resistance while in flight. Compared to its competitors like the Pro V1x, it handles cold weather and windy conditions much better. For intermediate and beginner golfers, with less than 90mph swing speeds, this is an excellent option. The ball has a more piercing trajectory allowing you to get a good initial head start on your first and second shot. It also has an anti-side spin mantle and the inner layer to reduce back or side spins.
How to Choose the Best Golf Balls
When choosing the right golf ball to purchase, always consider what you need from a golf ball. This means identifying your weaknesses and having the ball correct some of the flaws you may have. If you struggle to hit straight balls, then finding one that produces better straight-line drives helps. Always consider a golf ball's spin, compression level, and construction before making a decision.
Spin
If you're in the market for the straightest golf balls, then you need to look for low spin golf balls. Low spin golf balls will reduce the amount of sidespin on your shots. This enables the ball to fly straighter while in flight. Since the ball lacks spin, it will also increase the rolling distance once it's landed. These are ideal for beginners, golfers who prefer to slice the ball or have difficulty getting some distance with your drives.
Compression
Compression on a golf ball refers to the impact caused by the contact made from the clubface with the ball. Once the contact is made, the ball compresses at its core, causing it to propel forward. The factors that change the compression is the core of the ball and swing speed. The faster or harder a player swings at the ball, the ball will compress more. The core of the ball is where it compresses and determines the distance traveled.
Most golfers who want straighter paths also prefer golf balls to hit maximum distance with less effort. Lower or softer compression golf balls make it easier to activate the core without swing very hard, thus hitting farther with less work.
Construction
The construction of a golf ball will determine how it will react when the clubface makes contact. We refer to the construction by the number of layers that the golf ball has underneath the dimples. Golf balls usually range from one-piece to five-piece. One-piece golf balls are the least expensive and most basic. They are very soft and durable but don't have a great distance. Players who want straight balls typically opt for two-piece golf balls. These balls are slightly more firm and have a high roll distance. Although you don't have much control of the ball during flight, it provides the most distance out of any other type of ball.
Durability
Most two-piece golf balls and less expensive ones use a surlyn material. These are harder to scuff and made from tougher material. On the other hand, urethane is much softer, which enhances the spin while on the greens. These balls are easier to scuff but are made for tour-level players.
Price
Golfing can be an expensive hobby, such as purchasing golf balls, golf bags, cleats, tees, sleeves, and a divot tool. Typically, golf balls may range from anywhere between 75 cents to about $4 per golf ball. Make sure to multiply this by the number of golf balls in a pack, such as a dozen. For a pack of a dozen golf balls, they may range between about $9 and $50.
Frequently Asked Questions (FAQs)
Do harder golf balls tend to go straighter?
Most people think that you need to buy expensive golf balls to hit straighter. That's not true at all. Many golf balls that hit straight are quite affordable. Golf balls that fire straight-line drives tend to have low compression, meaning that they have low spin. These types of golf balls tend to be harder and are less impacted by outside factors like wind. Hard golf balls may feel like you're hitting a rock. But that also means it's less likely to curve!
Expensive balls tend to be softer and include more layers since professional golfers want more control over the ball. They need an extra spin on the ball to get higher scores. Beginners only are looking for straight shots with maximum distance. They aren't worried about getting additional backspin on short-range chip shots.
How do I hit my golf balls straight consistently?
Finding the best golf ball for straight drives isn't going to magically fix your problems. If you fail to hit proper golf swings, you'll likely hit curveballs. Hitting a ball straight requires the golf club's face to be centered at squared when making impact with the ball.
If the face isn't squared up, it will result in the ball having sidespin. This leads to either a hook, slice, or fade shot. Make sure you have a strong grip, align the clubhead with the ball, set your feet, have a parallel backswing, and follow through with the ball.
Best Golf Ball To Hit Straight – Which One Should You Get?
In our opinion, the best golf ball to hit straight is the Bridgestone e6. These 2015 edition golf ball series were marketed as the straightest balls in the market. But what differentiates these balls from the rest of them? For starters, it has one of the lowest core compression of any three-piece ball, which is a rating of 50. This drastically helps people with low swing speeds and helps golfers with moderate swing speeds of under 90 mph to create maximum driving distance.
In addition, the Bridgestone e6 has its patented dimple design where it uses a dimple within a dimple style of concept to reduce drag, produce greater speed, and boost the lift for extra carry. It also comes in cool colors such as pink, orange, yellow, and white to easily spot them. No more losing your golf balls!
Bridgestone e6 also has a mantle, which is the layer between the core and the cover that drastically lowers sidespin and generates straight-line shots. The combination of performance, durability, and price point make this the ideal golf ball for hitting straighter balls with maximum distance on all sections of the golf course.
Best Golf Ball to Hit Straight | All Golf Reviews
Our updated buying guide for the best golf ball to hit straight. Our top 10 picks of the best golf balls currently on the market with pros and cons included.
Product Currency: USD
Product Price: 22.90
Product In-Stock: InStock