The Noodle Long and Soft Golf Ball are known as one of the best balls for beginner and intermediate golf players as well. The ball is serving the players since 2007 and has a great recognition for its fantastic performance. So, if you are about to buy this ball, I am here to help you make or break your decision. Let's do a complete noodle golf ball review and see if it worth your money, time, and efforts or not.
Noodle Neon Matte Lime Green
Most Popular
Noodle Long & Soft Golf Ball
Noodle Easy Distance Golf Ball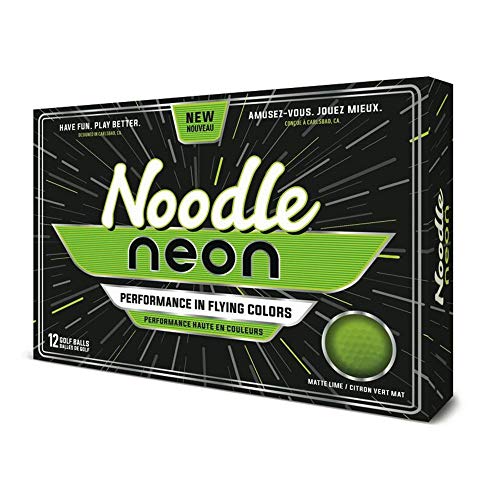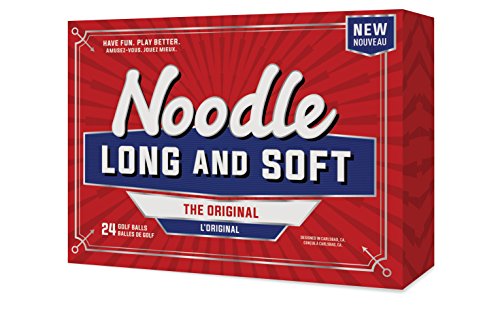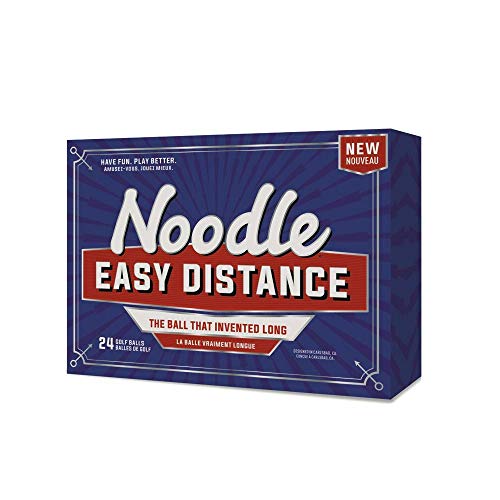 Noodle Neon Matte Lime Green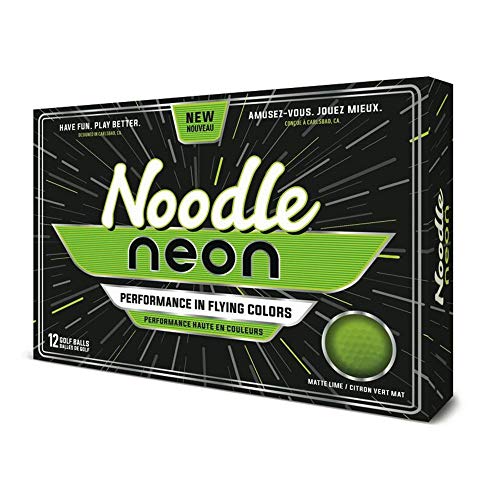 Most Popular
Noodle Long & Soft Golf Ball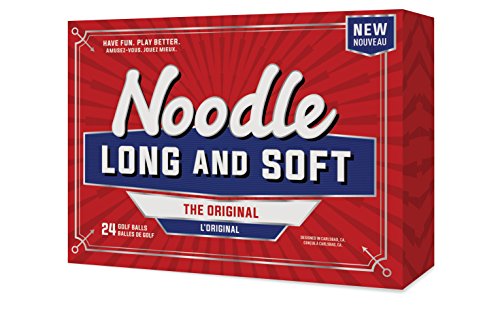 Noodle Easy Distance Golf Ball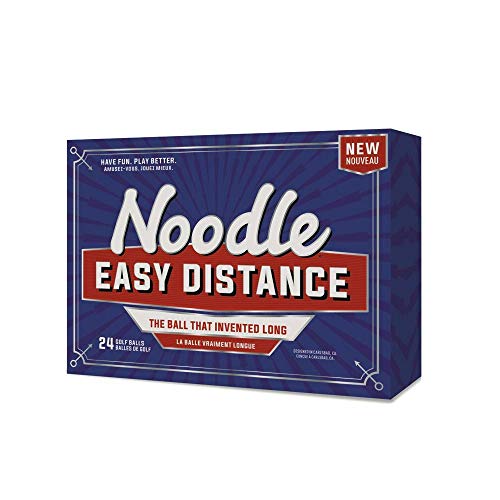 Last update on 2023-09-11 / Affiliate links / Images from Amazon Product Advertising API
You will find various other Noodle Balls offered by TaylorMade, but in this review, we are going to cover the Noodle Long and Soft Ball because it is one of the most demanded among its siblings.
Noodle Long and Soft Ball have a low compression core along with a Surlyn cover. So, it can swing at a speed of 75 mph or more than that. But, regardless of this high swing speed, it can cover a reasonable distance when it comes to far shots. In other words, it is a perfect pick when you want to have an excellent overall performance.
Along with its impressive distance covering capabilities and other features, Noodle Long and Soft Ball are one of the cheapest balls in the market. Because of this advantage, this ball is a favorite of lots of players all over the globe. So, without any further discussion, let's dive into the actual review below.
Let's talk about the physical Parameters first
As the name suggests, this ball is designed to give you a soft feel along with long distances. The ball has mixed characteristics. It means you are going to have perfect long shots even after the low ball compression and medium spinning speed range. The company has kept the dimpled surface with 342 dimples, which are far less than most of the popular balls out there.
The ball has a react core with low compression.
We all know that all the distance balls are more laborious. But, this ball is designed to have a soft feel but by keeping the long distance in mind.
Noodle Long and Soft Ball Distance
This ball has the capabilities to go so far when hit with a controlled and more relaxed swing. So, if you have a tendency to over-swing in order to increase the distance, this ball would definitely help you with this.
It even allows the slower swingers to achieve long distances with extended rollouts. Because of its high-resilient, low-compression Core with ionomer cover, both long and short distances appear to be easy.
In simple words, this ball is best if your swing is 80 mph or faster than that. You will be able to see its fantastic performance when you keep it straight. Also, if you find it hard to compress the ball or if you slice or hook the ball, you are going to have more distance with Noodle.
Again, you will not get a performance and feel like ProV1. But, if you are a beginner who struggles in compression, Noodle is the best one to go with. The reason why it is called an allrounder is its capabilities to cover huge distances. So, nothing to worry about the distances when you have Noodle balls in hand.
An average number of dimples on the outer surface reduces the air drag, which is one of the main reasons why this ball can cover vast distances. In my opinion, the ball is most suitable when it comes to playing better short games.
Noodle Soft and Long Forgiveness
When it comes to forgiveness, there are some very important things that I think should be discussed in this Noodle Golf Ball Review.
Regardless of their low compression core, this ball is pretty responsive and forgiving. It may not fix your slice and hook but, the results are satisfactory, in my opinion. If you research a bit more, you will see lots of players prefer this ball just because if its amazing forgiving capabilities.
Along with that, Noodle balls feel amazing when hit, and you will also experience that control upon the impact. Because of the handicap increase and softer feel of this ball, lots of players prefer to switch to these balls when they get older.
Features
There are numerous features of this ball that you may not get in all the golf balls out there. Let's know some of those features here.
Available in 15 and 24 boxed sets
High-quality resistance covering
Aerodynamic dimpled surface
Designed for an increased spinning near the greens
Pros and Cons
Price of Noodle Long and Soft Ball
The price of this ball is one of the main things to discuss in this Noodle Golf Ball Review. Because these balls are highly affordable, the company hasn't compromised with quality. Although this ball is developed to offer some specific kind of features to the players with specific requirements, you can have amazing results once you know how to make the most out of it. The prices are as follows.
[maxbutton id="1″ url="https://geni.us/wYkm3″ ]
The Final Question: Should you Buy Noodle Long and Soft?
Of course, you should buy this ball if you are a beginner or even an intermediate player. You might have known this ball's capabilities with this review above. This ball is not only very cheap, but it is offering you a good value of money.
Especially, if you are a golfer with a habit of losing lots of balls during the game, you'll definitely like the Noodle Long and Soft. Each ball would cost you around 1$. So, you wouldn't regret it if you lost a couple of balls while playing.
This ball is known for its long-distance, which you will definitely notice after hitting it for the first time. In other words, if you are in search of a ball which is affordable, high-performing, durable, and soft, just go for Noodle Long and Soft. It will never dissatisfy you in any situation.
Frequently Asked Questions
---
Who Makes Noodle Golf Balls?
Noodle Golf Balls are Manufactured and Sold by TaylorMade Golf Company. The company headquarter is located in Carlsbad, California.
What are the strengths of Noodle balls?
Affordable price, long-distance, and a fantastic feel in hand are some of the main highlights of Noodle Balls.
What is the best alternative to Noodle Golf Ball?
What about the construction of Noodle Golf Ball?
Noodle Long and Soft is a two-piece ball with Surlyn Cover and React Core.
Are Noodle Balls good for Seniors?
Yes. The swing speed decreases as we grow older. At that time, you need a ball with a low compression rating. Noodle balls are good to choose in that case.
Are Noodle Balls long-lasting?
Yes, all the noodle balls, including Long and Soft, Neon, Easy Distance, are made to offer high durability. If we talk about the Long and Soft, the high-quality Lothene cover will offer high sustainability for sure.
Noodle Golf Ball Review – Final Verdict
With this Noodle Golf Ball Review, we can say that the Noodle Long and Soft is designed by keeping the slower swingers in mind. Also, the ball has forgiving and highly responsive characteristics. Price is, of course, a big plus for both beginners and professionals.
There are numerous other things which you will find impressive in this ball. However, when it comes to handling comfort, performance, and price, it beats various expensive balls in the market.
In my opinion, you should definitely give this ball a try. It is inexpensive, as we all know. So, just order a box for you and see if it can work for you. You will definitely find this ball impressive in all the terms.
Again, you can't compare it with the top players of the market, but still, the results will be pretty satisfactory. Check out our best value golf balls guide.
Noodle Golf Ball Review 2021 – AllGolfReviews.com
Our Noodle Golf Ball Review updated for 2020. Everything you need to know about the noodle golf balls. Are they worth the money?
Product Brand: TaylorMade Noodle Long & Soft Golf Balls
Product Currency: USD
Product Price: 21.99
Product In-Stock: https://schema.org/InStock