So, we're here again, that time of year when you're expected to buy gifts for your loved ones. Buying gifts is a great way to show appreciation and affection. However, finding the perfect gift is stressful and not as easy as you would first have thought!
That's why we've created the best gifts for golfers under $50. Cheap and cheerful, and stress-free (hopefully).
Best gifts for golfers under $50 – Our top picks
Titelist Pro V1 Golf Balls
Last update on 2023-09-17 / Affiliate links / Images from Amazon Product Advertising API
We've done countless golf ball reviews on our site, which you can read here. Golf balls are the perfect gift for any golf lover and make brilliant stocking fillers too. We've specific chosen these balls as they're rated very highly around the golf community and are a top seller on amazon. If you're looking for a quick and easy winning gift, these are a no brainer.
Champkey Portable and Foldable Golf Trunk Organizer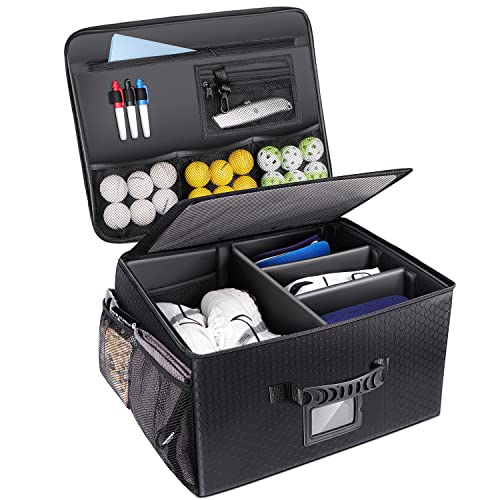 Champkey Golf Trunk Organizer Storage-Portable and Foldable Golf Travel Storage Locker Ideal for Travel Golf and Car Golf (Black)
[Durable] Champkey Golf Trunk Organizer is made of the highest quality materials to provide sturdy construction and higher load bearing. Durable 601D Oxford fabric with reinforced side walls for extra strength and support. Also, it is waterproof and abrasion resistant to protect your organizer in good shape.
[Collapsible] Can be folded to save more space when not in use, Golf Trunk Organizer comes with multiple removable dividers to customize your storage requirements to store your golf gloves, tees, balls and a change of shoes and keep your car a whole lot cleaner.
[Multi-purpose] This golf storage bag can also be used as a storage cabinet for normal use. A great gift for man and women.
[After-sale Service] If your are not satisfied with your new Golf Trunk Organizer for any reason, please contact us. We provides you with the most satisfactory service.
Last update on 2023-09-17 / Affiliate links / Images from Amazon Product Advertising API
A golf trunk organizer is the type of gift that no one will ever think of, but they're a lift changer when you have it. Long are the days of you searching around your trunk for missing golf balls and scraping the mud off your boots before you pop them in the car. This is the perfect gift for any golfer.
This organizer has fantastic reviews on Amazon, with its customizable dividers, perfect for keeping the trunk organized and golf gear safe during transit.
SUNHOO Pop-up Golf Chipping Net with Dual Turf Hitting Mat
Sale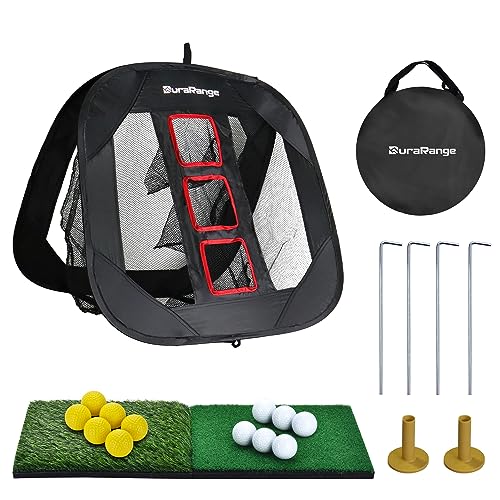 DURARANGE Pop-up Golf Chipping Net with Dual Turf Hitting Mat, 6 Driving Range Golf Balls, 6 Practice Foam Balls and Tees Combo, Target Swing Training Aids Backyard | Indoor | Outdoor
CHIPPING COMBO- The golf chipping net comes with the Lawn Saver Mat, 6 driving range golf balls, 6 practice foam balls and removable Rubber Tee, greatly save your shopping time and shipping cost.
COMPACT DESIGN- It measures 12" by 12" only when folded, 25" by 25" after fully open; Really portable to carry thanks to the collapsible design.
USER FRIENDLY- Three targets training system suitable for golfers at all levels practicing their distance and trajectory control, and the side pockets will catch any missed balls!
EASY SETUP- Assemble in seconds with very durable and sturdy spring steel frame and 400D canvas material.
GOLF ANYWHERE- Perfect for tailgates and sporting events. Compete with your family and friends indoor or outdoor with DURARANGE innovative target system.
Last update on 2023-09-17 / Affiliate links / Images from Amazon Product Advertising API
This is a perfect gift for any golfer who is looking to practice with limited time to play on the course. This chipping net includes a dual turf mat, which simulates different terrains in golf.
The net pops up in seconds and can be folded for easy storage and transportation.
NSD Power AutoStart Spinner Gyroscopic Wrist and Forearm Exerciser
Sale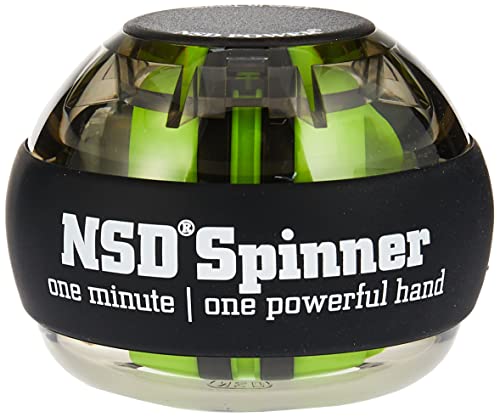 NSD Power AutoStart Spinner Gyro Wrist Forearm Grip Strengthener with Auto Start Feature and Battery-Free LCD Counter
Exercise Anywhere ¡X Compact, hand-held NSD Power Spinner spins at 15,000+ RPM up to 24.9 lb-in (or pounds-inch) of torque for an intense hand, wrist and forearm workout wherever you go
AutoStart Feature ¡X Features an internal pre-tensioner that allows you to start and stop exercising as you please; Just roll back the rotor in the direction of the arrow
Performance Digital LCD Counter ¡X Battery-Free and Self-powered Digital display keeps track of your workout info, including historical top speed and more to keep you ahead of the game; being functional when you reach 3,000 RPM
Designed to Last ¡X Built with an impact-resistant structure, including a military-grade plastic shell and reversible inner tracks for a long life
Easy to Use ¡X Easy even for beginners thanks to the battery-free design and intuitive AutoStart feature; Lightweight, portable and travel-friendly
Precision Made by its inventor ¡X Computer balanced inner gyroscopic rotor with Stainless Steal Axle
Last update on 2023-09-17 / Affiliate links / Images from Amazon Product Advertising API
If you're looking for something a little different, this could be the perfect gift. As we all know, golf focuses a lot of its movements on the wrist, forearm, and fingers as you play. Strengthening these muscles not only helps fatigue but also improves your overall game.
This device has been created to strengthen all of these areas. It's compact and versatile. A couple of simple exercises per day could make a whole lot of difference to your golf game!
Crestgolf 2-Section Portable Backyard Practice Golf Hole Cup and Flag Stick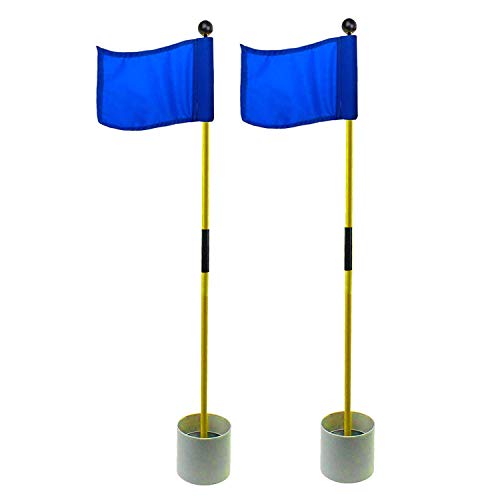 Last update on 2023-09-17 / Affiliate links / Images from Amazon Product Advertising API
Have you got a bit more space in your garden? Then why not bring golf home? We all know, especially in the 2020 lockdown, that doing the things you want can sometimes be limited to your own home. This is the perfect gift for any golfer whos looking to get a bit of extra practice in.
This set comes with two practice flags, which can be situated anywhere in your garden. Perfect for practicing your chips and putts. Any golfer would be happy to receive this gift.
Crazy Dog T-Shirts Men's Always Wash Your Balls T-Shirt
Sale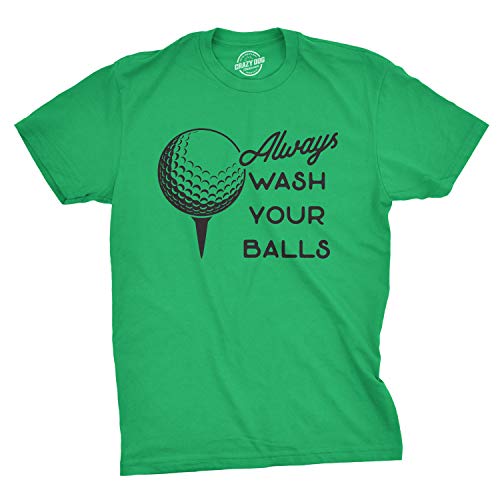 Mens Always Wash Your Balls T Shirt Funny Golf Fathers Day Golfing Gift for Dad (Green) - S Crazy Dog Men's Novelty T-Shirts Perfect Birthday Father's Day for Dad with Golf Sayi Heather Green - Wa S
SUPERIOR DESIGN: All our tees are designed and printed in the USA. We screen print our graphic tees with state of the art equipment to ensure vibrant colors and lasting durability. Our awesome funny shirts are perfect for any occasion.
NEW FAVORITE SHIRT: We manufacture our tees to be the best super soft high quality shirts. They are made from ringspun cotton to get that comfortable vintage fit and feel. The stretchy material will conform to any body shape so you look your best.
SATISFACTION GUARANTEED: Whether you're cute and adorable or sarcastic and nerdy, get ready to have fun with this graphic tee. Machine washable (inside out in cold water, hang dry,). Larger sizes are available - 3XL 4XL and 5XL – for most novelty designs
DO IT FOR DAD: Don't forget about him this Father's Day. Show your Pop that you care with a funny hilarious shirt he can brag about to all the other parents.
MENS FIT: This is a fitted men's shirt made of ring spun cotton. Its a stretchy, super soft material, but the fitted tees are slim fit so order a larger shirt if you're between sizes
Last update on 2023-09-17 / Affiliate links / Images from Amazon Product Advertising API
Everyone appreciates a bit of humor, even golfers! If all else above fails, this could be the perfect gift for a golfer as well as a bit of a laugh too. Amazon is full of funny golf T-shirts, so you'll have plenty to choose from. These work great for secret Santas too!
Lavley – I'd Rather Be – Funny Golf Socks
Sale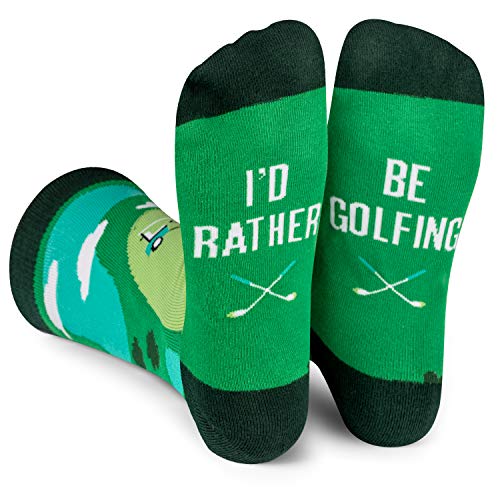 I'd Rather Be Golfing - Funny Golf Socks Novelty Christmas Gift Stocking Stuffer For Men, Women and Teens
SOCKS THAT SPEAK FROM THE SOLE: These colorful and comfortable Lavley Golf socks make the best gifts for men - funny, functional and an amazing way to express love for their favorite sport. These socks feature a colorful golf course scene with a secret message hidden on the bottom: 'I'd Rather Be Golfing.' Perfect for daily wear, whether they're at work or getting in some tee time with the guys.
ONE SIZE FITS MOST: Fits most men with US size 6-13 feet, and women size 7 and up.
A HOLE-IN-ONE GIFT FOR GOLFERS: These crew length socks for men and women are perfect for golf lovers, and make a unique and memorable gift for men, dads, co-workers, or your golfing friends. They're a great stocking stuffer for Christmas, and the perfect present for birthdays, Father's Day, and special occasions.
PREMIUM QUALITY: These fun socks were created with passion to avoid the sloppy edges and fraying found on other novelty socks. They're made of premium fabric that holds up to years of wears and washes without fading, while remaining soft, comfortable and well fitting.
LUXURIOUS COMFORT: Made from a super soft blend of 5% elastic, 10% spandex, and 85% cotton that has a comfortable stretch and feels amazing to the touch.
Last update on 2023-09-17 / Affiliate links / Images from Amazon Product Advertising API
Whilst we're on the subject of funny golf gifts, it's worth mentioning the vast amount of golf socks Amazon also offers. These are a brilliant gift that can be used on and off the golf course. They also work great as a stocking filler or secret Santa gift.
FAQ – Frequently Asked Questions
What are good ideas for a gift?
Funny golf socks, golf balls, backyard practice golf flags, and chipping nets all make good gift ideas for a golfer.
What to get a dad who likes golf?
It all depends on the person and what type of golfer they are. Think outside the box; golfers of a certain age might start needing a helping hand when they play golf. Things like rangefinders, wheeled golf carts, and colored golf balls all make great gifts for golf dads.
What do you get a golfer that has everything?
A golfer who has everything can never have enough golf balls! No matter how good you're at golf, there will be a time where you lose a ball or two. These are the perfect gift and are typically a very cheap one too.
Best gifts for golfers under $50 – Wrapping things up
Well, there we have it, our list of the best gifts for golfers under $50. I hope this has given you a bit of food for thought. There are plenty of brilliant golf gifts that don't need to cost you a fortune. I'm sure any of the gifts listed above will put a smile on any golfer's face. It's all about the gift, not about the price tag. Thank you for reading!
Last update on 2023-09-17 / Affiliate links / Images from Amazon Product Advertising API