If you've ever played a round of golf in the rain, you'll know the added obstacles which come with the extra element of precipitation. Of course, you'd prefer a nice dry, sunny golf course, but don't let the raindrops ruin your round of golf. All you need is the perfect apparel to keep you from getting sopping wet and ruining your fantastic form. Check out our handy guide to help you choose your style and find our top picks for the best golf rain jacket.
Technology has come a long way; not only have our phones advanced tremendously over the years, but so too has our clothing. You might be surprised at the amount of research and testing which goes into developing a high-performing bit of waterproof kit. The technology behind waterproof/breathable gear is much more complex than many may think. For an in-depth description of raingear ratings
Modern raingear is now not only stylish and comfortable but also highly effective in keeping you dry and your swing unaffected. Thanks to the abundance of styles and options, there are many features to consider when choosing your waterproof wear.
In a hurry? These are our top picks.
Best Golf Jacket Waterproof – Our Top Picks
FootJoy HydroKnit ½ Zip Waterproof Pullover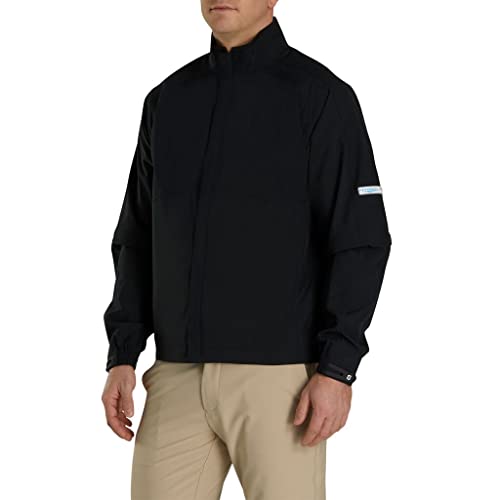 Last update on 2023-09-08 / Affiliate links / Images from Amazon Product Advertising API
The FootJoy Hydroknit Pullover is a fantastic blend of comfort and performance – mixing a waterproof jacket with the feel of a knit garment. The Xtreme DWR finish repels water and wind with a 15,000mm waterproof rating, while the moisture permeability rating of 15,000g keeps it breathable and comfortable.
Users say it's not noisy or restrictive, as well as easy to add or remove base layers, making it a great choice for all-year play. For those who prefer pullovers to zip-ups, this is a perfect option.
Four colors: black, charcoal, navy, sapphire
Six sizes: S-3XL
FootJoy DryJoys Tour LTS Jacket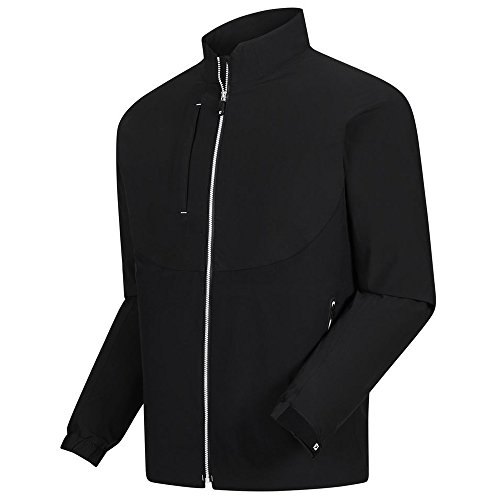 FootJoy New DryJoys Tour LTS RAIN Golf Jacket Black/White Small
A ThermoLite bonded liner combined with hollow-core fibers entrap insulated air to deliver constant temperature regulation.
The protected chest pocket gives you access to your scorecard, glove, wallet, without exposure to the elements.
Constructed with a 3-layer bonded four way stretch shell that contains a Durable Water Repellent (DWR) Finish which helps keep you dry during wet conditions.
Constructed with 5 panels to reduce bulk, improve mobility, and maximize waterproof protection.
Side pockets allow for hand comfort and warmth.
Last update on 2023-09-08 / Affiliate links / Images from Amazon Product Advertising API
For those FootJoy fans who prefer a zip rather than a pullover, the FootJoy DryJoys Tour LTS Jacket is a perfect fit. Just like the pullover, this zip-up jacket is 100% waterproof with DWR finish and seam seal. It has a waterproof rating of 20,000mm, keeping you dry in even the wettest conditions. It is windproof and breathable with 3-layer bonded, 4-way stretch fabric ensuring breathability, keeping you insulated on cooler days and expelling heat during the summer for year-round wear.
The bulk and weight of this jacket is lessened by its mere 5 panel, six seam construction, compared to previous 24 panel, 27 seam styles. This jacket also has multiple zipper pockets – side pockets for hand warmth and a protected chest pocket for your golf goodies with waterproof zippers for additional rain protection.
Three colors: charcoal, marine, black
Six sizes: S-2XL
Sunderland of Scotland Whisperdry Pro-Lite Jacket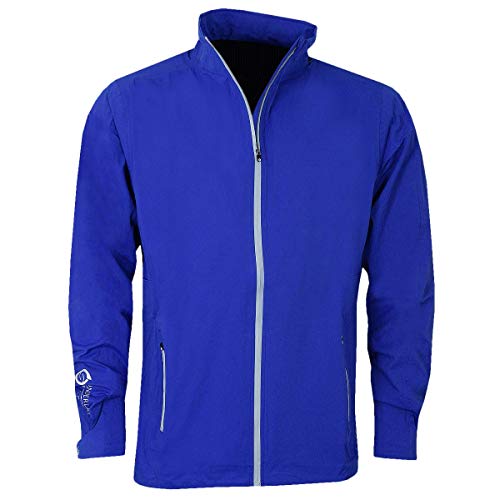 Last update on 2023-09-08 / Affiliate links / Images from Amazon Product Advertising API
This jacket has exceptional comfort thanks to its 100% polyester fabric which can be stretched in all directions, providing freedom of movement throughout your swing. The inner storm flap with chin guard and high neck will shield you from the weather when it's chucking the rain down.
The lightweight fabric has active smart fibres for thermoregulation, providing breathability and comfort. This jacket is also widely adjustable providing optimal comfort with well-functioning waterproof fabric.
Four colors:  black camo, gunmetal, navy, electric blue
Five sizes: S-XXL
Under Armour Gore-Tex Paclite Jacket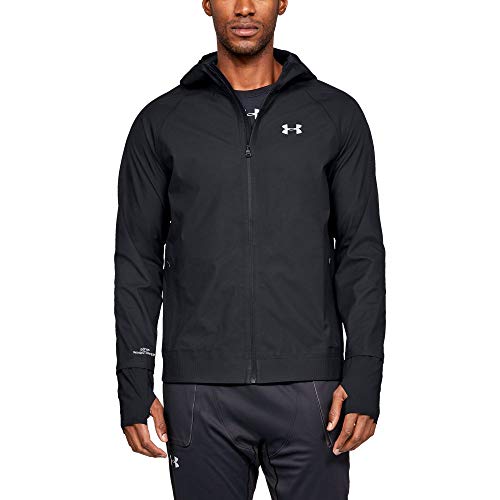 Under Armour Men's GORE-TEX WINDSTOPPER Jacket, Black (001)/Reflective, Small
GORE WINDSTOPPER technology offers total windproofness & maximum breathability, keeping you protected from even the harshest winter weather
UA Storm finish repels rain & snow without sacrificing breathability
Adjustable hood
Extended asymmetrical free cut cuffs for extra wrist & hand coverage with built in thumbholes help keep sleeves secure
Open hand pockets
Last update on 2023-09-08 / Affiliate links / Images from Amazon Product Advertising API
Under Armour's Gore-Tex Paclite Jacket is a 100% waterproof and windproof jacket with UA Storm technology to repel the water off you and shield you from the elements. The Gore-Tex Paclite construction is incredibly breathable and very lightweight with a durable exterior and soft interior.
The jacket maximum comfort and is adjustable with a cord-lock bungee hem and Velcro cuff adjusters. It also features zipped hand pockets and an internal media pocket.
Colors: black, royal blue, blue circuit
Five sizes: S-XXL
Mizuno Golf Waterproof Impermalite F20 Rain Jacket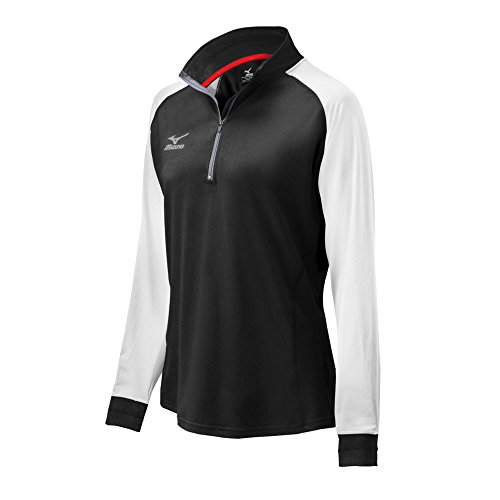 Last update on 2023-09-08 / Affiliate links / Images from Amazon Product Advertising API
The Mizuno Golf Waterproof Impermalite F20 Rain Jacket is almost a 2-in-1 jacket thanks to its removable sleeves. This 100% polyester raincoat with Mizuno's Impermalite technology is extremely lightweight and with a 20,000mm waterproof rating, a fabulous choice for prolonged showers.
With its removable sleeves and pack away pouch to store it in, this versatile jacket is great for sunny or rainy days. It's exceptionally light and soft despite Mizuno's highest level of waterproofing, making it our pick for the best waterproof rain jacket for warmer conditions.
Three colors: black, blue, grey
Five sizes: S-XXL
Callaway StormGuard Waterproof Jacket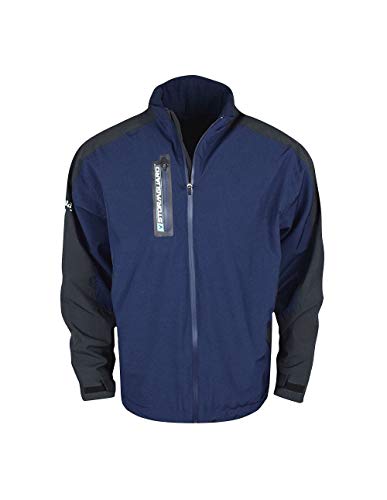 Last update on 2023-09-08 / Affiliate links / Images from Amazon Product Advertising API
The Callaway StormGuard Waterproof Jacket is a fully waterproof seam sealed jacket with a 3-layer membrane construction. The 90% polyester, 10% elastane material provides excellent comfort without sacrificing any freedom of movement. In fact, their Swing Tech technology ensures an unrestricted swing.
The jacket is warm, yet breathable, with a fleece lined collar and can be adjusted with the hi-lo hem drawcord and adjustable cuffs. It also provides plenty of storage for your stashing your small valuables with zippered chest and side pockets, plus a back score card pocket, too.
Three colors: grey, navy, black
Six sizes: S-3XL
Men's Apollo Rain Jacket
Sale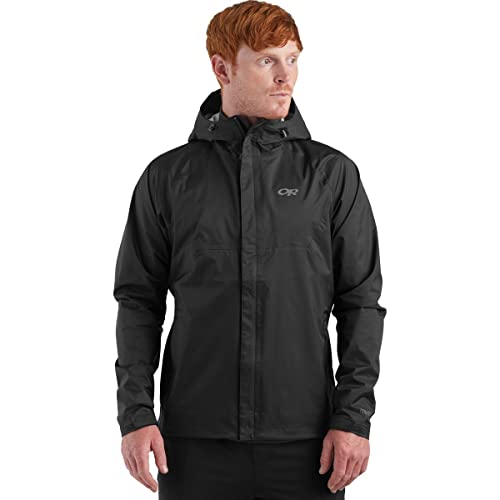 Outdoor Research Men's Apollo Rain Jacket – Lightweight Waterproof Coat for Men
Waterproof, feature-packed performance, accessible price
Standard Fit
International products have separate terms, are sold from abroad and may differ from local products, including fit, age ratings, and language of product, labeling or instructions
Fabric Performance: Waterproof, Windproof, Breathable, Fully Seam-Taped
Last update on 2023-09-08 / Affiliate links / Images from Amazon Product Advertising API
This waterproof GORE-TEX Men's Apollo Rain Jacket with a full-zip front is a lightweight, stretchy, and soft option with a smart, stylish look available in a wide range of colors and sizes. It provides a tailored fit for you thanks to the elastic drawstring at the waist, adjustable partial elastic and Velcro cuffs, adjustable chest width, and shaped sleeves for better movement.
The thin material makes it very breathable and easy to combine with base layers for chillier days while keeping you dry on those rainy days. The side pockets are also a great feature without obstructing your swing. Users even go so far as to claim the Apollo jacket is "easily the best rain jacket on the market".
Four colors: sharkskin, cool grey, navy and black
Six sizes: S-3XL
Features of Waterproof Jackets – Buyers Guide
Waterproof Rating
You can quickly check if a jacket will perform in the rain well enough for a round of golf by its waterproof rating.
0-1,500mm to 2,000mm jackets: for everyday use, good for very light rain/snow
5,000mm to 10,000mm jackets: for moderate to heavy rainfall and/or prolonged exposure to rain, such as a lengthy round of golf
Breathability
How permeable your jacket is can completely change your comfort level while swinging your clubs. A stuffy, sweaty coat will not be ideal for many hours on the green, while an exceptionally lightweight jacket might not defend you well from colder temperatures.
Higher breathability means a less clammy feeling for you, but more efficient air exchange also means less warmth and protection. So, if you want more air permeability, you might want to also consider a jacket with an insulating layer under its shell to keep you warm, depending on the temperature and weather conditions. If it doesn't have any insulation, check that there's space for you to add a base layer. If it's a summer day with warm temperatures and just a drizzle of rain, obviously, you won't need the extra insulation, but if there's quite a breeze, it could become chilly.
It's a tricky task to block rain without trapping the sweat vapor in. A rain jacket without good breathability might keep the water off you, but you'll still get wet inside your jacket from your own heat and perspiration. Naturally, this technology has progressed since the popular baggy windbreakers of the '80s, although there is no universal standard for testing to measure breathability performance.  So, you'll (mostly) have to use your own judgment here.
Water Repellent
For the best protection from rain as the droplets just bead up and roll off the material. However, the fabric itself isn't waterproof. It will have a finish on it, which provides this protection, so check for a Durable Water Repellent (DWR) finish. Unfortunately, the finish won't last forever – you'll need to occasionally reproof it to keep it repelling water.
Another benefit of water-repellent coats is the windproof factor that comes with their technical construction. If your jacket is waterproof, it's also going to be windproof.
3-in-1 (rain jacket plus an insulating shell)
This will give you even more warmth if you choose to play in colder temperatures. With this design, you can also wear either the inner or outer shell on its own, giving you a great bang for your buck – you essentially get three jackets for the price of one.
Hood Design
If you plan to wear the jacket off the course too, you might want a hood, but most avid golfers also find it a hindrance during play. Some jackets have removable or stowable hoods which zip off or roll into the collar, which would be a better option if you really can't let go of a hooded jacket.
Ventilation
This is crucial for breathability and quickening sweat evaporation. Look for mesh liners in pockets and vents with zips to assist with cooling you down during physical activity.
Adjustment features
If you've ever been out in the rain in a jacket without wrist closures, you'll understand the importance of adjusters. Drawcords which cinch in excess material not only add to the style of the jacket, but also can improve heat retention for those cooler days on the course, or vice versa. Wrist cuffs and drawcords along the bottom hem or waist help secure you from the attacking wind, rain and cold, but also double as extra ventilation if you loosen them.
Pockets
These can pump the jacket's price up, but also provide precious space for you to stash your essentials.
Removable sleeves
These are often much desired by golfers as the hybrid style offers protection for warmer and cooler days.
Although your standard rain jackets might suffice for a walk in the rain, keen golfers will demand better performance from their gear. Many waterproof jackets are too bulky for proper golf form – you'll notice this in the armpit area while you take a swing. Jackets designed especially for golfers will not be obtrusive or restrict you during your stroke.
Best Golf Jacket Waterproof – Conclusion
The rain might dampen the course, but these top choices for golf rain jackets will prevent the weather from completely ruining your putting plans. Thanks to these great options, you might even enjoy the added challenges of tee time while it's tipping it down!
Last update on 2023-09-07 / Affiliate links / Images from Amazon Product Advertising API
Best Golf Jacket Waterproof | Our Top 5 Recommendations
Our buyers guide for the best golf jacket waterproof. Don't let the rain ruin your day of golf. We review 5 of the best waterproof golf jackets on the market.
Product In-Stock: InStock