One of the worst parts about walking eighteen holes is coming off the last hole with aching and blistered feet. It sounds like you're in need of some new shoes! The best way to fix this is by updating your footwear. Any one of these five shoes should definitely bring you a long way toward alleviating discomfort and getting more enjoyment out of your day on the links.
In a hurry? These are our top picks.
Best All-Around Golf Shoe: FootJoy HyperFlex
Sale
FootJoy Men's Hyperflex Previous Season Style Golf Shoe, Grey/White/Blue, 9.5
PERFORMANCE MESH - Lightweight performance mesh delivers incredible comfort, breathability and all-day comfort.
MAXIMUM COMFORT - StratoFoam is a proprietary foam compound tuned specifically for golf that maximizes underfoot comfort while providing optimal energy return to reduce underfoot fatigue throughout the round.
WATERPROOF - FootJoy warrants that this golf shoe will be waterproof in normal use for two years (U.S. Warranty).
LASER SPORT FIT - Offers a full rounded toe character with a standard fit across the forefoot and instep. A toe spring and a slightly narrow heel completes the athletic profile.
Last update on 2023-09-02 / Affiliate links / Images from Amazon Product Advertising API
FootJoy HyperFlex golf shoes seem to have everything a good golf shoe should. In general, the shoe is a good balance of all desirable qualities of a golf cleat. They are waterproof and have a mesh construction, which makes these shoes perfect for all types of weather. They weigh in at about 15 ounces, which makes them lighter than many traditional pairs of golf shoes, but not light enough to impact durability.
These shoes also provide excellent comfort to the wearer, allowing you to walk many holes without experiencing shoe-based discomfort. They have a great mix of cushioning and support, which makes walking eighteen mush more pleasant. As one would probably expect, due to its light and sporty design, this shoe doesn't have as much structure to it.
This might be a slight drawback for some used to the more traditional feeling golf shoe, but it greatly increases comfort and allows for a great walking shoe. The only definite drawback of these shoes is their price. These top-of-the-line shoes are priced accordingly, at a whopping 150 dollars. This premium price is a steep one, but many benefits come from this great pair of golf shoes.
Best Spikeless Golf Shoe: Puma Ignite NXT
Sale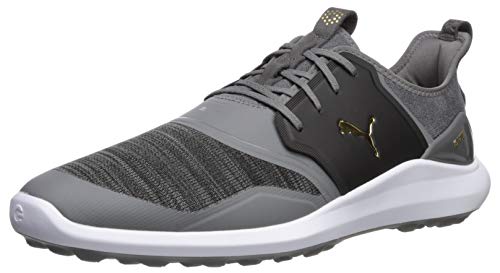 Last update on 2023-09-02 / Affiliate links / Images from Amazon Product Advertising API
The Puma Ignite NXT golf shoe is undoubtedly a great walking shoe. Like the HyperFlex, this shoe has a mesh construction, which makes it light and breathable. These shoes are waterproof and come with decent cushioning that also has enough support to keep your feet comfortable through your hours on the course. The shoes come in many different color patterns, both bold and traditional, which makes them more versatile. Because of their spikeless design, these shoes will be more versatile than spiked shoes.
However, spikeless shoes tend to sacrifice traction in favor of convenience, which is a consideration to be made when deciding whether these spikeless shoes are for you. If you decide these shoes are for you, it is important to note that these shoes have been reported to run small and narrow, which could be an important consideration when ordering.
Best Traditional Golf Shoe: FootJoy Traditions
Sale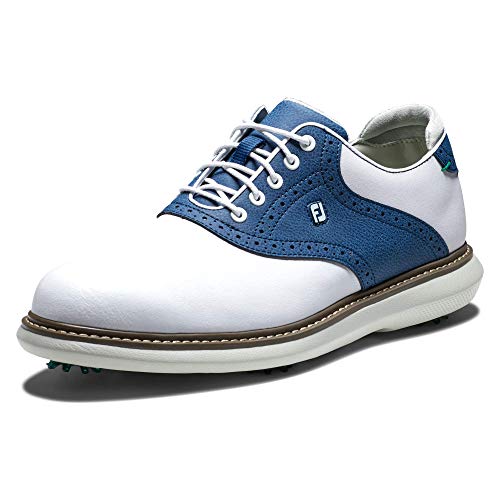 FootJoy Men's Traditions Previous Season Style Golf Shoe, White/Light Navy, 9
FASHIONABLE LEATHER - This fashionable full grain leather offers outstanding waterproof comfort, breathability, and durability.
CUSHIONED - The lightweight Molded Fit-Bed insole provides extreme underfoot comfort and heel support. The Fit-Bed insole ensures underfoot cushioning and support.
WATERPROOF - FootJoy warrants that this golf shoe will be waterproof in normal use for one year (U.S. Warranty).
LASER STREET FIT - Offers a full rounded toe character with a standard fit across the forefoot and instep. A slightly narrow heel with a refined toe shape completes the classic profile.
TURF GRIPPING ADVANTAGE - Pulsar cleats by Softspikes are the #1 selling cleat in golf and the overwhelming choice of touring professionals worldwide. The Pulsar cleats feature all the same turf grip and walking comfort advantages of Black Widow plus the additions of radiused legs for extra durability and cleat webbing for easier cleaning.
Last update on 2023-09-02 / Affiliate links / Images from Amazon Product Advertising API
FootJoy's Traditions golf shoe is, as the name would suggest, a very traditional golf shoe. This shoe features a leather upper section that brings to mind one word: classic. The shoe is guaranteed waterproof by FootJoy. Unlike many newer golf shoes, the Traditions golf shoe has a very structured design, making it a golf shoe that people either love or find terribly hindering.
One drawback to this shoe is that the lack of a mesh upper makes it less breathable than its lighter mesh counterparts, but the shoe is indisputably great for golfers who prefer a traditional shoe.
Any golfer looking for a timeless design with more modern build quality will certainly love the FootJoy traditions shoe.
Best Budget Golf Shoe: Adidas Tech Response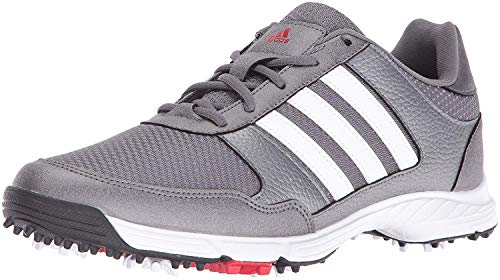 adidas Men's Tech Response Golf Shoe, Iron Metallic/White, 10.5 M US
Thintech, adituff, thintech cleat, traxion, adiwear
Lightweight mesh and synthetic upper for enhanced breathability and comfort
Soft eva insole for lightweight comfort and cushioning
6-spike configuration with thintech low-profile technology for improved traction and stability
91 day comfort guarantee
Last update on 2023-09-02 / Affiliate links / Images from Amazon Product Advertising API
The Adidas Tech Response cleat is a great quality shoe that comes in at an affordable price. The shoe can be found for only $60, a great deal for quality golf cleats. It has a mesh upper, which makes it very breathable, and comes in both spiked and spikeless variations. This shoe comes in grey, white, and black color schemes, none of which are particularly bold designs. The cleat has a relatively strong structure when compared to other modern mesh golf shoes, so it may feel uncomfortable until it is broken in. One sacrifice that the shoe makes to enable its $60 price is in its water resistance, or lack thereof.
The shoe lacks water resistance, which can definitely be a deal-breaker for some golfers, particularly when walking in the morning, as dew can still be on the ground. This may lead to soggy feet after nine holes, which can be uncomfortable and annoying.
However, for golfers who play in the afternoons or in typically dry areas, the lack of water resistance shouldn't be a deal-breaker, especially considering this shoe's extremely affordable cost and good all-around quality.
Alternative All-Around Shoe: Under Armour HOVR Matchplay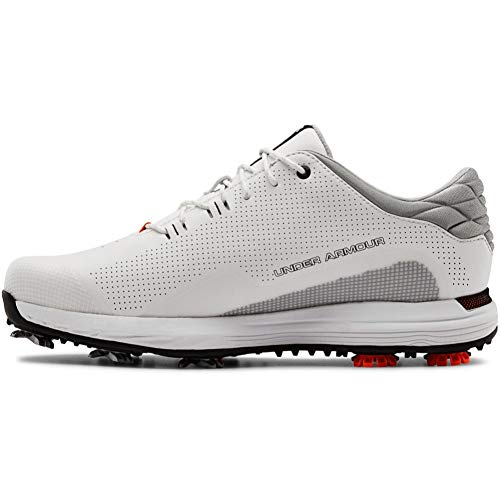 Under Armour Men's HOVR Matchplay Golf Shoe, White (100)/Black, 7
Breathable microfiber upper & a lightweight waterproof membrane keep you cool & dry
2 Year Limited Waterproof Warranty
UA HOVR technology placement supports natrual movement of the foot during your swing & provides 'zero gravity feel' to maintain energy return that helps eliminate impact step after step
Compression mesh Energy Web contains & molds UA HOVR foam to give back the energy you put in
New, lower profile UA Rotational Resistance (RST 2.0) spikes for lockdown horizontal traction & all day comfort
Last update on 2023-09-02 / Affiliate links / Images from Amazon Product Advertising API
A great alternative to the FootJoy HyperFlex golf shoe is the Under Armour HOVR Matchplay cleat. This shoe has a more traditional look than the HyperFlex shoes and provides a very similar shoe for golfers who want a different aesthetic. These shoes, unlike the HyperFlex shoes, have a microfiber upper, instead of a mesh. This negatively impacts the breathability of the shoe but makes its water-resistance a cut above the rest. This upper is what allows the shoes to come with a two-year waterproof guarantee. When walking the course, this shoe provides great support and comfort.
The shoe has a more structured look and stiffer feel than the HyperFlex shoes, which may make it less comfortable for people who are unfamiliar with the feel of a structured shoe. What the shoe may lose in comfort due to its structured feel, it makes up for in stability. This shoe is also one of the most stable golf shoes available with a great reputation.
The Under Armour shoe also comes in about $10 cheaper than the FootJoys. Overall, the HOVR Matchplay shoes are great for those who prefer a more stable, structured feel that maintains some breathability of a more modern shoe.
Frequently Asked Questions
What are the different types of golf shoes?
There are four different types of golf shoes: spikes, cleats (or turf), molded, and spikeless.
Spikes provide the most traction on a course with hard surfaces such as concrete or asphalt because they have metal studs that dig into these materials to create more friction for your feet when you swing at ball in order not slip off balance during impact!
Cleat-style footwear is designed specifically so players can play without using any type ground coverings like grass which would otherwise slow them down significantly while playing their shots from tee boxes onto greens.
Molded golf shoes are a type of shoe that has been molded to the shape and contours on your feet.
Spikeless golf shoes are a type of shoe that does not have metal spikes on the bottom. They work by having rubber studs or cleats which provide traction for your feet when walking and playing shots from tee boxes onto greens without using any ground coverings like grass to slow you down significantly while swinging at balls.
What should I look for when buying a pair of golf shoes?
The number one important factor to consider before purchasing a pair of golf shoes is the type. There are three types: molded, spikeless, and spikes on both sides (called "dual"). The second consideration would be what material they're made out of; leather or synthetic materials like nylon for example will last longer but may not provide as much traction in wet conditions while rubber soles can offer more grip at times too depending upon how hard it's raining outside during your round! Thirdly there needs to also exist enough room inside them so that any socks worn with these do no bunch up uncomfortably around toes which could cause blisters over time from rubbing against one another. And lastly it comes down to design some people prefer a more traditional looking shoe while others may want something that is a little bit flashier.
How much do golf shoes cost?
This a question that is asked a lot and the answer can vary depending on where you purchase them from.
The average price for golf shoes in stores like Foot Locker, Dick's Sporting Goods, or Sports Authority is around $100 to upwards of about 200 dollars! But there may be some deals if they're purchased online at places such as Amazon that could save money too so it pays off to do your research before buying.
Best Golf Shoes for Walking 18 Holes – Conclusion
So there you have it, our guide of the best golf shoes for walking 18 holes. All of the shoes in this list are great and will serve you well but it's depends on which shoe fits your personal preference is best for the type of golfer that you are!
Best Golf Shoes for Walking 18 Holes | Our Top 5 Picks
What are the best golf shoes for walking 18 holes? From lightweight to comfort, we've got you covered.
Product In-Stock: InStock