Golf is a sport that is linked with a lot of class and protocol. There are etiquettes and traditions associated with it, which is reflected by the dress code as well. In terms of footwear used for playing the sport, the decision has always been between cleats or metal spiked gold shoes. Modern-age golfers are looking into whether spikeless shoes are able to provide the traction and firmness that they need. As when it comes to golf, having a firm body and good traction is highly important.
In a hurry? These are our top picks:
Best Spikeless Golf Shoes Review – Our Top Picks
Now let's get to the review of our favorite spikeless shoes. These shoes each have their pros and some cons too. Let get into it!
FootJoy Pro/SL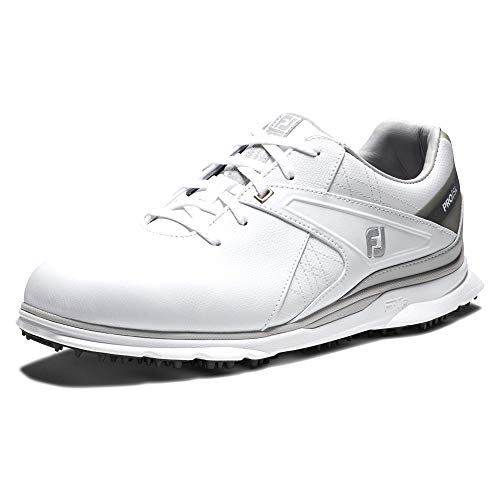 FootJoy Men's Pro|sl Previous Season Style Golf Shoes, White/Grey, 12
Exceptional stability - a perimeter weighted outsole allows for extreme stability and added lightweight comfort
Laser plus fit - The laser plus last offers a full rounded toe character, standard fit across forefoot and instep, with a slightly narrow heel. Thicker insole provides increased underfoot cushioning for enhanced comfort
Performance Leather - chromoskin leather, developed by Pittards of england, is a supple, lightweight, durable and 100% waterproof leather
Versatile traction - a one-piece outsole combining 2 blends of our fine tuned foam (ftf) for cushioning and stability, With a TPU molded sole for traction, creates an outsole that is perfect for on course performance with wear-to-the-course versatility
Waterproof - FootJoy warrants that this golf shoe will be 100% Waterproof in normal use for two years (U.S. Warranty)
Last update on 2023-11-19 / Affiliate links / Images from Amazon Product Advertising API
This brand of golf shoes is renowned in the industry for being a top seller for several years. The Pro/SL has been one of the most popular models in the spikeless shoe industry, for both on tour and off. It has even been endorsed by major winners such as Adam Scott and Louis Oosthuizen. The design of the FootJoy is its main selling point as it offers what some say "tour-caliber traction" as well as great foam cushioning for comfort.
The FootJoy Pro/SL provides all the factors needed, i.e., stability, support, and waterproofing. Due to the traction basics on the lower half of the shoe, it helps to improve the grip of the player regardless of what kind of ground they might encounter. You can buy this exceptionally comfortable shoe along with the Boa Fit System.
Puma Ignite PWR Sport Pro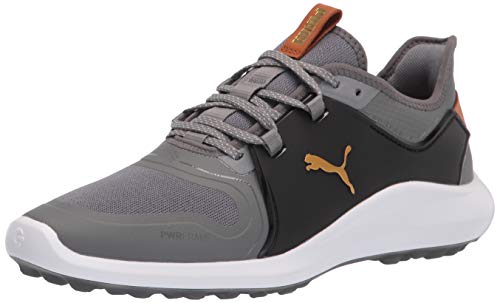 PUMA mens Ignite Fasten8 Golf Shoe, Quiet Shade-gold-puma Black, 10 US
FASTEN8-Advanced Nylon straps integrated with the lacing system wrap the foot to provide a secure, personalized fit.
IGNITE FOAM-Revolutionary and proprietary midsole foam provides energy return, responsive comfort, stable cushioning, and superior step-in comfort.
PWRCAGE-Super strong and lightweight TPU saddle provides excellent support and stability throughout your swing.
PERFORMANCE MESH +TPU-Non-stretch waterproof and breathable mesh, premium TPU PWRCAGE and PWRFRAME combine for the ultimate spikeless performance shoe.
ORGANICALLY ALTERED TRACTION-Traction inspired by nature, strategically designed lugs in proper zones for increased traction throughout your swing for more grip and power.
Last update on 2023-11-19 / Affiliate links / Images from Amazon Product Advertising API
The next spikeless shoe is the Puma Ignite PWR Sports Pro. It provides a trendy exterior guaranteeing great athletic performance. It is also efficient in terms of functionality. The frame of the shoe can provide extra safety to the high-stress points. The microfiber material deflects water off the surface but still lets moisture evaporate, ensuring breathability. This shoe also has a rubber grill sole, featuring 39 hexagons to increase traction in all directions. In addition to that, around 24 chevron-shaped lugs also help in increasing traction in areas where it is required.
The Puma will help you get the traction you need, whether it's in wet or dry conditions. Therefore, it is a breathable, lightweight design that seems to be the perfect balance of outer aesthetics and functionality. Thus, function and form go hand in hand. Its leather accents give it an element of grace. Once you wear these shoes, you will feel like you're ready to go for a run or hit the gym.
Adidas Adipower 4orged S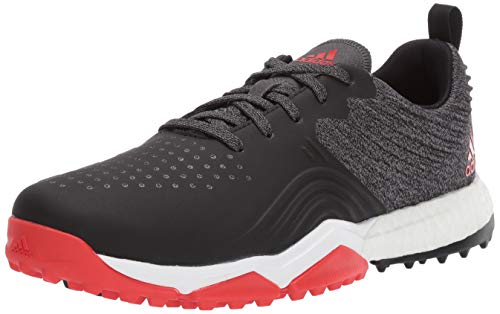 Last update on 2023-11-18 / Affiliate links / Images from Amazon Product Advertising API
This golf shoe comes with the innovative PureMotion Outsole. It also features Adiwear, which is placed inside the shoe quite tactfully to increase and improve grip and stability. The introduction of BOOST foam midsole brings extra comfort by providing additional cushioning for a longer time. This breathable and water-resistant design provides advanced protection on the course. It will keep your feet dry, no matter what climatic conditions prevail.
The forefoot of the Adidas Adipower is somewhat wider than others. The reasoning for this feature given by Adidas is that it helps in improving the overall stability and grip of the shoe. The sock liners of Fit Foam become one with the curves of the feet and make it a perfect fit. Adidas uses techniques involving heat and pressure to give you the best shoe, one that provides sturdiness and support.
Nike Roshe
Last update on 2023-11-18 / Affiliate links / Images from Amazon Product Advertising API
The Nike Roshe is the category of spikeless shoes that operate best under dry conditions. It might lack waterproofing, but it makes up in breathability and comfort. This lightweight shoe with its breathable mesh will help in keeping your foot cool. The midsole is very soft and malleable, improving its comfort quality. Nike, however, did have some tricks up their sleeve with this shoe. Say you don't want mud getting into your shoe. The Roshe will keep it out by means of the elastic gusset on the tongue. This shoe is a great seller for women and children alike, so don't miss out on it.
Ecco Golf Street Retro Hydromax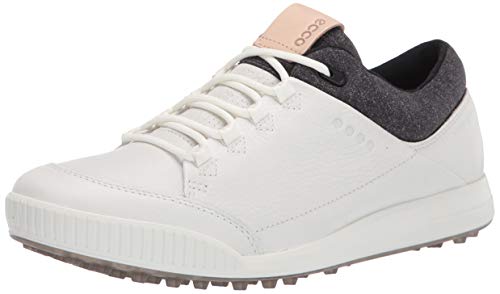 Ecco Men's Street Retro Hydromax Golf Shoe, Bright White, 10-10.5
Crafted in a tumbled, full-grain, pebbled nappa leather with an aniline finish and a plush, silky touch
ECCO HYDROMAX treatment makes the uppers highly water-repellent, keeping your feet dry
E-DTS traction system consists of approximately 100 TPU traction bars boasting 800 traction angles
FLUIDFORM Comfort Technology and anatomical last follow the natural curves of the foot to provide long-lasting, lightweight cushioning
Removable comfort-fiber inlay sole for long-term cushioning and enhanced breathability
Last update on 2023-11-18 / Affiliate links / Images from Amazon Product Advertising API
This shoe has made a lot of fans in the golf world. Great winners, such as Fred Couples, have been fans for over a decade. Just like the other Ecco Designs, the Golf Street Retro included the yak leather sourced from its tanneries. The leather is refined and strong as well as lightweight. It provides great traction and prevents moisture intrusion. Its soles make it a great shoe for the course and the club, as it provides excellent traction on all surfaces.
Why Spikeless Shoes?
Let's take a brief history lesson and learn why the shoes had spikes in the first place. Golfers from Scotland would hammer nails into their leather-sole boots. This would create spikes on the boots, which were now ready to take on the world, as they were better equipped to cope with the damp and wet conditions. However, morbid situations would occur if the nails came loose and skewered the foot.
In the latter half of the 1800s, shoes with screws permanently screwed in started to appear. Almost half a century later, they were accompanied by replaceable metal spikes. This innovation improved the grip of the foot immensely, even though they did come with their share of faults. These spiked shoes would have sent a person skating on hard surfaces. The metal spikes were also a safety hazard and could cause serious injury. This problem was resolved by the introduction of the soft plastic spikes.
However, the next big thing introduced by companies such as Adidas, Puma, etc., was spikeless shoes. These shoes introduced the concept of versatility for fold shoes so that they could be worn on and off of the course. These new spikeless shoes did raise some concerns about whether they were better for the course or not. These pro gamers were skeptical and regarded them as nothing more than glorified sneakers. Rubber nubs still provide reasonable stability for players. Even though this did not appeal to senior players, in the beginning, they gradually approve, as their top touring pros now attest to it.
Why Should You Consider Spikeless Shoes?
Shoes with spikes are mostly heavier than spikeless shoes. The individual spikes will begin to wear down with time and also start to push up against the sole of the shoe. However, the spikeless shoe will always be lighter to wear, more comfortable, and can even be worn indoors. The design of most of the spikeless shoes is so aesthetically pleasing that they can be worn outside the playground as well. The downfall of spikeless shoes was that it was uncomfortable, tough on the wearer, and was not indoors wear.
This novel product is also multipurpose and does less damage to the floors, and is allowed in indoor settings. Many golf institutions have banned the wearing of spiked shoes. Modern spikeless shoes have proven to be as effective as the predecessor while providing more comfort and the same traction. Therefore, this should put the skepticism to rest. These shoes thus can be worn easily on and off the field.
Features to Look Out for in Spikeless Golf Shoes
Now that you have made up your mind that you want to spike fewer golf shoes. The next step would be to look into the features you want your spikeless shoes to have. The shoes you choose must be of good quality so that even if you're walking around or are on the golf cart, you remain comfortable. We have listed some of the features you should pay heed to when choosing a shoe that suits your requirements.
Durability and Protection
This might be the most important factor when deciding on which spikeless shoes are the best. Golf courses can sometimes be a little damp, either due to rain or early morning dew. The durability of the shoe will be important here as it will need to protect the foot even in damp conditions. The shoes waterproof ability is something everyone must consider before making the purchase. Good golf shoes will have a lining to seal the insole, and the top cover ensures water protection, making it a breathable design.
Ease of Use
How comfortable does the golf player feel when they wear the shoe? This is another important factor when deciding on shoes for playing. Spikeless shoes here tip the scale in their favor, as these shoes tend to be more lightweight. The elimination of the plastic cleats and the insert system has greatly improved the user experience. Removal of these factors also erases the areas where your foot might face discomfort, specifically over the cleats of the spiked shoe.
This comfort has been brought to us due to the use of new technology. The introduction of a lighter material and cushioning techniques used by brands such as Adidas has made even spiked shoes comfortable. However, it all comes down to personal preference. If you want shoes that resemble your comfortable outdoor sneakers, then spiked shoes might not be for you.
Traction
The grip and stability a shoe provides are very significant, as golf players need stability while swinging. The spikeless shoes come with synthetic cleats that will provide you this steadiness while not compromising on the environment. These shoes will work well in rough and sloped regions. However, spiked shoes work better in damp and wet climatic regions. Therefore, if you play in an area that has a lot of wet weather, it would best to use spiked shoes to improve grip.
Weight Factor
Nobody would want to be dragging their feet across the golf course because their shoes are too heavy. Thus, the weight of the shoe highly influences golf players as they need to be moving around the course, from one area to another. This would require the material to be lightweight. Spikeless shoes already weigh less due to the removal of spikes, making it the more comfortable choice of the two options.
Price
Now quality golf shoes are not made cheap, so they sell at a higher price as well. However, it is an important investment if you value comfort, quality, and durability. Putting your money down on this purchase will pay off years later and guarantee you a satisfying experience while delivering excellence, strength, and good traction. Therefore, don't reach out for the cheapest option as it might not pay off well down the line.
Exterior
This might be an important factor to some people and not that important to the rest. Regardless, gold shoes have a pleasing outer look and will be cohesive with your gold outfit. Some golfers would go for the minimal traditional route while some are more adventurous, choosing a futuristic modern design. This is based purely on personal preference. Due to the massive companies coming out with spikeless shoes, there is a diverse range of options to choose from to get just the shoe that matches your needs.
Spikeless Golf Shoes Review – Conclusion
The trend of spikeless shoes is on the rise. Many brands have done their research, introducing a variety of shoes. Therefore, you can get multiple options for this particular shoe in even just one company. All of these shoes will come at varying prices and will depend on which kind of golf player you are, an amateur or a professional. The most important thing for the spikeless shoe is to provide a good fit, a design that incorporates comfort, aesthetics, weight, and water protection. In addition to this, it should also be easy to clean.
Once you have the basic features down, you can start thinking about which style of this shoe you like. We hope this article and its spikeless golf shoes review was useful and helps find the right shoe for you.
Last update on 2023-11-18 / Affiliate links / Images from Amazon Product Advertising API
Spikeless Golf Shoes Review | Our Top 5 Recommendations
Our spikeless golf shoes review. If you're searching for some new golf shoes but can't seem to decide which one is best you need to read this.
Product Currency: USD
Product In-Stock: InStock