Golfing isn't strictly a men's sport anymore. About 24.3 million people play golf on a traditional golf course. In comparison,  9.9 million people play on off-course activities such as indoor golf simulators, driving ranges, and golf entertainment venues such as Drive Shack or Top Golf. 41% of women account for off-course golfers, while 24% of women play on-course. Women make a significant portion of the golf market, and they shouldn't be neglected.
The right golf equipment is critical to your performance, whether you're a budding PGA tour level professional or an amateur who plays every other weekend. Once you pass the beginner phase of learning the proper golf swing and setup, intermediate golfers should consider acquiring a complete golf club set to enhance their game. Durability, performance, and personal preference should factor into your decision when getting your next set of clubs. In this article, we'll cover the best ladies golf clubs for intermediate players and share with you a buyer's guide on how to choose the right one to suit your needs.
Best Ladies Golf Clubs for Intermediate Players
OUR TOP PICK
Callaway Golf 2018 Solaire Package Set, 11 Piece, Black, Right Hand, Regular
HIGHLY REVIEWED
WILSON Golf Profile SGI Women's Complete Golf Set, Cart Bag, Long Right Hand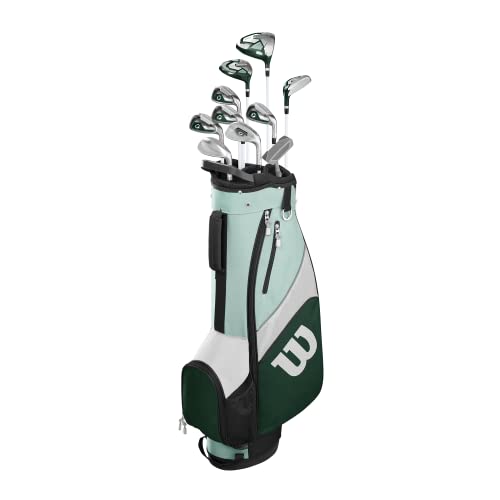 OUR TOP PICK
Callaway Golf 2018 Solaire Package Set, 11 Piece, Black, Right Hand, Regular

HIGHLY REVIEWED
WILSON Golf Profile SGI Women's Complete Golf Set, Cart Bag, Long Right Hand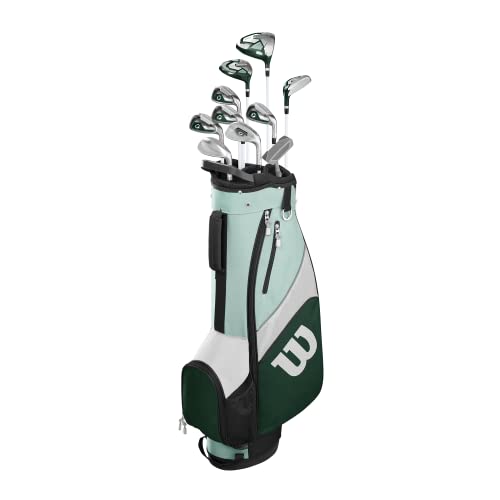 Last update on 2023-11-16 / Affiliate links / Images from Amazon Product Advertising API
Cobra F-Max Superlite
Last update on 2023-11-16 / Affiliate links / Images from Amazon Product Advertising API
The Cobra F-Max Superlite offers a premium set of clubs that include light-weight technologies that are manufacturers to make launch easier than ever and increase the distance and club speed. Compared to the previous Cobra F-Max clubs, this one is four grams lighter while delivering even better stability and forgiveness.
This club features an innovative, progressive off-set design to reduce off-set in wedges that require more precision and control. It has more off-set in the longer irons where golfers need more forgiveness. Don't worry about off-center hits. These clubs have engineered a deep undercut cavity in the toe area and low heel for better stability and forgiveness when the club hits off-center. We are surprised by the durability of the club. It is made with a premium chrome finish-premium to last much longer under normal use. The hosel lengths are taller in wedges and shorter in long irons to ensure that the trajectory and launch are ideal when hitting off the tee.
TaylorMade Kalea Complete Set
Last update on 2023-11-16 / Affiliate links / Images from Amazon Product Advertising API
The TaylorMade Kalea set offers the ultimate combination of driver, fairway woods, irons, hybrids, putter, and wedges. Their clubs include a unique feature called the Speed Pocket. TaylorMade offers a cavity on the clubhead allowing the ball to recoil and then fire back once the impact is made. This provides the ball with an additional boost in speed. The Speed Pocket helps to increase distance and ball speed to help intermediate and beginner golfers.
If you've struggled with putting, this set comes with a premium spider putter. This helps with the forwarding roll, so you have confidence in your short game. It's designed to be easy to line up shots because it has a nice balance and weight to it. This set comes in three available colors with an aesthetic bag suitable for women. The colors include gray/green, black/violet, and charcoal/blue.
Callaway Solaire Complete Set
Last update on 2023-11-16 / Affiliate links / Images from Amazon Product Advertising API
The Callaway Solaire complete set of golf clubs is one of the most popular choices for women. It is designed for all handicap levels. However, mid to high handicap players will experience the most benefit since it's easier to hit with and are very forgiving. The shafts are extremely light-weight and engineered to increase your launch. On the irons, players will experience extra spin to get the golf ball to stop on the greens. On the driver, players will experience a decrease in spin so that the ball rolls further.
The sets have a shallow center of gravity to help individuals with their distance, accuracy, and launch. Whichever area of your game you need improvement, the Callaway Sollaire should help. It's also one of the most affordable options on the market and holds it on when it comes to performance.
Wilson Golf Profile Women's Complete Golf Set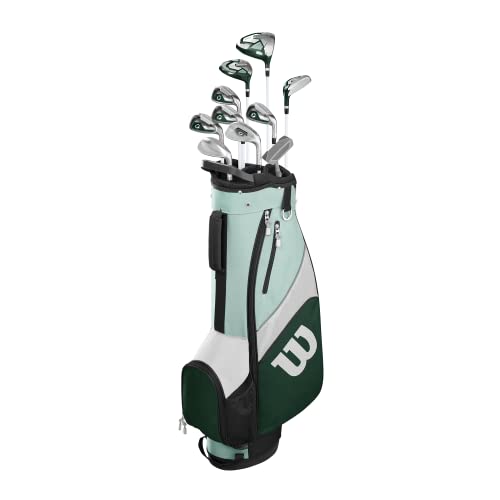 WILSON Golf Profile SGI Women's Complete Golf Set, Cart Bag, Long Right Hand
Set includes Cart Bag, Driver, Fairway Wood 3, Hybrid 5, Irons 6, 7, 8 ,9, Pitching Wedge, Sand Wedge, and Putter.
FIT FOR WOMEN: Shaft flex, club length, grip size and swing weight better match women's physical geometries.
DELUXE CART BAG: Premium materials large Cart bag features roomy storage pockets and easy lifting handles.
LIGHT AND FAST: Optimal clubhead design and lightweight components to get the most from your game.
Last update on 2023-11-16 / Affiliate links / Images from Amazon Product Advertising API
If you're an intermediate player, you may still struggle to hit the ball exactly straight or with pinpoint accuracy. These clubs will help you hit the ball with greater distance and straighter. The Wilson clubs are specifically designed with a low center of gravity to help women maximize the distance and power when hitting off the tee. All of the irons come with an extra-large face providing a larger area of a sweet spot. It features unique premium weightings that help players with off-center hits. Even for off-center hits, players will have forgiveness to hit the ball straight, making golf more fun.
We were surprised how easy the balls were to hit and light-weight the clubs are. With their sand wedge club, it includes weighting with a wide sole so that users have improved greenside control. The set comes in a premium cart bag with three roomy pockets and a fleece-lined valuables pocket, a rugged handle top, and a double padded shoulder strap.
Callaway Women's Strate Ultimate Complete Golf Set
Last update on 2023-11-16 / Affiliate links / Images from Amazon Product Advertising API
The Callaway Women's Strate Golf Set is designed for women to improve their game and take it to the next level. It helps them hit better shots when hitting from tee-to-green. The set includes four head covers, a stand bag, a sand wedge, and pitching wedge, 6-9 irons, 4 and 5 iron, and three kinds of wood and a driver.
We noticed that the woods are a giant sweet spot and a titanium head to help with forgiveness and distance. The head shape is engineered to improve the aerodynamics of the ball to ensure high and long-flying shots. In addition, it comes with headcovers so that you won't get dings or scratches from bombing golf balls away off the tee. We like how the putter is a mallet putter that includes a visual alignment to improve your short game accuracy. The design is a sleek and perfect size for most women. It's available in four different color options: gold, teal, purple, and pink.
Wilson Golf Women's Ultra Package Set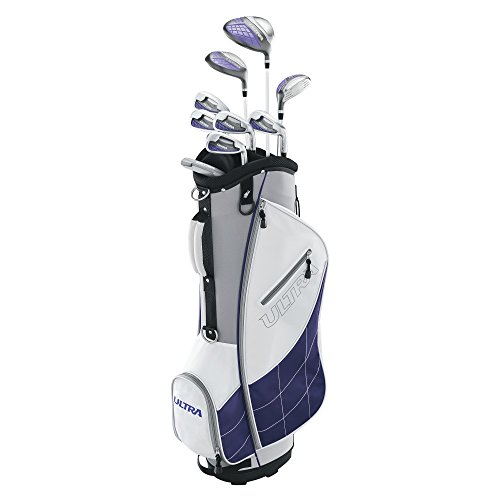 WILSON Golf Women's Ultra Package Set, Right Hand, White
This package set is perfect for beginner golfers looking to improve their game with a high quality, distance-yielding a package set.
The super game improvement design focuses on generating more distance for beginner golfers
Designed for Women's swing speeds with low center of gravity for improved launch characteristics
Large sweet spot irons feature perimeter weighting for improved performance on off center hits
Lightweight Women's sized components and flexible shafts
Lightweight Women's' cart bag features two convenient lifting handles and numerous pockets
Cart Bag - no stand attached to the bag
Last update on 2023-11-16 / Affiliate links / Images from Amazon Product Advertising API
The Wilson Golf Ultra Package Set is truly one of the most affordable and best value golf clubs you can find. It comes with headcovers, a cart bag, heel or toe putter, pitching wedge, irons – 6,7,8,9, hybrids, fairway woods, and a driver. For players looking to improve both distance and accuracy, you can't go wrong with these clubs. Since it has large sweet spots, it gives you better performance, particularly on off-center hits. It helps with golfers who tend to hit the ball just a fraction left or right, and the shot is entirely skewed.
The driver is made of a solid graphite shaft to improve distance and has maximum forgiveness. Since the clubs have a low center of gravity, it helps improve the launch making it ideal for women with slower swing speeds. It's extremely light-weight to make it easier to swing, and so players won't get tired as often from a long round of golf. The package set includes a convenient and stylish cart bag that features many pockets along with two convenient lifting handles.
What Does a Woman's Golf Sits Typically Include?
When looking to purchase a women's golf set, you should be aware of what's included inside. For most standard golf club sets designed for women, it will include a putter, two edges, seven irons, and three kinds of wood.
Woods:
Woods are a type of club that are known to be your driver in golf. They are specifically designed to have rounder heads, longer shafts, and larger clubs than other types of clubs. Their purpose is to hit the ball further in longer distances than other types. The larger the head, the larger the hitting area or "sweet spot." The higher the clubface's angle or, the more loft, the easier time you'll have to get the ball airborne.
Since women tend to be smaller and shorter than men, they tend to have slower swing speeds. Women's golf woods tend to have unique specifications. Depending on your swing speed, it will dictate the driver you use. A woman with a swing speed of below 60 miles per hour should use a titanium clubface. For those with a swing speed of 70 miles per hour and above, consider carrying a 3-wood as your primary and using a five and 7-wood. The golf club number determines the length of the club shaft. Higher numbers indicate that the club shaft is shorter in length.
Putter:
Putters are a club used for low-speed strokes and hit the ball short distances. The purpose is to have the ball roll in the hole when the distance is short. The right putter should have the proper weight, length, balance, and face material. If it's too light, your stroke will likely be inconsistent. If it's too heavy, then the speed will be difficult to determine.
There are two types of putters for balance. Heel shafted putters are made for individuals with an inside-outside stroke, while a center-shafted putter is ideal for golfers with a straight-through swing. The putter's length depends on whether or not the arm has a natural extension when you're standing in a putting stance. Lastly, choosing the right clubface material depends on your preferred golf ball and your swing style.
Wedges:
Wedges are usually engineered for special use types of situations. They typically have the heaviest club heads of the irons, the shortest shafts, and the highest lofts. These clubs can be used when the player is drawing near to the green. Wedges have a higher loft, meaning it enables the player to hit the golf ball higher during short distances. Most loft wedges range between 45 to 50 degrees.  You may also find sand wedges to hit balls out of the sand or used from greenside bunkers.
Iron and Hybrids:
Unfortunately, many golf sets do not include long irons. However, they usually include one hybrid club to use. Hybrids act as an alternative to long irons so that golfers can use them on the fairway. Irons are clubs that are designed to proper a ball closer to the hole. They are typically engineered with smaller clubheads and shorter shafts. The head is made of steel or solid iron. And it's primary feature is an angled face, flat, large, and scored with grooves.
Hybrids can be used for many scenarios. They can be used to hit balls off the fairway from either the right or even off the tee. They can replace short-to-mid irons and fill the awkward gap between the regular fairway wood shot. Remember that the more weight that shifts towards the perimeter of the club, the more forgiving the club is and the larger the sweet spot. Irons with more lofts are harder to hit. Look for a hybrid club that performs well on both the rough and short grass.
What to Consider When Purchasing Ladies Golf Clubs?
When it comes to identifying the right golf clubs to purchase, it's important to look into several factors. Of course, there are high-tech features that many of the trusted brands incorporate to bolster their golf clubs. But we've included the basics that you should look out for. Here are several factors to consider:
Grip:
The size and the feel of the grip will determine how comfortable a person feels when they hold the golf club. Even if a golf club fits lengthwise, lady grips usually run a little smaller than men. One way to ensure the sizing of the grip fits your hands, you can add a grip build-up.
Weight of the club:
Most women clubs tend to be lighter than male ones. The club's overall weight is greatly determined by the shaft material: graphite or steel. Of course, the lighter the club is, the easier it will be for golfers to swing. If you're someone who struggles with having a fast swing speed, consider choosing a club with a graphite shaft.
The flex of the shafts:
A person's golfing swing speed will ultimately determine the flex of the shaft. Clubs will range in shaft flexibility from extra stiff, stiff, regular, senior, and ladies. Unfortunately, there isn't any set standard flexibility for each club. When it comes to beginners or intermediate, it's best to opt for the ladies' option, which is the most flexible.
Length of the clubs:
Most clubs that are 5-iron measure at around 37 inches for ladies clubs. This is a great place to start unless you are exceptionally short or tall. However, with standard clubs, they measure at around 43 inches.
Best Ladies Golf Clubs for Intermediate Players – Final Thoughts
It's pretty difficult to find the perfect golf set, but the Cobra F-Max is close to perfection. For intermediate players, it has everything you'd want in terms of comfort, accuracy, distance, and game improvement. The wedges, driver, and irons will help you shoot better scores. It's much more fun to golf when you're performing well, and bad swings are forgiven. Often, intermediate players can look like an advanced player by simply upgrading their equipment.
It's important to purchase golf clubs that suit your needs. If you notice certain aspects that you struggle with, such as swing speeds or off-center hits, you may want to purchase more forgiving clubs. Carefully go through our list of best ladies golf clubs for intermediate players to determine which suits you best. All of the clubs mentioned are extremely durable, so investing in a high-quality golf set will save you money in the long run while also increasing your golf performance.
Best Ladies Golf Clubs for Intermediate Players | Our Top 5
Our buyers guide for the best ladies golf clubs for intermediate players. We compare the best selling golf club sets currently on the market.
Product Currency: USD
Product In-Stock: InStock