There are a lot of choices for you, even if you are on a budget and do not want to fork out a large amount of money on a pair of golf shoes. We have listed some of them to help you out. These shoes do offer not only comfort but also suit your budget, performance needs, and style preference. On top of that, you can get them for under $50.
Best Women's
Adidas Women's W Response Bounce Golf Shoe
Our Top Pick
Skechers Men's Pivot Spikeless Golf Shoe
Highly Reviewed
New Balance Men's Minimus SL Waterproof Spikeless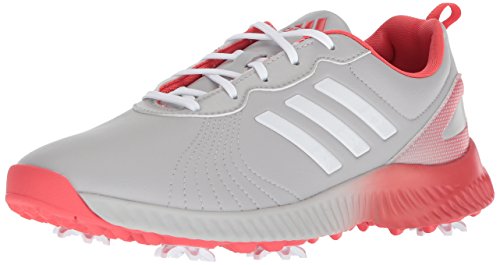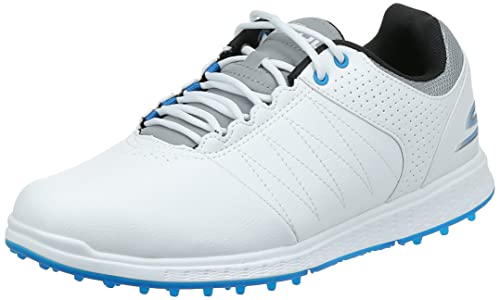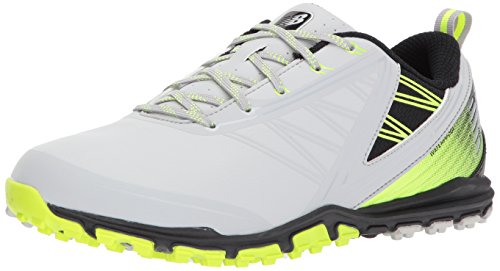 Last update on 2023-01-27 / Affiliate links / Images from Amazon Product Advertising API
Bets Golf Shoes Under $50 – Our Top Picks
Skechers Men's Pivot Spikeless Golf Shoe
Last update on 2023-01-27 / Affiliate links / Images from Amazon Product Advertising API
With the Skechers GO GOLF Pivot shoe, you can keep your game grounded, smooth, and comfortable. It has a sleek and classic look with a spikeless design for maximum comfort. It features ULTRA GO Foam cushioning and has a water-resistant upper.
This shoe has a synthetic upper with stitching and perforation detail, ensuring excellent breathability. The molded rubber grip bottom plate provides good traction, while the ultra-lightweight, responsive ULTRA GO Foam cushioning ensures maximum comfort.
Skechers GOGA Max technology insole gives high-rebound cushioning, adequate support, and better response. You will also get extreme comfort from the spikeless design outsole and turf traction translucent sole. The water-resistant upper keeps your foot nice and dry in wet conditions.
The Skechers Pivot shoe has perforation accents on side panels for breathable comfort. It also features contrast-colored mesh fabric collar trim and laces up the front with contrast-colored metal top eyelets. The soft fabric shoe lining adapts perfectly to your foot.
Details:
ULTRA GO – lightweight and responsive cushioning that provides ultimate comfort throughout the entire golf round
GOGA Max – places resalyte technology into the footbed of the shoe, providing support and high-rebound cushioning
Water-resistant – helps keep your feet dry and comfortable on dewy mornings
Skechers GO GOLF – helps you play like a pro. It provides high-performance technology and game-changing innovation to give you an edge on any course.
Being one of the best golf shoes under $50, you can count on the Skechers Pivot to make sure every step of the round will be as comfortable as the last.
New Balance Men's 623 V3 Casual Comfort Cross Trainer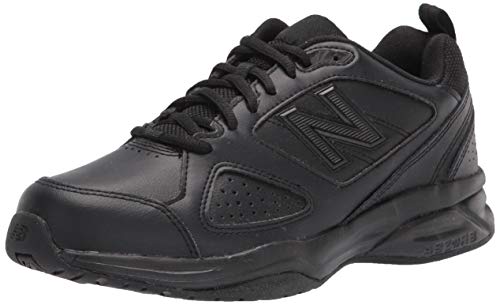 New Balance Men's 623 V3 Casual Comfort Cross Trainer
Next-Level Comfort: The 623v3 training shoe from New Balance treats your feet to all-day comfort with a firm yet flexible injection-molded EVA foam midsole and cushioned EVA foam footbed
Athletic Design: Move with style in the 623v3 New Balance training shoes. The 623v3 has an athletic look that builds upon the previous models' features of breathability, versatility and durability
Reliable Impact Resistance: ABZORB cushioning in the midsole of these comfortable training shoes helps to absorb impacts through a combination of cushioning and compression resistance
Structured Design: Whether you're working out or hanging out, an internal midsole shank adds midfoot structure and support to these trainers for added stability with each and every step
Your Wear-Everywhere Trainers: The 623v3 running shoe is ready for anything with a water-resistant leather upper and durable non-marking outsole that comfortably stands up to everyday wear-and-tear
Last update on 2023-01-27 / Affiliate links / Images from Amazon Product Advertising API
The New Balance Men's 623 v3 is included in our list of the best golf shoes under $50. It has an updated design, yet it continues to offer the same comfort and durability as the previous 623 models. It provides the best of performance, comfort, and support. The suede and leather upper enhance durability, while the ABZORB foam promotes responsive cushioning. An internal shank gives the support you need for golfing, walking, or casual wear.
This shoe is made of leather and suede upper material. The lace-up closure with extra eyelets in front locks your foot in with an adequate amount of padding inside due to the breathable tongue and collar. There is also a soft textile lining and a removable EVA insole for an excellent in-shoe feel.
The bicolor sole is shock-absorbing, especially at the rearfoot because the ABZORB technology is located there. The durable rubber outsole is non-marking, which is a nice addition to the list of design advantages of this shoe.
Details:
Special cushioning systems (ABZORB, IMEVA) – used in the midsole to improve stability and shock absorption, while the removable insole is also cushioned properly for a secure and comfortable fit
Leather and suede materials – used by the New Balance to provide more durable wearing
Soft mesh lining, padded tongue, collar, and cushioned insole make the New Balance 623v3 a super comfortable shoe.
QUIX flexibility technology – introduced in the outsole of the shoe, enabling you to move freely and designed to enhance traction
Internal shank – provides additional midfoot support
This New Balance shoe has breathable perforations in the upper, mesh tongue, and lining. It has a decent level of breathability despite being made from leather and suede materials.
Adidas Women's W Response Bounce 2 Golf Shoe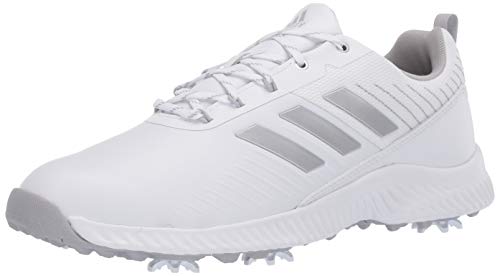 Last update on 2023-01-27 / Affiliate links / Images from Amazon Product Advertising API
Another great shoe we have listed is the Adidas Women's Response Bounce 2. It is a cushioned golf shoe built with extra traction. You can play through your round comfortably with this shoe.
Designed with a blended mesh upper for fit, this Adidas shoe features flexible cushioning in the midsole for step-in comfort and support. The cleated outsole gives additional grip around the greens.
Details:
Microfiber synthetic leather and mesh upper
Six-cleat Traxion outsole – ensures maximum grip in all directions
ThinTech golf cleats
Flexible Bounce midsole cushioning
Regular fit
Lace closure
You can give this a try if you need budget-friendly women's golf shoes that will keep you comfortable.
Callaway Men's Solana XT Golf Shoe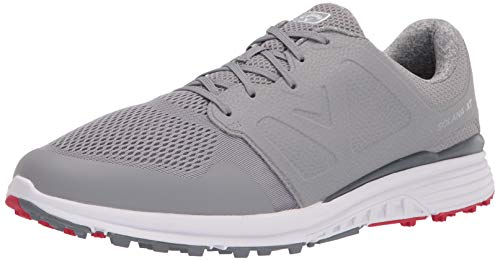 Callaway Men's Solana XT Golf Shoe, Grey, 9 Wide
Performance mesh upper with 3D stability cage for maximum support and breathability
Opti-soft EVA midsole for natural ground feel and comfort
Spikeless dura-rubber outsole with multi-directional traction lugs
5mm PLUSfoam insole for increased comfort
Last update on 2023-01-27 / Affiliate links / Images from Amazon Product Advertising API
The Callaway Solana XT comes under $50. The lightweight performance mesh uppers equipped with Opti-Vent mesh liners make the perfect blend of protection and ventilation. Opti-Soft EVA midsole is combined with EVA insoles to allow a natural ground feel for a comfortable ride. The Dura-Rubber outsoles ensure steadiness and control on all terrains.
Details:
Performance mesh upper – features 3D stability cage for maximum support and breathability
Opti-Soft EVA midsole – ensures a natural ground feel for a more comfortable experience
Opti-Vent mesh liner – improves breathability and heat management
5mm EVA insole – maximizes comfort on every step
Spikeless Dura-Rubber outsole – promotes maximum stability and control on all types of terrain
Brand: Callaway
New Balance Men's Minimus SL Waterproof Spikeless Comfort Golf Shoe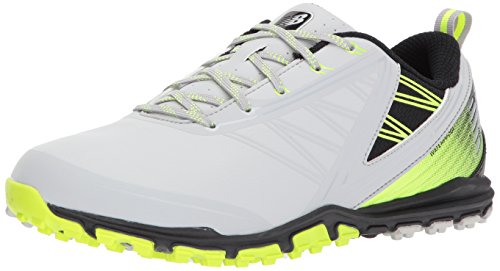 Last update on 2023-01-27 / Affiliate links / Images from Amazon Product Advertising API
This shoe provides golfers with minimal running technology. Instead, it brings you closer to the course for a natural feel and fit.
The revolutionary REVlite midsole is designed to offer superior support and cushioning. They also benefit from a blend of fantomfit upper, which molds to your feet.
The NB Minimus SL can be worn with socks for long hours and still remain dry, so if you're planning a long day on the course, no need to worry about your socks getting wet with sweat.
The feeling that you get from wearing shoes with this design is just like walking barefoot. This was made without spikes. Instead, traction numbs were added. Numbs on the sole are made soft, ensuring comfort while walking around the golf course.
When you purchase a new pair of these golf shoes, you don't need time for your feet to adjust because they fit instantly. They are lightweight, have great padding, and are really comfortable. The styling on them is also extraordinary, and they are available in a wide variety of colors. Plus, these golf shoes cost no more than $50.
Details:
Ortholite insoles – enhance air circulation to provide golfers with cool, dry comfort that lasts
Ultra-light FantomFit support
REVlite 4mm drop midsole – offers a lightweight ride without reducing structure or sacrificing underfoot cushioning or stability
Flexible NDurance spikeless rubber outsole – utilizes a durable compound in high-wear areas for reliability
Adidas Men's Adipower 4orged S Golf Shoe
Sale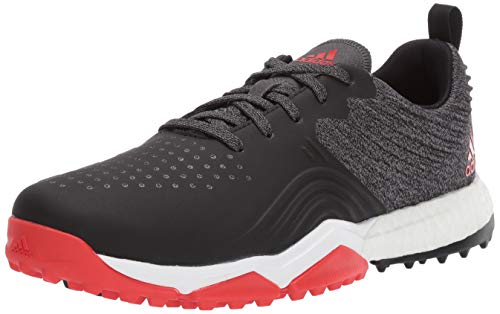 Last update on 2023-01-27 / Affiliate links / Images from Amazon Product Advertising API
These golf shoes for men feature breathable, water-repellent Climastorm for wet conditions. They have a lightweight, synthetic, and textile upper to ensure excellent comfort and fit. The boost midsole provides responsive cushioning on every swing.
If you are looking for a high-quality but affordable golf shoes made for men, then this could be the best choice for you.
Details:
Forged microfiber leather and textile upper
Puremotion spikeless outsole with Adiwear traction
Flexible Bounce forefoot cushioning with a responsive Boost midsole
Adaptive and breathable with soft stretch
Breathable, water-repellent Climastorm
Dr. Scholl's – Men's Brisk Light Weight Dual Strap Sneaker, Wide Width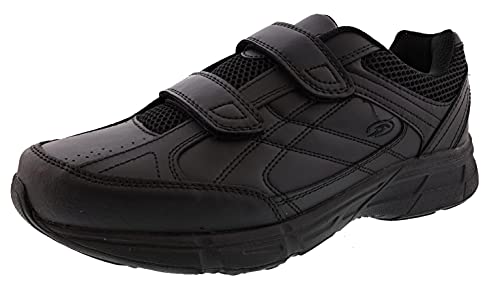 Last update on 2023-01-27 / Affiliate links / Images from Amazon Product Advertising API
Last but certainly not least, this sneaker from Dr. Scholl's would be a perfect choice if you are looking for an affordable yet comfy golf shoes. The upper is made of leather and mesh material, while the removable insole is cushioned enough for a secure and comfortable fit.
Details:
Leather and man-made upper
Dual strap closure – eliminates traditional laces for an easy, dynamic closure system
Air-Pillo Gel Insoles – provides ultra-soft cushioning and long-lasting comfort.
Lightweight Walking Shoes
What Are the Best Golf Shoes for You?
If you are wondering what to look for in a new pair of golf shoes, we can help you with that. Here are the most important factors to consider when searching for the best golf shoes on the market.
Comfort Level
Comfort is the biggest factor in choosing the best golf shoes. You might not be able to play a good round of golf for all 18 holes if your feet are in pain. If you have the option, try the shoes on, walk around, and feel comfortable with them before buying. Make sure they are also the right size. Do not settle for the wrong size just because you like the shoe. If they don't fit right, then it's not worth it.
Waterproofing
If you are golfing on a rainy day or going out early in the morning when it's wet and dewy, the worst thing that can happen is your feet getting wet. Especially if it occurs early in the round because it is impossible to get them dry. With this in mind, choosing the best golf shoes that are waterproof or water-resistant is highly important.
Spiked or Spikeless
If you play a lot in muddy or wet conditions, make sure you get a pair of spiked shoes. On the other hand, spikeless shoes are best for playing in the summer season and suitable for more than just golf.
Laces or No Lace System
Some new golf shoes no longer have laces. Just like when selecting the style of your shoes, this is a personal preference. You will need to decide whether you want laces or prefer the new school.
Frequently Asked Questions
Are golf shoes worth it?
Golf shoes are not mandatory except on some more exclusive golf courses. You can wear trainers or sneakers to play golf, but golf shoes will provide better grip, particularly in wet conditions and on uneven ground.
What's so special about golf shoes?
With a sturdier foundation, more flexibility, and adaptability on all terrains, a quality pair of golf shoes can be really helpful to your game. Sneakers might be fine for a casual trip to the range, but it would be perfect for slipping on some real golf shoes when you hit the greens.
Which one are better, spiked or spikeless shoes?
Spikeless shoes are more comfortable, more versatile, lighter, and usually cheaper, whereas spiked shoes last longer, give the best stability, and are better in adverse conditions.
Should golf shoes be tight or loose?
When choosing your golf shoes, it is essential to make sure the widest part of your foot is comfortable without being too loose. Loose-fitting shoes cause your feet to slide when you swing the club, and you lose stability, which is important to play your best golf.
How long should golf shoes last?
This is subjective, and it all depends on how often you play golf as well as how well you look after your shoes. However, if looked after, cleaned, and you're a casual golfer, there is no reason why your shoes couldn't last 3 to 5 years. So it's important you choose the right shoes for you.
Best Golf Shoes Under $50 – Conclusion
The shoes we mentioned above are by far the best golf shoes that come under $50. These are selected based on their comfortability, design, price, and customer reviews. We believe that you will get full satisfaction with our selection, and we are positive that your level of performance will increase with these shoes.