In any sport, proper footwear is crucial for optimal game play. In regard to golf specifically, the game is challenging enough without trudging around the course with soggy feet. A great pair of waterproof shoes can be the difference between giving up a good round partway through and finishing with a decent score, minus the winkled, prune-y toes.
Whether you find yourself regularly golfing in the rain, on muddy tracks, or simply live in a climate with plenty of wet weather, waterproof golf shoes are an important accessory to keep your feet dry during your stance.
Highly Reviewed
ECCO Men's Biom G3 Gore-TEX Golf Shoe
Our Top Pick
New Balance Men's Minimus SL Waterproof Spikeless
Budget Friendly
FootJoy mens Pro/Sl Golf Shoes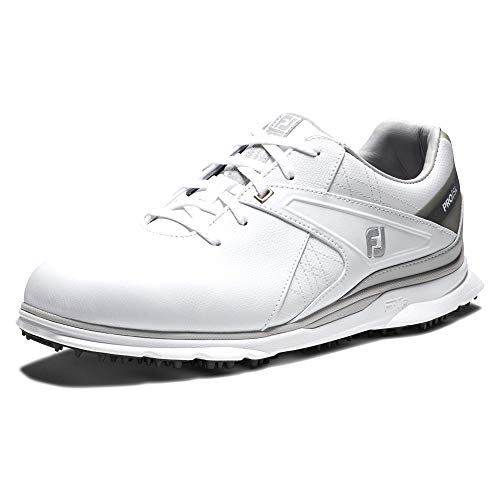 Highly Reviewed
ECCO Men's Biom G3 Gore-TEX Golf Shoe
Our Top Pick
New Balance Men's Minimus SL Waterproof Spikeless
Budget Friendly
FootJoy mens Pro/Sl Golf Shoes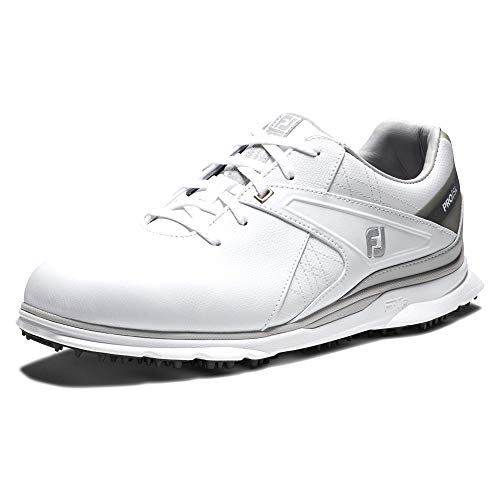 Last update on 2023-11-23 / Affiliate links / Images from Amazon Product Advertising API
How to Choose Waterproof Golf Shoes for Walking
It might seem silly to say that even some of the best golf shoes are not great for walking, but it's true; some models of golf shoes are tremendously better for walking in than others. If you're in the market for a new pair of waterproof golf shoes for walking, start by taking these factors into consideration.
Comfort
When choosing any type of shoe, of course comfort is key, but this is especially true when narrowing down golf shoe options – you won't want to spend an entire day on the course with sore feet. You will need a secure fit for your golf shoes; one that doesn't move and cause heel blisters while walking, but also doesn't cramp your toes. Some styles offer up narrow or wide options in addition to a regular fit, so keep an eye out for that if you need to do so.
You will find (or may already know) that traditional golf shoes often provide better grip and possibly performance thanks to golf spikes, where spikeless shoes tend to offer up better comfort, more similar to running shoes. It can be tricky to find a pair with a good balance between grip and comfort for long days and wet weather, but there are many waterproof golf shoes trying to do just that.
Traction and Stability
Your balance is one of the key parts of your golf swing, and this is gained from your shoe's grip on the ground. Pay attention to the details of the cleats or spikes, as some are positioned toward the shoe's exterior which can add traction. Spiked shoes will provide the best stability possible but cannot be worn anywhere off the course.
You'll also want a shoe flexible enough to mold to the different types of terrain and slopes, rather than feeling like you're struggling to balance and standing on concrete soles. Spikeless shoes usually provide better flexibility than spiked styles, but that usually comes with less traction, too.
Spiked or Spikeless?
Since the invention of spiked golf shoes back in the mid-nineteenth century, when the Scots started hammering nails through their leather boots for extra stability on the damp, muddy courses in their wet climate, technology has come a long way.
Although some players may still choose to skip the investment and stick to regular sneakers, waterproof golf shoes come in spiked or spikeless forms and make a substantial difference in dewy, wet, and/or muddy conditions.
Ultimately, whether you need spiked or spikeless golf shoes is completely up to your preference, although for wet weather specifically, spiked shoes are a safer choice.
Spiked golf shoes are currently made of ceramics or plastic and come the closest to original metal cleats (now almost entirely banned from golf courses to prevent damage). They usually have replaceable spikes to increase their longevity and tend to be heavier which might not be best for a lot of walking – although much easier on the feet than nails driven through the soles of boots, it is hard to beat the level of comfort that spikeless alternatives provide.
They also cannot be worn off the course and often get clogged up with mud and grass, but whilst playing they are more grippy and have better stability (great in wet terrain during swings or on hills) than spikeless alternatives.
One of the biggest downfalls to spiked shoes is actually a detriment for golf course owners – the spikes, even soft ones, can inflict a fair share of damage to greens by leaving large skid marks that might take a while to repair.
Spikeless golf shoes keep your feet closer to the ground and are more lightweight and flexible for a better feel than spiked shoes, but this also means less grip and stability for wet, hilly conditions. Typically lighter than spiked shoes, many prefer spikeless for a long day of walking and they are also kinder to the golf course by reducing the chance of damage by a skidding foot.
The main bonuses of these shoes are the newer, more modern appearances with a wide range of styles – many find classic spiked shoes too old-school and bulky – and the ability to wear them off the course. It's difficult to turn down the comfort and versatility of spikeless shoes, but some golfers need the extra confidence and balance that spiked shoes in the rain bring.
Being closer to a regular sneaker, the comfort is great, but longevity is often sacrificed; they tend to not last as long as spiked shoes as you cannot replace the spikes – once the thread is done, the whole shoe will need replacing.
Waterproof Characteristics
Although most golf shoes tend to offer some level of waterproof protection, it is important to note just how waterproof they really are. GORE-TEX has long been the main choice for waterproof linings, thanks to its breathability, but there are plenty of other options from many top brands that are just as effective.
Leather is still arguably the most popular material today, due to its natural waterproofing and longevity, although often made fully waterproof via spray-on chemicals.
GORE-TEX provides great breathability with waterproof protection at the same time.
Synthetic materials offer added breathability and lightness to shoes.
It is also worth noting the waterproof warranty of the shoes you're looking at. Obviously, the longer the warranty, the better.
Value for Money
Naturally, we all want a shoe that won't cost us a fortune – as a beginner golfer needing a lot of equipment, golf can be a hefty investment.  Although it's easy to be tempted by a good deal or bargain price tag, it's also challenging to find quality golf shoes for a fraction of the price that will still be wearable six months down the line.
Waterproof golf shoes are always going to be on the expensive side, but you should keep in mind how much use you will get out of them to make the price feel more worthwhile. Plus, if you need to buy a pair of good golf shoes anyway, you might as well go the extra mile and ensure they can be worn in wet conditions, too.
With all these factors considered, here are our top picks when it comes to waterproof golf shoes for walking.
Best Waterproof Golf Shoes for Walking
Ecco Golf Biom G3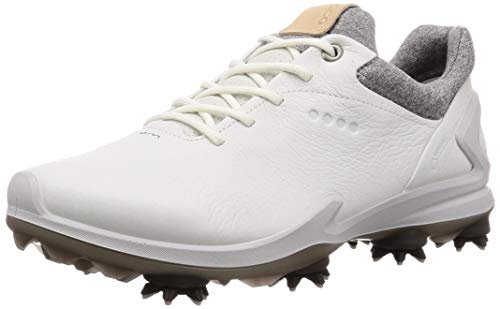 ECCO Men's Biom G3 Gore-tex Golf Shoe
GORE-TEX Waterproof technology combines optimised breathability & protection against the elements
BIOM NATURAL MOTION technology brings the player closer to the ground using an anatomical last
YAK leather uppers, extremely strong & lightweight
ZARMA-TOUR spike traction. Hybrid elements including the rotational line on toe and hybrid cleats
Removable, washable, open-cell Ortholite inlay sole with long term cushioning, enhanced breathability and the option for EXTRA WIDTH
Last update on 2023-11-23 / Affiliate links / Images from Amazon Product Advertising API
On the expensive end of this list is the Ecco Biom G3, a deluxe leather shoe with incredible stability. For anyone searching for a waterproof spiked shoe that doesn't sacrifice comfort or style, these Eccos are a fabulous choice.
The fabric is premium ECCO YAK leather with a 100% waterproof GORE-TEX membrane for breathability and protection from the elements.
Using Biom Natural Motion technology, this shoe offers optimal fit and a feel closer to the ground for maximum steadiness and control even on wet, sloped terrain. Following the natural curves of your feet, they provide flexibility and comfort all day long by mimicking the motion of bare feet – Ecco scanned the feet of 2,500 athletes to construct an optimal anatomical fit for all feet when designing this shoe.
The eight Zarma-Tour spikes have a rotation line on the toe and hybrid cleats for increased stability and grip, while the Fluidform Direct Comfort Technology sole provides extra stability with a low-to-the-ground base.
Cushioning-wise, an internal, removable Ortholite inlay sole provides long-term comfort with moisture moving properties and increased breathability. If you need more width, it can be removed.
FootJoy Pro SL Golf Shoes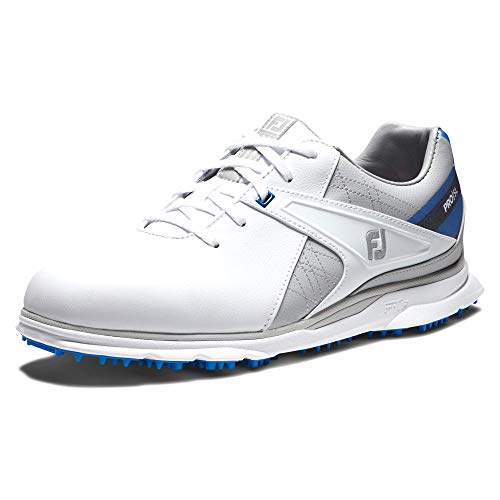 FootJoy Men's Pro|sl Previous Season Style Golf Shoes, White/Blue/Grey, 10
Exceptional stability - a perimeter weighted outsole allows for extreme stability and added lightweight comfort
Laser plus fit - The laser plus last offers a full rounded toe character, standard fit across forefoot and instep, with a slightly narrow heel. Thicker insole provides increased underfoot cushioning for enhanced comfort
Performance Leather - chromoskin leather, developed by Pittards of england, is a supple, lightweight, durable and 100% waterproof leather
Versatile traction - a one-piece outsole combining 2 blends of our fine tuned foam (ftf) for cushioning and stability, With a TPU molded sole for traction, creates an outsole that is perfect for on course performance with wear-to-the-course versatility
Waterproof - FootJoy warrants that this golf shoe will be 100% Waterproof in normal use for two years (U.S. Warranty)
Last update on 2023-11-23 / Affiliate links / Images from Amazon Product Advertising API
Worn by both amateurs and Tour pros, FootJoy's Pro SLs are one of the most popular golf shoes out there thanks to the marvelous combination of comfort, grip, stability, and performance. The spikeless design provides versatility for a great feel both on and off the course.
In terms of waterproof quality, these shoes can boast a 100% waterproof rating thanks to its premium Chromoskin leather with a soft touch feel. With a one-year waterproof guarantee, the full grain leather is breathable, lightweight, and durable while providing complete waterproof protection.
The Fine Tuned Foam (FTF+) cushioning provides superior feel and stability with a perimeter-weighted outsole, while the Dual-Density (D2) midsole maintains full foot support during your swing with impact absorption for easy, all-day walkability.
This second-generation shoe has taken the most popular spikeless golf shoe on the market and increased its steadiness with a wider heel area (17% more surface area) and better grip alongside extra contact points (189 points of traction) and perimeter-weighted design on the outsole.
Sizes: 6-14
Five colors: white/blue, white/grey, black/lime, navy/light blue, grey/white or you can even design your own
New Balance Minimus SL Waterproof Spikeless Comfort
Last update on 2023-11-23 / Affiliate links / Images from Amazon Product Advertising API
Built on the New Balance Minimus platform for less toe drop and a more connected-to-the-ground feel, the SL Waterproof Spikeless shoe provides the famous comfort New Balance is known for while maintaining stability.
Naturally, spikeless shoes won't provide supreme grip like spiked shoes will, but traction isn't a problem with these. With a more flexible outsole to feel closer to the green, several flex points for constant connection and grip to the ground, and a 4mm toe drop providing a balanced feel, unnecessary slippage is minimized.
A lightweight, flexible, comfortable feel is achieved by REVlite foam in the midsole and Fantomfit upper design. The lightweight foam material provides the same durability as EVA foams, but with a 30% lighter feel, while the Fantomfit keeps it compact with a no-sew process. The Minimus SL has a microfiber leather to facilitate circulation and breathability with a waterproof treatment for play in all conditions.
Sizes: 7-14
Five colors: grey/green, black/red, grey/orange, white/black, and white/maroon
Nike Roshe G Tour
Last update on 2023-11-23 / Affiliate links / Images from Amazon Product Advertising API
As one of the best golf shoes by Nike on the market, the Roshe G Tour is a favorite of Rory McIlroy. These cleated waterproof shoes have a microfiber, synthetic leather upper that provides great waterproof protection with a soft feel for prolonged wear.
In regard to walkability, the general Nike Roshe shoe is iconic for comfort, so it's no wonder the golf version makes the list for top waterproof golf shoes for walking. The shoes feature an 8-mm Fitsole sock liner for extra cushioning while the internal heel counter keeps your feet stable during your swing. Plus, the removable spikes are convenient for transitioning from your car to the course.
Sizes: 7-14
Five colors: black, white, light grey, dark grey/black, dark grey/volt
Skechers Go Golf Elite 4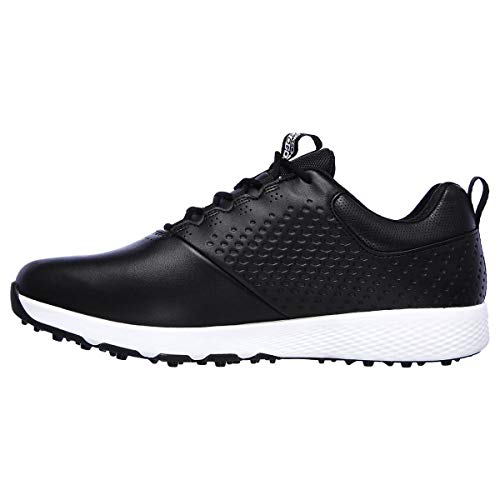 Last update on 2023-11-23 / Affiliate links / Images from Amazon Product Advertising API
Although Skechers may not be so well-known in the golf industry, comfort is everything with these waterproof shoes offering high levels of performance and grip. The leather uppers with Skechers H2GO Shield provide waterproof protection while the Gripflex spikeless TPU outsoles give surprisingly good balance and traction.
For enhanced comfort, the shoes feature Ultra Flight and GOGA Mat cushioning and a nice, low to the ground feel for stable footing and confidence during your swing.
Sizes: 6.5-12
Four colors: black, white, light grey, dark grey
FootJoy Flex XP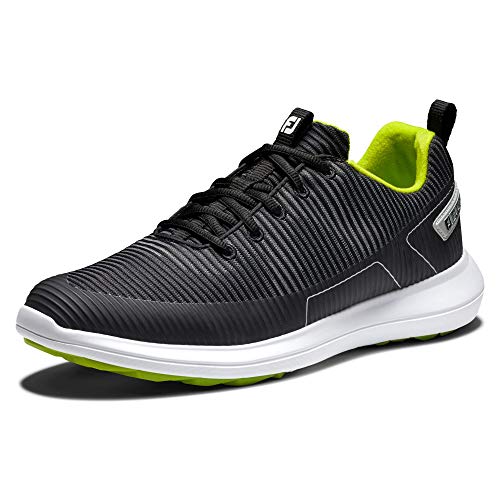 FootJoy Men's FJ Flex XP Previous Season Style Golf Shoes, Black, 10 W US
Waterproof mesh - lightweight performance waterproof mesh delivers incredible comfort, breathability and all-day comfort
Complete support - a soft EVA midsole provides increased underfoot cushioning, enhanced comfort and exceptional stability
Versatile traction - The versa-trax outsole is engineered with traction elements to create an outsole that is perfect for on course performance with wear-to-the-course versatility
Laser sport fit - offers a full rounded toe character with a standard fit across the forefoot and instep. A toe spring and a slightly narrow heel completes the athletic profile
Last update on 2023-11-23 / Affiliate links / Images from Amazon Product Advertising API
FootJoy took the success of the Flex model and ran with it, creating the flexible, waterproof Flex XP model to enjoy both on and off the course. Offering supreme comfort and versatility, these can be worn all day, rain or shine, whether you're playing golf or not.
The uppers are lightweight, breathable, and waterproof, fitting like a sock for great comfort, while the VersaTrax outsole provides good traction and adequate footing for a spikeless shoe in wet conditions. Overall, this shoe is perfect for a long day on the course with its perfect balance of freedom and support during your swing.
Sizes: 6-14
Four colors: black, blue, grey, or white
Best Waterproof Golf Shoes for Walking –  Conclusion
Unless you're blessed with local links that are pretty dry all year, or choose to only golf in hot, dry weather, waterproof golf shoes are a worthwhile investment for any golfer. Don't let your day be ruined or make your golf game even harder by having improper, uncomfortable shoes. Make your feet happy; keep the warmth in and the wet out with our top choices for waterproof golf shoes for walking.