If you don't love the idea of carrying your golf clubs around the course, it's time to find an alternative. Professional players have caddies to do this job, but you cannot invest in one due to budget reasons. However, there is no need to worry anymore.
Today you can get excellent electric golf carts from the market that will take off your burden of carrying golf clubs. They can bring your equipment and prevent you from straining yourself. When buying the trolley, you need to take a lot of factors into mind.
One essential quality that your trolley must possess is compactness. That is because most of the time you will be traveling around the course in your car. After putting in all the equipment, there may not be enough space for a large trolley to fit. That is why you need to invest in a compact model.
Here are some of the best compact electric golf carts that will make carrying equipment around the course a breeze.
Our Top Pick
MGI Zip Navigator
Highly Reviewed
Cart-Tek Electric Golf Trolley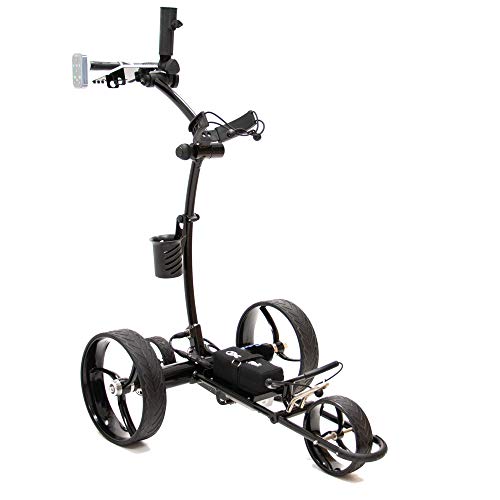 Our Top Pick
Highly Reviewed
Cart-Tek Electric Golf Trolley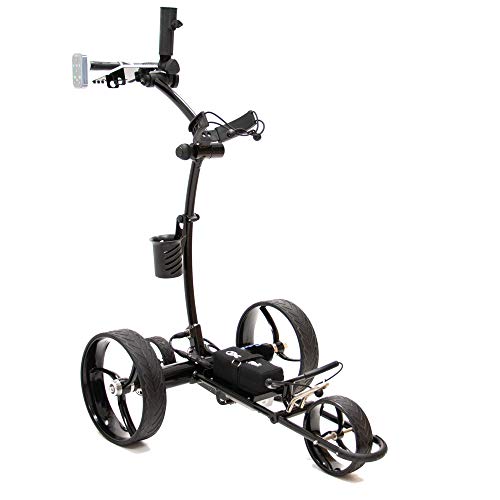 Last update on 2023-09-11 / Affiliate links / Images from Amazon Product Advertising API
PowaKaddy CT6
No products found.
The PowaKaddy CT6 is, without a doubt, the best compact electric golf trolley. It has a sleek appearance and the latest technology, making it an ideal choice for many golfers. The two-fold system allows it to fold to maximum and fit in even the most cramped-up car trunk.
What's so great about this model is that it comes with GPS functionality. That is why carrying clubs around the course is a breeze with this trolley. The stylish metal frame and body give it a sleek look on the golf course. So you can carry it with confidence.
The best part about the PowaKaddy CT6 is that you don't need to push it. That is because it comes with auto-distance options that allow you to use it comfortably. Not only that but operating this trolley is simple because of the one-click mechanism.
Another outstanding feature of CT6 is that you can invert the wheels when folding the trolley. This means you can save up on even further space if your boot is congested.
What We Like
Assembling the trolley is effortless
Allows you to save maximum space
GPS functionality is accurate with 40,000 preloaded courses
The screen display is wide and easily readable
What We Don't Like
Not the best trolley for carrying stand bags
The battery needs to be charged on its side
MGI Zip Navigator
MGI GMI Zip Navigator Remote Control Electric Golf Caddy, Black
Full Directional remote control allows for left, right, forward, Reverse and speed control
Patented Gyroscope Straight tracker technology keeps the caddy on Track across any Terrain
Downhill speed control minimizes your effort and maximizes control
Twin calibrated motors for supreme power & agility
Powered by the largest capacity Lithium 24V 380Wh batter
Included components: caddy,battery,manual,remote
Last update on 2023-09-11 / Affiliate links / Images from Amazon Product Advertising API
The MGI Zip Navigator is an excellent compact electric golf trolley. It allows your hands to be free and makes moving around the course effortless. That is why it is a complete package for many golfers around the world.
One feature that you should never compromise on when getting an electric trolley is stability. And that is where the Zip Navigator excels. It is a highly stable trolley that will reach the course in the perfect position without any effort.
A feature that adds to its stability is the fourth rear wheel that prevents it from tipping backward on incline paths. The trolley also comes with a control option for downhill speed. This allows you to prevent the tool from moving down steep trails at high speed.
What sets apart this trolley is that you can control it easily using a remote. The best part is that the cart responds to the remote action immediately, making it worth the money. Additionally, you can store it in the back of your car swiftly due to the quick folding system.
What We Like
Stable on all types of courses and terrains
Highly responsive remote-control operating system
It folds into a minimal size
Assembling it is hassle-free
What We Don't Like
It is a little heavier, so placing and removing it from the car can be a hassle
The T bar handle is a bit awkward and not the best for moving the trolley if you don't want to use the remote
Motocaddy M1 DHC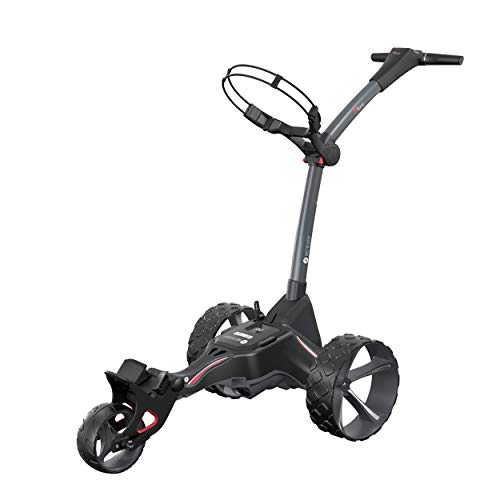 Motocaddy M1 Electric Golf Caddy - Electric Golf Push Cart with Touchscreen - Foldable, 9 Speed Settings, and Automatic Downhill Control - Accessories Included (Black)
STYLISH, COMPACT, AND POWERFUL: The Motocaddy M1 Electric Caddy is designed to be both sleek and functional, featuring a compact frame that is easy to maneuver and a powerful 230W motor that can handle even the steepest inclines with ease.
FULLY ADJUSTABLE HANDLE HEIGHT AND BAG SUPPORT: The handle height of the M1 Electric Caddy can be easily adjusted to accommodate golfers of all sizes, while the bag support can be adjusted to securely hold your golf bag in place during your round.
USER-FRIENDLY CONTROLS AND LCD SCREEN: Your Electric Caddy is designed to be user-friendly, with intuitive controls that allow you to adjust the speed and direction of the caddy with ease. The LCD screen displays key information such as the battery level and distance traveled.
INNOVATIVE FOLDING MECHANISM: Feauturing an innovative folding mechanism that allows you to easily and compactly store the Electric Caddy in your trunk or garage. Additionally, the battery is removable, so you can easily charge it at home or on the go.
$95 VALUE OF ACCESSORIES INCLUDED: The Motocaddy M1 Golf Caddy comes with a range of accessories to enhance your golfing experience, including a cell phone device cradle, drink holder, umbrella holder, scorecard holder, USB charging cable, and a long-lasting battery and charger.
Last update on 2023-09-11 / Affiliate links / Images from Amazon Product Advertising API
The Motocaddy M1 DHC is one of the most popular options for golfers. It has a two-fold system that allows you to collapse the trolley into a highly compact shape. That is why it is an ideal choice for all of you who want to save up space in your car and garage.
The downhill control allows you to use the trolley on hilly terrains by increasing stability. Not only that, but the cart maintains a fixed speed when moving uphill or downhill. The three wheels also add to the stability and make M1 DHC an ideal electric trolley.
What sets this device apart is that it comes with an automatic distance function with a high range. You can select a course of up to 150 feet to give your trolley a head start. It automatically stops when the distance is completed.
A fantastic feature of this trolley is that it comes with an electric lock. So you can keep it in one place while you take your golf shot. The anti-glare screen is another bonus feature that allows you to easily navigate the cart during a sunny day.
What We Like
Quick folding system allows you to set up the trolley quickly and effortlessly
Charging the battery is convenient as you don't have to take it out from the trolley
It comes with nine different speed settings for easy control on different terrains
Highly efficient braking technology
What We Don't Like
The handle is not as comfortable as it should be
The weight of the trolley is almost 13 kg making it relatively heavier than other carts on the market
Cart-Tek Electric Golf Trolley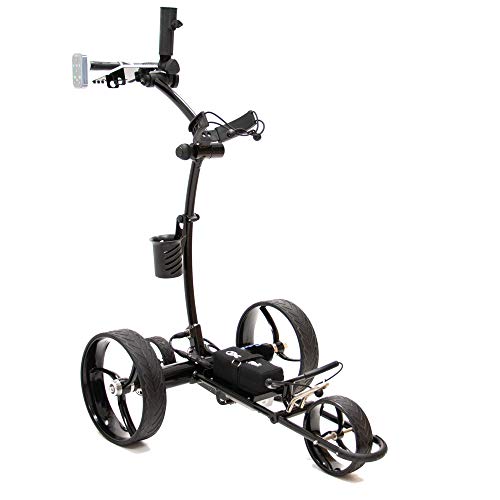 Last update on 2023-09-11 / Affiliate links / Images from Amazon Product Advertising API
The Cart-Tek Electric Golf Trolley comes with numerous features that will make your day at the course a fun experience. The cart comes with three modes of operation. These are free-wheel, remote, and trolley, which makes moving around on the terrains stress-free.
A great thing about this push cart is that it can easily fold and fit into the boot of your car. That is why it is an ideal choice for people with small cars. What's so exciting about this trolley is that it comes with customizable settings. For example, you can change your pace by using the four different speed options.
What sets this model apart is that it comes with good battery life. So you can use it for two complete rounds without discharging. But keep in mind that the battery runs out fast when the speed is maximum.
Besides that, the trolley comes with a remote-control system for navigation. So you can steer it with the buttons easily. The best part is that it responds almost immediately to the remote. So overall, the Cart-Tek Golf Trolley is a great option if you go golfing frequently.
What We Like
You can set up the trolley in as low time as thirty seconds
Holds on to the club bags very well even if you overload the trolley
The wheels are detachable and allow you to save further boot space
Highly durable and works well during rain too
What We Don't Like
The wheel stance is a little narrow, which makes the trolley less stable on hilly terrains
Remote sometimes turns itself off automatically, which can be frustrating at times
Alphard Club Booster V2 E Wheels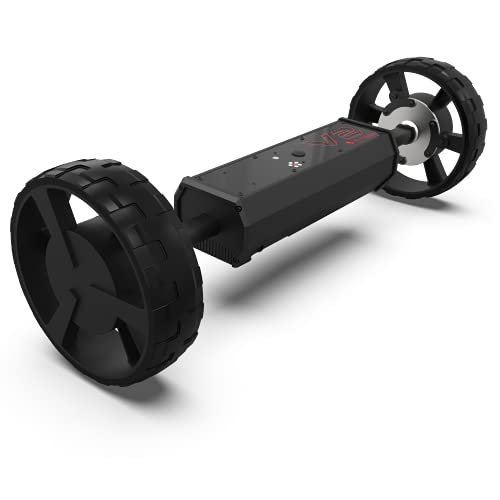 Alphard Club Booster V2 E-Wheels – Convert Your Push Cart into a Motorized, Electric Remote-Controlled Golf Caddie (Clicgear 3-Wheel Carts)
TRANSFORMS YOUR PUSH CART INTO A MOTORIZED ELECTRIC CART! – Includes brackets to fit Clicgear 3.0, 3.5+ and 4.0 carts
REMOTE CONTROLLED – Effortless smooth steering with multiple speed and distance timer settings. Send your cart 15 or 30 yards out with a single press of a button. Even pair your smart phone for convenient control that's always with you
6 AXIS GYROSCOPE – Automatically detects terrain and adjusts to keep your cart tracking straight and rolling at a steady pace even as it traverses bumps and slopes
LOADED WITH FEATURES – Weatherproof, long lasting detachable lithium-ion battery, electronic parking brake, virtually silent brushless motors, smart phone app enabled control, customization, and firmware updates. INCLUDES WHEELIE BARS to prevent tipping on hills
EASY INSTALLATION AND OPERATION – Club Booster can be installed on your cart quickly and the intuitive controls can be mastered in minutes
Last update on 2023-09-11 / Affiliate links / Images from Amazon Product Advertising API
The Alphard Club Booster is not precisely an electric golf trolley, but they are an excellent accessory that we couldn't resist putting in this guide. You can attach these electric wheels to your pushcart and turn it into an electric golf trolley. What's so great is that they offer you the same features as a trolley but for a lower price.
These wheels come with multiple speed options that allow you to move around on different courses quickly. Not only that, but it comes with a distance timer option too. Thus, you will get the best value for money when getting Alphard Club Booster.
What makes them superior to most electric trolleys is that you can connect the wheels to your phone for easy control. Besides that, they can recognize the terrain and adjust the trolley accordingly. This 6-axis gyroscope feature is something you won't find in other wheels or carts.
So if you cannot afford to get an electric trolley, then worry no more. These wheels serve as a good alternative and won't put a dent in your wallet. That is why they are the top choice for many golfers.
What We Like
It comes with a long-lasting and rechargeable lithium-ion battery
The motor of the device is silent and won't bother or distract you
Brackets for attachment are provided with the purchase and suitable with most carts
The user-friendly interface makes the wheels ideal for beginners too
What We Don't Like
Not as compact as you may think hence not suitable for small cars and trunks
Bags can fall backward on hilly terrains
Which Electric Golf Trolley Folds Smallest?
Electric golf carts have become quite prevalent on golf courses because they are compact and easy to use. What determines the folding size of the cart is the system. Any trolley with a two-fold wheel system can fold into a highly compact shape.
The electric trolley that folds smallest on this list is the PowaKaddy CT6. It has a two-fold system that makes it the best compact cart for golfers. Besides that, other options on this list with the same design are Motocaddy M1 and Cart-Tek Electric Trolley.
Factors To Consider When Buying Compact Electric Golf Trolley
When choosing the right option for your golfing sessions, you need to take some factors into account. Here are the top things to consider when buying a compact trolley:
Weight
The weight of a trolley plays an integral role in its compactness. When looking for a trolley that folds the smallest, you should check the weight. A compact trolley should not be more than 13 kg.
If you want the best compact electric golf trolley, you should go with a model of 11 kg. That is because it is lightweight and can fold into a minor shape.
Stability
Many people, when choosing compact options, neglect the stability factor. This is an essential thing to consider when buying the best trolley. That is because if the trolley is not stable, it will tip backward when you place the equipment.
So when buying a compact device, always consider stability. You can check for these by seeing the number of wheels and their stance. It is preferable not to choose a cart with narrow wheel gaps. That is because they are not suitable for hilly terrains.
Battery Type
Electric golf trollies come with different types of batteries. When choosing a compact model, the battery must be small and lightweight too. Otherwise, it will be difficult for you to carry the cart in your trunk.
The best option for a compact electric trolley is lithium-ion batteries. They are rechargeable and last for a long time. Not only that, but their weight is relatively lesser than other battery types.
Control System
The purpose of an electric golf trolley is to reduce your burden. That is why you should choose the product that comes with a remote control or touch navigation. They will make moving around the course a breeze.
Besides that, carts with remote control have minimal style handles. This makes them more compact and suitable for small spaces. You can even look for additional features.
A compact cart with detachable wheels is a prevalent choice for many people. That is because you can take them off and keep them in a bag to save space in the trunk.
Best Compact Electric Golf Trolley – Final Words
That was all you needed to know about the best compact electric golf trolley. They help you to carry your equipment with ease and keep your hands free from other things. That is why it would be good for you to invest in a golf trolley if you're a regular golfer.
All the earlier mentioned products have been tried and tested. That is why you can rely on them if you want a compact device. The best part is that they are all beginner-friendly and vary in price. So there is something for every individual in this guide.