One of the biggest mistakes beginner or even intermediate golfers make is not adapting their gear for their swing speed. A golfer's swing speed is one of the most important factors to reaching your full potential and performing well.
However, most people aren't aware of their swing speed. Here are a few ways to tell if you have a slow swing speed:
Using a 6-iron club, your ball reaches about 120 to 125 yards
Using an 8-iron club, your ball reaches about 100 to 105 yards
Your hits off the driver go well below 200 yards
The right golf ball won't magically add 30 yards to your distance. However, it will offer you more consistency and increase your distance by a few extra yards. The best part about having the right balls is that they are much more forgiving when you mistime your shots.
In this blog post, we'll share some of the top golf balls for slow swing speeds and provide some pointers on how to improve your swing speed. By the end, you'll have an idea of what is the best golf ball for 70mph swing speed.
In a hurry? These are our top picks.
Best Golf Ball for 70 mph Swing Speed – Our Top 5
Finding the right golf ball that matches your swing speed is crucial to maximizing your potential. Here are five balls you need to consider adding to your game.
Best Overall – Wilson Staff Fifty Elite Golf Balls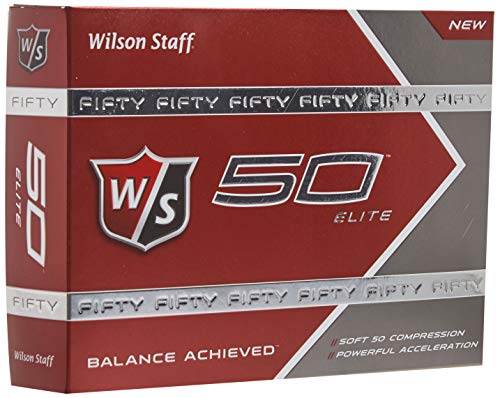 Last update on 2023-09-11 / Affiliate links / Images from Amazon Product Advertising API
The Wilson Staff Fifty Elite is one of the best all-around golf balls in the market. The rubber material used is 22% softer than most other balls. As a golfer, this means the ball is much more forgiving. It will reduce the amount of energy loss on mishits so golfers can get the most out of every shot.
Furthermore, they feature a unique 203 aerodynamic shallow dimples designed to cut through the air for a more piercing and stable ball flight. If you're looking for an extra boost in the distance and a very forgiving ball, we highly recommend the Wilson Staff Fifty Elite.
Most Soft – Callaway Supersoft Golf Balls
Sale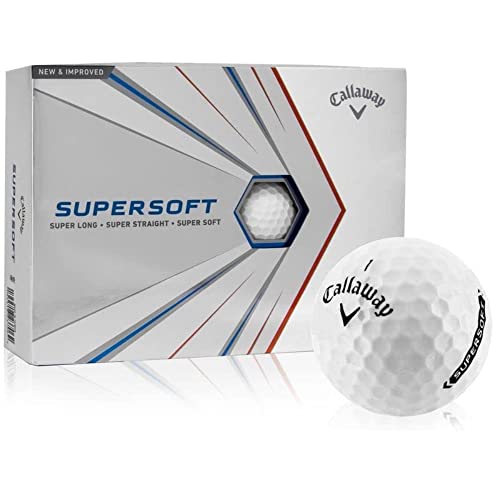 Callaway Golf Supersoft Golf Balls (White ),12 pack, Prior Generation
The Callaway super soft is a long, straight distance ball that's incredibly soft
An ultra low compression core promotes fast ball speed and increased accuracy
New Low Drag HEX Aerodynamics are optimized to reduce drag and enhance lift for longer carry and longer distance
A new softer Trigonometry cover formulation has a low compression for enhanced feel and increased greenside control
Last update on 2023-09-11 / Affiliate links / Images from Amazon Product Advertising API
For slow swing speed players, the backspin of the ball tends to hamper their drives. The Callaway Supersoft golf balls help to increase distance and provide a super straight path. The low compression rating and soft exterior help to reduce the backspin of the ball to increase distance. It uses a soft surlyn material to provide a lighter feel enabling the ball to travel straighter and higher without the typical backspin.
If you're tired of losing your balls, they come in a wide variety of colors such as white, pink, yellow, optical, lime, orange, turquoise, or a multi-color pack. These colors can be useful for easily spotting your balls from a distance.
Best Budget – Nitro Maximum Distance Golf Ball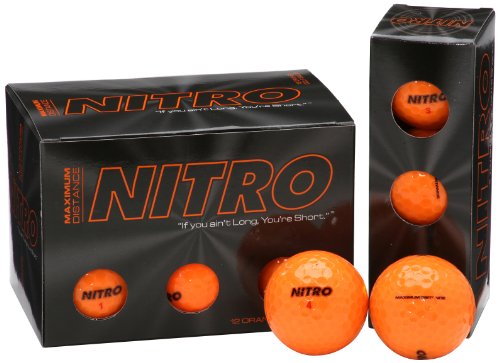 Nitro NMD12OBXC Maximum Distance Golf Ball (12-Pack), Orange
SUPER REACTIVE 2 PIECE TITANIUM CORE tournament construction maximizes the energy transfer from club head to ball, spins less, giving explosive distance off your metal woods
HIGH VELOCITY LONG DISTANCE The aerodynamic and symmetrical dimple design increases lift and decreases drag allowing for higher, longer shots with exceptional spin control
VIRTUALLY INDESTRUCTIBLE cut-proof cover is constructed of Dupont Lithium Surlyn for long term durability, high performance, outstanding resilience, and excellent resistance to cuts and abrasions
ENHANCED PERFORMANCE consistent ball flight in all conditions, responsive cover and core deliver optimal distance off the tee, low-compression design provides soft feel around the green and consistent ball flight
USGA APPROVED Conforms to all USGA rules, developed for and appeals to all levels of player from beginning golfer to professional to elite golfer. 12 ball pack (4 boxes of 3) in highly-visible Orange
Last update on 2023-09-11 / Affiliate links / Images from Amazon Product Advertising API
The Nitro Maximum Distance golf ball is one of the best balls for increasing distance. It features an incredibly reactive two-piece titanium core that ensures little to no energy loss from club head to the ball while also reducing the spin. This creates an explosion off the tee and getting a consistent distance.
The Nitro manufacturers intentionally built these balls with asymmetrical and aerodynamic dimple design to decrease the drag while in-flight and increase lift. Ultimately, this translates to longer and higher shots. We also like the durability of the ball. It's made with a DuPont lithium surlyn cover that is resistant to cuts and abrasions
Most Forgiving – Bridgestone e12 Soft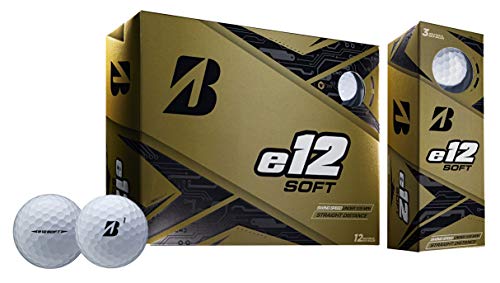 Bridgestone Golf e12 Soft Golf Balls, White
Active Acceleration Mantle: e12 SOFT features the Active Acceleration Mantle which is comprised of a new High Performance Polymer material with added surfactant that creates increased thrust and higher initial ball velocity at impact.
Delta Dimple: The e12 SOFT utilizes Bridgestone's patented Delta Wing Dimple pattern for less drag and smoother airflow when the ball is in flight. The enhanced aerodynamics increase the straight distance properties of e12 SOFT.
Country Of Origin : United States
Package Dimensions : 10" L x 2" W x 6" H
Last update on 2023-09-11 / Affiliate links / Images from Amazon Product Advertising API
The Bridgestone e12 soft helps to keep the ball-inflight and improve the trajectory of your shot. This ball features their patented Delta Wing Dimple pattern that pierces through strong winds and reduces the drag. It also has an active acceleration mantle consisting of the polymer material to increase the ball's initial velocity and thrust.
Unlike the other balls mentioned here, the Bridgestone e12 soft is a three-piece ball instead of two. Just like the two-piece ball, it is incredibly soft, which makes it forgiving for mis-hits. However, it offers golfers the benefit of more control over their ball flight.
Best for Distance – Taylormade Soft Response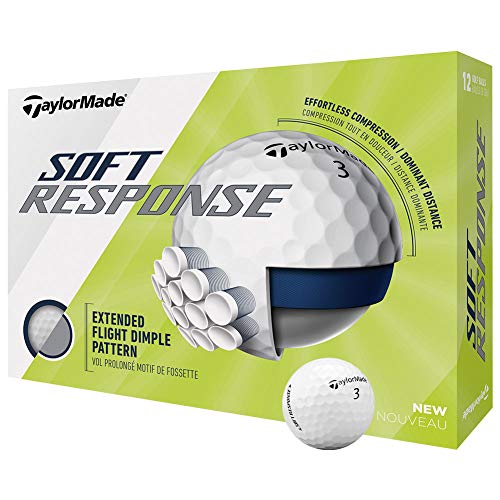 Last update on 2023-09-11 / Affiliate links / Images from Amazon Product Advertising API
The Taylormade Soft Response golf balls are specifically designed for seniors and players with slow swing speeds. It is constructed with an ionomer cover and features a very low compression rating. This helps golfers to hit the ball higher and straighter for longer periods. The ball uses its patented ZnO flex core to help rebound at impact and ensure a smooth transfer of energy when the club impacts the ball.
The ionomer covers are less susceptible to scuff marks and scratches, not to mention have a softer feel. They also are available in white, bright red, or neon yellow to reduce the number of balls you lose during gameplay.
How to Improve and Increase Your Swing Speed?
If you struggle with the distance off the tee, then it's time to improve your swing speed. As you increase your swing speed, you'll achieve greater distance with your drivers and irons leading to lower scores.
Use the Right Clubs
Buying a cheap golf ball from the rack is a big no-no. Your club should be specifically designed for your swing speed. Having the right club means it also is a great length for your height, so you're able to get into a comfortable stance.
Widen Your Current Stance
It's best to operate with a wider stance. Having a wider base gives you more power when swinging the club. You may need to improve your hip strength to handle the amount of force you are exerting for each shot.
Focus on the Sweet Spot
Make sure you hit the ball on the sweet spot of your club. Hitting the golf ball on the sweet spot of the club allows for maximum energy transfer. When you miss the spot, it causes a loss of energy, meaning you drastically reduce the distance ll. of the ball. The sweet spot is located dead-center of the clubface.
One way to help beginners hit the sweet spot is finding golf balls with a larger sweet spot. This means you can have more miss-hits and make more mistakes while still achieving great distance.
Improve your strength
Doing simple exercises and flexibility drills can help strengthen a golfer's torso. Performing wood chop and tubing punches are basic exercises to increase the strength in your chest and hips. This helps golfers to power through on the bottom of their swings.
In addition, you may want to buy weighted golf clubs to build the strength in muscle groups that need to twist your body and follow through on your golf swing. You'll also get a better feel for timing in which the clubhead makes the impact.
Best Golf Ball for 70 mph Swing Speed -Final Thoughts
Improving your swing speed takes some time. We recommend maximizing your performance with your current swing speed by choosing from our list. Having the best golf ball for 70 mph swing speed will enable you to develop consistency in your distance.
Make sure to consider some of the factors we've mentioned that makes a great golf ball for high handicap players. Golf balls have a softcover, low compression rate, and excellent rebound tends to turn into reliable balls for slow swing speed players.
Last update on 2023-08-31 / Affiliate links / Images from Amazon Product Advertising API
Best Golf Ball for 70 mph Swing Speed | All Golf Reviews
Our buyers guide for the best golf ball for 70 mph swing speed. We pick 5 of the market leaders and compare which are the best.
Product In-Stock: InStock