Are you looking for a greater distance off the tee or more feel around the greens? Finding the right golf ball is an essential ingredient to maximize your performance.
We've distilled the main factors that contribute to a superb golf ball. By the end, you'll understand:
What's the right compression rating for your swing speed
The best material for your playing style
Best golf balls designed for distance, feel, spin, or all-around gameplay
Based on your priorities, we'll help you discover the best golf ball for 85 mph swing speed.
Limited for time? These are our top picks.
Essential Elements to Finding Best Golf Ball for 85 mph Swing Speed
When selecting the right golf ball for you, it's best to consider the material and the compression rating.
Urethane or Surlyn Material
Surlyn is the primary material that is utilized for two-piece golf balls. They produce less spin off the tee compared to a urethane ball and are quite durable. Generally, they don't scuff very much from road hits or scratch easily. With Surlyn covers, you'll usually be able to get three out of 18 rounds from one ball.
Since these Surlyn balls produce less backspin, it is the cover used for distance balls and is the preferred material cover for amateur golfers.
Urethane golf balls are designed for more skilled golfers. They deliver a better spin rate on the wedge and iron shots compared to Surlyn. Higher backspin gives golfers more control and precision when it comes to shots off the tee.
Most golfers will usually use urethane covers for average swing speeds, but it may vary based on your priorities. You'll need to decide whether you want a ball that is firmer with less spin cover or one that is soft and spinning. The feel on the clubface, durability, distance off tee shots, price, straighter ball flights, and spin needed on chips and approaches are all factors to consider when choosing your golf ball.
Medium Compression Ratings
Compression refers to when the golf ball makes an impact with the clubface. The ball launches forward by compressing at impact and interacting with the ball's core.
The faster a golfer swings, the more impact the ball will receive and the more it will compress. The compression rating refers to the firm or softness of the core. Medium compression balls are designed to maximize the distance for average swing speeds. The core isn't hard or soft, but somewhere in-between.
Top 5 Golf Balls for 85 mph Swing Speed
Here are the five best golf balls to consider to maximize your swing speed and enhance your game.
Best All-Around Performance – Titleist Tour Soft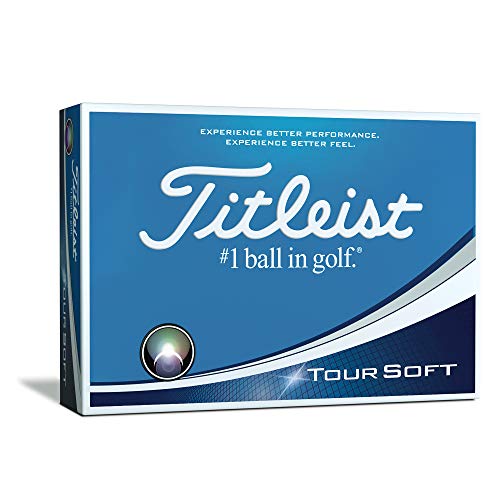 Last update on 2023-05-26 / Affiliate links / Images from Amazon Product Advertising API
The Titleist Tour Soft is promoted as an all-around golf ball suited for most golfers. It has a very thin 4CE grafted cover and a very large core, which results in an increased short game spin and longer distance compared to previous generations.
It included a spherically-tiled 342 dimple design that reduces the drag and provides a more penetrating ball flight. There's also a very useful T side stamp that allows golfers better alignment on the green or the tee.
Most Affordable – Srixon Q Star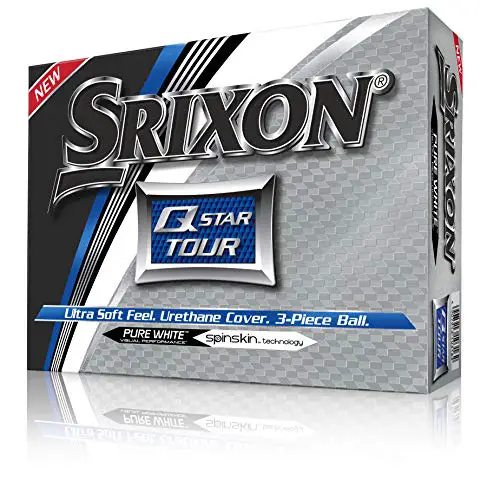 Srixon Q-Star Tour Golf Balls, White (One Dozen)
Must buy 2 or 4 dozen for special Father's Day promotion
Tour Urethane Cover A soft, thin urethane cover provides tour-caliber greenside spin for total control.
Energetic Gradient Growth Core Advanced core construction promotes seamless energy transfer to maximize distance and optimize ball performance on every shot.
338 Aerodynamic Speed Dimple Pattern Optimal dimple design reduces drag and increases lift for maximum distance and a more stable, penetrating flight in any wind conditions.
Last update on 2023-05-25 / Affiliate links / Images from Amazon Product Advertising API
The Srixon Q Star is a ball specifically designed for golfers with an average swing speed. It has a compression rating of 77, meaning it's not too soft or not too hard. This ball offers a fast layer core that starts soft in the core but gradually becomes more firm on the outer edge. The fast layer delivers exceptional ball speed and feels for enhanced distance.
It's a unique feature of the Srixon Q Star is the spin skin coating engineered for better stopping power and more control, especially on your wedge and irons. We've found that this ball has greater spin than some of the other top golf balls in its class, such as Wilson Duo Soft, Callaway Super Soft, and Titleist Tour Soft. These balls are ideal players who are looking to maximize short game spin while still wanting to fire off long-distance shots.
Best Distance – Volvik Vivid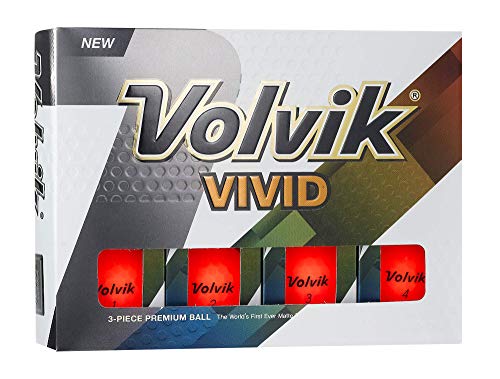 Last update on 2023-05-26 / Affiliate links / Images from Amazon Product Advertising API
Volvik Vivid quickly gained popularity when tour-level players such as Bubba Watson, Tim Petrovic, and Craig Stadler began playing with them. The Volvik Vivid golf balls have a compression rating of 80, which is suited for mid to high handicap players and players with a swing speed between 75 to 95 mph.
One of the great attributes about these balls is that they're easy to track in flight due to the bright-colored matte finish. We also like how there's a wrap-around arrow that circles the ball. It helps golfers align the ball to the line off the tee or to the putting line needing to draw a jagged line.
This ball features an oversized core to maximize distance for average swing speed players. It also has a three-piece construction for enhanced wedge spin and lower driver spin. The 322 dimple pattern ensures a more stable and consistent ball flight.
Higher Flight – Callaway Superhot
Sale
Callaway Golf 2020 SuperHot Bold Matte Golf Balls (Red)
Superhot is built to deliver super fast ball speed and super long distance for golfers who want to hit the ball a lot farther
The aerodynamic design is built for low drag and optimal lift to keep the ball in the air longer with a strong flight; It's built for long distance off the driver, and all the way through your short irons
Designed with a 3-piece construction and a soft cover to provide great spin and control around the green
Last update on 2023-05-26 / Affiliate links / Images from Amazon Product Advertising API
We like how the Callaway Superhot comes in packs of 15, meaning you get three extra golf balls for the same price as a pack of 12. The Callaway Superhot is designed for higher ball flight and distance so that it has more carry. It has a relatively medium to low compression rating of 70, ideal for 70-95 mph swing speeds.
This ball combines a high energy core with its ultra-soft cover to provide a great feel while also maximizing distance. Its cover is very thin, meaning you'll have lots of control over your chips and pitches.
We found that the ball hits in a straight line off the tee and pierces through windy conditions. The Callaway Superhot has a hexagonal pattern to reduce drag, enabling the ball to travel further and higher. This hexagonal pattern limits the amount of space of flat surfaces on the ball. Flat surfaces tend to only increase drag during flight.
Straighter Path – Wilson DUO Professional
WILSON Staff DUO Golf Ball, Professional, White
Ultra-thin cast urethane cover
Mid-hardness ionomer mantle layer
Soft feel with higher spin on iron shots for control around the green
Seamless 362 dimple pattern for enhanced distance and trajectory
Wilson compression rating: 60
Note: 12 golf balls per 1 unit
Last update on 2023-05-26 / Affiliate links / Images from Amazon Product Advertising API
The Wilson DUO professional is known to be one of the softest urethane covered balls in the market. The softer core of the Wilson DUO means lower driver spin, which allows the ball to travel straighter and farther.
Wilson DUO features a relatively shallow 362 dimple pattern designed to improve the trajectory of the ball. Overall, the ball has a great feel to it. Whether you use woods, irons, or wedges, the impact is silent, and the ball feels like it jumps off the clubface. If you're a golfer who tends to fight ballooning tee shots, the Wilson DUO professional is an excellent option for you.
The case for buying the DUO professional is quite compelling. It's a ball that is very soft and adds additional spin to the short game while having excellent ball flight.
Frequently Asked Questions
What Does a Swing Speed Indicate?
When we say swing speed, we're referring to the speed at the head of the driver is moving towards the ball. Tour level golfers usually have a swing speed between 110 to 125 mph. Typically the swing speed is measured with the driver and during the impact of the ball.
Having a better swing speed has several advantages such as:
Reaching par fives in two shots: faster swing speeds means you cover more distance with fewer shots
Get through the thick rough: A faster swing speed means you'll be able to get the ball out of long grass.
Improved trajectory: Slower swing speeds means you won't have a very high shot. High shots ensure your ball clears the air, so it'll easily clear trees.
Which Golf Balls Won't Get Scuffs?
A scuff on the golf ball will affect the ball's flight and trajectory since the air will drag on the spinning ball more than non-scuffed balls. Surlyn cover balls tend to be more durable than urethane covers. Urethane covered balls are more prone to getting scuffed from hitting trees and getting hit hard from wedge shots. In contrast, surlyn balls, also known as ionomer, are able to last more than three rounds in a row.
Do Colorful and White Golf Balls Make a Difference?
There really isn't a difference when it comes to white golf balls versus colored ones. On average, golfers lose about 1.3 golf balls per round, and a total of 300 million golf balls are lost per year. Colored balls can be easily spotted mid-air, so you can see the ball's trajectory. You'll also be less likely to lose your balls during the game.
Final Thoughts
There are some features that are suitable for average swing speed golfers. We've given you quite a great list for you to choose from to help you determine the best golf ball for 85 mph swing speed. There's an endless supply of great golf balls for mid-cap players.
Keep in mind that urethane balls will provide extra spin for better stoppage and control. Surlyn balls are excellent for getting more distance off the tee. It's best to take a few golf balls and test them on your pitches, chips, on the par-three tees, and on your drives to gauge which golf balls are best for each scenario.
| # | Preview | Product | Rating | |
| --- | --- | --- | --- | --- |
| 1 | | TaylorMade 2021 TaylorMade Distance+ Golf Balls, White | 3,524 Reviews | Check Price On Amazon |
| 2 | | Callaway Golf Supersoft Golf Balls (2021 Version, White) | 19,645 Reviews | Check Price On Amazon |
| 3 | | Reload Recycled Golf Balls (24-Pack) of Callaway Golf Balls, One Size, White | 1,132 Reviews | Check Price On Amazon |
| 4 | | Callaway Warbird Golf Balls (2023 Version, White) | 6,258 Reviews | Check Price On Amazon |
| 5 | | Titleist Velocity Golf Balls (One Dozen) | 1,442 Reviews | Check Price On Amazon |
Last update on 2023-05-02 / Affiliate links / Images from Amazon Product Advertising API
Best Golf Ball for 85 mph Swing Speed | Our Top 5 Picks
Based on your priorities, we'll help you discover the best golf ball for 85 mph swing speed.
Product In-Stock: InStock