Improving your game is much easier than it used to be. Mindlessly hitting balls or playing a few games with your friends won't improve your golf skills very much. Luckily, artificial intelligence has drastically changed the way we golf and how we can improve our game.
Golfers can view all types of stats with golf GPS tracking devices and apps to pinpoint where their strengths and weaknesses are. Thanks to these devices and the sensors in your clubs, you're able to track plenty of useful analytics about your performance.
Investing in golf tracking devices allows you to save time by practicing smarter and more efficiently. Although golf coaches are great for developing your game, they can't give you tips every time you practice. Not to mention they're quite expensive! Golf ball-tracking devices are the perfect solution to improve your game while saving time and money.
Rather than taking random tips from your friends, these affordable gadgets will improve your swing and performance. Continue reading to learn what golf ball tracking is, how it can help you, and the best golf ball tracking devices in the market. Let's begin!
In a hurry? These are our top 6 picks:
Arccos Caddie Smart Sensors – Best Overall
Game Golf Live Tracking System – Most In-Depth Tracker
Rapsodo Mobile Launch Monitor – Best For Feedback
Garmin Approach G80 – Best Practice Tool
Blast Motion Golf Swing Analyzer – Best For Swing Improvement
SkyCaddie SX500 – Best Battery Life
What is Golf Ball Tracking?
Golf ball tracking, also known as shot tracking, utilizes sensors that attach to the grips of your club to record every single shot on the golf course. After each round, you'll upload the data onto an online dashboard or app. These apps will tell you top-level stats such as greens in regulation, fairway hits, putting metrics, and scrambling percentages.
Most people overestimate how far they are hitting their golf balls. The golf ball tracking system will tell you the distances for each hit. Depending on the system you choose, you may see in-depth advanced stats like strokes gained.
What are the Advantages and Disadvantages of Golf Ball Tracking Devices?
One of the main advantages of using golf ball tracking devices is telling you where you hit the ball on your club and how far it went. In addition, AI technology will analyze your game and identify where your weak points are.
Some apps will display the shot dispersion by club so that golfers can gameplan for their next rounds. Even if you already have a golf coach, these devices can help you communicate the ailments in your game.
It's important to note that there are some disadvantages to using these devices. For example, some apps will only show you the statistics of every shot. However, it's up to you to piece the information together and develop your game plan to improve your game. In addition, you won't be able to transfer data between multiple apps. That means you should be committed to using a single app and device.
Best Golf Ball Tracking Devices for Golf Game Improvement
After experimenting with dozens of golf ball tracking systems, we've come up with our top 5 devices to help improve your game
Arccos Caddie Smart Sensors – Best Overall
Sale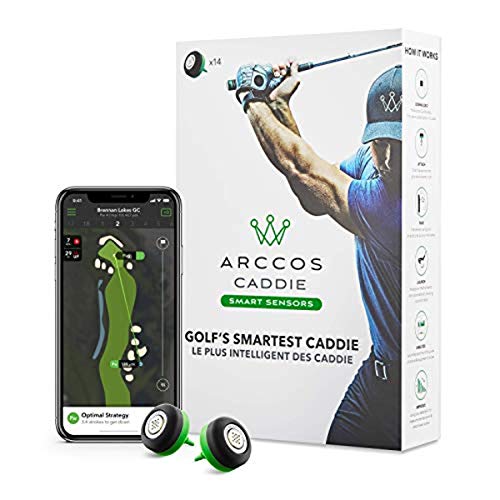 Arccos Golf Caddie Smart Sensors
Winner of four-straight Golf Digest Editor's Choice Awards for "Best Game Analyzer, " Arccos Caddie is golf's first and only fully-automatic performance tracking system. It features 14 sensors, one for every club in your bag.
Access to the award winning Arccos Caddie app, golf's Smartest Caddie.
Automatic shot tracking, hands-free fully automatic data capture.
A. I. Powered GPS Rangefinder, first-ever rangefinder that adjusts in real-time for wind (including gusts), elevation, temperature, humidity and altitude providing the most precise yardage in the game the Arccos Caddie Number.
Personalized Caddie Advice that leverages A. I. to provide you with your optimal strategy.
Smart Distance Club Averages, know how far to actually hit all your clubs so you select the right one for every shot.
Strokes Gained Analytics with personalized insights using A.I. to highlight strengths and weaknesses and guide your practice & equipment choices
Arccos Caddie Smart Sensors include the first year's membership to the Arccos Caddie app
Last update on 2023-09-17 / Affiliate links / Images from Amazon Product Advertising API
Whether you're a beginner or a tournament pro, the Arccos Caddie can help lower your handicap and improve your game. Their smart sensors easily stick onto 14 of your clubs, and they can be switched to another club at any time. The sensors are then paired with your smartphone camera and app. Once installed, the GPS will track the distance of every shot.
In addition, this system includes a rangefinder that takes into account all conditions like slopes, wind, and elevation, so that you receive the most accurate data.
Once it's gotten a feel for your clubs, it will give you recommendations on which club you should use based on how far you are away from the hole. You'll also receive useful information such as where your misses commonly occur, how many greens and fairways you hit in regulation, how many putts it takes to complete every hole, and your average drive length.
Game Golf Live Tracking System – Most In-Depth Tracker
No products found.
Game Golf is a comprehensive system that will help you identify the weakness in your game, track your shots, and allow you to interact with other golfers. There are two primary components to this tracking system. First, a tracker easily clips onto your belt buckle with a built-in GPS and internal battery, which automatically connects to the Bluetooth from your phone.
The second component of the system is the tags that are installed on the grips. These tags provide an identity to each club in your bag, and once the tags touch the tracker, it will have a GPS location of that particular club. Once paired with the tag, the trackers keep track of a variety of data such as distance of various putts, rough and fairway percentages, and club distances.
You can see the cumulative overview of your stats or the average distance of each club as well. This system even displays your approach tendencies.
Rapsodo Mobile Launch Monitor – Best for Feedback
Sale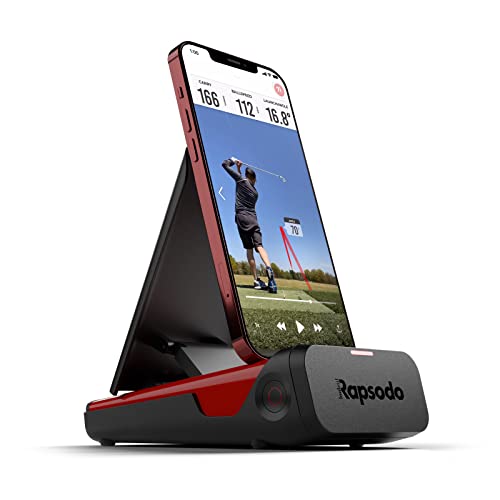 Last update on 2023-09-17 / Affiliate links / Images from Amazon Product Advertising API
The Rapsodo Mobile Launch Monitor bolsters some of the most impressive features out there. Certainly, one of its best features is the video capture capability. Simply sync the club to your phone's camera through the app, and it will record the club you're hitting. This removes the need to tag all of your clubs or touch the sensors.
The Rapsodo launch monitor will capture videos of you hitting shots and show you shot-tracer overlay graphics on the screen. In addition, it'll even display key metrics like launch angle, ball speed, and carry distance.
We're also very impressed by the graphics and ease of use. Inside the shot library, you'll find a grid format with an overhead dispersion graph. This system differs from others because you can replay your shots and see footage of your swings along with the scores and stats next to it. As a result, we believe this system gives you the best feedback compared to other golf trackers out there.
Garmin Approach G80 – Best Practice Tool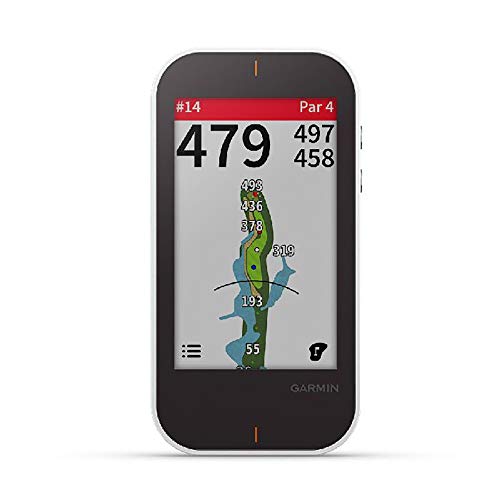 Last update on 2023-09-17 / Affiliate links / Images from Amazon Product Advertising API
The Garmin Approach G80 has a very accurate and robust GPS feature. During your practice sessions, it will display key metrics such as ball speed, clubhead speed, smash factor, estimated carry distance and roll, and swing tempo.
From our research, we found the Garmin Approach G80 to be an excellent tool for practice sessions. Users can set the device into practice mode. You won't have to tell it which clubs you're using. It will simply begin tracking. You can set targets, and after hitting the balls, the device will provide scores on how well you performed based on accuracy.
One of the unique aspects of this tracker is its virtual round feature. Users can load up to any golf course around the world and begin swinging. Based on your swing, the device will simulate where you land given the course and its simulated conditions.
Blast Motion Golf Swing Analyzer – Best For Swing Improvement
Sale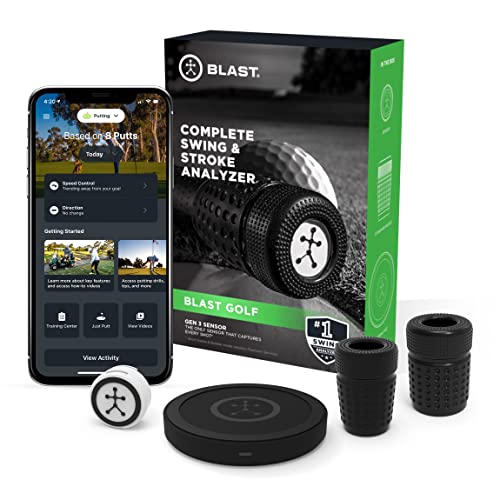 Blast Golf - Swing and Stroke Analyzer (Sensor) I Captures Putting, Full Swing, Short Game Bunker Modes, Air Mode, Slo-Mo Video Capture, App Enabled (iOS Android Compatible)
MOST ACCURATE SWING AND STROKE ANALYZER (SENSOR) IN THE GAME – Use the industry's most accurate swing and stroke analyzer (sensor) to improve your tempo, build a consistent swing, and make more putts
SMART VIDEO CAPTURE – Record and automatically clip video of each swing and stroke; View and analyze in slow motion with metrics overlaid; Leverage the in-app Training Center for tips and drills from expert coaches and PGA Tour players
AIR SWINGS – Blast Golf now also tracks your swing and stroke even when you're training without golf balls
TECH MADE EASY – Attach the Blast swing and stroke analyzer (sensor) to the end of any club or putter; Blast's natural motion capture allows golfers to swing the club or roll putts and forget about the technology
PACKAGE CONTAINS – Blast Golf swing and stroke analyzer (sensor), charger, and club/putter attachments
Last update on 2023-09-17 / Affiliate links / Images from Amazon Product Advertising API
Blast Motion is a simple sensor device that attaches to your club to capture the motion data of your swing. Once paired with the app, you'll receive instant feedback about your golf swing. Rather than using guesswork, you can use the feedback and data to practice more effectively.
For example, after each hit, you'll be able to see key stats such as impact stroke speed, forward and backstroke rotation, rotation and loft change, and lie change. Along with the capability to capture video of your swings, it's easy to make great strides in your swing. For example, it can help your putts by focusing on getting the rotation change and tempo correct so that the clubface isn't too closed or open during impact.
With the video recording, you can view your swing frame-by-frame in slow motion to see every little detail. Seeing the data next to the video lets you receive great feedback on how you can improve.
SkyCaddie SX500 – Best Battery Life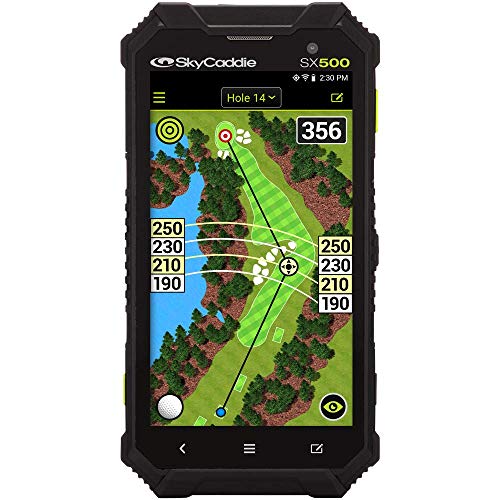 SkyCaddie SX500, Handheld Golf GPS, Black
Golf's largest & most brilliant high definition 5" touch screen
Preloaded with over 35, 000 of sky Golf's ground-verified, error-corrected maps for unmatched accuracy. Battery - Hi-capacity rechargeable Li-Polymer battery. 12-14 hours continuous use
Halve with integrated targets. Simply double tap or pinch & zoom to reveal up to 40 geo-referenced targets per hole for critical distances to hazards, carries & layups
Dynamic halve rotates the fairway and orients the green from your current position and angle of Attach as you move from the tee to the green
Cut the cord Wi-Fi connectivity to streamline updates, register & course downloads on demand. No need to connect to a computer
Included components: micro usb cable, wall charger
Last update on 2023-09-17 / Affiliate links / Images from Amazon Product Advertising API
The SkyCaddie SX500 is a GPS rangefinder with a large LCD screen and a very long battery life. Knowing the details of the golf course gives you a competitive advantage and lets you know where you should aim and what to look out for.
Having the SX500 is like owning a detailed caddie book. This device has clear graphics of the entire course. You can toggle and zoom in through any angle of the holes, greens, or fairways.
The SX500 also has a rugged design so that you can drop it, and it won't get damaged. And perhaps its best feature is its battery life. Most trackers only last about one or two rounds. The SX500 lasts up to 15 hours, and the batteries can be easily recharged.
What to Look for in Golf Ball Tracking Devices (Buyers Guide)
Understanding what you're looking for when buying golf tracking devices can help you choose the one that suits your preferences. Here are things you should know before making a decision.
Ease of Use
Whether it's a rangefinder, launch monitor, golf GPS, or golf swing analyzer, you should preferably find something easy to use. Ideally, they should have an easy-to-read and navigate interface. Many systems contain graph charts and allow you to sort by categories or time. These devices should be helpful rather than cause confusion.
Technology
Most people forget to check that the courses in the system are listed. Always check to see whether the course in the device is one that you play on. Technology to look for is real-time GPS tracking, score tracker, AI-built suggestions for game improvement, video recording capabilities to break down your golf swing.
Durability and Warranty
Many of these devices vary in price. The launch monitors and swing analyzers tend to be more expensive than the golf GPS tracking products. Make sure to keep these devices in storage cases. Many manufacturers offer a 1 to 2-year warranty so that if anything goes wrong, you have something to fall back on.
Usefulness
When buying any game improvement device, you want to make sure you're going to be using it for a long time. It shouldn't be something that simply gathers dust in the basement. Make sure you read the features, reviews, and videos the manufacturer puts out so that you're sure that these devices will be useful to you.
Frequently Asked Questions
What's the difference between a golf GPS, rangefinder, and a golf swing analyzer?
A golf GPS or rangefinder is designed to calculate the distance for your target for various locations on the course so that you can devise a strategy for each hole. In contrast, a golf swing analyzer helps you measure and improve your golf swing. Some systems have both functions built-in.
What's the difference between a golf swing analyzer and a launch monitor?
Although the launch monitor and golf swing monitors both improve your swing, there is a key difference. Launch monitors sit on top of your golf ball while golf swing analyzers attach to your club. Both devices display similar stats such as swing speed, ball speed, and other metrics.
What is the best golf ball tracking device?
In terms of just tracking distances, we like the Arccos Caddie Smart Sensors system. You'll be able to track distances no matter the conditions of the course accurately. Also, you can fix your game with its in-depth data. It will show you tendencies and averages, such as where you commonly miss shots.
Are golf swing analyzers accurate?
Swing analyzers are incredibly accurate. They utilize radar technology attached to your equipment to take measurements of your motion while swinging. It can track various data categories such as ball flight time, shot height, ball speed, clubhead speed, carry distance, launch angle, and spin rate. Swing analyzers can help you with everything from getting a proper fitting for your clubs to correcting your swing issues.
Do I need a swing analyzer?
It's undeniable that swing analyzers provide a lot of in-depth feedback on your golf swing. These swing analyzers will track every shot and provide key metrics like distance, speeds, and angles. In addition, the app will likely tell you the strengths and weaknesses of your game. For example, you may be hitting a lot of long strokes. However, you may continuously miss fairways, which is costing you strokes. Or you may think that you have an excellent iron game, but the stats show that your wedges could use some work.
Shot trackers are great for in-game adjustments because you will know how far to hit each club rather than guessing. This allows you to improve your score without changing your swing significantly.
Wrapping Up
There are so many golf tracking devices in the market that it can be difficult to choose the best one. First, determine your budget and what you need the most. Some people simply want to track the distances and improve their scores. Others want to bring the device into their practice sessions and improve their golf swings. We hope you found our review of the best golf ball tracking devices to be insightful.
Best Golf Ball Tracking Devices | Our Top 6 Picks
Looking for the best golf ball tracking devices but don't know where to start? We compared some of the top brands and ranked our top 6 picks. Check them out!
Product In-Stock: InStock