Golf is a widely popular sport, and more people are learning how to play. However, mastering the game requires a lot of practice, knowledge, and skill. Many golf equipment such as rangefinders, golf watches, and other accessories are designed to help you collect data and lower your score. Golf GPS apps are also becoming increasingly popular. There are plenty of apps to choose from. Some offer free versions, while more advanced versions require a subscription.
In this article, we review the 5 best golf GPS apps and break down their pros and cons. By the end, you'll know the best golf GPS for android in the market.
Best Golf GPS Apps for Android Devices
After doing extensive research and testing many apps, we've boiled down our top 5 picks. Here's what we think!
Golfshot: Golf GPS + Caddie – Best Overall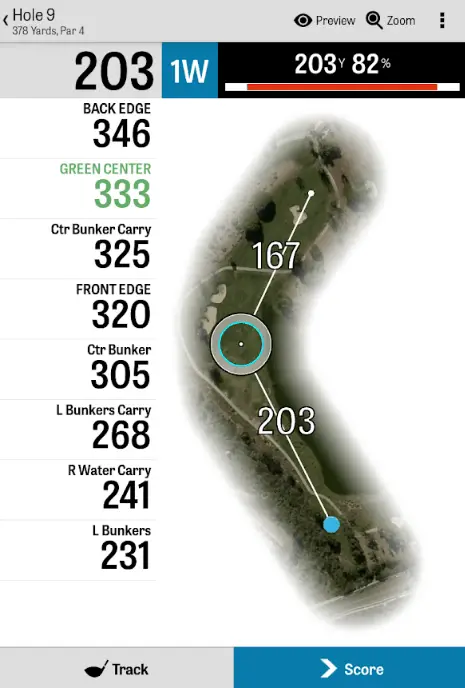 Whether you're a beginner or a pro, we've found that the Golfshot can be incredibly useful. It has all of the features you could want in a golf app, such as distance tracking, world-class golf coaching, over 45,000 golf course maps, digital scorecards, club recommendations, and more.
GolfShot has one of the most thriving communities out there. Currently, there are over 5 million members in their community that use their golf GPS app to save them money, time, and strokes.
Free Version
With the free version, users get access to the basic features that every golfer needs. The GPS function will display the distance between you and the green. One of the unique aspects of the Golf Shot app is that it allows for hands-free operation. It has a Voice Hole and Auto Advance feature, which automatically informs you about the distance between you and the hole.
It also comes with a digital scorecard, so you can easily track your score. You get quite the in-depth analytics from the free version as well. Golfers get insightful data such as putts per hole, greens in regulation, and fairways hit.
GolfShot Pro and Plus Version
The Pro and Plus are the same, except the Plus is a lifetime membership for the app. The pro can be paid either monthly or annually. The premium version offers more nuanced features designed to level up your game.
For example, you get real-time distances to all of the hazards in the course like sand, bunkers, trees, etc. GolfShot also provides club recommendations on the spot, so you quickly know which club to choose for each strike. The premium version is a dynamic 3D aerial flyover so you can preview the course ahead of time and strategize your moves.
Another unique feature about GolfShot is its video library of tips and tutorials from world-class golfers. These coaching videos strategy, distance, driving, putting, and more.
Golf GPS Rangefinder: Golf Pad – Best Free Rangefinder and Tracking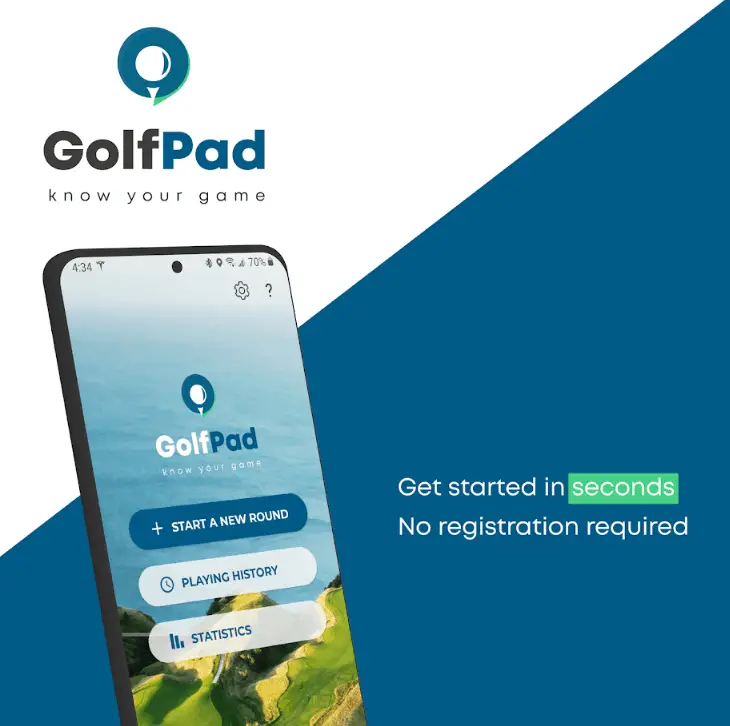 Face it; golf can be an expensive sport considering all of the clubs, shoes, gloves, balls, and other equipment you need to buy. Not to mention, some of you probably have golf coaches and caddies. Luckily, Golf Pad is a free app with tons of excellent features. Currently, it has 18,000 five-star reviews and over 2 million downloads. This app can be used on your android phone, or you can pair it with your golf watch.
GPS Rangefinder
One of the main reasons you should download the Golf Pad is their accurate rangefinder tool. You will get accurate distances to the front, middle, and back of the green. In addition, it's helpful to get accurate distances to any point on the golf course, no matter where you're located.
Aerial flyover map
Getting an overview of the map allows you to understand where you are on the golf course and where you need to be aiming. The aerial flyover map lets you see an aerial view of the hole. With a single tap, you get distances to any hazards such as trees or sand so that you can game plan for your layup shots and improve your score.
High-quality scorecard
Gone are the days of manually writing down your score after each round. It can be tedious, and some may forget. The scorecard built into the app tracks 1 to 4 players for the round, putts, fairways, sand, and hit.
One tap shot tracking
Collecting data is one way to improve your game easily. You can easily spot areas of the course or aspects of the game that need improvement. With the shot tracking feature, you can track every single strike from tee to green. As you use the app more often, it will build up a long history.
These stats can be used to compete with other golfers in tournament play, or you can even share your results on social media. There is a paid feature where users can sync it up to a Samsung watch and better optimize its battery life.
Hole19: Golf GPS App, Rangefinder & Scorecard – Best Value

The Hole19 is an all-in-one golf app designed to lower your handicap and make your life easier on the golf course. It doesn't have quite the premium features like 18Birdies. However, the premium is under $5 a month. With the premium, you get access to a variety of features to provide more insight into your game.
Free Features
There are plenty of features that can still help you along the golf course. The primary two features of the free version are their GPS rangefinder and their digital scorecard. Their rangefinder allows you to see the distance to any point on the course. Golfers allow you to see the distance in yardages to the front, back, and center of the green. The digital scorecard automatically updates your score after every round. It's a great way to see how you're performing during the game.
The free version also allows you to discover other courses. It has course ratings, so you can see which are the best golf courses in your area. The system itself has over 43,000 golf courses worldwide. Also, you can even share your progress with other users from the app and gain new friends who have the same passion for golf.
Premium Features
For less than $5 per month, you get plenty of other features to improve your game. The app will show your performance statistics which includes all of your short game and putting stats, greens in regulation, and driving accuracy. These stats can be insightful to show you what you need to improve on. In addition, it even displays trendline graphs that allow you to measure your progress over time.
Also, the app will show you highlights of your entire golf career, such as best score, best hole, most played course, and more. With the premium version, users get access to higher-quality maps with improved resolution. This allows you to clearly see the hazards or small details of the course, such as sand, bunkers, trees, water, etc.
Golf GPS 18Birdies Scorecard & Yardage Rangefinder – Best for Seasoned Veterans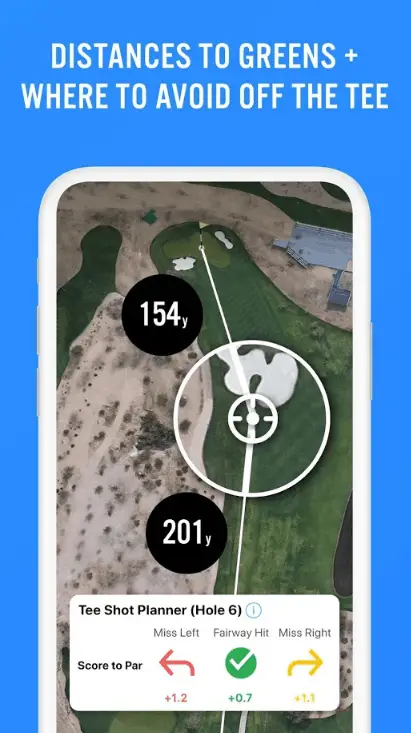 The 18 Birdies Golf App is one of the most popular apps in the Google Play store. Currently, it has 7,370 reviews nearing close to 5 stars on average. We found this app to be incredibly versatile since it offers both free and premium features. With the premium features, you get lots of in-depth insight to improve your game. In addition, it covers over 40,000 golf courses around the world, so rest assured the map of the course you play on is likely already in their system.
Free Features
Although 18Birdies is primarily known for its advanced features, they have plenty of basic features for newcomers to enjoy as well. The GPS rangefinder allows you to identify any distance in yardage to anywhere on the golf course. With a few taps on the app, you can easily track and access all of your previous rounds. Not to mention there is a social component where you can connect with other golfers. Many users will share tips, send swing videos, discuss equipment, or even plan meetups.
Premium Features
18 Birdies is similar to having a tour-level caddie by your side. One of our favorite features is their AI coach, where golfers can upload video footage of their swing, and the app will provide instant feedback on the mistakes you're making. In addition, the app will have custom video tips that guide you on how to fix these swing issues. Essentially, it's like having a golf coach with you at all times!
We also like the Caddy+ feature, where the app will provide club recommendations to you—the AI programming factors in humidity, temperature, wind, and elevation data for its recommendation.
Furthermore, 18Birdies will analyze every shot taken. You'll get a clear snapshot of your strikes based on power, quality, shot shape, and distance. In addition, you'll see strokes gained where displayed where you are gaining or losing a stroke compared to your competitors. The best part is that the app offers a free trial to the premium version for users to test out.
GolfNow: Tee Time Deals at Golf Courses – Tee Time App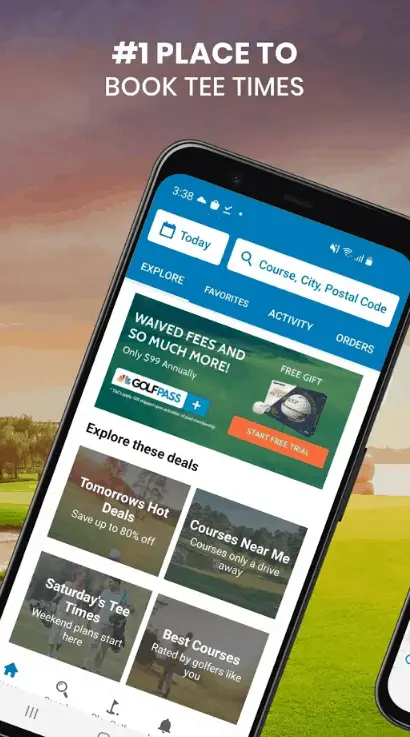 Much like you need a reservation for a restaurant or hotel, tee time is a reservation for a golf course. Golf courses can be quite popular, especially during the spring and summer months.
With GolfNow, they are the one-stop shop for finding incredible deals and discounts on tee times. No more paying regular prices. Instead, find the courses that give you the best deals to maximize your savings. In addition, you can also earn rewards over time and earn free golf playing time.
There are lots of filters and search functionalities so that you can find the exact course you're looking for. The app has over 7000 courses in its system and has over 3 million app downloads!
Best Golf GPS App for Android – Final Thoughts
Personally, we believe GolfShot is the best golf app for all levels of golfers. It has all the basic features you need, such as a GPS rangefinder, digital scorecard, shot tracker, 3D flyover map, club recommendation, video coaching, and more.
It offers the complete package to help lower your score and improve your golfing skills. We hope you found our guide helpful in selecting the right golf app for your android device.
Best Golf GPS App For Android | Our Top 5 Picks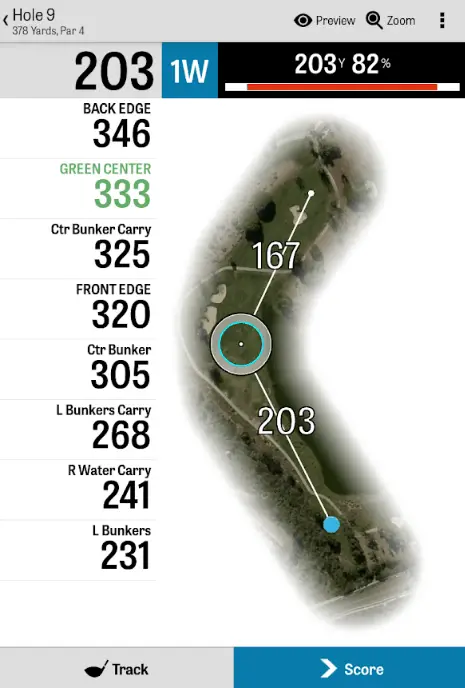 Need help finding the best golf GPS app for androids? Look no further! Here is our list of top 5 Android apps.
Product In-Stock: InStock