Hats are a great solution for keeping the sun out of your eyes and off your scalp on hot summer days. However, they can also be sweat-inducing and uncomfortable if you don't choose the right one. Here we have created a guide for the best golf hats for hot weather to keep your head as sunburn and sweat-free as possible while also maintaining your stylish appearance.
Just like choosing the proper equipment can make all the difference in your game, wearing the right gear does, too. You might find that a bucket hat distracts you during your swing, or a flat cap gets too hot to let you properly focus on your game. A golf hat isn't just a fashion accessory; keeping the sun out of your eyes, the sweat off your face, and limiting your sun exposure are important responsibilities.
The first step in your golf hat search is to decide which type of cap you want.
In a hurry? These are our top picks.
Ball Caps
Most golfers stick to the traditional style of baseball caps no matter the weather due to their look, feel, and (usually) reasonable price tags. These hats are very commonly worn, not just by professional golfers but the general public as well. Covering most of the scalp, these come with a soft, round crown to keep your head covered and a stiff, curved visor to keep the sun out of your eyes and off your face.
This style also tends to feature an interior sweatband to prevent perspiration from dripping down your face and neck. However, these types of hats are not the top choice for sun protection, as they leave your neck and ears exposed to the sun's rays.
Visors
If you like the feel of a ball cap but prefer to have the top of your head exposed and more up-and-down flexibility, visors are the choice for you. These obviously don't provide protection for your scalp, but they can be much cooler while still shielding your face from the sun. This style is popular among the female population and/or those with a lot of hair, thanks to their topless structure. Alternatively, if you're among many men with thinning hair up top, this style would be less than ideal for you.
The only real downside to these is inadequate sun protection, thanks to the top being completely open and your ears and neck being left exposed. However, this could be a positive if you're looking to get a tan while on the course or you're prone to heavy perspiration.
Bucket Hats
Probably the second most popular hat for golfers is the bucket style. Boasting full protection for your face, ears, and neck, these feature a 360-degree sloping brim and are also often inexpensive and machine washable.
The main complaint with this type of hat is their style… or lack thereof. Many people don't believe they can pull off the bucket hat look, but if preventing overexposure to UV rays is more crucial than your appearance, or you're perfectly content with the look, bucket hats may be a front-runner for you.
Wide-Brim Hats
For those of you who enjoy fedoras, wide-brim hats keep that classy style while maintaining full protection from the sun. These will shield your head, face, neck, and even potentially your shoulders, too, depending on just how wide the brim is. Many senior golfers will be seen wearing these, although you will want one with superior ventilation and a lightweight feel to prevent too much perspiration.
Keep in mind that these hats can take some getting used to while sporting them on the golf course. If it has a chin strap, you may notice it during your swing, and the size of the brim could be distracting as well.
Flat Caps
These head toppers are also known as a crook cap, driving cap, or ivy cap and are fashionable both on and off the golf course. Originally created in England in the 14th century, these hats are gaining popularity in North America thanks to their comfort, low profiles, and small, stiff brims. Although they have been long-considered part of winter wardrobes due to their usual tweed or cotton composition, many makers create flat caps ideal for warm weather with breathable designs and vents.
So, if you're searching for a dapper hat that isn't quite as snazzy as a wide-brim hat but is chicer than a ball cap, try a flat cap.
Other Considerations for Hot Weather Golf Hats
After choosing your style, you will want to check the material and color of the hat.
If you're heading out to the green and it's already warm early in the morning, you're not going to want a wool-lined or leather hat. Even pure cotton hats can be too well-insulated for summer days. Ventilation is key, along with breathable material such as polyester or a cotton blend.
Although not as important as the material, the color can influence the heat absorption too. Black may be popular for matching most outfits, but it can also trap more heat. Lighter colors such as white will be more likely to keep your head cool.
Your third step is to make sure you get a proper fit. Despite most hats having an adjustable fit and a fit range, you still need to check the size to avoid your hat flopping over your ears or teetering atop your head.
If you aren't sure of your hat size, use a flexible tape measure to determine the correct size for you. For the most accurate measurement, ensure it is in the middle of your forehead and wrap the measure around the fullest part of your head, doing so two to three times to double-check.
If you don't have a flexible measure, try using a piece of string. After wrapping the string around your head, mark it and lay it flat to measure it. Another tip: pull the tape measure or string as tight as you would like your hat to fit. If you pull the tape tightly, your hat will fit as such.
Once you have your measurements, it is also imperative that you check the closure on the hat. With visors and ball caps, you will often find Velcro straps or slide buckles for quick and easy adjusting. Plastic snaps, rivets, and brass buckles are also common but less versatile than their Velcro and slide buckle counterparts. For bucket and wide-brim hats, check if they have chin straps and/or adjustable inner straps to keep your hat in place.
Next, check the amount of sun protection the hat has. If your main goal is 360-degree coverage, wide-brim or bucket hats would be your best friends. Alternatively, if you are looking for an airy cap with breathability for a sweaty round, visors or ball caps with mesh caps would be better suited to you.
Another important feature to consider is the hat's washability. Many days spent in the sun can come with a build-up of sweat and stench. Thanks to the machine-washable feature of bucket hats, these are the easiest to keep clean. However, ball caps and most other golf hat options can be manually cleaned with soap and water if need be.
With all these things considered, here are our top five choices for the best hot weather golf hats.
Best Golf Hat for Hot Weather – Our Top 5 Picks
Callaway Golf Tour Pro Cap
Last update on 2023-09-11 / Affiliate links / Images from Amazon Product Advertising API
One of the best baseball-style hats on the market is the Callaway Golf Tour Pro Cap. This soft, lightweight, yet durable performance fabric will wick away the sweat while also preventing odor build-up. Along with a cooling, moisture-wicking headband built-in, the perforated back panels will help keep you comfortable for those long days on the golf course.
For those with larger heads, this hat fits most wearers and is highly adjustable. Available in a deep fit, with a Velcro backstrap, this hat comes in six different colors to match any of your golf outfits. Plus, with 30+ UPF UV protection, you can be sure your head is sheltered from the sun's rays.
PROS: 30+ UPF UV protection, cooling, moisture-wicking sweatband, and perforated back panels, great for long wear
CONS: None yet
TaylorMade Tour New Era 39Thirty Hat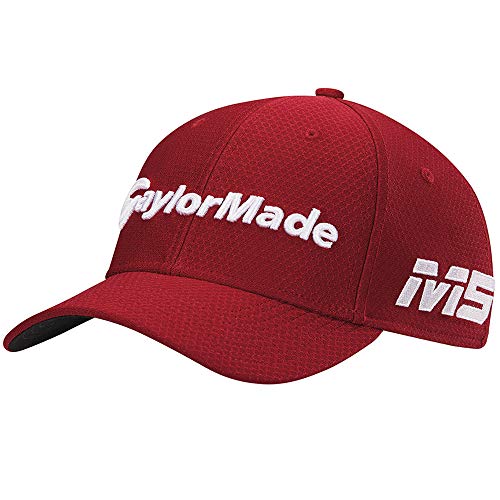 TaylorMade 2019 New Era Tour 39Thirty Hat
Structured New Era 39Thirty stretch fit cap
Diamond Era moisture wicking fabric with 50 UPF.
Moisture wicking sweatband
Dark underbill for no glare
TaylorMade 3D front embroidery and New Era flag back embroidery, 100% polyester
Last update on 2023-09-11 / Affiliate links / Images from Amazon Product Advertising API
TaylorMade has a wide selection of golf hats to choose from, but this one came out on top for us. Flaunting Diamond Era moisture-wicking fabric, repelling moisture and preventing odor, this cap also has a moisture-wicking sweatband and adjustable back strap to go along with the stretch-fit style. With three sizes and six colors available, this hat has a very lightweight and comfortable fit.
Despite the lack of perforated back panels, this hat has holes in each panel for ventilation and is paired with 50 UPF UV protection, making this the best golf hat by TaylorMade for hot weather.
Callaway Bucket Hat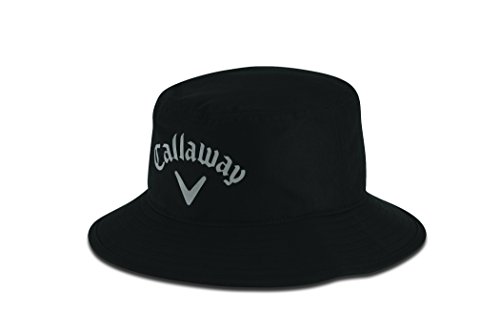 Last update on 2023-09-11 / Affiliate links / Images from Amazon Product Advertising API
If you're looking for a bucket hat, the Callaway Bucket Hat is a great choice. It is made of 100% polyester, with a performance moisture-wicking sweatband. The stretchy, durable fabric is lightweight and breathable, soft to touch but also firm enough to retain its shape. It has a relaxed, narrow brim but still provides 50+ UPF UV protection, and is machine washable for your convenience.
This hat comes in two fitted sizes: S/M or L/XL and can be worn for a variety of occasions, including tennis, running, and hiking. If you're worried about using this hat in other conditions, beware of the lack of a chin strap. If it is windy outside or not a completely snug fit for you, it could easily fall or blow off.
Coolibar Men's Kaden Crushable Ventilated Hat UPF 50+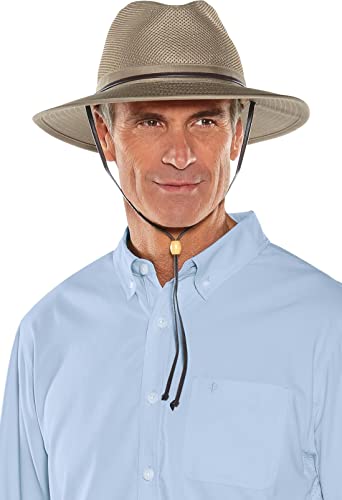 Coolibar UPF 50+ Men's Kaden Crushable Ventilated Hat - Sun Protective
UPF 50+ - blocks 98% of UVA/UVB rays
FABRIC: Mesh ventilated crown for comfort and internal elastic band for a snug fit; Travel-friendly, crushable and packable
FEATURES: Adjustable chin cord holds hat in place, even in windy conditions; Approx. circumference: (S/M) 22 1/2 inches (L/XL) 23 inches (XXL) 24 inches; Broad 3 inch brim for great UV protection; Spot clean; Imported
RECOMMENDED FOR: when you want to pack light and travel in style - technical sun protection to take you from sightseeing to a café lunch
NOT RECOMMENDED FOR: swimming, not chlorine and salt water resistant or water repellent
Last update on 2023-09-11 / Affiliate links / Images from Amazon Product Advertising API
For those looking for fedora-style headwear, this hat has a broad 3-inch brim for optimal face and neck protection with 50+ UPF UV protection blocking 98% of UV rays. The lightweight, natural cotton/polyester canvas material is also water-repellent, and the adjustable chin cord holds the hat in place, making this the best hat for all weather conditions. The crown of the hat is mesh ventilated and has an internal elastic band to create a superb fit.
There are three sizes available, S/M, L/XL, and XXL for all head sizes, and three color options too: khaki, natural, or smoke grey. Best of all, this hat is travel-friendly: wrinkle-resistant, crushable, and packable, meaning you can store it in a travel case or your golf bag.
Wilson Staff Visor – Unisex
Sale
Last update on 2023-09-11 / Affiliate links / Images from Amazon Product Advertising API
If you're in search of a golf visor, the Wilson Staff Visor is our recommendation. It is 100% polyester, making it quick-drying and breathable for those hot, sweaty days. The curved brim protects your face against lateral sun rays, and the Sweat Mesh headband built-in will help absorb any excess perspiration.
These unisex visors are one size fits all, with an adjustable closure to make it a customized fit, and your choice of black or white color.
Best Golf Hat for Hot Weather – Wrapping Things Up
No matter what type of headpiece you choose, proper hydration, sunscreen, and quality eyewear are of the utmost importance to keep safe in the sun. No hat will keep you completely cool and covered from the sun's rays, but there are plenty of options out there to suit your individual needs. Your best options will be those with synthetic materials and wide brims to keep you cool, but your finest choice will depend on your top priority: for sweat reduction, try ball caps and visors, and for sun protection, try a bucket or wide-brim hat. In the end, it is up to you to decide how you want to look and which feel is ideal for you.
Last update on 2023-09-11 / Affiliate links / Images from Amazon Product Advertising API
Best Golf Hat for Hot Weather | Buyers Guide - Our Top 5
We review some of the most popular golf hats currently on the market. Our updated buyers guide for the best golf hat for hot weather.
Product In-Stock: InStock