Having a good golf bag is perhaps the first most important thing to keep in mind whenever you are traveling abroad or to another city with your golf accessories. Arranging and managing your golf clubs, balls, shoes, and other golf accessories will become easier when you have a good quality, durable, and comfortable bag with you. However, before you pick the right bag for you, it is important to do some research. It is very easy to make a wrong decision while choosing a golf bag. Especially when you are buying it for the first time, you will have to make your decision properly.
In the case of golf bags, it is not always necessary that an expensive bag will be a good one. In fact, I will show you some amazing golf bags which will cost you below $100. But, before we know about the actual products, let's discuss the things you should consider before you buy a golf travel bag.
Buyer's Guide: How To Pick A Good Golf Travel Bag?
Let's look at a few things which you should consider before you finalize your golf travel bag.
Type of Case
You will have two options to choose the case of the bag. You can either choose a hard case or a soft case as per your preferences. Keep in mind that the soft case bags are cheaper in price and easy to carry/transport. They are easy to store in your house or garage. However, the hard case bags are much more effective when it comes to the protection of your clubs. Obviously, because of their tough structure, the hard case bags are going to be much more costly. Also, they will definitely be tough to move and store.
So, here you will have to compromise with either the quality or protection. Nevertheless, choosing a bag with a versatile offering is easy these days. We will include examples of both in this buying guide.
Durability
You should definitely pick a bag with good durability and also good padding inside it. It will be good if you try to find a bag with an effective travel cover support system. A durable bag can easily manage some undesired circumstances without any damage to your clubs. So, if you want to ensure the full safety of your clubs, make sure to find a bag that is durable enough.
Weight
This is your personal preference. But, it is always suggested to find a bag which is lighter in weight if you travel more often. A lighter bag will also be good if you are an older person. A light and soft bag will also be very easy to carry and store.
Storage Space
Depending on your requirements and the number of clubs you want to put inside your bag, you have to find a bag with enough storage space. It is never a good idea to pack your stuff so tight as they may start to damage when you move your bag around. Consider picking a bag with some extra pockets to put some additional stuff at the same place.
Note: Along with the storage space, consider following the airline rules. Depending on your airline regulations, consider keeping your bag's weight below the limits. Otherwise, you may end up paying some extra charges.
Warranty
If you are buying a golf travel bag, one of the most important things to see while choosing it is the warranty period. Make sure that the company is providing a good warranty period on which you can easily rely upon.
Best Golf Travel Bag Under 100$ On Amazon
Last update on 2023-09-12 / Affiliate links / Images from Amazon Product Advertising API
AmazonBasics Soft-Sided Golf Club Travel Bag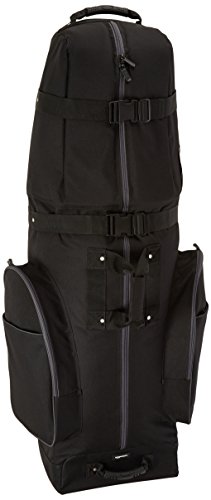 Amazon Basics Soft-Sided Golf Club Travel Bag Case With Wheels - 50 x 13 x 15 Inches, Black
Soft-sided golf travel bag for conveniently transporting a set of golf clubs (not included)
Made of durable polyester fabric; reinforced stress points; stands up on its own when holding a set of clubs
Smooth-rolling, inline-skate-style wheels; heavy-duty curb rails; well-placed, riveted handles
Compression straps keep clubs secure; heavily padded top section protects club heads
Multiple zippered compartments for storing extra gear; measures 50 by 13 by 15 inches
Last update on 2023-09-12 / Affiliate links / Images from Amazon Product Advertising API
This bag comes with thick paddings and high-density foam. That simply means your bag is going to be much safer for anything you are storing inside it. Along with that, it is one of the biggest bags you can ever find on Amazon. The dimensions are 50x13x15 inches. That is a pretty good size for any kind of golf player. Along with its huge storage space and amazing design, this bag is also pretty lightweight.
Its compression straps are going to give your clubs enough protection, even if you are moving it roughly. Along with that, you get a heavily padded upper section to enhance the level of protection for our club heads. In simple words, this bag is a perfect option if you have limited budgets but high demands. In my opinion, you should definitely buy this bag if you really want to see all the below and above-given features in a product.
Main Highlights:
Ergonomic Handles
Inline-skate-style wheels for easy rolls and smooth turns
Made with a quality material (Nylon Fabric)
Durable and Secure
Multiple zippered compartments
Riveted handles
Partage Golf Travel Bag
Sale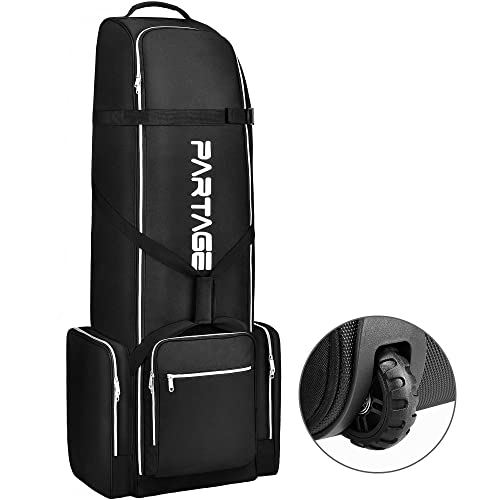 Partage Golf Travel Bag with Wheels,Golf Travel Case for Airlines, 600D Heavy Duty Oxford -Black
★HIGH QUALITY FABRIC: Partage golf travel bags are built with premium 600D polyester. Heavy duty fabric provides excellent protection during the transportation.
★MULTIFUNCTIONAL DESIGN: Partage provides 5 thick spongy pads at the top of the travel golf bag to protect your clubs during your trip. In addition, we provide three pockets that let you store shoes and golf equipment.
★PERFECT SIZE: Universal size 51 x 18 x 12.5 inches fits all the golf stand bags. Enough space to hold your clubs.
★SMOOTH WHEELS AND MULTIPLE PROTECTION: The high-quality wheels provide smooth rolling, Stronger and more durable than other wheels. We also added two pairs of stabilizing straps inside and outside to minimize club movements inside the golf travel case.
★100% SATISFACTION & QUALITY GUARANTEE:1 Year Quality Warranty - If you are not satisfied or have any problem with our product. Feel free to contact us and we will arrange a NEW replacement or 100% FULL refund to you. PARTAGE makes Travel Easy and makes you Happy.
Last update on 2023-09-12 / Affiliate links / Images from Amazon Product Advertising API
This bag also offers thick top padding for enhanced club-head protection. The bag is capable of keeping all your golf accessories secured during your trips. Whether you are moving it on a flight or in the back of your car, this bag is pretty effective in providing your clubs and other items the required safety. Thanks to its 600D polyester, the bag offers decent durability. So, even if it is in rough environments, this material is going to keep it safe from wears and tears.
The size of this bag is 51x18x12.5 inches. That means it is enough to place all your long and short clubs easily. If we talk about the storage space, the bag has some additional pockets and zippered storage spaces for your balls, shoes, and other items. So, you should definitely buy this bag because it is available at a price you will never believe.
Main Highlights:
Smooth wheels for easy movements
Interior and exterior straps to reduce club movements
One year warranty period
Universal size
Affordable price
OutdoorMaster Padded Golf Club Travel Bag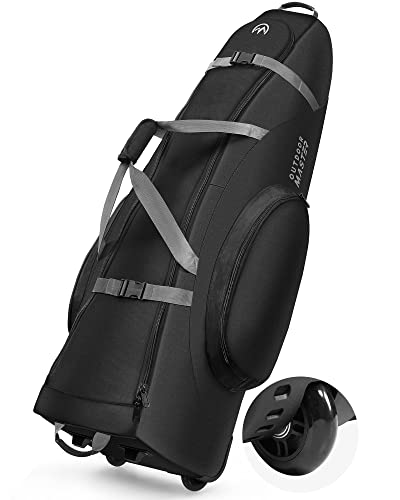 OutdoorMaster Padded Golf Club Travel Bag with Wheels, 900D Heavy Duty Oxford Waterproof -Alligators - Black
Extra Protection - Unique OTS system covers the entire golf travel case with 2x thickened cushion layer and 900D oxford wear resistance and waterproof material, extra protection of golf club brassie during transportation.
Smooth Rolling & Tough Wheel - Featured with optimized in-line skate wheel and premium rubber base securing long-lasting and unobstructed carrying experience.
However You Prefer to Carry it - The golf club travel bag was design to meet different conditions by adding shoulder strap, multiple handles and separated bag for golf shoes. Easy to carry the bag at shuttle, bus station.
Easy to Fill - Ideal 54" (138 CM) length and rommy design for full set golf clubs, cart bag , extra secure and stable with two fixing straps.
Foldable Design with Convenient Open - Bullet Shape and foldable for easy storage and carry and U-shape wide open zipper system for easy open & Close
Last update on 2023-09-12 / Affiliate links / Images from Amazon Product Advertising API
This bag comes along with its own OTS system, which means that the bag is equipped with two times thicker cushion layer as compared to the other ordinary bags. The bag is made up of 900D oxford wear resistance material, which is waterproof at the same time. In a nutshell, the bag is made for golfers who love to travel around. If we talk about the movements, the bag has pretty smooth-rolling wheels made up of tough quality plastic. The rubber base structure with in-line skate wheels gives you an immersive carrying experience.
Multiple handles, shoulder straps, foldable design are some of the main features of this bag. Along with that, this bag has a length of 54 inches, which is enough to carry all of your clubs at the same place. You get some additional zipper sections for your shoes and other gears. So, consider buying it if you are not satisfied with the products we have given above. This one is perhaps the toughest competitors to various other premium products in the market.
Main Highlights:
Bullet-shaped and easily foldable
Two fixing straps
Smooth wheel rolling
Waterproof
CaddyDaddy Golf Constrictor 2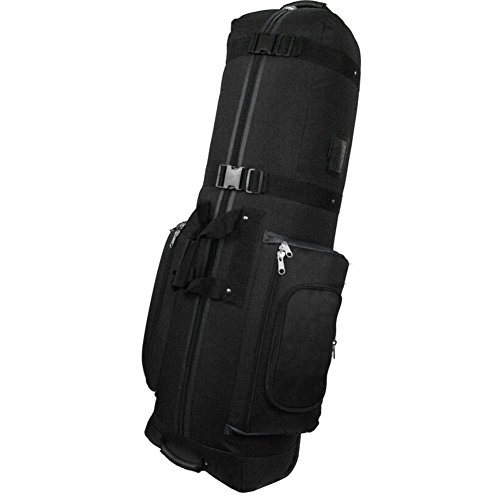 CaddyDaddy Golf Constrictor 2 Travel Cover (Black/Grey)
WARRANTY AND SERVICE: CaddyDaddy has been designing and selling high quality golf products from CHANDLER, AZ for over 20 years. We stand behind every product and include a 1 YEAR FULL REPLACEMENT WARRANTY on all travel bag purchases (2 years on the First Class bag). We even cover damage caused by airline mishandling. If you need warranty assistance, please visit our website and reach out to our US BASED customer service team. We respond within 48 hours and typically same business day.
HIGH-QUALITY MATERIAL, HEAVY PADDING ON TOP: The golf travel cover bag features 1800D fabric construction (3x the thickness of 600D fabric). Cinch straps are provided externally and internally to keep the bags from moving during travel and transportation.
PROTECT YOUR INVESTMENT: The bag also has riveted handles - nylon padding and heavy duty rubber handles for easy carry and transport. It also comes with lockable zippers and large, oversized pockets to store additional golf gear and equipment like tees, shirts, shoes, balls, etc.
EQUIPPED WITH INLINE SKATE WHEELS: Whether you are a pro on tour or are big on golf travel, this padded golf cover bag is your perfect travel companion. It also comes with 2 oversized pockets to store additional golf accessories like shoes, tees, balls, and other items.
GOLF BAG DESIGNED FOR TRAVELING: CaddyDaddy's Constrictor Golf Bag Cover is designed specifically for protecting your golf clubs and equipment while traveling - air or auto. It offers excellent value for money and is a must-have travel bag for all golfers.
Last update on 2023-09-12 / Affiliate links / Images from Amazon Product Advertising API
This bag is another great option if you are looking for an affordable but quality golf travel bag. Like the above product, this bag also has in-line skate wheels for easy and smooth movements. Also, you get lockable zippers, which might not be available with some other products at this range.
Impressively, this bag comes with a one year warranty which covers any damage caused to your bag by airlines.
The bag is made up of 1800D Fabric construction, which means three times more thickness than the bags with 600D. The bag has heavy paddings on the top for enhanced protection for club heads. If we talk about the size, this bag is 13x50x15 inches. The weight of this bag is just 9 pounds.
Main Highlights:
Lockable Zippers
In-line skate wheels
Internal and External compression straps
Himal Golf Travel Bag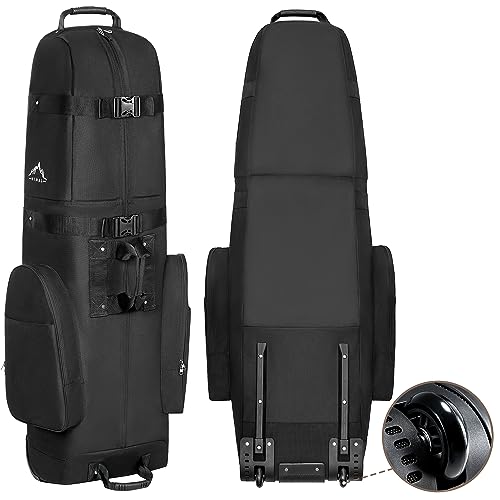 Himal Outdoors Golf Travel Bag - Heavy Duty 600D Polyester Oxford Wear-Resistant, Excellent Zipper Universal Size with Wheels, Soft-Sided Golf Club Travel Cover to Protect Clubs
High quality materials: Made of premium 600D heavy duty polyester oxford, tough enough to protect your golf clubs during travel.
Pulley upgrade: Advanced smooth zipper design can be used for several times. The quality wheels make your trip more comfortable and convenient.
Intimate design: The golf bag travel case itself comes with soft cushion and carrying handles. The velcro carrying handle is particularly useful to help carry the golf club travel bag whether at airport or station.
More space: Multiple zippered compartments for storing extra gear, The additional space on both sides to hold your towel, keys, shoes and so on
Himal provides a true satisfaction guarantee and don't hesitate to contact us if there is any problem.
Last update on 2023-09-12 / Affiliate links / Images from Amazon Product Advertising API
I personally love the design of this bag. The bag is made up of a 600D Polyester Oxford Wear-resistance system. Along with that, you get amazing zipper sections for additional storage. If we talk about the main storage space, the bag has a huge space along with soft sides for enhanced protection for your clubs. The bag comes with a smooth zipper design along with riveted strap handles. The wheels are pretty smooth and durable. You can add any kind and size of the club inside this bag pretty easily. Let's see some of its other highlights.
Main Highlights:
Tough Polyester Oxford Construction material
Soft carrying handles and cushioning
Easy to carry and use
Explosion-proof Velcro
Best Golf Travel Bag Under $100 – Wrapping Things Up
I hope this article is going to help you make your decision easier. Just buy any of these Best Golf Travel Bag under $100, and you will definitely be satisfied with the results. There are hundreds of other golf travel bags you can easily buy online or offline. But, all of these bags are affordable and made to last.
Have any other question in mind? Just let us know in the comment section. Stay connected for further updates.
Best Golf Travel Bag Under $100 - Our Top 5 Picks
We review the best golf travel bag under $100, our top 5 picks of the best value golf bags currently on the market.
Product Currency: USD
Product Price: 100
Product In-Stock: InStock