If you are looking for the best golf hats for sun protection, then you have come to the right place.
In this day and age, it is of the utmost importance to protect yourself during the time that you are playing the game you love, particularly golf. Excessive exposure to the sun can increase the risk of skin cancers and cause you to have flu-like symptoms. Therefore, it is vital to avoid it.
You need to stay cool when playing golf during hot weather, so being well-equipped is necessary. A golf hat is one of the most essential pieces of clothing you should wear. To help you find the right one, we have made a list of the best golf hats for sun protection, which will also get you looking good on the course.
DPC Outdoors Solarweave Treated Cotton Hat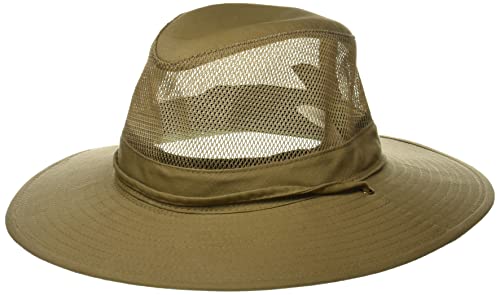 DHC Outdoors Solarweave Treated Cotton Hat
FOR SAFARIS AND HIKES – Be adventure-bound with your own Dorfman Pacific safari hat! Keep the heat off your head, the sun out of your eyes, and the hat on right thanks to a 3" brim, mesh sidewall, and chin cord. Be ready for your next adventure.
MESH BLEND – This safari hat is made with 75% cotton and 25% nylon for maximum comfort and durability while the mesh panel improves ventilation. The chin cord with adjustable closure ensures that the hat you need is always right where you want it.
COOLMAX COVERAGE – Coolmax helps to optimize your performance and keep you dry during workouts, adventure, and leisure. This nylon safari hat uses an elasticized Coolmax sweatband because you deserve the most in cooling coverage.
SOLARWEAVE UV PROTECTION – This Dorfman sun hat is made with Solarweave, a lightweight fabric with UPF 50+. All Dorfman hats made with Solarweave are tested and proven to protect against harmful UV rays, even after 100 hours of accelerated exposure.
Last update on 2023-11-30 / Affiliate links / Images from Amazon Product Advertising API
This DPC hat is one of the best headwear to use when you play golf in hot weather. It is made of UPF (Ultraviolet Protection Factor) 50+ fabric. The crown or top portion of the hat is made out of mesh, enabling you to feel the breeze blowing through and allowing your sweat to evaporate easily. The top part is completely closed, so the sun will not be able to come through.
Designed for outdoor use, the DPC Solarweave treated cotton hat has a built-in sweatband to prevent your sweat from dripping into your face and to keep your hat in place. There is also a cord that you can use to adjust the fit of the hat, giving you extra security.
Classic plus practical, this hat could be the perfect summer headwear for you. It has features that make it a great performance headwear for golf and other outdoor activities.
Tilley Endurables LTM5 Airflo Unisex Hat
Sale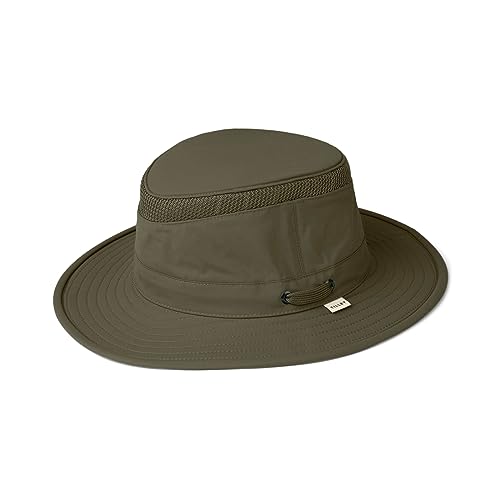 Last update on 2023-11-30 / Affiliate links / Images from Amazon Product Advertising API
The Tilley Endurables LTM5 has plenty of features, such as breathability, durability, and superior protection from the sun. It is made from both 100% polyester and supplex nylon, which help to keep your head cool and comfortable. Offering flexibility, you can also wear this hat for travel purposes and outdoor hiking.
The surface of the hat is made of waterproof fabric, which makes it stain-free from rainwater and allows you to keep your hair and face dry in inclement weather. The non-absorbent foam liner adds buoyancy, so the hat will float in case it is accidentally dropped in the beach and other bodies of water.
The hat is also anti-shrink, which means it would still fit perfectly the next use after you wash it with the machine or throw it in the dryer. Taking all of it into account, this hat might be the best for your golf game.
Coolibar UPF 50+ Men's Women's Matchplay Golf Hat – Sun Protective
Coolibar UPF 50+ Men's Women's Fore Golf Hat - Sun Protective
UPF 50+ - blocks 98% of UVA/UVB rays
FABRIC: Lightweight foam brim, internal sweatband, elastic draw cord at back of crown for adjustable fit and foldable brim for easy storage
FEATURES: Anti-glare under brim to reduce glare reflecting off surrounding surfaces and laser cut side panels for ventilation; Approx. Circumference: 22 1/2 inches (S/M) 23 inches (M/L) 24 inches (L/XL); Brim: 3 1/2 inches (front) 4 1/2 inches (back) 2 3/4 inches (sides); Hand wash cold, line dry; Imported
RECOMMENDED FOR: when you want to keep your cool and stay UPF 50+ sun protected while picking up the pace outdoors - includes fitness, basketball, jogging, golf, power walking, cycling, and other outdoor sports activities
NOT RECOMMENDED FOR: swimming, not chlorine and salt water resistant or water repellent
Last update on 2023-11-30 / Affiliate links / Images from Amazon Product Advertising API
Bucket hats with a wide brim provide the most sun protection. The Coolibar Matchplay hat features a 4-inch brim, which makes it the best for shading your head, ears, face, and neck.
With an all-around brim, quick-dry performance, and internal wicking sweatband, the Coolibar Matchplay hat will help you stay comfortable and focused on the green throughout your game. The fibers are made out of a cotton-like Suntect fine polyester weave and embedded with titanium dioxide to provide UPF 50+ sun protection.
Having said that, the hat can feel a little bit heavy and does not look super sleek or professional. But if your priority is to remain protected from the sun, this is the best UV protection golf hat.
Sale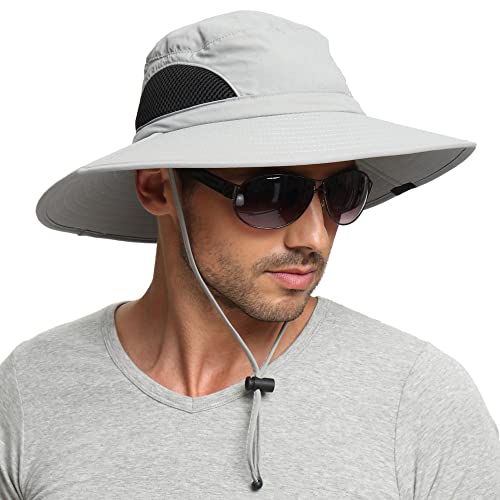 EINSKEY Sun Hat for Men/Women, Waterproof Wide Brim Bucket Hat Foldable Boonie Hat for Fishing Hiking Garden Safari Beach
ADJUSTABLE & UNISEX: Rear elastic drawstring design, one size fits men's and women's head circumference of 22-24 inches. Adjustable chin strap holds the hat in place on windy days.
SUN PROTECTION & WATER REPELLENT: Wide brim 3.9 inches keeps your face and neck safe from harmful rays. Water repellent polyester material could prevent rainwater from seeping into your head.
COMFORABLE & BREATHABLE: The mesh panels design allows for moisture and heat to easily escape these hats. Built in sweatband removes sweat from eyes and face.
PACKABLE & LIGHTWEIGHT: The bucket hat can be folded in half, easily carried inside your bags. Great choice for regular daily use and outdoor activities especially like fishing, hunting, camping, hiking, gardening.
NOTE: Due to different lighting effects between computer monitors, cell phone, the color of objects is little different from show pictures. Because the hat has a water-resistant coating, there is a little smell of glue. please put it in a ventilated place for 1-2 days if you mind. Hand washing recommended with mild detergent,no bleach,hang to dry.
Last update on 2023-11-30 / Affiliate links / Images from Amazon Product Advertising API
Einskey sun hat is a casual headwear that can be used by travelers and people who enjoy staying outside. Its main use is to give you protection from the sun. It is also appropriate for golfing and other outdoor activities, such as cycling, fishing, and hunting.
The hat features an adjustable chin strap, which helps to keep it snug on your head when it's windy or rainy. It also includes a sweatband to prevent your sweat from rolling down onto your eyes.
This Einskey sun hat comes in various colors, including dark gray, light gray, and khaki. It is one-size-fits-all headwear and great for both men and women.
The large brim keeps the face and neck covered from ultraviolet rays, and the polyester makes the hat water-resistant.
Stetson Gambler Seagrass Straw Outdoorsman Hat
No products found.
It's time for your next round of golf with this classically designed straw Stetson Gambler hat. It is a favorite of many golf enthusiasts because of the winnings ways of golf legend "The Shark" Greg Norman. If you want to look like him and impress your golf buddies with a stylish upgrade to your standard attire, then this hat would be perfect for you.
This fashionable hat has an oval-shaped crown with a thick weave that allows adequate air to travel through without being too stiff on the head. The seagrass straw is thoroughly woven to make sure it is of high quality. The underpart of the brim features a cotton strip for a great UPF 50+ rating. A cotton sweatband on the interior of the hat makes it ideal for all-day use as it can withstand prolonged wear.
Nike Golf UV Sun Bucket Hat
No products found.
Designed with a large brim, this Nike Golf Bucket hat will keep the sun out of your eyes while protecting your head, face, and ears from the sunlight. With the semi-rigid brim, this hat will maintain its shape even if you wear it on a regular basis.
The crown of the hat is made of a stretchable fabric to increase comfort. This also allows for a nice and secure fit. The mesh lining and perforations on the side of the hat enhance breathability. This lets the air travel freely to prevent a build-up of sweat.
Golf can be hard work, especially in warm weather. This hat includes Dri-Fit technology, meaning you don't need to worry about your sweat soaking into the material. This is specially designed to dry quickly so you can play comfortably in the sun all day.
Golf can be hard work, particularly in hot weather. But with the dri-fit technology, the material will dry immediately so your hat will not get wet due to sweat.
The hat comes in four different sizes, from small to extra large. It also has a toggle that enables you to adjust it easily and make sure it fits right.
What Should You Look For In A Golf Hat?
You will find a few different types of golf hats available on the market, but the most important thing when buying is to make sure the hat you are choosing the one that covers all the basics. It is vital to keep the sun out of your eyes as a bright sun may cause you to miss your shots. Aside from that, here are the other essential features to look for in the best golf hats for sun protection:
Fabric
Apart from keeping you comfortable, your hat should also whisk away moisture from your face.
Machine washable
Not all hats can be washed using a machine, but it would be very convenient if you can just throw your hat into the washer to get it cleaned.
Great protection from the sun's rays
Golf hats with a large brim usually work best for golfers because they provide the ultimate protection from the sun.
Durability
If you play golf often, your hat should be durable enough to not be damaged easily when you use it frequently.
Breathability
You might feel the sweat building up on your head if you are wearing a golf hat with a poorly ventilated design. Breathable hats are usually made with a mesh interior or perforations that allow for air circulation.
This means the breathability of your hat is really important, especially if you are golfing for extended periods.
Style and color
These factors depend on your personal preference.
Bucket hats and wide brim hats are included in the most common types of golf headwear. The bucket hats are best for blocking out the sun, for it offers additional coverage.
If your golf hat does a nice job of preventing you from getting excessive exposure to the sun, then you can use it with confidence whenever you go out on the course.
FAQs
If you have more questions about golf hats for sun protection, we got the answers for you.
What golf hats are best for sun protection?
If your top priority is sun protection, you should get a golf hat with a wider brim. A bigger hat will make sure that less skin is showing so that there will be fewer harmful UV rays reaching your ears, face, and neck.
What is the best bucket hat?
The best bucket hat is the one that caters to your needs as each has different styles. Some golfers prefer one with a chin cord while others don't. Some want a larger, wide brim golf hat for sun protection, while others don't. You can try out different hats and see which one would suit you the most.
How do you clean golf hats?
It depends on what materials your hat is made of. Some materials permit you to throw it in the washer, while others might require dry cleaning. It is important for you to read the label so that you don't accidentally get your hat damaged when washing.
Best Golf Hats For Sun Protection – Conclusion
It is very important to keep your head cool and covered from the sun when playing golf. If you want to get maximum protection, the best choice would be bucket hats. They feature additional coverage and are designed to shade your face and neck better than the other types of golf hats. If you are looking for optimal sun coverage, the Coolibar Matchplay golf hat could be worth considering. After all, the brand is renowned for offering sun protection.
Last update on 2023-11-12 / Affiliate links / Images from Amazon Product Advertising API