Time to relax now in your search for the best golf bucket hat… We know what type of hat a golf lover needs.
It's only the best golf bucket hat to keep you cool but accurate with your vision of ball flight in the sun. Yet, your quest for a perfect hat is no less than the distress of seeking multiple opinions. Still, "yours" remains hard to get because of your individual needs and preferences.
Our experts have reviewed the top golf bucket hats for you to help you buy an ideal sun protector. So, it only requires 15 mins read, and you'll be ending your search by clicking for your ideal hat. Let's uncover our findings.
In a hurry? These are our top picks.
How we've Picked Best Golf Bucket Hat
Not jumping to the list… Why? We want to help you decide on your best golf bucket hat first.
For this purpose, we're revealing to you various factors we've rated before getting our best golf hats. So, you can make a special purchase by keeping these points in view.
Size and Style
Are you a male or a female golfer? We care for both. Therefore, we've included hats of varying sizes and styles to help you choose your suitable one.
The hat allowing you a golf swing with no discomfort or heat is the most necessary for you. Therefore, we've tested the hats according to their fitting and cooling solutions.
Sun and UV Protection
A golf bucket hat is a part of your attire — will you affirm? No….
For every golfer, the sole purpose of a hat is to shield against the sun and support the visibility in the playground. And, it comes from the type of the material and the size & design of the brim.
The brim size and design, and the material bring you optimum UV or SPF protection. Besides these, a larger brim can also cause back neck irritability by touching it.
So, you've to choose between the shade size and the comfort too. So, you'll find hats of synthetic and organic materials with diverse construction in our collection.
Breathability
The time spent under the sun results in a lot of sweat — trouble for a player like you. Then, what to do to stay cool with a sun hat?
Look for a hat that offers you maximum breathability. Yet, you've got an individual need for ventilation: your sweating rate and hair density.
Besides this, max ventilation can also catch the sun right over your head. Therefore, we've brought your hats with a diverse level of breathability.
Functionality, Maintenance, and Storage
The level of functionality of the product has got a special place in our comparison criteria. For golfers, every hat prevents any interference with the golf swing.
However, it also depends on your adaptability to the hat to some extent. So, you'll find some players facing difficulty with their golf swing, and others not. Similarly, we've also kept the ease of maintenance and portability in view.
Our Top Golf Bucket Hats for Sun Protection
EINSKEY Sun Hat as Best Golf Bucket Hat
Sale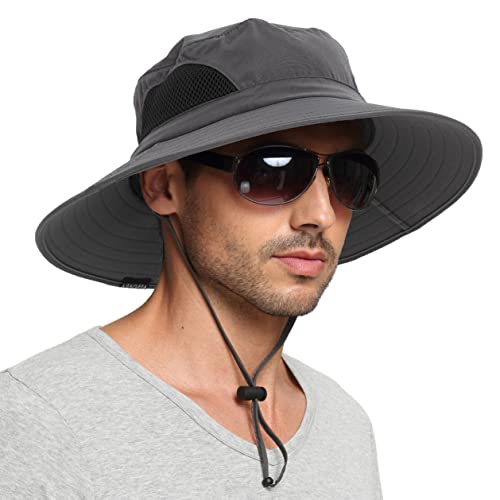 EINSKEY Men's Waterproof Sun Hat, Outdoor Sun Protection Bucket Safari Cap For Safari Fishing Hunting Dark Gray One Size
ADJUSTABLE & UNISEX: Rear elastic drawstring design, one size fits men's and women's head circumference of 22-24 inches. Adjustable chin strap holds the hat in place on windy days.
SUN PROTECTION & WATER REPELLENT: Wide brim 3.9 inches keeps your face and neck safe from harmful rays. Water repellent polyester material could prevent rainwater from seeping into your head.
COMFORABLE & BREATHABLE: The mesh panels design allows for moisture and heat to easily escape these hats. Built in sweatband removes sweat from eyes and face.
PACKABLE & LIGHTWEIGHT: The bucket hat can be folded in half, easily carried inside your bags. Great choice for regular daily use and outdoor activities especially like fishing, hunting, camping, hiking, gardening.
NOTE: Due to different lighting effects between computer monitors, cell phone, the color of objects is little different from show pictures. Because the hat has a water-resistant coating, there is a little smell of glue. please put it in a ventilated place for 1-2 days if you mind. Hand washing recommended with mild detergent,no bleach,hang to dry.
Last update on 2023-09-17 / Affiliate links / Images from Amazon Product Advertising API
A bundle of reasons brings the hat winning the first position in our list. It includes the max fitting that lets you be busy with your golf club and perfect ball swing.
Available in 8 different colors, the golf hat has a large brim to keep the sun away from your sunburn-prone face, ears, and neck. Besides these, mesh on two sides maintains a good airing.
Speaking of the size, it doesn't disappoint you with a bigger head of up to 24 inches. Thus, it also goes well for females.
With the hat from EINSKY, you need to be a bit tolerant of the quick heating issue because of the heavy waterproof material. Similarly, the hat also doesn't absorb the sweating. Likewise, the hat is a perfect choice for golfers who want prevention against scalp sunburnt.
Key Features
One size fitting
Two-sided mesh for average ventilation
Lightweight
Wider and sturdy brim
Two elastic cords for a better fit
Nike Golf UV Golf Bucket Hat as Perfect UV Protector Hat
Sale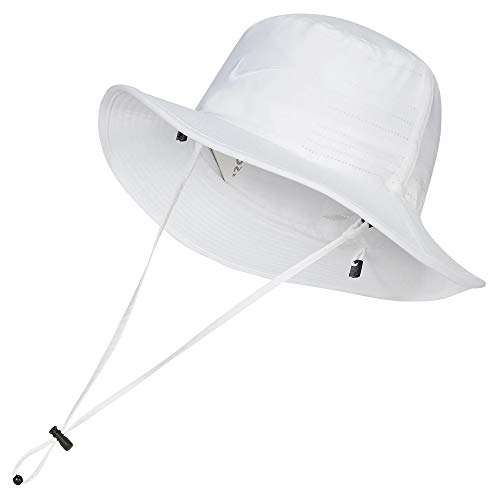 Nike Golf Dri-FIT UV Sun Bucket Hat (White/White, M/L)
Dri-FIT technology helps you stay dry and comfortable
Wide brim delivers 360 degrees of coverage
Vents on side A enhance breathability
Laser perforations on side B enhance breathability
Drawcord is adjustable and removable to switch up your look
Last update on 2023-09-17 / Affiliate links / Images from Amazon Product Advertising API
Are you loyal to Nike and don't mind it falling heavy on your pocket? Nike's 832683 is the best golf bucket hat for you.
Offering you the choice of three colors and sizes, the hat by Nike gives ideal sun-burn safety. Its larger brim of 4 and 1/2 inch provides a good sun blockage for your neck. Though the hat brings the UV protection of SPF 40, yet its design is great to shade you.
The wider front and back brim lets you play a worry-free golf game. Thus, the design helps during the backswing.
The design of the sun hat isn't very stylish, yet the ease of play is what you pay for. You can see, the heavy material gets the hat hotter, which the mesh cannot manage ideally. Hence, the hat is a great option for sun-sensitive heads.
Key Features
Single adjustment strap
Dri-fit technology
Lightweight
Coolibar UPF 50+ Ventilated Hat as Most Breathable Golf Sun Hat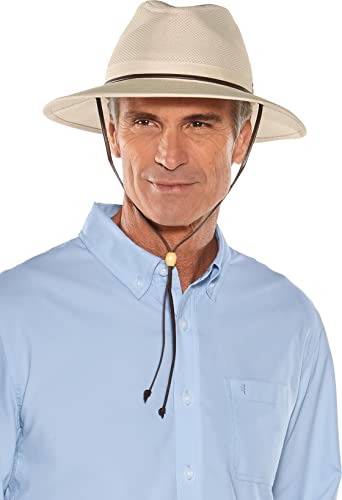 Coolibar UPF 50+ Men's Kaden Crushable Ventilated Hat - Sun Protective (Large/X-Large- Natural)
UPF 50+ - blocks 98% of UVA/UVB rays
FABRIC: Mesh ventilated crown for comfort and internal elastic band for a snug fit; Travel-friendly, crushable and packable
FEATURES: Adjustable chin cord holds hat in place, even in windy conditions; Approx. circumference: (S/M) 22 1/2 inches (L/XL) 23 inches (XXL) 24 inches; Broad 3 inch brim for great UV protection; Spot clean; Imported
RECOMMENDED FOR: when you want to pack light and travel in style - technical sun protection to take you from sightseeing to a café lunch
NOT RECOMMENDED FOR: swimming, not chlorine and salt water resistant or water repellent
Last update on 2023-09-17 / Affiliate links / Images from Amazon Product Advertising API
A stable, fit, and airy hat to fight wind is third to claim as the best golf bucket hat. How?
Its UPF 50+ safety material and larger brims make it the best hat for the golfers who look for high airing as well. Speaking of the adjustment, the chin cord lets it sit on your head in a storm. Hence, the hat encourages you to play actively.
If you're aiming to buy the hat, we'll advise you to be careful with the size you choose. However, the hat is superb for its functionality but not style.
The hat is crushable. So, you can make it a part of your traveling bag easily.
Key Features
High ventilation
UPF 50+ blockage
Cotton & Polyester Canvas
Compact brims
Men's Boonie 360-Degree Bucket Hat as Best Golf hat for Hot weather
Dorfman Pacific Men's Boonie Mesh Sides Hat (Large, Khaki)
DPC BUCKET HATS FOR MEN – No safari is complete without the right accessories, and this boonie hat for adults is one such piece of apparel. Whether you like golf, fishing, kayak, other sports, the beach, or you're just looking for good sunhats, let your escape to the outdoors be complete.
SUPER SUPPLEX – This ultra-lightweight mesh sun cap is made with Supplex nylon, engineered to provide a soft supple touch of cotton with extra strength and durability. Shade in the summer never felt so super.
COOLMAX COVERAGE – Coolmax helps to optimize your performance and give you a dry fit whatever your sport may be. This Dorfman Pacific 3" wide brim men's outdoor hat uses a Coolmax sweatband because you deserve to keep cool during your outdoor activities.
UV PROTECTION – Block the sun with more than a brimmed build. This mens boonie is UPF 50+ tested and proven to protect against harmful UV rays, ensuring you get the UV protection you need.
FIND YOUR FIT – Get the boonie you want in the size you need. Know your head size and look out our size chart to make sure the perfect hat is a perfect fit. Walk tall with your Dorfman.
Last update on 2023-09-17 / Affiliate links / Images from Amazon Product Advertising API
Playing in hot weather, but want a hat with a cooling of natural material? Bonnie's Men hat is admirable for its breathable material and design.
The 360-degree mesh keeps your head cool under the angry sun. Likewise, the adjustable neck cord keeps the hat fit. Thus, you can enjoy undisturbed hits.
However, the size of the hat can be disturbing. So, we'll advise you to select the size carefully or a larger one. Besides this, the hat can lose its position in case of a windy day's play.
Key Features
Nylon material
360-degree nylon mesh
UPF 50+ protection
Firm brims
Conner's Aussie Mesh Stylish Golfing Hat for UV Sun/ Rain Protection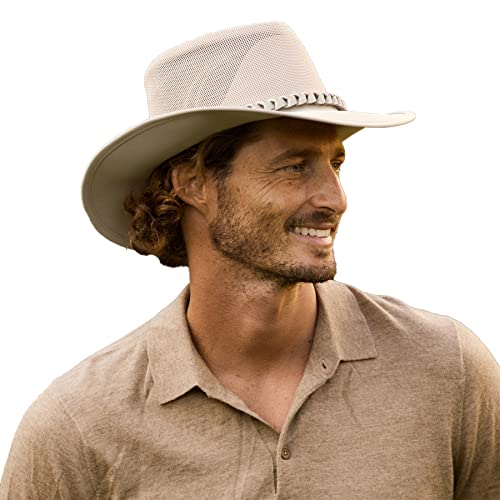 Conner Handmade Hats - Aussie Golf Soakable Mesh Hat, Crushable Safari Hat for Men, Foldable Sun Hat for Women Sand
COOLING EFFECT. These summer hats for men are designed to help you stay cool in the hot sun. Simply soak the hat in cool water, shake it then wear it. Works great as mens cooler soaker hat for playing golf, hiking, or fishing.
DURABLE, CRUSHABLE, SOAKABLE.Conner Hats Aussie Soaker, men's golf hat is great for hot weather. Handmade from mesh & faux suede, this high-quality hat keeps you extra cool on the hottest days. This packable sun hat for women and men is perfect for travel.
COMFORTABLE FIT with an inner size ADJUSTABLE band that can be tightened or loosened depending on the weather or your activity. This safari hat for men and women has a 3.25-inch brim and a crown height of 4.25 inches.
HAT SIZING CHART GUIDE is available so you can find the perfect fit, super lightweight golf bucket hat for men that you can wear all day; features a classic wide brim to help create shade, and makes it a great summer and safari hat for men and women.
RESPONSIBLY GROWN, BEAUTIFULLY MADE. Conner Hats is family owned and operated. For every sun hat for men and packable sun hat for women travel purchased, 1% will be donated for the people and planet. We're also a proud member of 1% for the Planet!
Last update on 2023-09-17 / Affiliate links / Images from Amazon Product Advertising API
Do you love to be a stylish golfer? Try Conner's Aussie Mesh hat.
The hat by Conner promises ideal ventilation for you. For this purpose, you need to get the hat wet and enjoy cool ventilation.
Yet, if you've got a higher standard of satisfaction, you can feel the hat compromising. The reason is, the hat might not suffice the hotter regions because of the evaporation rate.
The larger brim of the hat keeps the sun away. Besides this, it offers nice visibility for the golf players. If you want to buy the Aussie hat by Conner, following the manufacturer's size chart is highly advisable for you.
The hat is quite good for its effectiveness. Yet, the synthetic liner might annoy you. The reason is, it builds up a sweat to cause distress for you on the hot ground.
Key Features
Breathability through higher top and mesh
Stylish
No Mesh, Cooling Bucket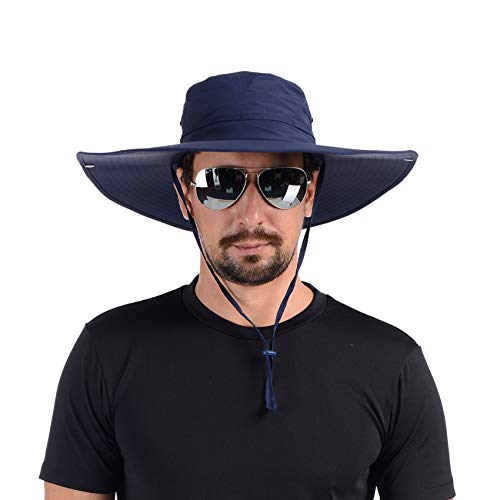 USHAKE Flat Super Wide Brim Fishing Hat Bucket Hat, Safari Hat UPF 50+ Sun Hat…
【 Product information 】Material: 100% Nylon fabric, Size: One Size Adjustable 22.0-22.8 inches (56-58cm),Super Wide Brim 4.72"/12cm, Net Weight: About 5.29 Ounces /150g( Very Light), Feel: Soft and Comfortable, Ultraviolet Protection Factor(UPF): >50,Other Features: Windproof, Water Showerproof, Quick Drying, Breathable. Easy to shape the brim to cowboy style or flat brim style.
【 UPF 50+ UV Protection 】High-tech fabrics were used, UPF 50+ sun protection to keep delicate skin on the neck ears and face safe from harmful rays, dual crown with net mesh inside and fabric cover outside, great air vent and breathable fabrics. It protects face, neck skins from the sunshine. Great value hat blocking out more than 98% of the sun harmful UV rays
【 Breathable, Quick Dry, Lightweight 】Our summer uv sun hat is only 150g, very light, this weight is very comfortable to wear on your head. The super wide brim design, together with the high quality breathable fabrics we use, makes this hat particularly breathable. Quick drying fabric 100% Nylon is great for all types of outdoor activities, Even if the hat is wet with sweat or light rain, it will dry quickly.
【 Windproof & Water Resistant 】The back of the hat is with durable adjusting buckle, Windproof design with adjustable chin strap ensures the hat stays put even in windy conditions. Water resistant material allows it to be used even in light rainy days.
Customer service: If there is any issues about USHAKE wide brim sun hat product , please inform us at any time for after sales service and we will follow up closely. Packing Reminding---The brim is FOLDED UP in the bag for logistics purpose, which won't affect your daily use and brim shape will come back after a while.
Last update on 2023-09-17 / Affiliate links / Images from Amazon Product Advertising API
Hotter noons can't stop me from playing!!! Do you think so?
Dump it, squeeze it, and place it over your head. A hat is a great option when your scalp never allows you sun exposure.
The cooling bucket by Mission can keep you heat-free and active during the day on the golf course. Hence, the hat is your perfect play partner because of its design and cooling system.
Despite being UPF 50, the hat is lightweight. Besides this, the larger brim of 3 inches also prevents 98% of sun rays from harming your skin.
The brims of the sun hat are a little floppy, which can be problematic if you're new to using a hat on the golf ground. However, the adaptability can allow the hat to be your partner.
The hat is lightweight. Yet, it has brought you excellent adjustment through the chin cord. Thus, the hat by Mission is ideal for your non-mesh cooling preferences.
Key Features
Cooling up to 30 degrees below the body temperature
UV protection of SPF 50+
One size: adjustment through inside elastic
100% polyester
Protection Coolibar UPF 50+ Opt Ventilation Hat for Men & Women Golfers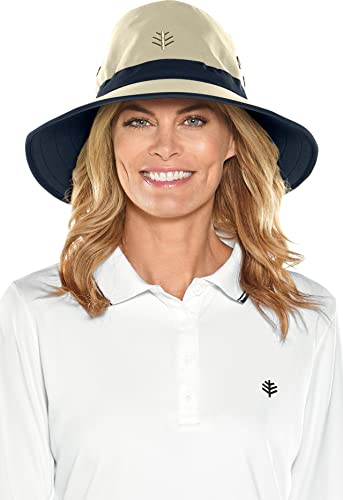 Coolibar UPF 50+ Men's Women's Matchplay Golf Hat - Sun Protective (Small/Medium- Stone/Navy)
UPF 50+ - blocks 98% of UVA/UVB rays
FABRIC: Lite fabric is ultra-soft with a cotton like feel, lightweight, breathable, quick dry performance
FEATURES: Approx. circumference: 22 1/2 inch (S/M); 23 1/2 inch (L/XL); 24 1/2 inch (XXL); Brim: 4 inch (front), 3 inch (sides); Elastic drawcord at back of crown for adjustable fit, internal sweatband, with lightweight foam brim; Hand wash, line dry; Imported
RECOMMENDED FOR: when you want to keep your cool and stay UPF 50+ sun protected while picking up the pace outdoors
NOT RECOMMENDED FOR: swimming, not chlorine and salt water resistant or water repellent
Last update on 2023-09-17 / Affiliate links / Images from Amazon Product Advertising API
The ventilation hat by Coolibar is for you when you don't like a chin cord. Thus, the hat can be your love if you are active to keep it staying on your head.
You can avoid the sun on your neck and shoulders with the help of larger brims of the hat. However, thinking it cool can be a bit boastful.
The no-mesh bucket is very deep. So, the cooling system of the hat doesn't match those of mesh hats. Therefore, the hat is fine when you don't have preferences for air conditioning.
Hence, it's a nice golf bucket with maximum shade but no airing.
Key Features
Cotton feel
UV protection of SPF 50+
Larger brim
The Weather Company Golf Hat
Last update on 2023-09-17 / Affiliate links / Images from Amazon Product Advertising API
A hat built for occasional use…
Are you passionate enough to have a game on a drizzly golf ground? Your best golf bucket hat must be only a waterproof hat. Therefore, we've got your weather's golf hat to tolerate mild breeze and rain.
As the hat aims at easing you on a moist day. Thus, it's OK to have no mesh for breathability.
Built for occasional use, the bucket will last for years. The larger brims of the hat not only keep the raindrops away but help a sufficient shade to fight the sun as well.
You might find folks complaining about the synthetic hot and waterproof material of the bucket. It has nothing to do with the hat because of its rain protection factor.
The absence of the chin cords make the hat anxious on your head. Hence, you might struggle to chase it in the wind. Still, the hat is a pleasant choice to support your game on wet days.
Key Features
Bucket style sun and rain protector
100% polyester
Inner elastic closer
Frogg Toggs Waterproof Hat
Sale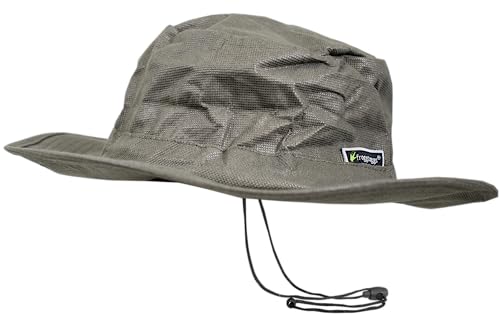 FROGG TOGGS Bucket Hat, Waterproof, Breathable, Sun Protection, Stone
WATERPROOF and BREAHTABLE – the frogg toggs Bucket is perfect for a day of fishing. Secure with the shock cord with tension adjustment for those windy days
CRUSHABLE – lightweight and exceptionally packable for easy travel. Be it vacation, expeditions or in the pack, it's ready to go when you are
PROTECTION – keep the sun out your eyes and off your face and neck as well as enjoy it's waterproof protection on a rainy day
5 inch internal band
SINCE 1996 - frogg toggs has endeavored to provide the world's best rainwear, waders, cooling products, footwear and accessories at the best possible prices
Last update on 2023-09-17 / Affiliate links / Images from Amazon Product Advertising API
Your search for a golf bucket for rain can continue when you look for cooling as well… we knew. Therefore, we've found you another waterproof bucket hat for your golf game.
The special polypropylene material of the hat helps it maintain cooling and water resistance. The very material of the hat also makes it extra light-weighted. However, the hat is durable.
The canvas of the hat let no rain or sun rays fall on your face or neck. The sun protection is also at its standard level with the hat.
The material isn't toxic plastic. So, you can wear the hat with no worries.
The adjustable features of the hat provide you with the best fitting. Hence, you can enjoy a golf game on a blowy day.
Key Feature
Synthetic: 90% polypropylene with 10% polyester
Elastic cord adjustability
Large canvas
FAQs
Which golf bucket hat is suitable for a sun-sensitive or bald head?
Your heat protecting needs depend on your individual preferences and time spent in the sun. Yet, a hat with maximum mesh can be less tolerable for you. Therefore, we'll advise you to get a hat with an average mesh and more cooling.
How should I measure my hat sizes perfectly?
To measure your head size, take two measurements of your head circumference:
½ inches above your ear
1 inch above your ear.
And now consider the larger number.
Make sure if you've thick hair, choosing the next size will be more fitting. Similarly, only go for the perfect measurement if you're a hairless person.
How can I prevent size issues with golf bucket hats when shopping online?
By taking the measurement of your hat properly and studying the product size carefully, you can get your hat in the perfect size. Besides this, reading the reviews about the size of the golf bucket hat can also help you a lot.
Best Golf Bucket Hat – Conclusion
To get the best golf bucket hat is possible — perfect is tricky…
To help you get your ideal hat, we've brought you a variety of hats matching cooling, airing, fitting, and shade needs. So, you can be confident to decide on your perfect hat.
Here, we advise you to again count on your needs, look at our findings, and buy what you need. It matters not whether you need the hat for sun or rain, you can get more than one. So, which one will you click first?