A rangefinder could be pretty helpful to improve your golf game. You can use it for measuring the yardage and even for checking the slopes and wind levels. This device can help a golfer a lot when he/she is in a long game. But, it could be tough for you to pick the best one if you are buying it for the first time. Also, these devices are a little bit expensive whether you buy them online or offline.
But, if the price is the thing that is keeping you behind from purchasing a good golf rangefinder, I am here with the solution for you. In this article, we are going to know about the most popular golf rangefinders. But, most importantly, we will uncover the products which are going to see huge price drops this Black Friday season.
In fact, I am going to provide you with a list of the best rangefinders, which will be available at lower prices as compared to their actual price tags. We will know about the most popular and highly-rated products below in this article. So, you can easily go for anyone by checking the prices of the products from these Golf Rangefinders Black Friday deals. Now, without any further discussions, let's get started.
Last update on 2023-11-21 / Affiliate links / Images from Amazon Product Advertising API
Top 3 Golf Rangefinders to buy this Black Friday 2020
Below is the list of best products you can buy on Amazon. All of them are fully tried and tested. These are also some of the highest-rated for each category, so they're well worth checking out.
Bushnell Pro XE
Sale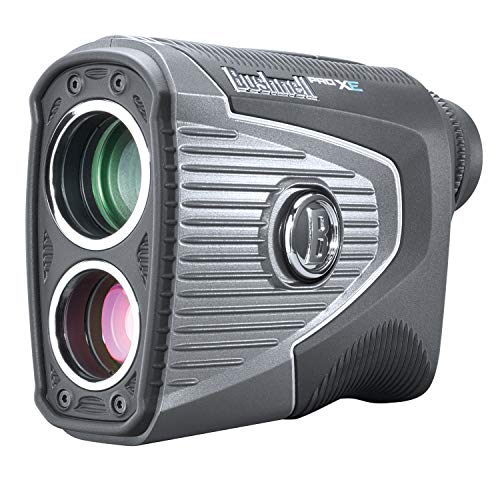 Last update on 2023-11-22 / Affiliate links / Images from Amazon Product Advertising API
It is a laser rangefinder that comes with Bushnell's patented slope technology. This helps you get precise distance information. The company has done a great job by adding a feature called slope with "Elements." This helps you to easily detect the slope levels whenever you want. Barometric pressure and temperature are also added to make things much more convenient for users. The all-new 'Visual Jolt' flashes the red ring instead of the vibrations. This gives a whole lot of confidence that you have locked perfectly onto the flag. The body is built using a fully waterproof metal housing. The quality is pretty durable to let you use it wherever you want.
It has a slop switch, which you can use to easily switch between its patented slope with elements feature. Also, with the help of the Bushnell Golf App, you are going to receive various other features. These features will include 3D Floyovers, Hole layouts, and access to more than 36,000 golf courses in 30 countries.
Callaway 300 Pro Golf Rangefinder
Sale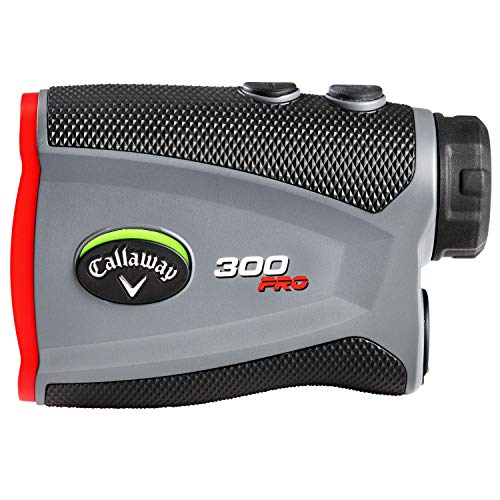 Callaway Golf 300 Pro Slope Laser Rangefinder
Precise Slope Measurement: Our highly accurate laser rangefinder accounts for elevation changes and measures the angle of incline/decline, then calculates the slope adjusted distance
Maximum Magnification: Equipped with 6x magnification, our rangefinders for golfing feature a range of 5-1000 yards with +/- 1 yard accuracy and even measure in both yards and meters
Pin-Locking Technology: Our precise laser measure with Pin Acquisition Technology (P.A.T.) allows you to lock onto a pin up to 300 yards away
Pulse Confirmation: Our range finder will emit a short vibrating "burst" when the laser locks onto the pin to confirm you have the correct distance
External Slope On/Off Switch: Legal for tournament play
Premium Molded Hard Carry Case with carabiner and elastic "quick-close" band
Last update on 2023-11-21 / Affiliate links / Images from Amazon Product Advertising API
This one is another great golf rangefinder at a very reasonable price. But, during this Black Friday season, it is going to be much more affordable for sure. This product comes with an excellent slope measurement function, which automatically calculates the slope-adjusted distance. It has a 6x magnification, which ranges between 5 to 1000 with a +/- 1-yard accuracy. It also has pin acquisition technology, which quickly locks onto the pin from 300 yards away. It has an exclusive BIRDIE feature to provide the users with a "Chirp" and confirm the distance to the flagstick.
You can even use it to check distances to multiple targets at the same time. All these features are backed by an easy to read LCD Display. Complete water and fog proof body make it suitable to be used in any environment.
TecTecTec VPRO500 Golf Rangefinder
Sale
TecTecTec VPRO500 Golf Rangefinder with High-Precision, Laser Range Finder Binoculars with Pinsensor and Battery, Golf Accessories for Golfing and Hunting - Black
𝐒𝐌𝐀𝐑𝐓 𝐀𝐍𝐃 𝐔𝐏𝐆𝐑𝐀𝐃𝐄𝐃 𝐋𝐀𝐒𝐄𝐑 𝐑𝐀𝐍𝐆𝐄𝐅𝐈𝐍𝐃𝐄𝐑: Our VPRO500 Laser Rangefinder is a premium product, measuring up to 540 yards with continuous scan mode, advanced Pinsensor technology, and a durable, water-resistant body. This high-precision laser range finder is sure to provide you with a seamless experience and reliable performance for golfing, hunting, and other professional application.
𝐄𝐍𝐇𝐀𝐍𝐂𝐄𝐃 𝐏𝐈𝐍𝐒𝐄𝐍𝐒𝐎𝐑 𝐓𝐄𝐂𝐇𝐍𝐎𝐋𝐎𝐆𝐘: Designed with precision to provide fast measurement with 1-yard high accuracy, integrated with enhanced Pinsensor technology to accurately measure overlapping subjects and continuous range readings, perfect for measuring golf flags, hazards, and wooded areas.
𝐋𝐈𝐆𝐇𝐓𝐖𝐄𝐈𝐆𝐇𝐓 𝐀𝐍𝐃 𝐏𝐎𝐑𝐓𝐀𝐁𝐋𝐄: Measures just 4.09 x 2.83 x 1.61in and weighing just 6.52 oz. Compact in design yet lightweight and portable. This handy laser range finder added extra convenience and confidence, perfect for carrying while golfing or hunting, or for measuring and surveying without extra weight or bulk.
𝐔𝐋𝐓𝐑𝐀-𝐂𝐋𝐄𝐀𝐑 𝐎𝐏𝐓𝐈𝐂𝐒: Advanced ultra-clear, multilayered optics with easy read, through the lens display ensuring best viewing experience with exceptional clarity and sharpness, and continuous measurement mode for fast, convenient measurements; what's more; it is an eye-safe rangefinder for visual comfort with class 1 laser and <0.5mW average power output.
𝐅𝐔𝐋𝐋 𝐏𝐀𝐂𝐊𝐀𝐆𝐄: Packed with everything you need, complete rangefinder package for quick setup, including premium carrying pouch, CR2 battery, wrist strap, microfiber cleaning cloth, quick start guide, TecTecTec 2 Years Happiness Guarantee (online registration required), and lifetime customer support to fulfill your core distance measurement needs to maximize your game.
Last update on 2023-11-21 / Affiliate links / Images from Amazon Product Advertising API
This is another highly impressive laser rangefinder that can also be used as a laser binocular pretty easily. So, if you are looking to buy this great product, this Black Friday season could be the best time for you. The product is going to become much more affordable for you this time. If we talk about the features, it comes with its advanced pin-seeker technology, which ensures fast measurement of any kind of area. This device works with the help of a battery. Also, it supports 6x magnification with support for 7 degrees field of view. You can also attach the eyepiece and make it much more convenient to use.
It also has a continuous scan mode by which you can use to have continuous readings of your preferred distances. Target lock and +/- 1-yard accuracy is very efficient to help you in any kind of environment.
Things to consider while purchasing a Golf Rangefinder
There could be numerous things you should look for whenever you purchase a rangefinder. But, some of the main things are given below and make sure to consider them anytime you go to any store or online marketplace for the same.
Accuracy and Range
It's obvious that you will never need a rangefinder without enough range and accuracy. And it all depends on your needs. So, as per your requirements, pick a device that can provide you with enough resources to do your job efficiently. The range is something you should not be very curious about. Only the expensive pieces will come in huge ranges. But, you should definitely try to find much accuracy as possible. Fortunately, most of the standard rangefinders will come along with an accuracy of 1 yard, and this value is enough for most of the golfers at any level.
Slope Recognition
Slope calculations are not allowed to use in tournaments and recreational golf. But, it is helpful when you are not inside any of these events. Also, most of the rangefinders come along with the tournament modes where you can only check for the distance, and it is legal. So, make sure to pick a device that comes along with this technology and an option to turn it on or off anytime you want. This will be helpful for you to play better in any type of environment.
Display and Optics
This is another key aspect you should consider whenever you are searching for a good golf rangefinder. The optics should be crystal clear. A scope with a blurred lens would make things worse for you. Along with that, consider finding a rangefinder with adequate levels of magnification. Minimum 5x zoom is required whatever game you are playing. The aim should be precise, and if it is clear enough, your device is good for you.
Pin Seeking
This is another major feature you should always find inside your golf rangefinder. The pin seeking technology provides you with an easy way to detect the location of your pin and then measure the distance. You will not have to guess your pins anymore with a device equipped with an effective pin seeking technology. Fortunately, this is one of the primary features you are going to get inside most of the modern and even standard golf rangefinders.
Water Proof and Durability
You might have to use your rangefinder in a rough environment. And, to tackle all those circumstances, you should try to find a device with good build quality. Also, having a water resistance body will help you to use your rangefinder even in the rain. So, while finding a good product, these are the other two main things to find.
Battery Life
Good battery life is crucial if you are really looking to use your device in regular matches. Most of the devices come along with months of battery backups. So, you do not have to worry about it much. Even after that, keep things in your considerations.
Best Golf Rangefinders Black Friday Deals 2020 – Final Verdict
We hope you will find the best Golf Rangefinder Black Friday Deals this year. We have tried to cover most of the popular devices with good reviews and ratings. There are some great savings to be made throughout black Friday, so it's the perfect time to pick up some cheap golf accessories