Having arthritis in your feet is very likely to turn a round of golf into an agonizing experience.
If you have foot pain, golfing can be a very unpleasant experience for you. It is impossible to complete 18 holes without spending a lot of time on your feet and making continuous swings.
Discomfort when you are just standing or walking around the course, is bad enough, but what makes it worse is that your foot pain can totally ruin your swing. Swinging can be a really difficult thing to do if you have feet that hurt, and it most probably will stop you from playing your best golf and from enjoying your game.
Some golf shoes available on the market are designed to have more forgiveness. Wearing a more forgiving and comfortable pair of golf shoes can lessen the pain in your feet while you are playing.
Fortunately, there are many golf shoes specially made to alleviate your foot pain. The right golf shoes will help you perform at your peak, so to help you find them more quickly and easily, we decided to give you a list of the best golf shoes for arthritic feet.
Adidas Men's 360 Traxion Golf Shoes
adidas Men's 360 Traxion
New competition last features a slightly rounded toe shape and wider forefoot for increased overall volume, improved comfort, and exceptional stability
Full-length bounce foam midsole provides exceptional cushioning, comfort, and energy return
Climastorm upper construction engineered with microfiber and textile for improved performance in lightweight comfort, superior breathability, and durability
Spikeless pure motion outsole with strategically placed adiwear traction provides great stability, versatile grip, and durability
Cloud foam eva sock liner provides enhanced support and cushioning
Last update on 2023-11-11 / Affiliate links / Images from Amazon Product Advertising API
If you are looking for the best golf shoes for arthritic feet, the Adidas Men's 360 Traxion might be the right one for you. The brand is known for using advanced technology and great design. Plus, the main purpose of their shoes is to provide comfort to the wearer.
For an improved overall performance, the shoe is made of microfiber material that is extremely comfortable, lightweight, and durable. The Climastorm protects the shoe against all types of weather elements, preventing it from getting damaged. With the waterproof protection, golfers can use it even on a rainy day.
The midsole features foam material that delivers more comfort, cushioning, and energy when playing golf. Offering stability, the midsole also helps protect your feet from hard and sharp objects that you may accidentally find on the course.
The spikeless sole ensures versatile grip and traction while you make swing shots, while the liner is constructed of cloud foam material, giving you outstanding support and cushioning. And finally, the Adidas Men's 360 Traxion features spikeless Puremotion outsole that makes sure the outsole improves balance, stability, and grip. The primary function of the Puremotion is to keep you perfectly grounded during the swing, which ensures stability.
Features:
Lightweight Microfiber Leather/Climastorm – boosts the performance of the shoe with a lightweight, durable, and comfortable microfiber material
Synthetic sole – spikeless sole that provides versatile grip and traction during the swing
Full-length bounce foam midsole – offers extra energy, cushioning, and comfort
Spikeless pure motion outsole – ensures excellent grip, balance, and stability
Cloud foam EVA sock liner – provides incredible cushioning and support
New Balance NBG1701 Spiked Golf Shoes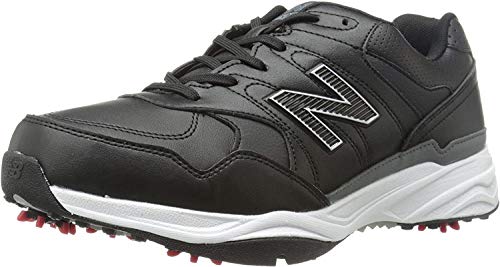 Last update on 2023-11-11 / Affiliate links / Images from Amazon Product Advertising API
The New Balance NBG1701 is another fantastic option for you when choosing the best golf shoes for arthritic feet. It is budget-friendly, feels feather-light, and has all the characteristics of a high-quality pair of golf shoes.
While the New Balance is well-known for manufacturing stylish and highly comfortable running shoes, the brand put their "athletic" experience into the golf shoes with astonishing results. The New Balance NBG1701 gives you the best of both worlds, as you can wear it on and off the course.
This shoe features a thin and light locking cleat system, and its upper is made of waterproof microfiber leather. With a cushioned midsole and an N-Durance rubber outsole, the shoe is designed for various styles of play and any course condition.
The New Balance Golf 1701 could be worth your consideration if you want the best golf shoes for arthritic feet that are affordable and built to last.
Features:
100% Microfiber Leather – ensures breathability and waterproof protection; feels like real leather and provides durability to the shoes; has high dimensional stability and is resistant to abrasion and corrosion
Rubber sole – gives excellent traction when worn in wet weather, keeping you from sliding and slipping
Eva midsole – a foam-like material that is lightweight, flexible, and cushions the foot with each step
Champ slim-lock removable cleats – offers solid grip and helps you balance yourself during rapid directional changes
Skechers GO GOLF Fairway Golf Shoe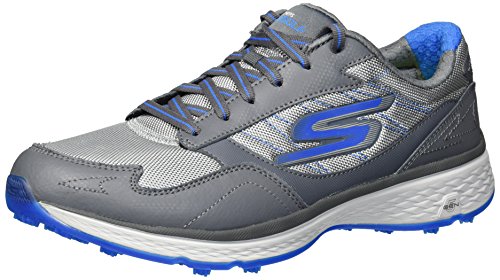 Last update on 2023-11-11 / Affiliate links / Images from Amazon Product Advertising API
If you still haven't decided on your next pair of golf shoes, have a look at the Skechers GO GOLF Fairway. First and foremost, it combines athletic, lightweight materials with innovative cushioning technology to provide you with long-lasting comfort. This shoe might also be perfect for you if you often play golf in hot weather.
The traction that this golf shoe provides may not be that much. Having said that, the GO GOLF Fairway is still one of the best golf shoes for arthritic feet due to its affordable price as well as a high level of comfort and breathability. Also, there is no need to sacrifice style over comfort because this Skechers shoe promises to provide you with both.
Features:
Textile upper layer – improves breathability; mesh layer that covers your foot and keeps it fresh throughout your game
GOGA Max insole – promotes breathable cushioning, great comfort, and durability
GOGA Matrix outsole – delivers maximum cushion and traction
5GEN midsole – lightweight foam that offers very responsive cushioning; increases the flexibility of the shoe and keeps you comfortable as you walk around the golf course
Soft fabric shoe lining
Callaway Men's Solana XT Golf Shoes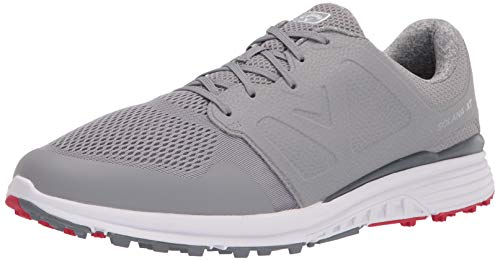 Callaway Men's Solana XT Golf Shoe, Grey, 7
Performance mesh upper with 3D stability cage for maximum support and breathability
Opti-soft EVA midsole for natural ground feel and comfort
Spikeless dura-rubber outsole with multi-directional traction lugs
5mm PLUSfoam insole for increased comfort
Last update on 2023-11-11 / Affiliate links / Images from Amazon Product Advertising API
The Callaway Men's Solana XT might be worth giving a try if you are looking to buy the best golf shoes for arthritic feet. It is suitable for those who frequently walk a mile in a pair of shoes, especially on the course.
With the perfect blend of comfort and cutting-edge technology, the brand has produced a very sleek, spikeless golf shoe. The Dura-Rubber outsole comes with multidirectional traction-control lugs that hold ground from every way to keep you from slipping, allowing you to dig in for your best swing.
The lightweight performance mesh uppers equipped with Opti-Vent mesh liners makes a great combination of breathability and connection. Opti-Soft EVA midsole is integrated with EVA insoles, resulting in a natural ground feel for a comfortable ride.
Features:
Performance mesh upper – features 3D stability cage to provide unparalleled support and breathability
Opti-soft EVA midsole – offers a natural ground feel for a very comfortable experience
Spikeless Dura-Rubber outsole with multidirectional traction lugs – anti-slip; promotes stability and control for even the toughest terrains
5mm PLUS Foam insole – ensures maximum underfoot comfort on every step
Opti-vent mesh liner – enhances ventilation and heat management
ECCO Men's Biom Hybrid 2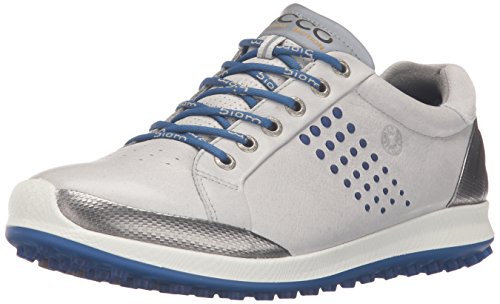 Last update on 2023-11-11 / Affiliate links / Images from Amazon Product Advertising API
For male golfers who are looking for the best golf shoes for arthritic feet, the ECCO Biom Hybrid 2 could be worth a try. Regardless of the type of golf swing you choose to use, this shoe is designed to keep you stable and support you all the way through your finish.
The ECCO Biom Hybrid 2 is a professional standard golf shoe that utilizes E-DTS Hybrid Technology in order to provide 800 traction points for excellent grip. This shoe is made with yak leather and Hydromax technology to keep you protected against weather elements.
The shoe is up to scratch in terms of comfort and performance. Its versatile spikeless outsole makes it appropriate for use off the course as well. The ECCO BIOM Hybrid 2 is not overly expensive for a higher-end shoe, and it is ideal for golfers of different skill levels.
Features:
Yak leather upper – treated with Hydromax; strong, soft, and breathable; the Hydromax and anti-stain formula ensure you stay protected against the elements
TPU outsole with E-DTS Hybrid traction – very durable and weather-resistant; traction bars give 800 traction points/angles
Technical insole system – premium insole with silicon printing that keeps you from making unwanted foot movement during your swing
The shoe is closer to the ground for added stability
Under Armour Performance SL Sunbrella
Under Armour Men's Performance SL SNBRLA 2E Golf Shoe
2E Sizing built to better fit athletes with wide feet
Durable Sunbrella upper is weather-resistant & fade-resistant
100% waterproof UA Storm technology repels water without sacrificing breathability
2 Year Limited Waterproof Warranty
Cork covered molded EVA footbed delivers premium underfoot comfort
Last update on 2023-11-11 / Affiliate links / Images from Amazon Product Advertising API
The Under Armour Performance SL Sunbrella golf shoe is very similar to the Performance SL Leather, except for the material that the upper is made of, which is canvas/fabric instead of leather. While this makes the shoeless stylish and more difficult to clean, it is a matter of personal preference; plus, the technology of the shoe is pretty good.
The Performance SL Sunbrella golf shoe features exceptional spikeless traction and is also very comfortable. It is versatile and looks cool both on and off the course. The only thing that this shoe is slightly lacking is support, but it is still highly rated and considered to be one of the best golf shoes for arthritic feet and wet conditions.
The Under Armour Performance SL Sunbrella can be worn all-year-round, and it is highly recommended mostly for mid-level golfers who need an exceptional grip, comfort, and versatility. It is a little identical to its predecessor, the Performance Spikeless, but has improved greatly.
Features:
Durable Sunbrella upper – a textile/fabric material that is weather-resistant and does not fade quickly
EVA midsole – lightweight and responsive
Cork covered EVA footbed – delivers extra cushioning and comfort
UA Rotational Resistance outsole – different sized and shaped traction nubs for flexibility and lightweight lockdown traction
Tips For Buying the Best Golf Shoes For Arthritic Feet
If you have arthritis in your feet and are currently looking for the right pair of golf shoes for you, here are some things to keep in mind.
Make sure the shape of the shoe matches the shape of your feet
Regardless of what type of arthritis you have in your feet, you would require a golf shoe that has a roomy toe box to accommodate your bunions, hammertoes, and deformed joints that usually accompany your disease.
To prevent making the problem worse, it is necessary to pay close attention to the fit of the shoe's width. Buying a wide or extra-wide shoe would be a good idea. Do not make the mistake of just getting a longer shoe for extra space, as this will alter your flex point, a predetermined spot in the shoe's sole that should bend where your toe joints bend.
A classic and easy way to find out if a shoe might be a good fit for you is to trace your foot on paper. Bring the tracing with you when shopping and put the shoe you are considering buying on top of the paper. If the shoe is shorter or narrower than the tracing, then it is surely not a good fit for you.
Choose the right type of material
Pick a golf shoe that is made of soft and accommodating materials, especially if you have foot problems like bunions or hammertoes. Leather and mesh are some great options, but also look for shoes made with synthetic stretchy fabric.
Look for golf shoes with removable insoles
Orthotics are one of the main treatments for those who have arthritis. "They help to more evenly distribute weight throughout the foot, taking pressure off of painful spots like the big toe joint or the midfoot," says Dr. Hurless.
Shoes that have removable insoles enable you to put in your own customized or over-the-counter orthotics without causing the shoe to become too tight.
Final Thoughts
It can be a torturous experience to play golf while you have arthritis in your feet. Fortunately, you can alleviate the pain and make better swings by wearing the right pair of shoes that are designed for such a purpose.
In this day and age, most golf shoes that you can find in the market are very responsive and flexible. As mentioned above, each shoe has been infused with advanced technology, which not only provides you with the freedom to walk but also helps you play your best golf.
When you are on the golf course, you will come across long fairways, sandy bunkers, flat greens, and rough grass. And since the standard shoes won't be enough, you will need to make sure of your style, foot condition, and your budget in order to arrive at the best option. We trust that this article would help you decide more easily when selecting the best golf shoes for arthritic feet.
Best Golf Shoes For Arthritic Feet | Our Top 5 Picks
Don't play a round of golf with painful feet. This guide will help you find the best golf shoes for arthritic feet and lower your risk of injury.
Product In-Stock: InStock