Golfing requires standing in the hot sun for hours at a time. It's quite normal for golfers to pack a few cold beers or other beverages to drink while it's another golfer's turn. Unfortunately, it's way too inconvenient to carry an actual cooler around an entire 18-hole golf course. Luckily, with the invention of modern technology, golf bag manufacturers have designed their bags to include built-in coolers. In this article, we'll list the best golf bags with a built-in cooler.
In a hurry? These are our top picks.
Top 7 Golf Bags With Built-In Coolers
---
Bag Boy Chiller Cart Golf Bag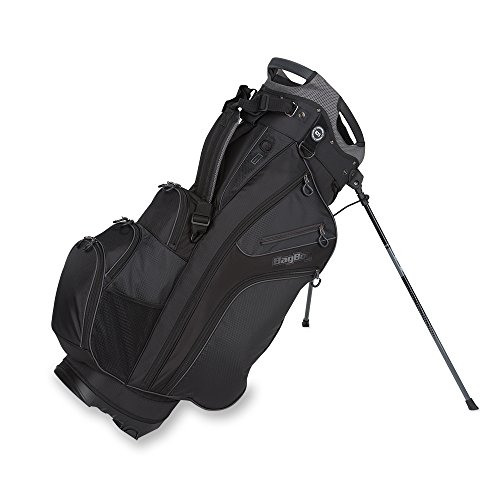 Bag Boy Golf Chiller Hybrid Stand Bag
14-Way top with full-length individual dividers
8 total pockets
Removable insulated cooler bag holds four 12-ounce cans
Soft-grip oversized putter well for oversized grip
Ergonomic single shoulder strap with strap holder
Last update on 2023-03-22 / Affiliate links / Images from Amazon Product Advertising API
We like the Bag Boy Chiller Cart Golf Bag because they have a removable insulated cooler bag included. Most golf bags only have a pouch dedicated for insulation. The bag is removable and holds up to six 12-ounce cans.
The bag also checks off other important criteria like durability, storage space, and lightweight construction. It comes with a 15-way top divider and a rubberized putter well to secure your golf bags and protect them from damage.
This cart bag comes with nine zippered pockets, an oversized ball pocket, a fleece-lined valuables pocket, and two large apparel pockets. We also like the extra features such as their pen and divot tool holder along with soft grip lift-assist handles. This bag comes with all of the space and protection you need to ensure you can bring every essential golf-related gear onto the course.
Ping Pioneer Golf Bag
Last update on 2023-03-22 / Affiliate links / Images from Amazon Product Advertising API
If you're tired of your golf bags falling apart from holding too much stuff, you should check out the Ping Pioneer golf bag. The dividers have anti-flex walls, and the bag is constructed with high-impact propylene material for maximum protection, preventing your golf clubs from getting damaged. It has rubberized bottom fits, so you can easily secure them on any pushcarts of motorized carts. If you decide to carry them around, there are also molded lift handles or shoulder straps for easy transport.
There is also a large cooler pocket to store your drinks refreshed. It's great for golfers who need a snack after a long 18-course game. The bag offers eight zippered pockets and two spacious apparel pockets. For items that should be protected against water, there's a velour-lined water-resistant pocket to hold your phone and wallet. It also has other small pockets like an umbrella pouch, magnetic pocket, zip-off ball pocket, and accessory pouches.
TaylorMade Supreme Golf Bag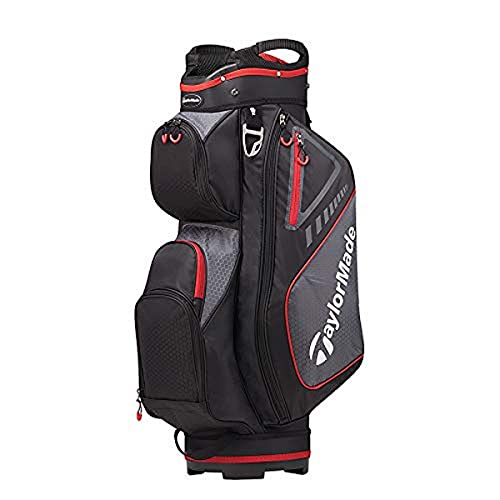 Last update on 2023-03-22 / Affiliate links / Images from Amazon Product Advertising API
For those who typically use pushcarts, the TaylorMade Supreme Golf Bag is worth considering. If you're looking for a bag to carry around on your shoulder, then this one isn't for you. Compared to other cart bags with built-in coolers, it's relatively affordable and functional. The bag has five different color schemes to choose from, so you can find the one that best suits your taste.
The bag includes a 15-way divider to hold your clubs and ten compartments to hold your other golf-related gear. Since these dividers are full length, the clubs won't get stuck among each other. Their pockets are insulated with drain ports so you can snag a few beverages in your bag and keep it cool.
We found the bag to be incredibly high quality and well made. It is made from a 600D polyester material that is fade-resistant and water-resistant. This ensures your bag can withstand wear and tear along with weather conditions. On top of that, there's a one year warranty included.
Callaway Golf Org14 Golf Bag
Last update on 2023-03-22 / Affiliate links / Images from Amazon Product Advertising API
The Callaway Golf Org14 Golf Bag is one of the most durable and high-quality bags on the market. Personally, we like the sleek design of the bag. It comes with a combination of either black, titanium, and white or navy, white and red. Both are extremely stylish, and there is a Callaway logo printed on the front of the bag.
This bag ensures that all of your golf gear stays safe and protected. It has more storage space than any other bag we've seen. Callaway Org14 comes with a 14-way divider system and 19 different pockets! It includes two insulated cooler pockets, so you'll be able to store even more drinks.
We also like how the bag includes two molded grab handles for you to easily transport the bag. If you use pushcarts, the bag has an E-trolley lip and base to secure it on any cart.
The Bucket II Collegiate Cooler Cart Bag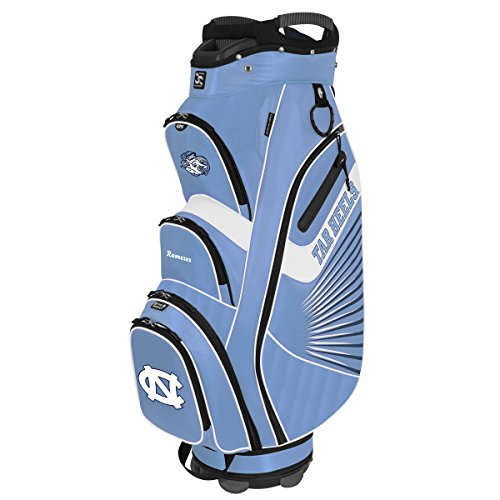 The Bucket II Collegiate Cooler Cart Bag, North Carolina Tar Heels
Insulated thermal-lined Beverage pocket with integrated drainage port. Velour lined valuables pockets feature waterproof bonded zippers. A range finder pocket, dual Apparel pockets, accessory pocket and ball pocket
Cart strap pass thru is purposefully engineered to attach securely to your cart without hindering pocket access.
14-Way organizer top, with front putter well, provides superior club management. Molded rubber handles provide easy loading and Transport
Rounded pocket openings, oversized towel ring, glove patch, three-point umbrella Holding System, removable rain hood, and integrated pen sleeve
Constructed of ultra-lightweight 210D Nylon in vibrant team colors and is embellished with six Collegiate trademarks and coordinating print in team colors
Last update on 2023-03-22 / Affiliate links / Images from Amazon Product Advertising API
Want to rock your favorite college team? The Bucket II Collegiate Cooler Cart Bag offers a variety of college school designs. Choose from popular collegiate schools such as North Carolina Tar Heels, Ohio State Buckeyes, Oklahoma Sooners, and much more. The bag is designed with the school's vibrant colors including team print and logo on the bag.
Besides the aesthetic appeal of the bag, it's very functional as well. This bag comes with a useful insulated thermal-lined pocket to hold six 12-cans. It also has room to hold ice, so you can keep all of your beverages nice and cold for a long time. The pocket also includes an integrated drainage hole so you can get rid of any melted ice.
As far as storage, the bag includes a 14-way top divider along with a front putter well so you can hold all of your irons in one place. There are all sorts of other pockets as well. This includes an oversized towel ring, pen sleeve, rangefinder pocket, apparel pockets, accessory pocket, ball pocket, and velour-lined valuable pockets.
Founders Club Premium Cart Bag
Founders Club Premium Cart Bag with 14 Way Organizer Divider Top (G3 Black)
Club Management Design Top- Molded 14 Way Top Organizer protects irons from damage as well as keeping clubs from rattling/clanging and making noise. Each iron, wood, and putter has it's own dedicated spot so you will always find the club you need quickly and notice when a club is missing. The putter spot accepts larger grips up to 1 ¾" in diameter
High Quality lightweight construction – This cart bag comes with a large, reinforced and sturdy base and several handles to make lifting your clubs out of the trunk and onto your cart a breeze. The bag comes with 2 integrated side grab handles and a bottom handle built into the cooler pocket. It also has a rear grab handle and a tuck away padded carry strap. The Cart Bag also includes a strap channel to secure your bag and clubs to your cart.
Equipped with 9 zippered pockets and 2 mesh pockets for ample storage for all your gear and accessories- Includes an insulated cooler pocket with drains to keep your favorite on course beverage cool, 2 additional front/ball pockets, 2 front side mesh pockets, 2 long side expandable pockets for bulky rain gear and shoes, 2 side velour lined pockets for valuables, and 2 additional side pockets.
Plenty of add on features to make your time on the course more enjoyable and easy to manage- The bag includes an external tee holder, an umbrella holder, a D clip to clip on golf towels and range finders, a glove holder, and snap on rain hood.
This bag comes with a full 12 month warranty from Founders Club and the assurance of dealing with a US based golf company that has been around since 1990.
Last update on 2023-03-22 / Affiliate links / Images from Amazon Product Advertising API
Whether you usually drive a cart or walk around with your irons, the Founders Club premium cart bag is extremely versatile. It includes all of the features you'd want from a high-quality golf bag. It includes a 14-way top divider with anti-rattle technology, two side handles, a lined valuables pocket, and an insulated cooler pocket.
The anti-rattle technology divides and locks your clubs in place to prevent them from rattling while you're moving and crashing against each other. With other bags, your irons may get dinged up just from travel. The slots have a protective rubberized slot material to provide a soft cushion for each club. You'll have peace of mind knowing your golf clubs aren't damaged, especially when riding on any type of bumpy terrain. The slots fit up to 0.5″ graphite shafts and 1.5″ steel shafts.
We also like how the insulated pocket has a lining that drains liquid such as condensation and melted ice to keep your beverages cold. The bag comes with a total of 11 pockets, including nine zippered and two mesh. There are two big pockets designed for holding rangefinders and apparel. In addition, you'll find tons of small front pockets to store small items such as golf balls, tees, scorecards, keys, wallets, and anything else you might want to bring on the course.
Bag Boy Golf Chiller Hybrid Stand Bag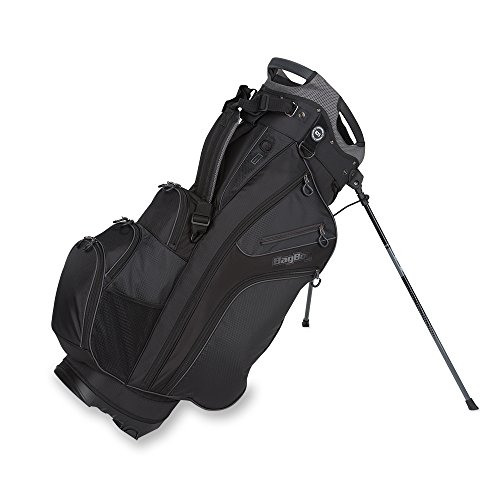 Bag Boy Chiller Hybrid Stand Bag Black/Charcoal Chiller Hybrid Stand Bag
Removable, insulated cooler bag holds six 12-ounce cans
14-way organizer top with full-length individual dividers
Oversized putter well fits larger grips
TOP-LOK Technology, a patented bag-to-cart attachment system
Ergonomic single shoulder strap with hidden cart strap sleeve
Sport type: Golf
Last update on 2023-03-22 / Affiliate links / Images from Amazon Product Advertising API
The bag boy golf chiller is a hybrid between a cart bag and a stand bag. This is ideal for golfers who typically enjoy using a pushcart but may need to walk around with their clubs, such as a driving range. The base and legs are sturdy, so you can set them down without falling.
We love the storage space that the bag comes with. It has a 14-way top anti-rattle design to prevent your golf clubs from rattling inside and ensure that you won't damage any of your clubs over time. For individuals who carry putters with larger grips, they have a specific oversized putter well to carry them. It also comes with eight zippered pockets, including two oversized garment pouches to hold apparel.
The Bag Boy Chiller Hybrid Stand bag comes with a handy insulated cooler bag with four 12-ounce cans. It's removable, so you can carry it separately as well. For carrying, it comes with an ergonomically designed single shoulder strap.
What to Look For In a Golf Bag
There are so many golf bags with built-in coolers that finding the one that suits your needs can be difficult. It's best to know what features you're looking for in advance so that you can easily filter out the bags that aren't a good fit. Golf bags with built-in coolers are great because they don't require carrying an extra cooler, bulky to transport. The insulation pockets also ensure that you have easy access to your food and drinks. However, they also conceal your drinks, so it's not obvious that you're carrying around drinks if alcoholic beverages aren't allowed on the course.
Storage
The weather conditions are unpredictable, and the golf course may be different than what you had expected. A golf bag should have plenty of storage to hold your clubs, golf balls, tees, water bottles, umbrellas, rain gear, apparel, range finder, and other golf gear you might need. A full-fledged golf bag should have a 14-way top organizer to hold a set of golf clubs and nine pockets to hold accessories. There should be different types of pockets, such as various sizes of apparel pockets, meshed pockets, and velour-lined pockets.
Easy to Transport
You may not have access to a golf cart all the time; therefore, your golf bag should be lightweight. Ideally, look for bags under 8 pounds since you have to factor in the weight of golf clubs and accessories. Not to mention carrying the beverages you'll be adding on. Tiring yourself out from carrying golf bags can affect your golf performance too. Even if it's lightweight, it can still be cumbersome to carry around. You want to find golf bags with a shoulder strap and a cart pass-thru strap to help you transport the bag easier.
Water Resistant or Rain Protection
A waterproof bag or one that offers a rain protection cover helps to ensure that your items won't be soaked if it pours in the middle of a game. You may have electronics such as your phone or a rangefinder that aren't waterproof. Some bags will come with a rain cover to place over the bag to ensure it doesn't get wet.
Built-in Cooler 
Built-in coolers are much more convenient than golf bags than come with a separate cooler bag. This saves you from purchasing an extra cooler bag on the side. These built-in coolers should be able to fit a pack of six 12-ounce cans or a handful of water bottles to keep your drinks cold, especially during blazing-hot summer days.
Ideally, you want to find a cooler that has a drain hole so that the water from melted ice or the condensation can leave the bag without soaking anything else. However, at the bare minimum, you should have a removable bag so that you may discharge any excess liquid. Built-in coolers are great because some golf courses have rules against bringing in food or drinks because they want to entice golfers to use their amenities instead. This means they might not allow you to bring separate cooler bags. But, built-in cooler bags often hide your drinks away from others to see.
Pricing
Golf bags with standard features typically range between $50 to $150, which is relatively inexpensive. However, full-fledged golf bags with a 14-way divider top, lightweight construction, and a built-in cooler will cost about $150 to $300. Finding high-quality golf bags is worth the investment. Lower quality bags won't last you for very long and won't store all of the items you need.
Best Golf Bag With Cooler – Final Thoughts
We believe that Callaway Org14 is the best golf bag with cooler. It includes two spacious cooler pockets to hold your drinks. It also comes with 19 pockets and a 14-way divider system, so you can fit all of the iron and golf gear you need on the course. Not to mention, the bag is quite stylish and looks very high-end compared to a standard golf bag.
We hoped our golf bag review has helped you find one that fits your needs. A built-in cooler can be a lifesaver, especially on hot days. Investing in a high-quality golf bag is essential to protecting your clubs and will ensure it lasts a long time.
Sale
Bestseller No. 1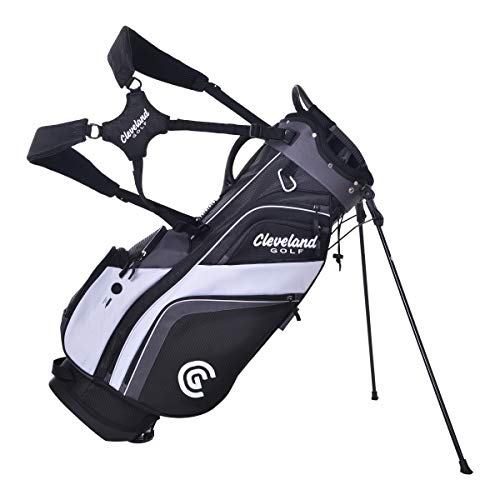 Bestseller No. 2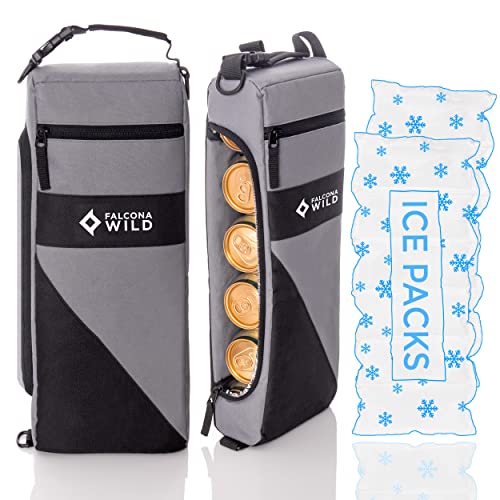 Falcona Wild Golf Cooler Bag Plus 2 Ice Packs - Keeps Drinks Cold for Hours - Holds 6 Beer Cans or 2 Wine Bottles - Fits Discreetly in Golf Bags - Insulated Beer Sleeve and Cooler
Keeps Drinks Fridge Cold – The high quality insulation and 2 ice packs keep drinks refreshingly cool for 6-8 hours. Perfect on a hot day.
Quench Your Thirst Throughout the Round – This soft cooler bag holds 6 x 12oz or 4 x 16 oz cans so you won't go thirsty during a game. It can also hold 2 wine bottles.
Save Money - Take your own beer and avoid paying high club prices.
Two Ice Packs Included - No ice is required as the free ice packs are highly effective at keeping drinks cold and avoiding messy leaks.
Easy and Discreet to Stow – Light and compact, this small cooler bag can be hidden in the side pocket of most golf bags
Use Round after Round – The high quality fabric and strong zippers mean that the cooler bag is long lasting and durable
Comfortable to Carry – The padded carry straps and handle allow the bag to be easily carried by hand or over the shoulder
Quick to Secure - The carry handle can easily be unclipped and hooked on your golf cart to safely secure the bag
Bestseller No. 3
Golf Cooler Bag, Capacity for 7 Cans, Discrete, Water Resistant Zippers, Sleeves for Ice Packs, with 3 Grab Handles by Sunday Golf (Black)
KEEP YOUR CANS COLD: The Big Frosty is the perfect sized golf bag cooler that discreetly and easily fits in a standard sized golf bag. Enjoy your favorite drink after you birdie (or bogey) your first hole and throughout the rest of your day out on the course
FITS UP TO 7 CANS: Cart girls hate this bag! Our Big Frosty golf bag cooler can store up to seven of your favorite drinks while you play a round of golf. Our cooler bags can be used on and off the course
DURABLE QUALITY AND WATER RESISTANT: Our golf bag cooler is made of durable coated polyester and water resistant zippers so water will not leak. It also features 3 grab handles for convenience and easy access. The bag measures 17" x 7"
ICE PACK SLEEVES: The Big Frosty golf bag cooler also features a separate sleeve for an ice pack. The separate sleeves help keep the bag organized so you can easily access your drinks. Ice pack not included
SUNDAY GOLF GUARANTEE. We're confident that you'll love your Big Frosty as much as we do. Used and loved by golfers nationwide, we're confident you won't use another golf bag cooler. Aren't Satisfied? Let us know and we'll get you taken care of no questions asked
Last update on 2023-03-22 / Affiliate links / Images from Amazon Product Advertising API
Best Golf Bag With Cooler | Our Top 5 Picks
Are you looking for the best golf bag with cooler? We've created a full buyers guide of the best-rated golf bags on the market.
Product Currency: USD
Product In-Stock: InStock