Slices are a common problem among beginners and high-handicap golfers. However, with the right equipment and an adjustment to your mechanics, you can easily correct slicing. The reason it can reduce slicing is that the type of golf ball can dramatically affect the spin, trajectory, and ball flight. Golf balls that are prone to straighten paths and reduction in drag can limit the slice in your golf shots. In this article, we'll share the best golf balls to reduce the slice and give you our buyer's guide for choosing the best one.
In a hurry? These are our top picks.
Best Golf Balls to Reduce Slice
---
Sale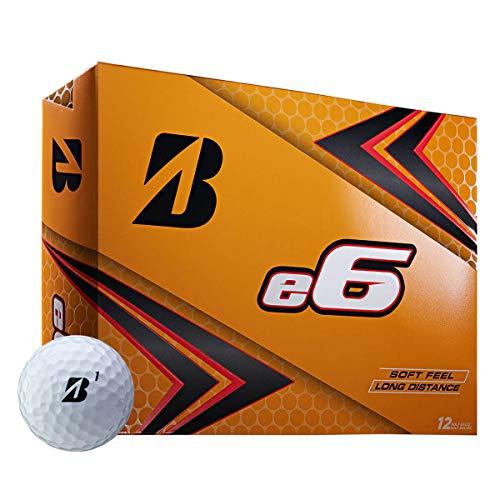 Last update on 2023-09-11 / Affiliate links / Images from Amazon Product Advertising API
The Bridgestone Golf e6 soft is the ideal golf ball for improving a person's game. It's also great for mid to high handicap golfers. This type of ball reduces the side spin and ensures the ball maintains in the fairway.
These golf balls feature a Tri-ionomer cover ensuring long-lasting durability. With its unique Delta dimple design and engaged core, it has a lower iron spin helping you hit it off the tee so that it stays on the fairway. These balls also have an incredibly soft compression to minimize the spin rate on any off-center hits. In addition, they are meant to cover distances and produce straighter shots.
Titleist Pro V1
Sale
Last update on 2023-09-11 / Affiliate links / Images from Amazon Product Advertising API
If you're someone who prefers speed, the Titleist Pro V1 is an excellent option. The Prov V1 golf ball is unique from other low comprehension balls because it has a three-layer construction. It still has the ease of play of a two-layer ball with its forgiveness but has a precision for intermediate to advanced players. The Titleist Pro V1 is specifically designed to improve a golfer's game with longer distance, great scoring performance, softer feel, consistent ball flight, and drop-and-stop control.
The cover is 17% thinner than normal golf covers, which helps to increase the speed of a golf ball. Due to its fast core, the Titleist golf ball has an extremely low long game spin with a penetrating trajectory. This reduction in spin and increase in speed reduces the chance of unwanted swings that occur with slices.
Srixon Soft Golf Balls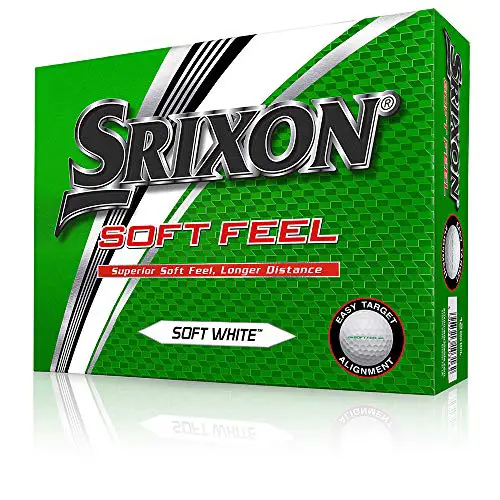 Srixon Soft Feel Golf Balls, White (One Dozen)
Must buy 2 or 4 dozen for special Father's Day promotion
Soft, thin cover - provides more greenside spin and softer feel on all pitches, chips and putts
338 speed dimple pattern - the lower drag coefficient dimple pattern cuts through the wind for more accuracy and consistency on every shot
Last update on 2023-09-11 / Affiliate links / Images from Amazon Product Advertising API
The Srixon Soft Golf Balls are touted as one of the most affordable balls that are softer, straighter, and longer than others in the market, such as Callaway and Titleist balls. One of the biggest problems with slicing how the ball curves unexpectedly. However, this ball features a 338-speed dimple pattern designed for supreme aerodynamics. This dimple design helps generate straighter ball flight, which helps self-correct slices and counteract unfriendly weather conditions such as wind and rain.
It uses a two-piece construction to increase the tee's distance while offering more bite on pitches and chips. In addition, the Srixon ball features a "hit straight" alignment arrow to ensure square setup, promotes target focus, and better accuracy on the green
Polara XDS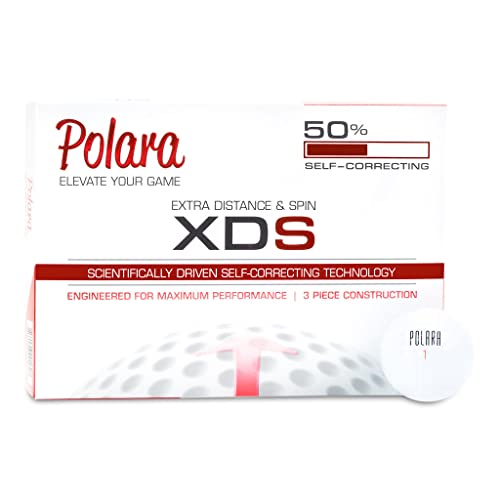 Polara Ultimate Straight Premium Golf Balls | Hook and Slice Correction | Handicap Range 12+ | Perfect for Recreational Golfers | 1 Dozen (12-Balls) | 2pc Construction of Central Core and Outer Cover
PATENTED TECHNOLOGY: Polara Extra Distance and Spin Self Correcting Golf Balls are for the golfer who wants to consistently play from the fairway instead of hooking or slicing off the tee. The unique 3-piece construction consists of a central core and an outer cover.
HOW IT WORKS: From the tee, point the arrow on the ball directly at your target, or line it up with the center of the fairway. From the fairway, play the ball "as it lies" or point the arrow at your target for maximum correction.
OPTIMIZED LIFT: Our Extra Distance and Spin Self Correcting Golf Balls fly so straight because they exhibit optimum aerodynamic lift that maximizes distance and minimizes the effects of sidespin.
ENJOY YOUR GAME: Our golf balls are designed to correct hooks and slices which means, if you slice a golf ball 100 feet, the exact same swing with our anti-slice golf ball would slice about 25 ft. or less, keeping in the fairway instead of the rough.
BEST BALL HERO: Playing in a scramble? Long straight drives will have your foursome praising your new game. Flies straight, guaranteed!
Last update on 2023-09-11 / Affiliate links / Images from Amazon Product Advertising API

The Polara XDS is specifically designed to prevent and reduce slicing. However, these balls are banned from most professional tournament events. Luckily, most beginners who struggle with slicing play recreationally. This ball is designed to increase each shot's distance while also giving you a better upward trajectory.
In addition, the Polara XDS is designed to reduce the effects of slice and hooks by about 50%. It also has excellent spin control all around the greens. We like how there is a green arrow pattern on the equator of the ball. The dimples on the Polara XDS along the axis are shallow. However, the further that you go away from the line, the dimples become deeper. This alters the ball's weight, and thus the trajectory and spin changes. Using the Polara XDS is a sure-fire way to straighten your shots and increase your range.
Wilson Smart-Core Straight Distance
Sale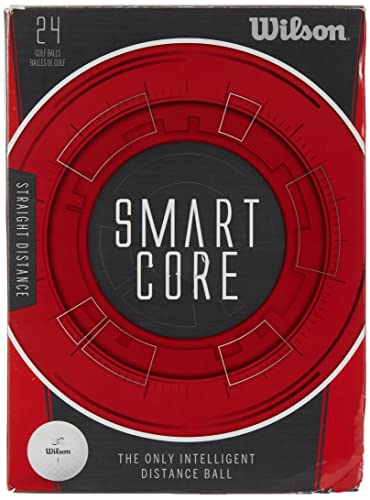 Wilson Smart Core Golf Ball - Pack of 24 (White)
Smart Core technology that reacts to a player's swing speed
Yields spin and control on short shots
Minimizes spin for distance and accuracy on long shots
Durable lonomer cover provides long lasting playability through a range of condition
Firm response off the tee for maximum distance and a soft response around the green for exceptional feel
Last update on 2023-09-11 / Affiliate links / Images from Amazon Product Advertising API
The Wilson Smart-Core has developed intelligent technology to react to a person's chosen swing speed. For long shots, the spin is reduced for better accuracy and greater distance. However, for shorter shots, spins are improved for better control allowing you to ace your putts. This gives you the best of both worlds.
Furthermore, the Wilson Smart-Core balls are manufactured to last you a long time. It is constructed with an ionomer cover allowing performance for all sorts of weather conditions. Whether you're playing in the rain-swept fairways or sun-drenched greens, the golf will retain its sleek ability. For these balls' price, it's quite advanced in technology and is constructed with high-quality materials
Callaway Golf Supersoft
Sale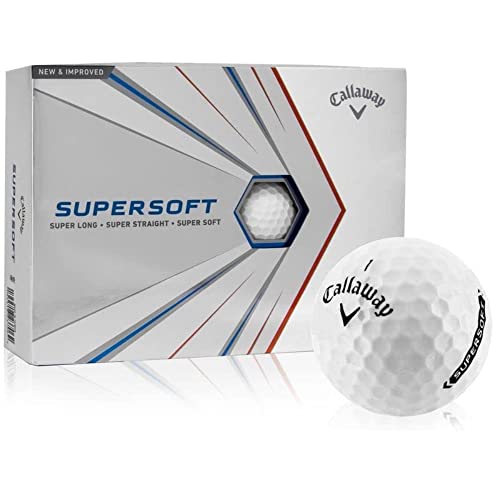 Callaway Golf Supersoft Golf Balls (White ),12 pack, Prior Generation
The Callaway super soft is a long, straight distance ball that's incredibly soft
An ultra low compression core promotes fast ball speed and increased accuracy
New Low Drag HEX Aerodynamics are optimized to reduce drag and enhance lift for longer carry and longer distance
A new softer Trigonometry cover formulation has a low compression for enhanced feel and increased greenside control
Last update on 2023-09-11 / Affiliate links / Images from Amazon Product Advertising API
The premise of the Callaway Golf Supersoft is that they offer straighter shots and longer distances while still maintaining a very soft feel to it. It has an extremely low compression core, which increases the ball speed and decreases the spin on ball slights to add more consistency. The golf ball also improves the lift of your ball. Overall, the Callaway SuperSoft is aimed at both average and beginner golfers.
We like their new HEX aerodynamics feature, designed to reduce drag after impact and during ball flight. The reduction in drag creates better ball flight stability, improves your distance and carry. Most players prefer better greenside control. This ball has a very soft cover to control the short game's accuracy and has an appealing sound to it when it hits off of the clubface. These balls come in various colors, such as matte yellow, red, orange, pink, and green.
Callaway Warbird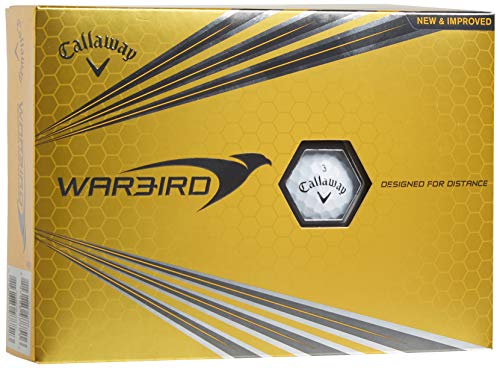 Callaway Warbird Golf Ball, Prior Generation, (One Dozen), White, Prior Generation
Callaway's renowned HEX Aerodynamics reduce drag and promote high launch for increased speed, hang-time and distance
The extra-large high-energy core is highly compressible to unlock more potential distance at any swing speed
Thin, high-sensory ionomer cover works with the core to promote super-satisfying feel off every club
The package weight of the product is 9.1 pounds
Last update on 2023-09-11 / Affiliate links / Images from Amazon Product Advertising API
The Callaway Warbird is one of the best value balls in the market that include high-tech features and built with high-quality construction. One of its unique features is its extra-large and high energy core designed to unlock greater distance for any player's swing speed. Their core is larger and softer than usual to maximize distance and provide incredible ball speeds. The core also has a thinner cover and coating, which improves the feel.
Furthermore, like the Callaway Supersoft, it has the HEX Aerodynamics to improve the ball flight with a stable ball trajectory, reduce drag, especially in windy conditions and enhance low-speed lift. With the Warbird being at such a competitive price, it's an ideal golf ball for beginners who want to correct their cliche and increase the distance off the tee.
What Factors to Consider When Purchasing Golf Balls
Core:
The core is a crucial factor in the compression, spin rate, and initial velocity of the ball golf ball. The compression rate is measured by how much the ball compresses inwards when making direct contact with the golf club. Golfers with higher swing speeds typically prefer higher compression ratings, while beginners tend to go with low compression ratings.
Cover:
Golf balls will vary in the material used. The most common material used for covers is urethane and Surlyn. Surlyn is usually more durable and harder than urethane. The one drawback is that it doesn't have much of a backspin. However, they're an excellent option for beginners.
Dimples:
All golf balls have little indentations called dimples. The design of the dimples greatly impacts how the ball reacts during flight. The dimples control the ball trajectory and reduce drag. For reference, a ball with no dimples will travel only half the distance. However, each manufacturer and brand had a unique dimple design. The design typically varies based on the depth, shape, and size, impacting the ball in flight. Typically golf balls contain around 300 to 400 dimples.
Construction:
Another crucial factor to consider when purchasing a golf ball is its construction. Many golf balls either contain two layers or multilayers. Two-piece golf balls are made up of the cover and the core. These golf balls are ideal for high handicappers or beginners. Since it has a large core, it engaged quite easily. In addition, it will improve distance while also reducing slice and hooks off the tee. These are common issues among new golfers. Even the covers are very thick to ensure durability. If you frequently find your balls hitting into trees or cart paths, these golf balls can withstand those hits.
Multilayer balls are ideal for more advanced players since they provide more shot sculpting and control. It's thin layer also enhances feel and spin control. These balls have more layers between the cover and ball, requiring more swing speed to hit the same distance as two-piece golf balls.
Visibility:
Losing golf balls are extremely common among golfers of all skill levels. Many golf balls are available in various neon colors, matte finishes, and bold new patterns. These balls allow the user to track it while in flight easily and when it hits the ground.
Frequently Asked Questions
What is a slice in golf?
A slice is a golf shot where the ball typically swings from left to right while in mid-air. Though professionals typically intentionally use slicing to increase their scores, most amateurs tend to do it accidentally. The direction it swings depends on whether the golfer is right-handed or left-handed.
A slice shot is typically caused by the clubface hitting the golf ball in an open position. There are many causes to it, such as the golf swing traveling from outside to inside the swing path or setup. However, using lower compression balls will likely reduce the amount of swing, which will minimize slice.
How does a hard and soft golf ball affect slicing?
Another factor to slicing is whether the ball is hard or soft. The harder the ball, the more difficult it will be to slice for obvious reasons. Hard balls are more difficult to control; thus, the momentum will take a straighter path. However, slicing mostly comes down to a mis-hit. Softer balls are much better for putting and short game.
Do low spin balls prevent slicing?
Yes, low spin balls are ideal for reducing slicing. Low spin balls are typically constructed in two or three pillow spin balls are typically constructed in two or three pieces. It also has a low compression rating and ionomer cover. A low spin prevents the ball from curving and keeps the ball headed in a straight direction rather than unexpected turns.
Which Golf Balls Are the Best?
After thoroughly testing the golf balls on our list, we believe that the Bridgestone Golf Soft e6 balls are the best to reduce slice. It's engineered for the perfect balance between distance, softer feel, and straighter shots. What separates the e6 from other balls is that it has the lowest compression rating of any three-piece golf balls at around 48. In ball flight, the ball tends to stay straight, preventing both hooks and slices.
Knowing the various types of golf balls, the construction and design of the ball will help you determine which golf ball to choose. Finding balls with low compression ratings with a softer feel is generally a good rule of thumb for beginners. We've hoped you found our list of best golf balls to reduce slice helpful.