If you're new to golf, it can be extremely daunting to pick out the right clubs. Compared to other sports, golf is relatively expensive and often is a sport that only wealthy people can play. However, contrary to popular belief, playing golf doesn't have to cost you an arm and a leg. There are plenty of affordable golf club sets specially designed for beginners.
Cheap golf clubs don't mean poor quality either. Many of the top golf brands manufacture playable and well-rounded golf clubs. In this article, we'll cover the best golf clubs on a budget and what to look for when you're comparing them.
In a hurry? These are our top picks.
5 Best Golf Clubs on a Budget
Finding high-quality clubs that improve your performance can be difficult, especially if you're working on a tight budget. However, don't worry; we've got you with our top picks for affordable golf sets.
Wilson Women's Complete Golf Set – Best Overall for Women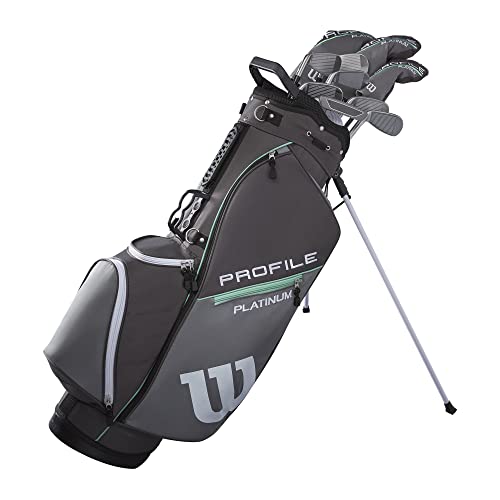 WILSON Golf Profile Platinum Packageset, Women's Right Handed, Carry
Large sweet spot Womens high lofted driver features Super game improvement technology to get the most from your game performance technology and lightweight components are combined to deliver tremendous distance off the Tee
Easy to hit Hybrid with tip reinforced graphite shaft creates large sweet spot for improved distance
Engineered for maximum control, These lower center of gravity heads improve launch trajectory and produce greater distance
Profile Platinum technology positions mass low and back - precision engineered for longer, straighter shots
Last update on 2023-09-11 / Affiliate links / Images from Amazon Product Advertising API
For female golfers looking to level up their game, the Wilson's Golf Set has all the clubs you'll need on the course. The set comes with nine clubs, three headcovers, and a stylish cart bag. You can choose between four color options: gray and teal, gray and pink, tan and white, and purple and white.
All their clubs are designed with a low center of gravity to help female golfers gain maximum distance off the tee. In addition, the irons have extra larger faces to provide a bigger sweet spot. The perimeter weighting of the irons helps steer your ball straighter even with off-center strikes. These features help to improve your game and lower your scores quickly.
The club shafts use a graphite material, which is very lightweight and flexible. As a result, golfers will have a greater swing speed and more distance off the tee. For putting, the Wilson set comes with a heel/toe putter designed to help golfers get a smooth stroke.
Lastly, the cart bag is lightweight and has five available pockets, which is more than enough room for golf balls, tees, and other accessories.
Callaway Strata Women's Golf Packaged Set – Best Variety for Women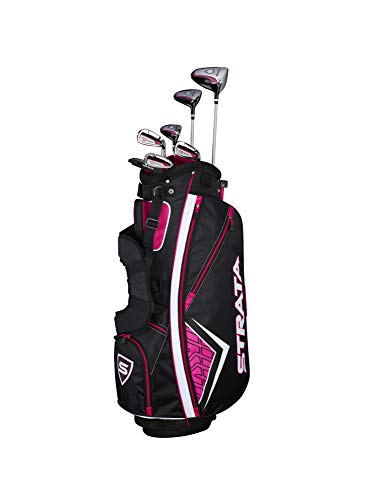 Callaway Women's Strata Complete Golf Set (11-Piece, Right Hand, Graphite)
The Strata 11 Piece women's complete golf set is designed for maximum performance right out of the box. Set includes: Driver, 5 Wood, 5 Hybrid, 7 & 9 Iron, SW, Putter, Stand Bag, and 3 Head covers
Woods (Driver, 5 Fairway Wood, & 5 Hybrid) are specifically designed to give women a great combination of distance, forgiveness and control with clubs that are very easy to hit. A head cover for each is included
Irons/Sand Wedge: Stainless steel golf irons offer a great combination of forgiveness and control
Putter: A mallet putter with alignment to help give you incredible accuracy
Stand Bag: A lightweight and durable golf stand bag that comes with five convenient pockets, an additional cooler pocket, a rain hood and a backpack strap system
Last update on 2023-09-10 / Affiliate links / Images from Amazon Product Advertising API
Most golf sets have a weak spot; however, the Callaway Strata Golf Packaged set seems to leave no stones unturned. The set is available in 11-piece, 14-piece, and 16-piece available. These extra irons, hybrids, and fairway wood clubs give you more options on the course to work with. The Callaway Strata set helps you get maximum distance off the tee and an accurate drop and stop on the greens.
One of the unique aspects of the Callaway Strata is its aluminum shafts. Compared to steel shafts, aluminum shafts are much lighter. However, although graphite shafts are typically used, they can feel a little flimsy at times. Aluminum shafts are slightly heavier, which helps provide a better feel for the club as you try to improve your accuracy. This is beneficial for female golfers working on improving the distance up for their irons and driver and heavy enough to impart great swing mechanics. As a result, you'll learn how to play with better control, feel, and precision.
Confidence Golf Men's Power V3 Club Set – Best for Left-Handed Golfers
Sale
Confidence Golf Mens Power V3 Club Set and Stand Bag Lefty
460cc Titanium driver with 10° loft for added forgiveness (head cover included)
24° hybrid iron, replaces the difficult to hit longer irons, 6-7-8-9-PW easy to hit cavity back irons
All clubs fitted with regular flex steel shafts, all-weather grips
35" blade putter fitted with steel shaft
Left hand
Last update on 2023-09-11 / Affiliate links / Images from Amazon Product Advertising API
For lefty golfers, the Confidence Power V3 Club Set is the perfect option to improve your game. This set offers a driver, a #5 hybrid, irons 6 through 9, a pitching wedge, and a semi-mallet putter.
One of the unique aspects of the V3 set is that its shaft is made from alloy steel shafts. They are extremely lightweight but don't offer the same flex as graphite.
In addition, all of the clubs have all-weather grips that are comfortable to use. These grips will dampen vibration from high bounce shots and feel springy to the touch.
The driver has a titanium head, which is ideal for maximizing distance off the tee and has great durability. For beginners who struggle with long irons or using the driver, it comes with a #5 iron that can act as a substitute.
Wilson Golf Profile SGI Men's Complete Golf Set – Best Overall for Beginners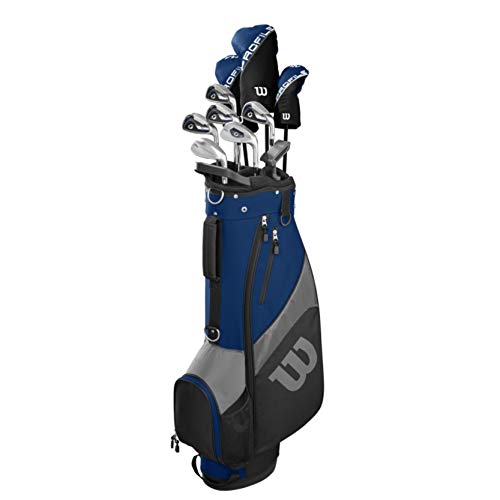 WILSON Golf Profile SGI Men's Complete Golf Set — Regular, Left Hand
Large 460cc Driver Engineered with Super Game Improvement technology to enhance new golfer experience
Deep, perimeter weighted 431 stainless steel irons with very low center of gravity for improved accuracy and distance
Lightweight, premium Carry bag features Air Flow adjustable shoulder straps, rugged handle top, numerous pockets and self activating stand
Easy Launch Sand Wedge features very low weighting and wide sole for better greenside control and improved shot making
Popular Heel/Toe weighted Putter with soft alignment grip provides superior feedback, feel and accuracy
Last update on 2023-09-11 / Affiliate links / Images from Amazon Product Advertising API
When you're a beginner, it's difficult to find an inexpensive set. Not to mention cheaper ones typically only have the bare minimum, which might not help you in certain situations. The Wilson Profile SGI gives you all of the essential clubs along with a few specialty ones. This set includes a driver, hybrid, fairway wood, 6 through 9 irons, sand wedge, pitching wedge, and putter.
In the set, you'll find a 460cc driver meaning that it has a low and rear weighting. This helps to improve swing speed and increase your accuracy and distance. Its loft degree is 10.5 degrees which is a great starting point for beginners.
The fairway wood has an extra-large sweet spot and has perimeter weighting. This design is best suited for increasing accuracy, especially for off-center shots.
Not all sets have a wedge; however, this one offers two wedges. Both wedges have a high loft to help you drop and stop the golf ball on the green. The pitching wedge is designed with a narrow profile to increase control.
Merchants of Golf Tour X LG23 16-Piece Women's Package Set – Best Value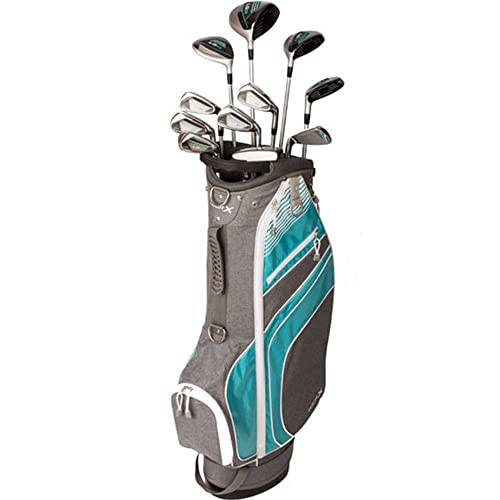 Last update on 2023-09-10 / Affiliate links / Images from Amazon Product Advertising API
When it comes to a golf set, you'll rarely find a golf club set with 16 affordable clubs. Yet, the Merchants of Golf Tour X LG23 provides just that. With this set, you get everything such as drivers, irons, fairway wood, wedges, putter, and a cart bag. Considering the price, we see this set as an incredible value and perhaps the best bang-for-your-buck that you'll find in the market.
The set also fits all types of users. You can choose between a left or right-handed set. And it either comes in a teal or gold-colored bag and finishes.
All of the clubs use a graphite shaft meaning they are lightweight and flexible. Graphite shafts help to improve your swing speed due to their weight. As a result, you'll see a better ball flight and distance, especially on your long shots
What to Look for in Golf Clubs
Knowing what to look for in golf sets will help you choose the right ones for you. For example, if you're younger or have some strength, you may want to choose a set with heavier clubs. However, a female or senior golfer will want something on the lighter side.
Clubhead
The size and shape of the clubhead will significantly affect the accuracy and forgiveness of your club. Bigger heads offer more forgiveness, especially in instances when you hit the ball off-centered. The grooves are cut into the club's face to improve the ball's trajectory and deliver more spin. You should always make sure that the clubface is unobstructed and kept clean.
Sole Grinds
Various turf and ground conditions will cause a distinct bounce on your wedges. As a result, the soles of the club are shaped to cut through the soil once you hit the ball.
Higher-level players will prefer slimmer soles because they can easily slice through the turf and take divots on the club. High handicappers typically play with broader and deeper soles because more weight is focused on the base and rear of the club. This causes a low center of gravity, which produces a higher launch angle and penetrating trajectory.
Loft
The correct loft angle of your club can be correlated to your swing speed. Golfers with a slow swing speed will want a higher loft angle degrees or higher, while golfers with fast swing speeds will want a loft angle of 10 degrees or less. The loft affects the spin rate and trajectory, so it helps determine the total distance traveled.
Specifically, if your swing speed is below 85 mph, we recommend a loft angle between 14 to 20 degrees. Swing speeds between 95 and 114 mph should be accompanied by a loft angle of 10 or 11 degrees. If your golf swing speed is between 105 and 115 mph, the loft angle should be 7 and 9 degrees.
Shaft
There are many things to look at for the shaft, such as the tipping point, flex, length, and material. Most shafts are made of either steel or graphite. For beginners, it's best to choose graphite shafts because it's lightweight, allowing you to swing the club at faster speeds.
Next, you'll want to choose the proper flex that best suits your swing. The shaft flex depends on the distance and swing speed of a golfer. There are five flexes to consider: extra stiff, stiff, regular, seniors, and ladies.
You may also want to consider the weight of the shaft. Lighter shafts are ideal for golfers with slower swing speeds, while heavier shafts are better suited for golfers with a fast swing speed.
Lastly, you'll need to consider the flex point. The flex point comes in low, mid, or high. Generally, the higher the flex point, the higher the trajectory will be.
Frequently Asked Questions
What clubs do you need to get started?
If you're a beginner, it may be confusing to know which clubs you need. Since there are many types of clubs, it may be hard to decipher which are most important and when to use each club. Most golfers carry around 12 to 14 golf clubs, consisting of the Driver, Fairway Wood, Irons, Wedges, and Putter.
Do you need to get fitted for your clubs?
Although custom-fitted clubs may help improve your game, it certainly isn't necessary. Custom-fitted clubs provide better accuracy, greater distance, and more consistency in your shots. A custom-fitted golf club ensures that the shaft weight, flex, kick point, loft, club lie angle, and length are best suited for you.
Why do you need so many clubs?
Having a complete golf set allows you to be prepared for every situation on the course. Therefore, it's necessary to have a full range of clubs to work with.
The driver is used to get you a great distance off the tee. They have the lowest loft angle and are the longest clubs in your bag. Fairway woods are extremely versatile and are great for lie in the rough or on the fairway.
Hybrids are a blend of irons and fairway woods. They act as an excellent substitute for drivers for golfers who struggle with them. Also, they can produce the same distance as fairway woods and irons.
Irons are great for playing out of trouble or when approaching greens. Depending on the type of iron, you'll use them between 55 to 210 yards away from the hole. Wedges are used for short-distance shots because they have a high loft angle. This creates a high trajectory to get you out of trouble, such as bunkers. Lastly, putters are used to hitting the ball in the hole when you're on the greens.
Final Thoughts
Golfing is fairly simple once you understand what each club is designed for and how to use them. Luckily, manufacturers have made it easy for beginners to get started by offering many affordable club sets that include all of the clubs you need. Buying each club individually would be more expensive as well. We've hoped you found this review guide insightful. Once you've got your golf set, you're ready to hit the course!
Best Golf Clubs On A Budget | Our Top 5 Picks
We want to help you find the best golf clubs on a budget for your next game. Here are some tips and guidelines for saving money with great golf clubs!
Product In-Stock: InStock