We love golfing because it relaxes us. When we're on the course, outdoors, feeling the air in our faces, watching the beautiful day in front of us, we can't help but feel pure relaxation and happiness.
What we do not love about golf (about anything, actually) is when injuries come to bother. There you are, at the top of your game, looking at the horizon holding your club, when this annoying soreness appears, and it seems that it doesn't want to go away.
This is what a golfer's elbow does: it makes you feel intense pain in your forearm, elbow, and sometimes even in your arm.
Luckily, you don't have to miss your games to feel better. Golf elbow braces help you to cure your pain and soreness without having to stop playing golf.
Because we know you don't want to quit playing, today, we show you the best products to aid your discomfort.
Our Top Pick
DonJoy Performance Bionic Elbow Brace II
Best compact size brace
Senteq's elbow brace support strap
Best sleeve-style
Kunto Fitness Elbow Brace Compression Support
Best Value
Nordic Lifting Elbow Compression Sleeves
High Quality
Copper Compression Recovery Elbow Sleeve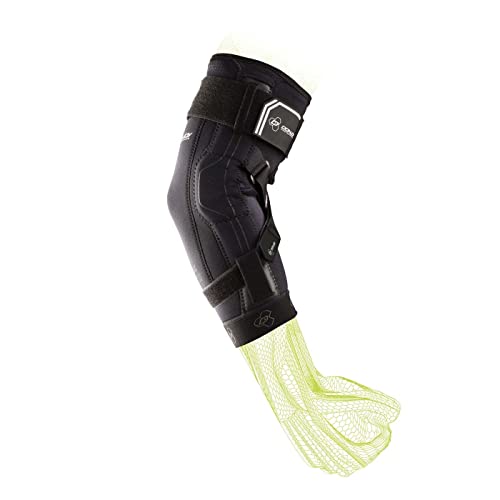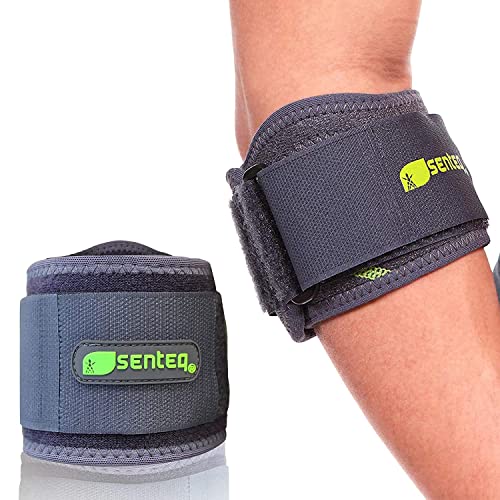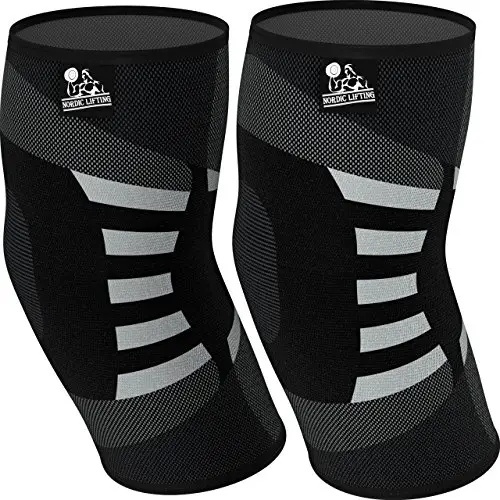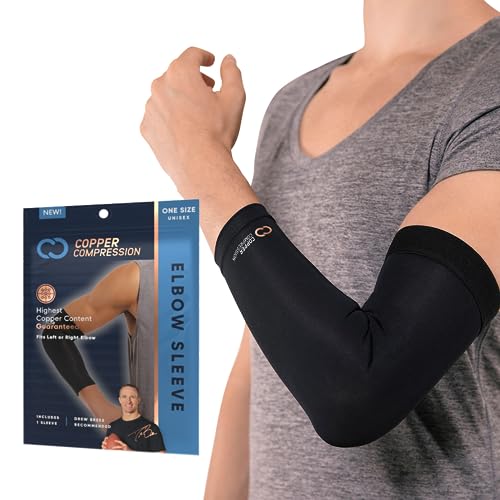 Silicon - neoprene - nylon
Adjustable, Massage gel pad
Breathable, Variety of sizes and colors
Breathable, Variety of sizes and colors, Pack of 2, 1-year warranty
Extra comfortable, Technologically developed
Our Top Pick
DonJoy Performance Bionic Elbow Brace II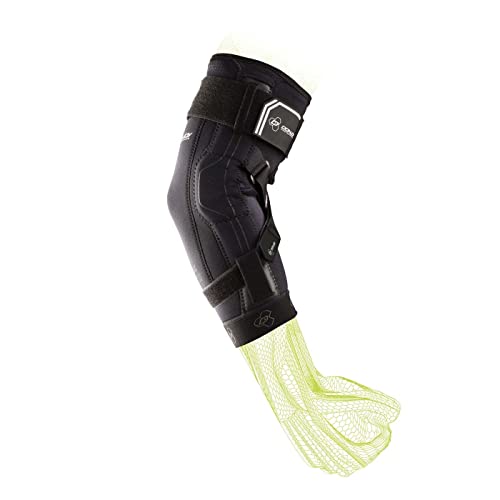 Silicon - neoprene - nylon
Best compact size brace
Senteq's elbow brace support strap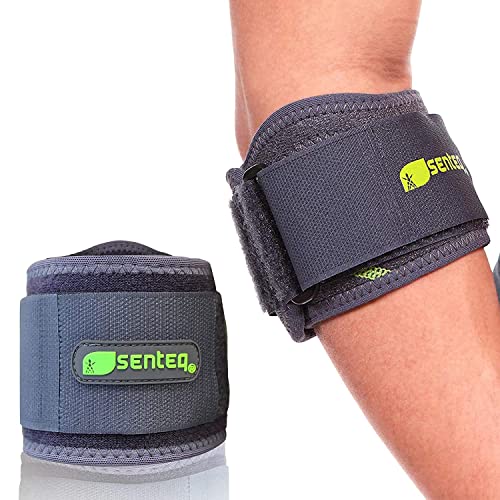 Adjustable, Massage gel pad
Best sleeve-style
Kunto Fitness Elbow Brace Compression Support
Breathable, Variety of sizes and colors
Best Value
Nordic Lifting Elbow Compression Sleeves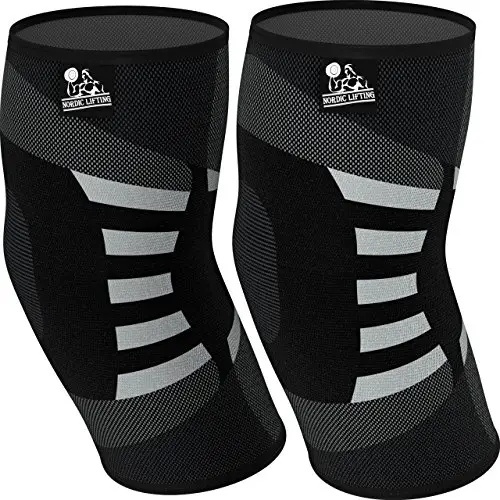 Breathable, Variety of sizes and colors, Pack of 2, 1-year warranty
High Quality
Copper Compression Recovery Elbow Sleeve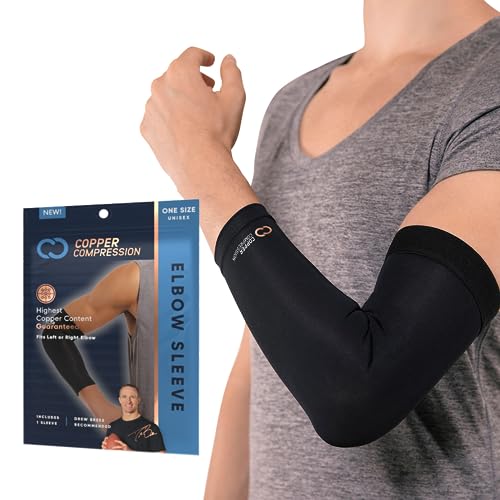 Extra comfortable, Technologically developed
Last update on 2023-09-15 / Affiliate links / Images from Amazon Product Advertising API
What is a golfer's elbow?
According to Healthline, a golfer's elbow is a disease caused by the tear of muscles, tendons, and/or bones located in the forearm and elbow's internal area.
This condition, medically known as medial epicondylitis, is a consequence of long periods of grasping and flexing with the arm, elbow, and/or wrist, which is very frequent in golfing.
Regardless of its name, a golfer's elbow is not exclusive to golfers. Other sports like baseball, rock climbing, heavy lifting, etc., can also cause this condition that makes you feel discomfort, pain, soreness, inflammation, and tenderness.
Golfer's elbow can commonly be confused with tennis elbow, especially due to their name. Nevertheless, while the golfer's elbow is located at the internal side of the arm, the tennis elbow takes place on the external side. Both epicondylitis could ruin your game if not treated properly, though.
What are the golfer's elbow's symptoms?
The best way to know if you're experiencing a golfer's elbow disease is to go to the doctor's office to get evaluated.
Nevertheless, you can suspect of having golfer's elbow if you show any of the following symptoms in your wrist, forearm, and/or elbow:
Weakness in your hands and/or wrists.
Rigidity in your elbow causes you pain when you try to close your fist.
Numbness in your compromised areas, especially in your fingers.
Tingling that comes and goes, or that stays permanently. You feel it mostly on your fingers.
Pain in your elbow, forearm, or wrist can intensify when you try to move, stretch or grasp something.
Sensitivity in your elbow's inside area.
All these symptoms can start very mild and escalate, or they can suddenly appear as a very hard pain. If you notice your symptoms get worse when using a golf club, it's time to see a doctor.
How do you treat a golfer's elbow?
In many cases, the golfer's elbow appears as a mild injury that can be addressed at home and with personal care. You should start by:
Taking rest from golfing for a few days
Applying an ice bag to the affected area
Taking medication for pain and swollen
Using an elbow brace every time you exercise the area
If pain and swollen don't go away, or if you present the following symptoms:
Fever
Inability to flex your elbow
Your elbow is inflamed
Your elbow feels hotter than the rest of your body
Your elbow's shape has changed
You feel a bone moved from its original place
You're experiencing severe pain despite the medication you're taking
This means the injury is serious. Visit a doctor who will lead you to the right treatment to address your situation.
Golfer's elbow treatment entangles procedures such as X-rays to deeply see the problem; professional therapy that uses movements, massages, heat or cold treatments, etc.; or surgery if the damage is too serious.
How to prevent the golfer's elbow?
Being a golfer doesn't mean you will suffer from a golfer's elbow. You can prevent it and keep your tendons, muscles, and bones healthy by:
Resting properly: knowing when to rest will avoid unnecessary effort.
Watching your posture: keep an eye on your posture when you're playing. A partner or a coach can help you, or you can look at the mirror to make sure your posture is right.
Stretching before playing: the repetitive movements of golf practice could generate pain and injury. Stretches before playing warm up your body, so each movement happens smoothly.
Practicing forearm strength exercises: improving your forearm's endurance can decrease your chances of injury when playing golf.
Watching your weight lifting: make sure your arm, wrist, and back posture are correct when lifting any kind of weight, and don't over lift.
Using proper equipment: make sure to use the right club at each hit to avoid forcing your body to do an awkward position. Also, the use of elbow braces can significantly decrease your chances of suffering from a golfer's elbow.
What can happen if you don't treat the golfer's elbow?
When a golfer's elbow is not treated properly, the pain it causes can become unbearable, keeping you away from the sport you love the most. It could also lead to serious trauma, only curable with surgery.
Once you've suffered from a golfer's elbow, it's suggested that you use elbow braces each time you play to prevent it from escalating, help you heal, and prevent it from showing up in the future again.
Nevertheless, it's important to mention that people who suffer from golfer's elbow are prone to suffer it again in the future.
The best golf elbow braces in the market
As we mentioned before, a golfer's elbow is a condition that develops due to repetitive movements of the forearm, elbow, and wrist. This is a common injury in both professional and enthusiast golfers.
It's recommended to play golf with a brace to decrease the chances of developing this disease, as well as to keep it under control once you've got it. We give you our top choices of golf elbow braces in the market:
Best compact size brace: Senteq's Elbow Brace Support Strap
This product stands out for the dual design that allows you to always keep it perfectly fitted and in place, so you can keep your head in the game instead of worrying about adjusting and correctly placing your brace every time you move.
Senteq's elbow brace is perfect for golfers who do not want their forearm completely covered by a sleeve. Its minimalist design offers compression and stimulates blood flow, reducing tension and pain.
The dual design of Senteq's elbow brace support strap features an elastic neoprene bracelet with an internal gel pad that massages your elbow's joint. On the external side, a velcro strap keeps the pad always in place and gives you extra compression in the sored area.
One cool thing about this strap is that the neoprene brace is lined with soft fabric to keep you comfortable at all times. The materials for this product are medical grade, so you won't have to worry about any allergic or dermatologic reaction.
The brace has also been made with high-quality materials, resistant to use, time and elements, so you can have a playing partner for games and games to come.
Only downside? The brand requests NOT to wash the brace on the washing machine. Only warm water, mild soap, and hand wash with this baby. Using the dryer is also a no-no.
Best sleeve style elbow brace: Kunto Fitness Elbow Brace Compression Support Sleeve
Kunto Fitness Elbow Brace Compression Support Sleeve is a longer brace that covers part of your forearm, your elbow, and your arm. It offers support, compression, and pain relief.
With hundreds of positive reviews on the internet, Kunto's brace stands out for being a comprehensive solution for golfer's elbow and other sport-related aches. Its design offers even pressure in the elbow without compromising your arm's flexibility.
Made out of nylon, spandex, and rubber, this brace is designed to give support to the elbow and its surroundings, promoting blood flow, decreasing tension, relieving pain, stabilizing your joint, and helping you to move your arm safely.
It has four-way stretch technology that maximizes its relief and compression effect while at the same providing outstanding mobility, so you can keep playing your favorite game, solo or in teams.
The breathable, form-fitting fabric makes it perfect for continuous use; it absorbs the sweat and keeps you dry at all times. All the construction materials are intended for intense use.
A really cool thing about this sleeve is that you can find it in many sizes and colors, so it's very versatile.
The only downside one could find on this one is that this brace is not adjustable, but even so, the weaved fabric provides very robust support and compression to your arm and elbow, making it great not only for golfer's elbow, but also for tendonitis, bursitis, strains, and many other muscle discomforts.
Best price compact brace: Sleeve Stars Tennis Elbow Brace
Sleeve Stars is a brand that designs products for sports and wellness. Known for their passion for helping sporters and fitness lovers to stay in their game, they present this elbow brace at a very affordable price.
The Sleeve Stars Tennis Elbow Brace features a built-in gel pad that massages the affected area whilst a velcro strap not only keeps the brace in the right place but also gives you extra compression for your arm.
This brace is designed not to interfere with your regular game practice. Its neoprene and nylon band compress your forearm and elbow's joint to help blood flow, decrease pain, increase mobility and relieve soreness, whilst its narrow design is perfect for those who would rather have a thin bracelet than a whole sleeve.
One great thing about the Sleeve Stars tennis elbow brace is that it can be used in both your left and right arm, and its minimalist style is suitable for both men and female users.
Another great pro in this product is that it includes 3 different size straps for better fitting, and if that wasn't enough, you'll get access to a free e-book on elbow pain so you can improve your treatment.
A downside? This is a one-size-fits-all kind of product, so although people with arms of 7-13 inches will find a great product, bigger people will have to search elsewhere.
Best price sleeve-style elbow brace: Sleeve Stars Tennis Elbow Brace
This elbow brace's form-fitting design was created to relieve pain, increase blood flow and offer optimal compression. The forearm design wraps around your arm to help you protect it, and to recover from the golfer's elbow and many other sports injuries.
The PowerLix Elbow Brace Compression Support is made with a special, knitted fabric that keeps your joints in place and compresses your muscles and tendons. This fabric is soft against your skin and breathable, making it suitable for long periods of usage.
This brace targets the compression on the most important spots of your arm and elbow, so you are protected at all times, without losing your arm's mobility. This will allow you to keep swinging while recovery takes place.
This sleeve's weave also helps to keep the brace in place, turning each game into a therapy session to improve your arm's performance.
With top-quality materials for its construction, Power Lix offers hypoallergenic, odor-free fabrics with absorbent technology to avoid discomfort for sweating while using the brace.
One good thing about this product is that it comes in different sizes to suit every possible need. You can also find different colors to match your golf wear and play with style.
Another great thing? They have a 6-month 100% money-back warranty if you are not 100% happy with your purchase, which shows they really believe this brace can help you.
And the cherry in the ice cream? This is a 2-piece pack, which makes this a high-value product. Many other brands have similar prices for one piece.
One con of this product is that it isn't adjustable. The brand recommends that in between sizes, you choose the smaller size for better compression.
Best value for the money: Nordic Lifting Elbow Compression Sleeves
Made by a highly recognized, professional weightlifting brand, these sleeves are knitted with top quality, premium nylon yarn, and their design offers full support and high compression on the elbow's joint, as well as in your forearm and bicep.
The Nordic Lifting Elbow Compression Sleeves are made to help men and women to recover and prevent injuries like golfer's elbow, tennis elbow, muscle tear, tendonitis, and more by ensuring even pressure throughout the whole sleeve.
Its versatility, great price, and presentation in a pack of 2 make it a best seller in many different online stores. The one-year warranty and 30-day, no-questions-asked return policy are some of the favorite features buyers remark on this product.
This sleeve is available in sizes from small to double extra-large to fit all types of bodies. The knitted pattern created using nylon and latex intensifies the compression on the most critical spots to help you recover sooner and to protect you while you golf.
Nordic Lifting's brace features an ergonomic design that perfectly adjusts to any type of arm using any of the available sizes. The fabric is breathable to keep you comfortable and dry from sweat.
The sleeve style of this brace wraps seamlessly around your arm, helping to retain heat and thus keeping your muscles warm and flexible, improving any ailment you may be suffering.
Something really cool about this product is its edgy and modern design that can match any of your favorite golf suits without a problem.
The downside of this product is the absence of adjustable stripes, and that it has only 1 color available.
Best innovative elbow brace: FUTURO Custom Pressure Elbow Strap
As soon as you see this brace you can relate to the name Futuro, Future: this elbow brace's aesthetic is very modern, slick, and sophisticated.
The FUTURO Custom Pressure Elbow Strap is an elbow brace created to treat and/or prevent muscle, joint, and bone injuries such as tendonitis, bursitis, and of course, golfer's elbow, among many other ailments caused by the tear of the tendons, muscles or bones.
This strap stands out for its technological design that features a cushioned gel pad to target compression in the right spot, making this product perfect for many different arm discomforts.
All you have to do is place the gel cushion over your forearm's inner side (for the golfer's elbow), at the elbow joint, and then apply pressure by adjusting the brace's strap.
Adjusting the compression is easy and comfortable with the built-in dial that adjusts the brace to perfection without having to remove it, ideal for times when both your hands are not free.
Although this brace is rigid, it's lined with soft fabric and has soft edges to offer maximum comfort, feeling soft against your skin. Its design is simple, thin and minimalist, and can easily be worn under clothing.
The best feature of this brace? It was designed by a professional team of engineers and doctors, so you will get great support and compression to effectively treat your golfer's elbow.
The downside? There's a learning curve to put on and use the brace. It's not brain surgery, but some people rather buy something they can just put on without having to learn how to do it.
Best quality: Copper Compression Recovery Elbow Sleeve
The Copper Compression Recovery Elbow Sleeve is a full forearm compression sleeve that offers pain relief and joint support for golfers and sports players in general.
This product stands out for being extra light, with a low, minimalist profile for the active people looking to keep their activities despite the pain.
The high technology copper fabric used to make this sleeve brace, allows you to get really strong compression in your forearm and elbow, while at the same time provides maximum flexibility, which makes it ideal for golfers like you.
This material also allows the sleeve to be very easy to put on and pull off, yet keeping it perfectly tight and in place at all times, regardless of your arm is moving or resting.
But perhaps the most outstanding feature of these sleeves is the fact that the fabric is infused with real copper. The brand takes pride in having the highest copper content in its products.
Copper-infused fabrics for compression sleeves give extra stability for effective, surrounding pressure on the affected areas. Copper also makes these sleeves last longer.
The sleeve fabrics are breathable and soft so you can use them every day and for long periods. The brand offers a 30-day warranty, no questions asked.
Best overall: DonJoy Performance Bionic Elbow Brace II
If you are totally committed to golfing and you just can't imagine stepping away from the course due to an injury, you may need the DonJoy Performance Bionic Elbow Brace II.
This is the top of the crown when it comes to golf elbow braces. Don Joy combines the sleeve and the bracelet elbow braces in one high-quality product that separates from the rest.
The sleeve has an upper adjustable compression band to apply the exact level of pressure in your arm. The dual hinges effectively stabilize your elbow's joint and offer ligament and muscle support.
These hinges allow you to immobilize the arm if needed so you only make an effort with your arm when it is strictly necessary.
And when you do use your arm, you can rely on the brace's flexible perforated neoprene fabric for comfortable, easy movement to play. This fabric is also absorbant to keep your skin fresh and dry during the game.
Don Joy's brace is made out of high-quality materials built to last, and it can be used in any of your arms. It features reflective areas in the fabric for when practicing outdoors at night.
Without a doubt, the absolute best feature of this product is its dual function that allows you to mobilize and demobilize your arm as needed, something crucial for golfers.
This double function can also save you money, as you can choose this one sleeve for two different functions.
The only downside of this product is its higher price
Golf elbow braces Q&A
How do golf elbow braces help to treat a golfer's elbow?
It is a widely spread common knowledge that injuries caused to the muscles or tendons due to repetitive efforts require compression to heal.
Compressing the affected area reduces swelling, decreases pain, stabilizes the bones and muscles, repairs the tissues, warms up the muscles and tendons to improve flexibility and movement, promotes blood flow, and more.
Are elbow braces washable?
It depends on the brace's material. As a general rule, make sure to buy washable elbow braces. You'll be able to use them longer without any health risks.
Important! Most braces are NOT machine washable, so get ready to scrub.
How long should I use an elbow brace?
Depending on the depth of your injury, and the actual pain you feel, the amount of time to use a brace could be different. Usually, it takes something between 3 and 8 weeks to start noticing healing.
During all this time, you should see the doctor often to keep track of your recovery.
Tips for finding the right golf elbow brace
Ready to buy your next golf elbow brace? Keep these tips in mind:
Material
You can find different materials in the market like latex, copper, spandex, plastic, rubber, and many others.
The most important thing is to find a breathable fabric that also feels comfortable against your skin. Remember, you could sweat, so an absorbing brace is always a better option.
Price
Prices can go from as low as $8 to as high as over $100. To decide on which brace to buy, find a healthy balance between your injury, your preferences, and of course, your money availability.
Adjust
Most sleeve braces are not adjustable, so make sure to measure your arm according to each brand's instructions. If you are between sizes, choose the smaller size for the best fit. Also, keep in mind that these products can overstretch with time and wash.
The adjustable braces you find in the market are usually compact designs intended to compress your elbow joints. There are several sleeve adjustable braces in the market with higher prices than non-adjustable ones.
You will find braces that are adjusted using velcro, as well as some that use elastic bands. Both materials can wear and tear for usage.
Design
There are many different designs of elbow braces to suit your needs. From different styles, colors and sizes, there is something for everybody.
Especially with sleeves, you will be able to find innovative designs to match any possible golfing outfit. You can also go for a more minimalist style with compact braces designed to wear under the shirt.
Bottom line…
Any golfer is at risk to suffer from a golfer's elbow, and when not treated, this disease can take you away from the courses for a long time. To avoid this, prevention is the most important thing.
Stretching before play, using the proper equipment, and preventively using a golf elbow brace will significantly decrease your chances of suffering this discomfort.
These days, you can find hundreds of braces options to protect an essential golfing tool: your arm. We presented you with 8 options today; make your choice!
Best Golf Elbow Braces | No More Pain! Our Top 8 Picks
Compare the best golf elbow braces and find out what they can do for you. Check out our top 8 picks today!
Product In-Stock: InStock