Playing golf during the winter weather can be more challenging than in the best seasons. You might feel like you are losing control of your club because your grip, hands, or gloves are wet. Thankfully, nowadays, some gloves are specifically designed to make it a lot easier for you to play golf even when the temperature drops. These gloves are made in order to keep your hands warm so that you do not lose control and find it extremely difficult to play golf.
If you get eager for a round of golf on a blustery day, the key is to have high-quality winter golf gloves to help you perform at your best and get the most out of your experience.
Here is a variety of winter golf gloves available right now, which you can count on to help you play your best even in bad weather conditions.
In a hurry? These are our top picks.
FINGER TEN Winter Golf Gloves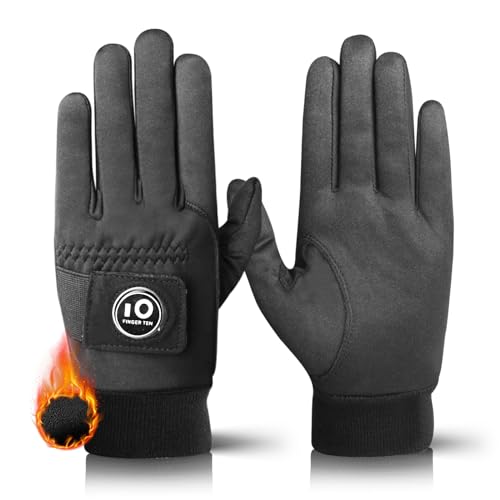 FINGER TEN Winter Golf Gloves Men with Ball Marker Grip Performance 1 Pair, Cold Weather Windproof Waterproof Size Samll Medium ML Large XL
WINTER WARM GOLF GLOVES SOLD IN PAIR: This Finger Ten Winter Windproof Golf Gloves are Sold in Pair(Left and Right);
EXTRA DESIGN WITH THE BALL MARKER: Every Pair Golf Gloves has A Ball Marker on 1 Pcs Glove Back; For Your Convenient Ball Marker In Cold Weather;
HIGH QUALITY WINDPROOF AND SNOWPROOF MATERIAL: The Back Material Use High Quality Windproof and Snowproof Microfiber Fleece, Which Retain Warmth and Resist Cold Wind; The Palm Use Suede Microfiber 3D Pattern, Prodiving Soft Feel and Secure Grip in Cold Weather Condition;
OPTI FIT ADJUSTABLE CLOSURE: The Adjustable Closure Will Keep the Secure Fit with Perforations for Your Better Cold Weather Grip Performance;
NO RISK AND BUY WITH CONFIDENCE: ALL Finger Ten Products Are Eligible For Amazon 30 Days Return And Change Policy. Finger Ten Aims To Make All Our Customers 100% Satisfied.
Last update on 2023-12-01 / Affiliate links / Images from Amazon Product Advertising API
These Finger Ten gloves offer great value because they provide everything you need to play golf in cold conditions, and they do not cost a lot of money. They are soft and comfortable with a warm, windproof fleece lining and waterproof nylon fabric. They also have an adjustable band on the back that allows for maximum flexibility. The extended wrist cuff adds more warmth to help in keeping the wind out.
Made of suede microfiber 3D pattern, the palm provides an excellent grip and a soft feel regardless of the weather condition. In addition, the left glove has a built-in golf ball marker placed on the back tab.
Footjoy Wintersof Golf Gloves
Last update on 2023-12-01 / Affiliate links / Images from Amazon Product Advertising API
The Footjoy Winter golf gloves are known for being wind and water-repellant. The Sure-Grip Autosuede material conforms to your hands, which allows you to get the best grip on all shots and in any weather condition. They are constructed of Weather-Shield foam fleece that will help you stay warm despite the cold weather. Also, the extended cuff is there to keep the wind from entering the gloves.
The Footjoy Wintersof Golf Gloves are presently some of the best and most popular gloves on the market. They are also available in women's sizes.
HJ Glove Men's Golf Glove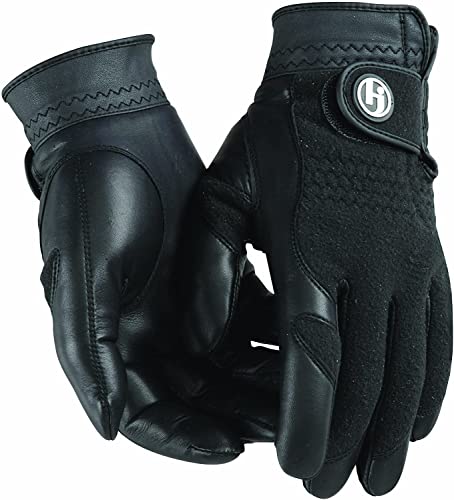 HJ Glove Men's Winter Performance Golf Glove Black XX-Large
ThermoTex fleece material provides warmth yet retains flexibility for a secure and comfortable grip
WeatherTan Cabretta leather palm is specially tanned to provide insulation for colder climates
Reinforced wind block and fully lined wrist cuff provides additional warmth
Last update on 2023-12-01 / Affiliate links / Images from Amazon Product Advertising API
These Winter Performance golf gloves are innovatively designed to ensure flexibility while keeping your hands warm. They are made from ThermoTex fleece material, which gives adequate warmth while allowing for a full range of motion on all your swings. The palm is made of WeatherTan Cabretta leather, which ensures durability, provides additional insulation, and promotes an excellent grip regardless of the temperature. And lastly, the lined wrist cuff aids in preventing wind from getting into the glove. Therefore, it keeps you in control of your club.
The HJ golf gloves are available in all sizes for both men and women.
Callaway Thermal Grip Winter Golf Gloves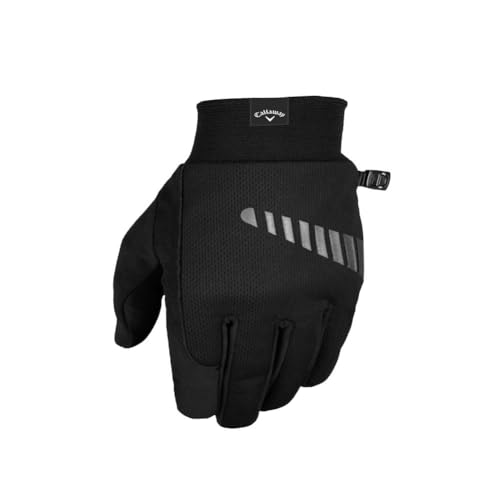 Last update on 2023-12-01 / Affiliate links / Images from Amazon Product Advertising API
This Callaway product is one of the most popular cold-weather gloves, as it is considered the best for warmth. Featuring original technology, these gloves help maximize performance, especially in cold weather. The synthetic leather palm gives maximum grip and feels in wet condition. The OptiShield Microfiber outer shell is wind and water-resistant. They also feature OptiTherm fleece inner lining for extra warmth. Moreover, the OptiFit adjustable closure gives you a thin, soft, and secure fit. It also has perforations for breathability.
The Callaway Thermal Grip winter golf gloves are suitable for both men and women.
Mizuno ThermaGrip Men's Golf Gloves
Sale
Last update on 2023-12-01 / Affiliate links / Images from Amazon Product Advertising API
Mizuno golf gloves are excellent products that are great value for money. They feature a synthetic suede palm that ensures durability, making them more long-lasting than the other gloves. The FitBridge construction gives a contoured fit from the palm to the back of the hand and allows for flexibility. The Breath Termo is Mizuno's exclusive thermal fabric technology. It uses escaping body vapor to generate heat and keep you warm. Finally, the 3D Printing foam resin print is designed to enhance grip in colder conditions.
The Mizuno ThermaGrip golf gloves are available in women's sizes, too.
Conclusion – Best Golf Gloves For Winter
While golfing in the winter is almost impossible due to cold, wind, and rain, having the right equipment will help you enjoy and play comfortably.
The best golf gloves for winter can keep your hands dry and warm, helping you to remain in control of the club and your game. These high-performance gears are designed to make golfing in wet conditions less intimidating. A lot of them have thermal properties to help your hands stay warm and enhance your grip at the same time.
The winter golf gloves are a game-changer without a doubt when you start to give them a try. They are constructed to make a big difference to your experience and performance on course when the weather is colder.
It would be best to decide which cold-weather golf gloves would suit your budget, needs, and preferences. Make sure you have the best golf gloves for winter. Again, they make a huge difference.