We all know how crucial those shots close to the cup are – you could have the most perfect swing, be great at short chips, and wind up with multiple putts ruining your entire game. Even if you've been golfing for years, you may still have trouble sinking the ball purely because you haven't found the right club for you yet. So, if you're a bad putter, a high handicapper, or even an experienced golfer simply looking to improve your putting skills, check out these options for the best putter for you.
In a hurry? These are our top picks.
Our Top Picks – Best Putter For Bad Putters
TaylorMade Golf Spider X Putters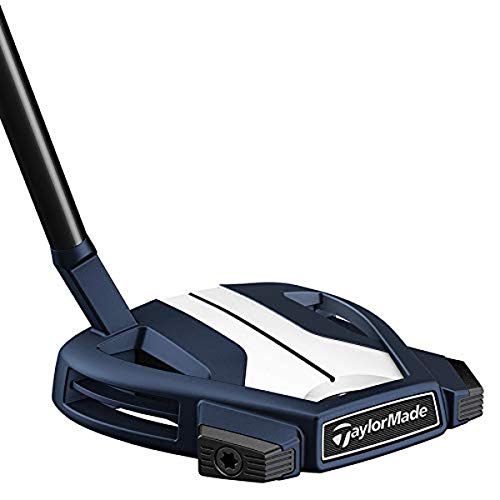 TaylorMade Golf Spider X, Navy/White, #3 Hosel, Left Hand, 35"
The X Philosophy: Spider X revolutionizes the way we achieve optimal stability and alignment by reengineering the mass properties of the head and introducing a new optically engineered True Path Alignment System
Increased Stability: Spider X features a redesigned head with a steel frame that is 30% heavier to minimize twisting
The X Design: New True Path Alignment System helps visualize the intended target line for improved putting accuracy; Spider X improves mass properties and stability by utilizing a heavy 320g frame with extreme perimeter weighting
Redesigned Weight Ports: Redesigned weight ports (2g, 6g, or 12g) enable personalization of feel and stability
Last update on 2023-09-24 / Affiliate links / Images from Amazon Product Advertising API
Thanks to the high MOI on the Spider, these putters are among the most forgiving and popular with players of all levels. The Roll Groove Technology of the insert improves RPM and thus, the roll as well as distance and most importantly, the consistency.
The groove technology with a 45-degree angle provides better control and increases topspin to keep the ball headed on its intended line, while the perimeter weighting with higher MOI improves forgiveness. This line of putters also has moveable weight options which provide flexibility if you're willing to experiment.
Coming in navy, chalk, or copper colors, these putters also feature a Surlyn face (which most golf balls are coated in) resulting in a soft feel. The Spider has a short slant hosel and moderate toe hang, which enables arcing stroke players to enjoy this style of club too.
Although these putters can take a bit of getting used to, there's good reason these are popular among high handicappers and pros alike – they offer both accuracy and consistency as well as forgiveness. They certainly aren't the cheapest option on this list, but many players attest to them being worth dishing out a few extra dollars.
Type: Mallet
Cleveland Golf Huntington Beach Collection
Cleveland Golf HB Soft #4 34"
SPEED OPTIMIZED FACE TECHNOLOGY - Ensuring consistent speed control and distance performance, Cleveland's proprietary Speed Optimized Face Technology normalizes ball speed across the entire face of the putter, even on off-center putts.
PRECISION MILLED FACE - A unique diamond CNC milling pattern increases friction for a pure roll and softer feel at impact.
SOFTER FEEL - The soft 304 Stainless Steel ensures soft yet crisp feel, providing just the right balance of softness and feedback.
Sport type: Golf
Last update on 2023-09-24 / Affiliate links / Images from Amazon Product Advertising API
This collection features a wide range of head shapes and designs (9 tour-proven shapes), meaning you'll have no troubles finding the right style for you. There are center-shafted options along with mallets, fang-style, and blade models.
The Huntington Beach Collection has an optimized center of gravity for better feel and stability. The precision milling and unique diamond pattern increases friction, providing a softer feel at impact and consistent roll for these putters. The 304 stainless steel provides a balance of the right feedback and softer feel, although the SOFT acronym does not refer to this. SOFT stands for Speed Optimized Face Technology, which "normalizes ball speed across the entire face of the putter, even on off-center putts", leading to consistent speed control and distance performance.
Type: Blade (Soft 1, 3, 4, and 8), or Mallet (Soft 2, 6, 6C, 10, and 11)
Callaway Odyssey White Hot Pro 2.0 Putter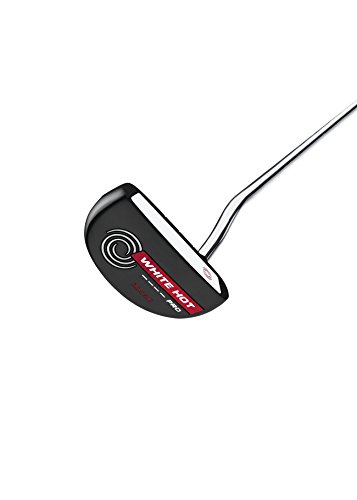 Callaway Odyssey White Hot Pro 2.0 Black Rossie Putter (Right Hand, Steel, Rossie, Jumbo Grip, 34' Length)
Designed to Meet the meticulous performance demands of the world's best golfers
Re-engineered White hot insert generates improved sound, feel and overall performance
Laser milling insert cutting process achieves tight tolerances for consistent performance
Heel/toe weight placement increases forgiveness and responsiveness on strikes across the face
Contrasting alignment aids on the topline promote increased accuracy and stroke consistency
Last update on 2023-09-24 / Affiliate links / Images from Amazon Product Advertising API
This popular putter is much-loved by high handicappers with a slight arc stroke, thanks to its consistency, forgiveness, and easy alignment aids. The heel-toe weighted blade putter is responsive upon impact and has a laser milled insert to increase the stability and forgiveness of the club head.
Odyssey's iconic White Hot insert has been re-designed and results in better sound and feel. Firmer than previous models, these inserts provide great roll.
Type: Blade
TaylorMade TP Patina Collection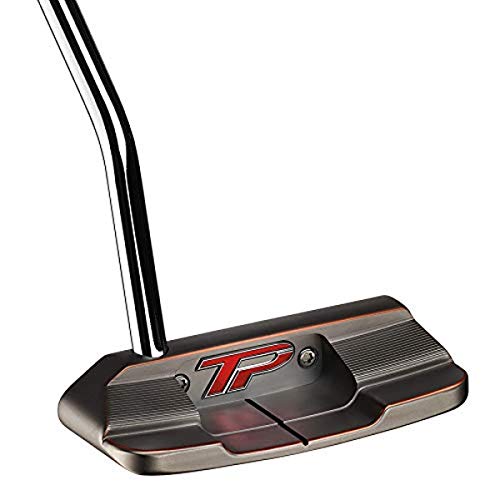 Last update on 2023-09-24 / Affiliate links / Images from Amazon Product Advertising API
The seven club head options in the Patina line all feature a black nickel and copper finish with a 5mm thick aluminum Pure Roll insert to improve perimeter weighting and feel, as well as sound and performance. The insert is fastened with two screws in the cavity to "create a tight bond that minimizes voids or air pockets underneath the insert for a more solid feel at impact".
These putters have a solid feel and provide an excellent roll with the thicker grooved insert appearing to give your putt a bit more speed. You may also wish to add custom TP sole weights to hit a specific swing weight.
The Soto and Juno are perfect choices for fans of traditional blades, while the Del Monte is a heavier blade option. The Ardmore and DuPage mallets will provide better stability on those off-center hits.
Type: Blade (Del Monte, Juno, Soto), Mallet (Ardmore, DuPage)
Pinemeadow Golf PGX Putter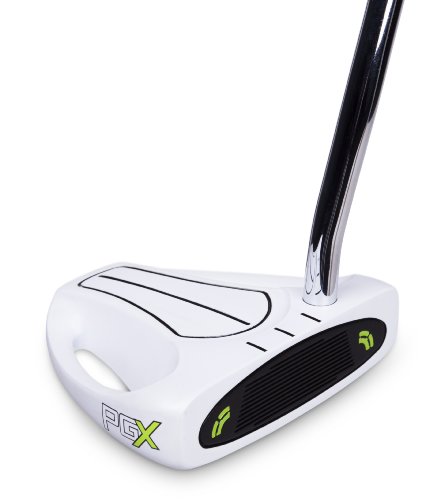 Pinemeadow Golf Men's PGX Putter (Right Hand) , White, 34"
The PGX putter features a precise white finish which stands out when the putter is in the address position on the green.
This contrast of the white color against the green grass really helps maintain focus on the alignment lines that help ensure that your putter is on target at start.
At 380g the additional 40g weight of the mallet putter is "tour-weighted", suited best for the faster greens that are more and more common around the world.
Includes custom PGX headcover
Putter length 34"
Last update on 2023-09-24 / Affiliate links / Images from Amazon Product Advertising API
Those players looking to avoid breaking the bank will appreciate the very affordable price tag on this putter. With great value for money, this mallet-style putter has good weight balance to improve roll and control while the white finish provides a great contrast against the green for better alignment and accuracy.
At 380g, this mallet putter has an additional 40g of weight for better balance and feel, promoting true spin, reducing skidding and making this putter ideal for faster greens.
Type: Mallet
Wilson Staff Harmonized Putter M5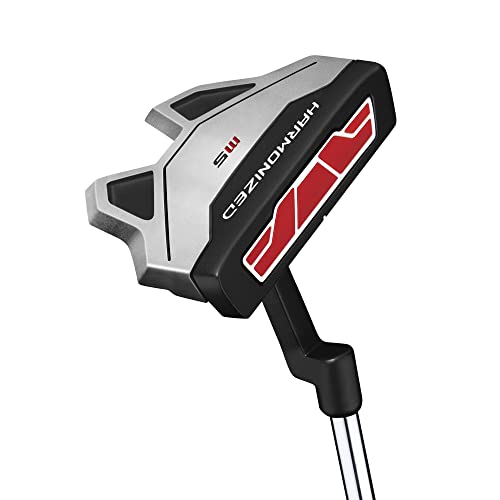 Wilson Harmonized M5 Golf Putter Jumbo - Men's, Right Hand, 34"
EASY ALIGNMENT DESIGN-Horizontal lines on the putter head visually support alignment for a more accurate setup
VERTICAL SEAM GRIP-The midsize Harmonized putter grip features a vertical seam on the back side to improve feel throughout the stroke
FACE INSERT-The micro-injection polymer face insert improves feel upon contact with the golf ball
Features oversized Jumbo Harmonized grip
Last update on 2023-09-24 / Affiliate links / Images from Amazon Product Advertising API
The M5 features a larger grip than previous models, giving you improved control and less slippage thanks to the large grip. The plumber hosel and semi-mallet putter head provide better control and improve the feel during your stroke, while the microinjection polymer face insert allows for better feel on impact with the ball.
This putter is ideal for mid to high handicappers, having red and white alignment lines to line up the putt more accurately. It is also more forgiving when you do have those off-center strikes. However, if you're a more experienced player or just a better putter in general, you may find this a bit too bulky.
Type: Mallet
Choosing a Putter – Things to Consider
Looks
Just like wearing the right attire can make or break your golf game, so too can using the improper putter. The most important thing when selecting your putter is to ensure you like the look of it first. Yes, it may sound a bit silly but really, if you won't take it from here, take it from Tiger Woods – he begins to narrow down his search by looks alone, then starts to test them only after deciding he enjoys the aesthetics.
If you don't enjoy looking at your putter, you're already putting yourself a step behind since this club is the one you'll use most and needs to inspire confidence. Additionally, you'll want to check that you like the alignment aids. Some players prefer long lines on the putter where others want as few lines and dots as possible.
Putting Style
Your style of putting significantly impacts the type of putter best suited to you. There are two main methods when putting: the arc stroke or the straight back, straight through style. The styles basically explain themselves; from the stroke's start to finish, straight back, straight through players attempt to keep the head of the putter squarely aligned with the ball. Players with arc strokes have a pronounced arc where the putter's face opens in the back and closes through the stroke, rather than following a straight line.
Those golfers with an arc stroke style will find better performance from a blade (or anser) type of putter, as the increased weight in the toe allows the face to be square at impact.
Straight back, straight through types will find improvements with a mallet style club as the weight is balanced and allows for a straighter stroke.
Head Shape
Blade – The oldest and simplest type of putter, with narrow, flat clubheads providing excellent feel. A popular choice for golfers with lower handicaps or those with arc styles, as they are typically toe-weighted and have minimal alignment aids.
Mallet – The large, rounded clubheads with a bigger and more forgiving face often feature a target line to align your putt. Most of these putters will be face-balanced, optimizing the straight back, straight through motion.
High MOI (moment of inertia) – The heavier head weight makes these putters great for high handicappers and those with either style of putting. The weight is typically equal across the putter, making these middle-balanced and much more forgiving if you happen to hit the ball off-center.
Head Balance
Face-balanced putters keep the face of the club squarely aligned for impact, best for those straight back, straight through players. You can easily recognize these clubheads as the putter face will point directly upward while the shaft is balanced.
Toe-balanced putters will square the face of the club at impact, best for players with arc strokes. The toe of the putter will drop toward the ground while the shaft is balanced.
Putter Shaft
Although most putters have a heel shaft, there are some on the market with a center or toe shaft option.
Center shafts will (mostly) have equal weight in the heel and toe of the club, thus balancing the face. Best for straight swings, this shaft will suit players keeping their eyes directly above the ball.
Heel shafts are the standard type and best for arc styles as it won't be as difficult to rotate the head of the club during the putt as a center shaft.
Putter Length
Many golfers completely ignore the length of the putter when choosing their club, despite it playing a significant role in their posture. Whether you're more of an upright putter or a hunched over type, you need the correct length for you to prevent ruining your putting line. All too often, golfers choose a length that is too much for their style. It's quite simple to fix this issue, however; if you find yourself holding the club below the grip, grab a shorter-length shaft. If you're noticing your lower back is hurting, try a longer putter.
To choose the proper length for you, simply get into your putting position, relax your shoulders and let your arms dangle, and measure the distance from just above the top of your hands down to the ground to get your putter length.
For those of you who can't be bothered with the task of measuring, follow these basic guidelines:
Under five feet tall: > 32 inches
Five feet to 5'4": roughly 33 inches
5'5" to 5'10": roughly 34 inches
5'10" or taller: 35+ inches
In Summary
Getting a properly fitted putter requires a lot of consideration. When searching for your secret weapon, keep an eye out for one which:
Looks great and inspires confidence.
Suits your stroke (arc vs straight) with the right shape and balance for your style.
Is the right length for you/your posture.
With all these factors in mind, let's move on to our top choices for the best putters for bad putters out there.
Conclusion – Best Putters For Bad Putters
Putting, the simplest part of golf, is arguably the most frustrating aspect of the game and what sets good golfers apart from great ones. If you've been struggling with mastering the skill, it might boil down to a number of reasons: your stroke, posture, grip… or it could simply be that you haven't chosen the correct tool for the job. So, go ahead, give one of these best putters for bad putters a go and see the dramatic difference it can make in your golf game.
Last update on 2023-09-09 / Affiliate links / Images from Amazon Product Advertising API