Do you struggle with properly aligning your putter? Ever find yourself frustrated with trying to figure out where your putter is aiming? Even the best drive straight to the green can be ruined with poor putting, and often that bad putt comes down to simply mis-aligning your club. Practice makes perfect, but the key to improving your putting play is to use the right tool for the job: pick the best possible putter for alignment.
The skill of putting boils down to two factors: the speed of the ball and the direction it's headed. Even if your speed is perfect, you won't be able to sink the ball if you don't aim your putter properly. Some people have a harder time with this than others, and many are unaware that their club can be the problem rather than their skill level – some putters are simply more difficult to align than others. Moreover, while some people find sightlines distracting and more of a hindrance than a helper, others feel they cannot correctly line up their shot without them.
When choosing your putter, ensure you choose the proper type for your swing style. Mallet putters are best for players with straight swings, while those with an arc to their stroke will benefit most from a blade putter. That being said, beginners or less-skilled players tend to benefit most from sticking to mallet-style putters as they provide more stability, assurance and forgiveness than traditional blades without sightlines.
For alignment improvement specifically, center shaft putters are ideal. Their popularity has declined since their heydays of the '60s and '70s, but for amateur golfers, these putters are very straightforward to set up and use as they promote an easy stroke. The "point and shoot" style of these keep the setup simple, especially for players with a neutral hand position, minimal wrist movement, and a straight back, straight through stroke.
Limited For Time? These are our top picks.
According to Ping, their studies on alignment techniques golfers use during putting resulted in the conclusion that there are four distinct alignment aid groups:
Clean Top Rail
For those players who prefer minimal alignment aids and less visual distraction, look for a clean top rail. These golfers line up with their target by using the perpendicular line behind the ball or the top edge only and prefer a traditional blade type of club. Players in this category may find anything on the top rail too distracting to properly line up their putts, while some in this group may even go to the extreme of preferring no alignment aid whatsoever.
Ball-Width Feature
Other players like to frame the ball before taking their shot, using a ball-width feature to indicate exactly where to place the putter. Instead of trying to line up a single sightline with a rough guess of the middle of the ball, this technique aligns the outer edges of the ball with two lines on the putter. Although this kind of putter may still have a clean top rail and/or central sightline, the player tends to ignore them and use the ball-width feature only.
Sightline Running to the Ball
This category of alignment utilizes a central sightline running from the putter face right to its back edge to draw the eye directly to the back of the ball. These putters typically don't have a top rail at all and can be compared to using a hammer to hit the nail on the head during putting.
A Long Sightline
Exclusive to mallet putters (blades simply don't have the space for it), this feature includes the use of a wider body clubhead with longer sightlines for extra insurance. Not only are these more stable, but they inspire confidence with how forgiving they are and providing additional alignment aids.
While everyone's preferences differ, the general consensus is that a larger/longer sightline on the top of the putter provides easier alignment.
Top Picks for Best Putters  For Alignment
With these alignment aids in mind, here are our top picks for the best putters for alignment:
Odyssey Stroke Lab Triple Track Putters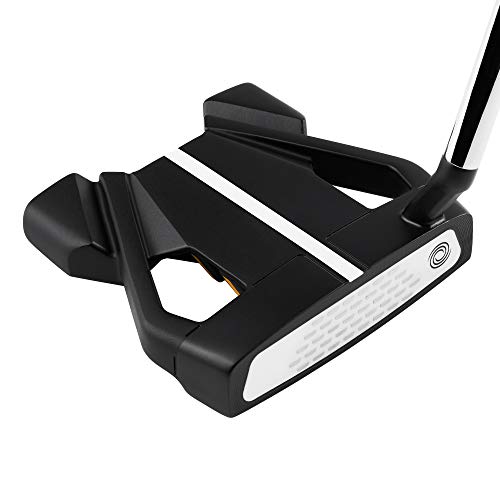 Odyssey Stroke Lab Black Putter (Right, 34", Ten S, Pistol Grip)
The Odyssey Stroke Lab Ten Putter provides our best performance technologies in a new mallet shape to help every golfer make more putts.
The innovative multi-material Stroke Lab shaft completely rebalances the putter for improved tempo and consistency in the stroke.
Exceptionally high MOI comes from a multi-material construction, making them extremely stable and forgiving on off-center impacts.
The new Micro hinge Star Insert provides a firmer feel and enhanced sound at impact while maintaining the same roll benefits of our Tour-proven White Hot Micro hinge Insert.
Our High Def Alignment makes it easy for golfers to aim better at address, a critical component to better and more consistent putting.
Last update on 2023-06-04 / Affiliate links / Images from Amazon Product Advertising API
This club was designed specifically for maximum alignment with the "Vernier Hyper Acuity" long running sightlines. The eye-catching Triple Track putters help golfers aim better with the three lines on top standing out more than a single central sightline. For added visual aid, Callaway have created Triple Track balls as well, although loyal golfers may not want to make the switch.
The shaft of the Stroke Lab line of putters combines graphite and steel to make them 40 grams lighter than steel shafts, improving the feel, balance, and consistency of these clubs. They also feature the Microhinge Star insert to create a firm feel and better sound at impact while promoting forward roll.
Type: Blade (2-Ball Blade, Double Wide) and Mallet (Marxman, Ten, and 2-Ball)
TaylorMade Golf Spider X Putter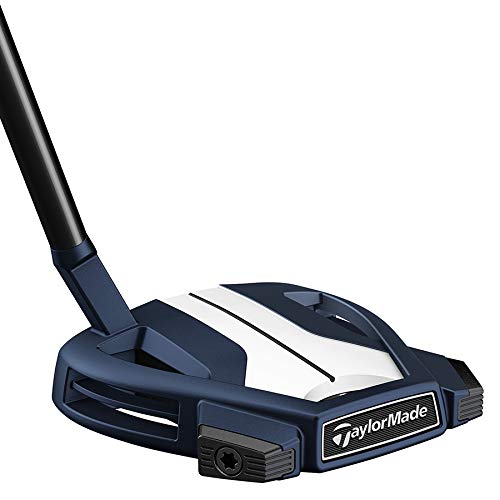 TaylorMade Golf Spider X, Navy/White, #3 Hosel, Left Hand, 35"
The X Philosophy: Spider X revolutionizes the way we achieve optimal stability and alignment by reengineering the mass properties of the head and introducing a new optically engineered True Path Alignment System
Increased Stability: Spider X features a redesigned head with a steel frame that is 30% heavier to minimize twisting
The X Design: New True Path Alignment System helps visualize the intended target line for improved putting accuracy; Spider X improves mass properties and stability by utilizing a heavy 320g frame with extreme perimeter weighting
Redesigned Weight Ports: Redesigned weight ports (2g, 6g, or 12g) enable personalization of feel and stability
Last update on 2023-06-04 / Affiliate links / Images from Amazon Product Advertising API
These putters are not only great for high handicappers simply looking for a good putter, but also for anyone looking for an easily aligned club. Although mallet-type clubs are usually better for players with straight strokes, these putters have a short slant hosel and moderate toe hang to cater to any arc stroke golfers wanting to try a mallet style too.
The 45-degree angle and groove technology promote better control while increasing topspin, thus keeping the ball on its intended line. This line of putters also has moveable weight options which provide flexibility if you feel the standard weighting doesn't quite suit you.
The shape is less fussy with a curved body rather than straight edges like the Spider S. The body is a lightweight aluminum painted with 304 stainless steel helps the putter face keep square. The True Path Alignment System features three alignment lines to line up your putter head more accurately to the intended path. The middle channel also acts as a ball-width feature for even more assurance during your address.
Type: Mallet
Cleveland Golf Frontline Elevado Single Bend Putter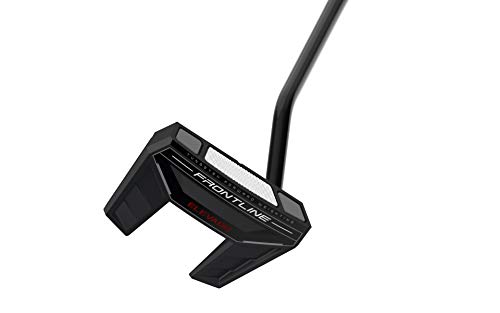 Cleveland Golf Frontline Putter Elevado Single Bend33"LH
Forward weights - with tungsten forward weighting and the center of gravity positioned closer to the face, Frontline provides better stability through impact for straighter, more accurate putts.
Speed optimized face Technology - Cleveland proprietary speed optimized face Technology pattern normalizes ball speed across the face, ensuring consistent distance performance on all your putts.
Better aim - achieve perfect alignment on every putt, regardless of where your eyes are at address, with Cleveland's proprietary 2135 technology.
Additional hostel configurations - find a superior fit for your stroke type with two different* hostel configurations to suit every player's needs. Featured on the El EVA Do, cero, and ISO models.
Stroke Type: Straight
Last update on 2023-06-04 / Affiliate links / Images from Amazon Product Advertising API
Type: Mallet
These clean, slick black clubs are designed for optimal speed and directional consistency. The center of gravity on these putters has been pushed forward with two tungsten weights seated in the face of the club to promote straighter putts more regularly. According to Cleveland, the forward center of gravity results in increased stability and accuracy as any off-center strikes won't veer as far off the intended course as they would with a higher MOI clubhead.
These clubs feature Cleveland's Speed Optimized Face Technology with an S-shape groove pattern designed to help regulate ball speed and ensure consistent distance performance. The club has a muted sound and feel at impact due to its weight setup as well.
They are easy to align with its straight edges, central top rail sightline and ball-width features, but even more so thanks to Cleveland's 2135 Technology. Their theory is that misalignment happens to over 80 percent of golfers merely because of the sightline on the bottom on the putter being inaccurate if your eyes aren't directly over the ball. To solve this, they've placed the sightline at the exact center axis of the ball, which is 21.35mm off the ground, providing perfect alignment even if your eyes aren't directly over the ball at address.
Odyssey White Hot Pro 2.0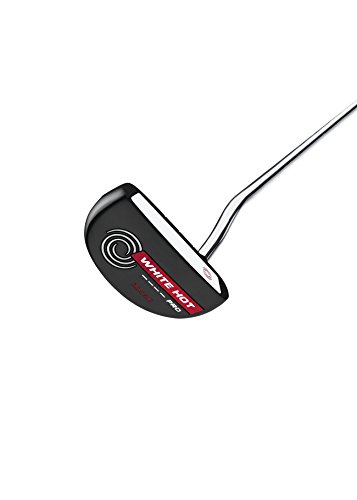 Callaway Odyssey White Hot Pro 2.0 Black Rossie Putter (Right Hand, Steel, Rossie, Jumbo Grip, 34' Length)
Designed to Meet the meticulous performance demands of the world's best golfers
Re-engineered White hot insert generates improved sound, feel and overall performance
Laser milling insert cutting process achieves tight tolerances for consistent performance
Heel/toe weight placement increases forgiveness and responsiveness on strikes across the face
Contrasting alignment aids on the topline promote increased accuracy and stroke consistency
Last update on 2023-06-04 / Affiliate links / Images from Amazon Product Advertising API
This putter is popular with arc stroke players, due to its consistency and forgiveness, but will also benefit those looking for a blade club with easy alignment aids. The putter is sleek and simple with just one sole sightline that can be put directly against the golf ball. The central sightline on the top rail makes it much easier to align than those sightlines found on the bottom of the putter, where it could be more than an inch away from the surface of the ball.
The re-designed White Hot insert provides a great, soft sound and feel at impact. The laser milled insert increases tolerance and forgiveness, resulting in better consistency and feel. It also features a crank neck hosel with a full shaft offset which enhances visualization for better alignment.
Type: Blade
Pinemeadow Golf PGX SL Putter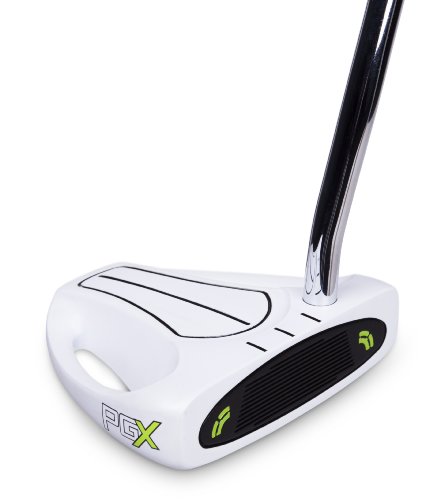 Pinemeadow Golf Men's PGX Putter (Right Hand) , White, 34"
The PGX putter features a precise white finish which stands out when the putter is in the address position on the green.
This contrast of the white color against the green grass really helps maintain focus on the alignment lines that help ensure that your putter is on target at start.
At 380g the additional 40g weight of the mallet putter is "tour-weighted", suited best for the faster greens that are more and more common around the world.
Includes custom PGX headcover
Putter length 34"
Last update on 2023-06-04 / Affiliate links / Images from Amazon Product Advertising API
Arguably the best putter for any beginner or mid to high handicapper, this putter helps inspire confidence with its easy alignment features and white color making it stand out against the grass. The center-balanced putter helps keep players aligned during their stroke while the consistent face insert minimizes skipping and creates a smooth roll.
Although this budget putter won't give you the same sound as the top-of-the-line clubs, it will help those golfers struggling to line up their putts thanks to its 2X ORB alignment system. This 2-ball club also features a plumber neck hosel with the offset improving alignment even further.
Type: Mallet
Ray Cook Silver Ray SR500 Putter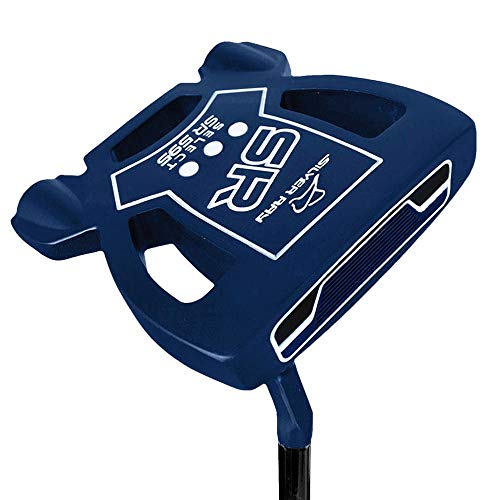 Last update on 2023-06-04 / Affiliate links / Images from Amazon Product Advertising API
A fantastic putter with an affordable price, this club rivals the TaylorMade Spider X but for a fraction of the cost. They are tour weighted and well balanced while providing a soft feel and consistency. The heavier head helps with stability while increasing accuracy.
With a double bend full shaft offset, this putter provides great visualization but also comes with the option of a center shaft or a heel shaft. The head is quite large and stable and has great alignment features to help you line up your putt. The solid sightline will help you clearly aim in addition to the head design specifically for improved alignment control.
Type: Mallet
Conclusion
Putters are often known for being the most important club in your bag. Therefore, it's crucial to pick the right one that works for you. With so many options available, it can be a challenge to choose and daunting to attempt to narrow down the list. So, if you're trying to improve your alignment specifically, try one of our top choices of the best putters for alignment which best suits your own personal preference.