Golf is a widely popular sport, and the number of active players is only growing. However, getting good at the sport requires a lot of practice, skill, and understanding of the game.
Most golfers need to know how their clubs work, and their features may enhance or detract from their game. You may notice that there are small tracks on your iron and wedges, called "grooves." Think of the grooves like treads on a tire or the grips on your shoes. These grooves help any water or debris escape to ensure that it doesn't make any contact with the ball and provide better control. In addition, grooves generate friction when the surface of the ball makes contact with the sharp edges of the groove. As a result, this increases the spin of the ball.
Over time, the friction will wear down, and the grooves become dull. Fewer friction results in less spin, decrease in the ball flight and overall distance. All of these factors culminate in less ball control.
Luckily, there is a tool to help you sharpen these grooves on your clubs. In this article, we'll cover everything you need to know about golf groove sharpeners!
What is a Golf Groove Sharpener?
A golf groove sharpener is a small tool utilized to restore wedge and iron faces to their original form and integrity by sticking it in the wedges groove. These golf groove sharpeners can be produced by yourself through DIY methods or manufactured groove sharpeners.
Do Golf Groove Sharpeners Work?
Many people wonder, "do golf groove sharpeners work?" The answer is yes! Golf groove sharpeners work by inserting the tool in the indents of the club faces and carefully guided back and forth. As a result, the grooves will begin to reform and sharpen.
It works because you are stripping back layers of metal from your clubface, particularly along the groove lines. Over time, the grooves will become rounded and wear down. A groove sharpener helps to turn dull edges of your clubface into crisp corners.
But why are sharp edges important for these grooves? The friction generated between the golf ball and the club is needed when creating a spin. Sharper edges help to grab the ball better when striking, which helps to cause a higher ball flight, and greater backspin.
It's important to understand that you are peeling off layers of metal from your clubface that will be permanently gone forever by sharpening the grooves.
Grooves are most prominent in irons and wedges because spin is an important factor when hitting them. In contrast, fairway woods and drivers are void of grooves.
How to Use a Golf Groove Sharpener?
Each groove sharpener may vary on how it should be used based on the instructions given. Make sure to follow the directions exactly as laid out to you.
However, there are some fundamental principles to follow that most groove sharpeners follow, such as:
Clean off all dirt or debris on the clubface surface.
Insert your groove sharpener inside the grooves and make sure it's positioned at a straight angle.
Slowly slide the groove sharpener back and forth.
The sharpener must remain straight and consistent to ensure that the grooves return to their original shape.
Is it Legal to Sharpen Grooves?
Groove sharpeners are legal to use on your golf clubs. However, there are rules pertaining to the maximum sharpness, depth, spacing, and groove alignment allowed for the grooves.
All golf clubs are manufactured to meet the maximum allowance to give you the best performance. If you alter the club to exceed the allowances in the rules, your golf club won't be allowed in tournament play.
Golf grooves are a legal and smart way to maximize the lifespan of your club, especially if it has a dull face. We recommend only tinkering with sharpeners on older golf clubs rather than a new one since sharpener newer ones will likely put you over the regulations.
How Often Should You Sharpen Wedges?
There isn't a routine time frame that you need to sharpen the grooves of your wedges. It's extremely important that you don't overdo the sharpening since it can exceed the standards of depth and sharpness. In addition, it can damage your clubs and strip away too much metal.
However, if you notice that the grooves are incredibly dull to the point where there is little to no friction between the ball and the club, then it's time to sharpen them. Make sure only to sharpen them enough to return to their original shape. Typically, sharpening the grooves doesn't happen very often.
Do Golf Groove Sharpeners Damage Your Club?
Before you sharpen your golf clubs, you want to consider whether it's worth the risk and if there are potential damages that may occur. Sharpening the grooves will have permanent effects on your clubface and is an irreversible action.
First, make sure you know how to sharpen the grooves and where to position them. If it's placed in the wrong location, the sharpener could scratch the surface and negatively impact your performance rather than improve it.
In addition, you'll need to identify whether your club has a V-shaped or U-shaped groove. Each groove shape may require a slightly different sharpener.
Many sharpeners can be used on both types of grooves, but that's not always the case. If you use the wrong tool, it will change the shape of the grooves and affect your shot. Identifying the shape of the groove is as simple as looking closely.
Since sharpening causes a lot of friction, you may want to spray some WD-40 on the clubface to help the tool glide back and forth smoothly.
Recommended Golf Groove Sharpeners
Here are a few golf groove sharpeners that we recommend you try out!
TruGroove Sharpener
No products found.
The TruGroove sharpener is hands down one of the best tools in the market. This tool features a stainless steel blade constructed from CNC to ensure that it fits perfectly with both V-grooves and U-grooves. TruGroove has a 4.5″ handle with a knurled grip to prevent slippage while using it. Users even get a few accessories along with the sharpener, such as a keychain that attaches to your golf bag and a protective cap, so keep the blades sharp. Lastly, the TruGroove complies with the R&A and USGA regulations meaning you'll be able to sharpen your tools during a tournament.
nU Golf Sharpener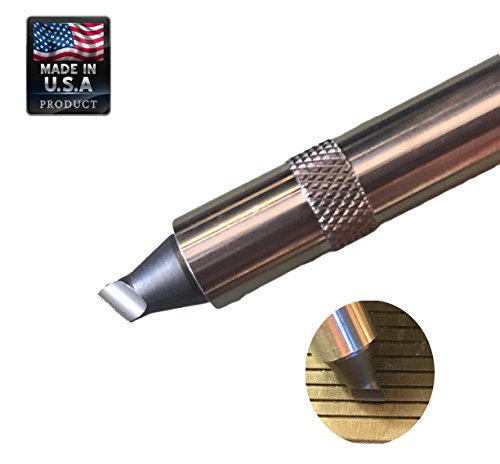 Last update on 2023-11-18 / Affiliate links / Images from Amazon Product Advertising API

Your golf sharpener should be very compact and easy to store. The nU golf sharpener has a pen-like design and is easy to handle. With the grippy crosshatch texture on the 4″ handle, you'll have maximum control when you are grooving your club faces.
The tip of the sharpener is rated at a nine out ten hardness level, which ensures that it can easily cut out the metal with minimal effort. There's a protective cap to prevent any accidents or damage to your belongings while the sharpener is not in use. The nU groove sharpener has been approved by the USGA regulations meaning it can be used for professional tournaments.
HIFROM Golf Sharpener Tool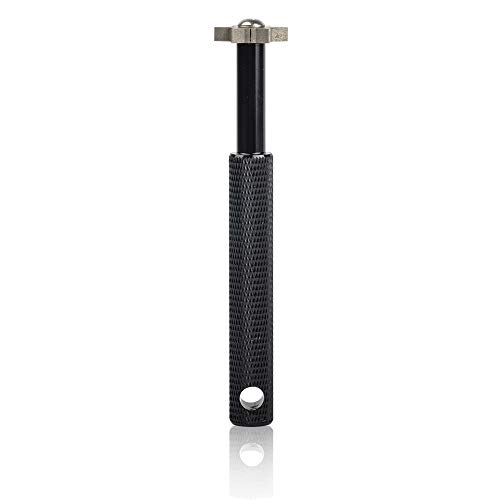 HIFROM Groove Sharpener with 6 Heads - Golf Club Groove Sharpener Re-Grooving Tool and Cleaner Replacement for All Irons Pitching Sand Lob Gap and Approach Wedges and Utility Clubs (Black)
1. A MUST HAVE 6 HEAD GOLF CLUB GROOVE SHARPENER - BEST ON THE MARKET. Perfect replacement for Improving your Backspin and Ball Control just like the PGA Tour Professionals. Fantastic results on both V and U (square) grooves. Convenient and simple to use and carry.Save money to spend another set of irons and wedges. Easy to regroove the clubs without any trouble.
2. replacement for YOUR CLUBS: 6 Heads with two different cutting ends,one U shaped,the other V shaped,you choose which one to use. Lichi texture on the shaft surface replacement for firm grippng when cleaning the golf club head,avoiding sliding in the hand. Perfect replacement for Adams,Callaway,Cobra,Cleveland,Nike,Ping,TaylorMade,Titleist,Wilson,and other Leading Irons,including Sand Wedges,Lob Wedges,Gap Wedges,Approach Wedges,and other Golf Utility Clubs.
3. DURABLE,COMFORTABLE TO USE: This metal golf tool is designed replacement for long wear and enduring performance; the comfortable grip ensures it is easy to use whilst the precision engineering and highest quality metals make it extremely durable. The texture on the shaft surface replacement for firm grippng when cleaning the golf club head,avoiding sliding in the hand.
4. Highest Quality metal construction. Made from high grade precision tool Vacuum Heat Treated Steel with a maximum hardness of 65 Rockwell replacement for maximum durability and effectiveness. Groove sharpener is precision ground and engineered to exacting tolerances to ensure that it does not compromise USGA rules regarding width and depth.
5. replacement for men or women golfers. Packaged in clear safety tube replacement for ultimate protection. Package Include: 1x black sharpener,1x PVC container
Last update on 2023-11-18 / Affiliate links / Images from Amazon Product Advertising API
For those looking for an effective tool, we recommend the HIROM 6-Head sharpener tool that boasts incredible durability and hardness grade. It includes two types of cutting ends and works for both V-type and U-type club grooves. In addition, the HIFROM tool can be used on both wedges and irons. The sharpener works on many leading club brands such as Cobra, Callaway, Adams, TaylorMade, Ping, Nike, Cleveland, Wilson, and many more.
The shaft has a strong, grippy surface so that the handle doesn't slide while you are sharpening the grooves. You never want to have the sharpener slip and accidentally slit the grooves unevenly or cause an injury to yourself. With the HIFROM, you get complete control over your tool to cut the depth and edges too deep.
Alternatives for Groove Sharpening
If you're new to golf, sharpening the grooves of iron can feel intimidating, especially since you are stripping away pieces of metal, and the process is irreversible.
However, it's important to keep the grooves sharp for optimal performance and keep debris, grass, and water away from your clubface.
Anything that gets in between the clubface and ball when hitting your shot will reduce the spin. One alternative is using a cheap cleaning tool with a soft wire brush to keep the grooves clean and free from any debris.
Another option is to use a golf tee and run the pointy end back and forth on the grooves to dislodge any dirt or grass.
Can You Sharpen Grooves with a Screwdriver?
Although it's not common, you can sharpen your grooves using a screwdriver. Here are a few tips when sharpening the grooves:
Grab a flat head screwdriver that measures the exact size of the grooves on your irons or wedges.
Clean the groove's depths and edges to ensure that no dust or dirt is stuck onto the clubface and won't interfere with the movement of the screwdriver.
Ideally, you'll want to use a shorter screwdriver so that you have more leverage and lateral control.
Insert the screwdriver at a 90-degree angle into the grooves. Then slowly move it back and forth.
Make sure that you stop once the grooves are adequately sharpened.
Do Golf Groove Sharpeners Work – Final Thoughts
Rather than frequently replacing your golf clubs due to dull club faces, it's more cost-effective to sharpen the grooves simply. Regrooving is an important component to ensuring you perform at your best in tournaments. If you don't know what you're doing, you can always go to your local golf store or ask an expert. Now that you understand what a golf sharpener is and why it's important, you can now increase the lifespan of your clubs and improve your game.
Do Golf Groove Sharpeners Work? Are They Worth The Money?
Many people wonder, "do golf groove sharpeners work?" The answer is yes! Golf groove sharpeners work by inserting the tool in the indents of the club faces and carefully guided back and forth. As a result, the grooves will begin to reform and sharpen.
Product In-Stock: InStock