You may be surprised to know that your golf ball says a lot about you. The type of golf ball can determine a player's skill level and preferences. Your competitors will look at the color, band, and features of the golf ball to determine whether you're good or not.
Although every brand will advertise their golf ball is the best and provides the most spin, there is a difference between cheap and premium golf balls. They vary in material, design, and construction, which affects your performance.
In short, higher-quality balls are made with a urethane cover to provide superior spin control and feel. In addition, these premium balls hold greens more consistently to help you shoot lower scores and last longer.
However, that doesn't mean you can't use cheaper balls. For high handicappers, less spin on your ball may be a good thing.
In the end, choosing a golf ball depends on your skill level, preferences, and how much you're willing to spend. Let's talk about why the golf ball quality matters and how to pick the right one for you.
Does the Quality Make a Difference?
Aren't all golf balls the same? And does golf ball quality matter? For beginners, they might just grab golf balls from anywhere without asking what it's made of or testing its performance. Investing and selecting high-quality golf balls is vital to playing your best game of golf. Unfortunately, many golfers spend a lot of time considering clubs, bags, and drivers without paying attention to the golf balls they're using.
Factors such as the compression rating, golf ball cover material, and the number of layers are typically the most important aspects to look at when picking out the right golf ball for you.
Understanding the Components of a Golf Ball
Before you understand why golf balls truly matter, it's important to know what makes up a golf ball and what could differ between models and brands. The three components of a golf ball are its core, layers, and cover.
The core is made of molded and compressed rubber and takes up the most amount of space in the ball. After impact, the core of the ball will retain the energy released into the ball to generate a launch, speed, and accuracy.
Over the core are layers that cover the core. It matters how many layers there are. A golf ball can range from having 1, 2, 3, 4, or 5 pieces. This is to keep moisture out of the core and change the various characteristics of the ball's performance. Depending on the layers of the ball, it will create less or more spin and overall ball speed retention.
The golf ball cover has dimples on them to ensure smooth sailing. The thickness of the material and cover will affect the spin and distance.
Golf Ball Covers: Urethane or Ionomer?
Typically, higher-quality balls are made using a polymer cover called urethane. Urethane is a material that helps the grooves on the golf club grip the ball more effectively. This material has the durability to perform well under intense heat. In general, urethane balls have a softer cover, which provides players with a better feel and control to help with putting and chipping. More advanced players use urethane balls to give them more accuracy on the course. The downside is that urethane balls are more expensive.
In contrast, ionomer covers have a harder surface but don't have the soft feel like a urethane cover. However, this is better suited for beginners because they don't need as much spin on the ball or control. It's made to hit good long distances off the ball and keep the ball straight off the tee. The most popular ionomer material used is surlyn.
Differences Between Layers of a Golf Ball
As mentioned, golf balls are made up of an inner core surrounded by multiple layers. The number of layers inside of a ball will affect the ball's trajectory and overall durability. Typically, you'll find beginners using a two-piece ball, while professional players using a 3 or 4 piece golf ball. Each type of ball has a performance factor and distance usage associated with it.
1-Piece Golf Balls
One-piece golf balls do not have a cover or core. Instead, these balls are made from one solid material called Surlyn. It's quite rare to find these balls on a real golf course. Instead, these are typically found on driving ranges and mini-golf courses. These balls aren't ideal for any player because they aren't soft and have super-low compression. This means hitting a ball for long distances is difficult.
2-Piece Golf Balls
2-piece golf balls have a cover and a core that is made from plastic or urethane. Two-piece golf balls are best suited for beginners or slow-swing speed players. The firm construction of the ball allows you to hit the ball further by 20 yards or more, but you'll lose some control on your shots. If you're a player who struggles to get good distances or hit a ball straight off the tee, the two-piece would be ideal.
3-Piece Golf Balls
3-piece golf balls have an outer layer, mantle, and core. These golf balls offer better control and excellent performance. They're softer than the previous two options allowing for a higher degree of forgiveness. In addition, the softer construction makes for a better spin. We recommend using the 3-piece ball for players who have been golfing for at least 1 or 2 years.
4-Piece Golf Balls
4-piece golf balls are best suited for professional players and have a dual-core design. These balls provide excellent precision and produce a low initial speed. It's a great option for players with high swing speeds. This ball has four layers working together, making it very soft yet still able to help users travel the furthest distance possible. The additional middle cover in the 4-piece ball helps generate added distance to drive off the tee. Lastly, the ball is topped off with an outer urethane layer to offer an extra soft feel for good control on putts and short game shots.
5-Piece Golf Balls
5-piece golf balls are quite rare, and most players don't use them except for the highest tour-level golfers. This 5-piece ball has three mantle layers sandwiched between a soft urethane cover and a high-speed core. The additional layer helps to add more spin separation. Each mantle layer reacts to different swing speeds and different shots in an effort to generate the most optimized performance possible.
How Does Compression Affect Your Performance?
Most people don't consider how much the golf ball will change space during impact. Otherwise known as compression, this affects how far the ball goes and the overall feel of the ball. Your swing speed is important in determining the compression you should get for your golf ball. The higher your swing speed is, the higher the compression rating you'll need to get the proper performance out of the golf ball. For slow swing speed golfers, it's better to use low-compression golf balls.
For golfers with slow swing speeds, such as seniors, junior players, or women of average strength, you may want to choose a ball with a compression rating of 80. This allows slow swingers to easily compress the golf ball with the clubface on the downswing to achieve greater distance and ball flight.
For average males or long-hitting female golfers, we recommend choosing a golf ball with a compression rating of 90. This rating requires a faster clubhead speed during impact to maximize the compression of the golf ball and spring effect. If you're unsure about whether to get an 80 or 90 rating, we recommend testing a few shots of each type of golf ball at a driving range. This allows you to see which ball travels farther.
Lastly, if you're someone who has a fast club swing speed and can drive the ball over 275 yards off the tee, you should have a compression rating of 100. This allows you to maximize the distance of your shots. Getting a lower compression will cause a reduced range off the tee and hamper your performance on the course.
As mentioned, the best thing to do is to test several ratings of ball compression at your local driving rate. Use the same golf club and see which ball goes the furthest. Some golfers choose to use a softer compression rating to get a better feel for their approach shots. In this case, you will want to test the compression ratings against different clubs like short irons and wedges.
What Difference Do Dimples Make?
The reason that dimples are important is that they affect the drag. The very moment that the ball is struck, it is already slowing down. Well-hit golf shots propel the golf ball about 120 mph in the air, and the pressure and moisture in the air will slow it down quickly.
The dimples on the outside of the ball affect the air molecules that affect the ball's flight. The less area on the cover, the less area will be affected by the air. Having dimples on the ball causes the molecules to bounce and roll around to generate turbulence in the air on the surface.
A smooth ball would travel way shorter because there's more surface area for the air pressure to stop it with. Most golf balls range between 300 and 500 dimples with an average of 0.010 inches.
Are Lake Balls and Refurbished Balls Any Good?
Some companies will offer "lake or refurbished" balls that have been stuck in the lakes of the course and scooped up to be re-used. These balls sell for much cheaper than new balls, making them an attractive investment. But these balls aren't as good as new.
Golf balls that have been already used and have been stuck in water travel less than new and dry golf balls. Depending on how long it is spent in water, it can drive about 6 to 25 yards less. Although it is a sizable difference, for beginners, this may not mean much. Considering how expensive golf balls run today, it may be smarter to buy refurbished balls because it's much cheaper. Many companies will re-cover and add a shiny gloss to these balls as well.
Best Golf Balls for Beginners
Here are our recommended picks for the best golf balls for beginners.
Callaway Supersoft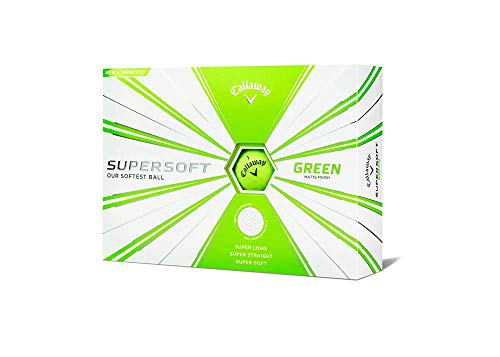 Callaway Golf Supersoft Golf Balls
New Low Drag HEX Aerodynamics are optimized to reduce drag and enhance lift for longer carry and longer distance
A new softer Trigonometry cover formulation has a low compression for enhanced feel and increased greenside control
Last update on 2023-08-31 / Affiliate links / Images from Amazon Product Advertising API
The basic premise of the Callaway Supersoft is that it is designed to produce long and straight shots with a soft feel to them. These balls have a low compression core making the ball speed much faster than normal. There is some technology to enhance the lift of the ball and increase the carry while the ball is in flight. These balls are aimed at beginners and average golfers who want a premium softball to use.
These balls are designed with HEX aerodynamics to reduce drag through impact and increase ball flight. The extremely soft cover helps players on the greens because it provides some control and will hit off the putter smoothly.
Titleist Pro V1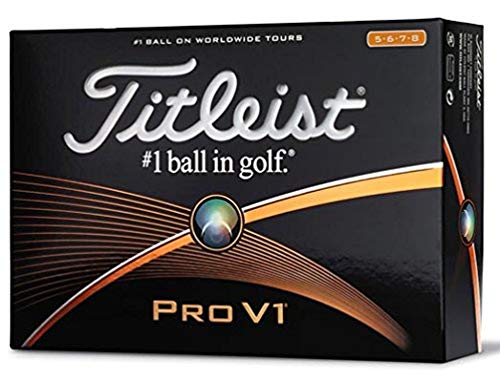 Titleist Pro V1 Golf Balls (One Dozen)
Set of 12 balls designed for golfers seeking long distance, consistent ball flight and soft feel
Higher ball speed and lower spin combine for a very long club distance
Drop-And-Stop greenside control for improved scoring performance
High performance urethane elastomer cover
Alignment Integrated Marking sidestamp for improved putting alignment
Last update on 2023-08-31 / Affiliate links / Images from Amazon Product Advertising API
The manufacturers are Titleist produced to Pro V1 to give beginners and amateur golfers access to a premium golf ball with advanced technology. It features their reformulated 2.0 ZG Process Core to deliver added distance off the tee and a straighter ball flight. The ionomer high-flex casing is highly resilient for the long game to enhance your ball flight and launch.
Titleist has designed this ball with a spherically-tiled Tetrahedral dimple design with a 388-dimple layout to optimize flight consistency and penetrating trajectory. Lastly, it uses an elastomer cover for improved greenside control for putting.
Srixon Soft Feel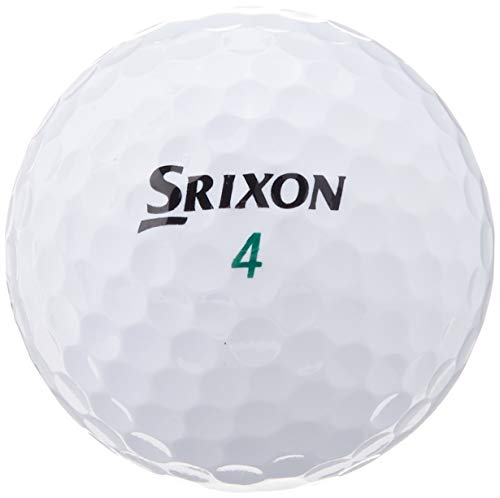 Srixon Men's Soft Feel Golf Ball
Two piece value golf ball for 70+ mile per hour swing speeds
Provides both feel and greater distance
Lonomer cover
New dimple pattern equals enhanced aerodynamics and greater distance
Just added to Srixon's Tour Yellow line of golf balls
Last update on 2023-08-31 / Affiliate links / Images from Amazon Product Advertising API
The Srixon Soft Feel is made from a reputable manufacturer and is one of the most popular golf balls. These balls are built with two-piece: their soft and thin ionomer cover and their FastLayer Core. Despite its simple design, it plays much better than you'd expect. One reason is that the core has a soft center that gradually gets more firm towards the outer edge. It has a 60 compression, and its cover is 0.064 inches thick, making this ideal for beginners, seniors, juniors, and average women golfers.
Like the Titleist, it has a 338-speed dimple pattern to ensure stable ball flight and excellent launch. In addition, it has a subtle thick black alignment line over the name of the ball to help align your putter to it when you're on the greens. For those looking to get excellent distance off the tee, the core will help retain the energy better and help you hit the ball further.
Final Thoughts
Many factors come into play when choosing the best golf ball for you, such as price, construction, and design. Since there are so many ways a golf ball can be constructed, you can easily optimize your performance.
You may want to try a few brands and types of balls to see which ball gives you the best combination of distance, feel on the greens, and control. Sometimes changing the golf ball that you're using can make all the difference in the world. We've hoped you found our guide insightful and will help you lower your scores!