Despite its chilly origins in Snowy Scotland, golf is a predominantly fair-weather sport. Sunny skies, dry fairways, and chilled beers populate golf clubs and courses during the summer making golf a common endeavor throughout the warmer months. However, it is only when the nights start to draw in, the greens start to frost over, and the sleet begins to fall do we see the battle-hardened golfers take to the golf course.
Now, if you're ready to extend your playing months into the winter and brave the elements, then you are going to want to make sure you are fully prepared for whatever the weather may throw at you. As the saying goes, "you can't build a house on poor foundations," and as such, appropriate winter footwear is a non-negotiable when the cold weather starts rearing its ugly head.
Lucky for you, we've compiled some of the best cold weather footwear currently on the market to give you the ins and outs and what's what. You can also find a 'Buying Guide' at the bottom of the article.
Adidas Men's Climaproof BOA Golf Shoe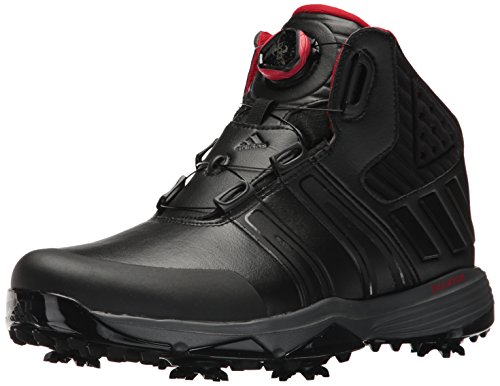 adidas Men's Climaproof BOA Golf Shoe
Modern athletic mid-cut design with soft collar and tongue top for added comfort
Full-length bounce foam midsole provides exceptional cushioning, comfort, and energy return
Lightweight, microfiber leather upper with climaproof hydro protection
Power cage saddle connected by soft wire through 360 LOOP guide to BOA closure system
fit foam pillow sock liner provides extra cushioning and comfort where it's needed most
Last update on 2023-09-17 / Affiliate links / Images from Amazon Product Advertising API
Adopting the style of a typical walking boot rather than a traditional golf shoe, the 'Adidas Men's Climaproof BOA Golf Shoe' utilizes a mid-cut design to deliver exceptional comfort and support when traversing wet and uneven terrain. Combined with Adidas' low-profile thintech 6-spike outsole design, the stability and traction you can expect to receive are second to none.
The lightweight, microfiber leather includes (the fully waterproof) 'climaproof' technology, offering excellent protection from the elements. Additionally, Climaproof offers great breathability meaning sweat wicked away quickly, keeping your feet comfortable and dry.
Finally, the easy-to-use BOA closure system allows for quick and straightforward shoe adjustments, especially convenient in the colder, wetter weather.
The Adidas Men's Climaproof BOA Golf Shoe is a great option for golfers who are planning on braving particularly treacherous golfing conditions and terrain.
Pro's
Very supportive and great stability when walking over wet and uneven terrain
Climaproof technology will keep your feet protected from the elements
Easy to use BOA closure system
Upper leather is easy to clean
Probably the most durable shoe on this list
Con's
Skechers Go Golf Men's Torque Waterproof Golf Shoe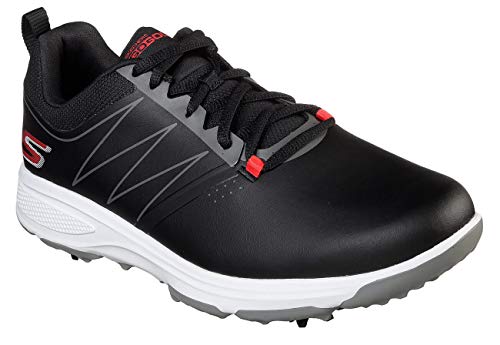 Last update on 2023-09-17 / Affiliate links / Images from Amazon Product Advertising API
In typical Sketcher's fashion, the Go Golf Waterproof golf shoe is comfortable, well priced, and offers a modern, sleek design. Soft, supple, very lightweight, and with the assistance of plentiful padding around the ankle, the shoe's comfort levels are through the roof. The new twist dial lace-up technology offers accurate front closure for a more convenient fit during cold winter days, and the fully waterproof synthetic rain jacket means your feet will stay dry throughout all weather conditions. Finally, the Go Golf utilizes replaceable six plastic spikes for sustained, enhanced grip and brilliant course traction.
For those looking for an affordable cold weather shoe that offers style, comfort, and excellent protection from the elements, the Skechers Go Golf Men's Torque Waterproof Golf Shoe is a great option.
Pro's
Super comfy!
Fully waterproof
Modern, sleek design that can be worn with a variety of different golf attire
Convenient twist dial lace-up technology
Great price
Con's
Perhaps lacks the stability of other cleated golf shoes
Skechers Men's Torque Brogan Winter Golf Boot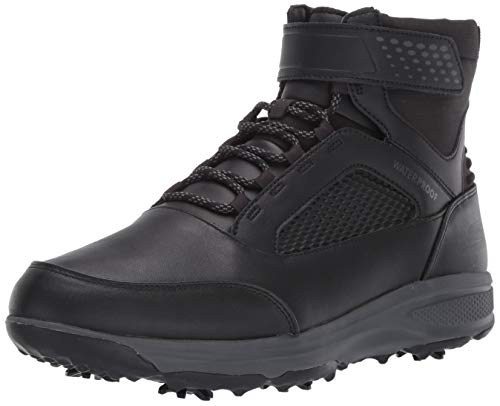 Last update on 2023-09-17 / Affiliate links / Images from Amazon Product Advertising API
The second Sketchers shoe on our list today. The Sketchers Brogan Winter Boot offers a sturdier option compared to the Torque Golf Shoe. Like the 'Adidas Climaproof BOA Golf Shoe,' this Sketcher's golf boot adopts a high rise boot cut, providing upgraded stability and ankle support when compared with the sketchers' shoe' alternative.
Combining a smooth full leather upper with Ultra Flight cushioning technology, along with a relaxed fit design for a roomy, comfortable toe box, you can be assured that your feet will remain unbeatably comfortable during your winter golf rounds. The high-top platform also boasts Skechers H2GO waterproof protection along with a cinchable collar for added waterproof comfort.
This is complete with a 2-year warranty, meaning you can be assured your feet will be fully protected from the wet weather and accidental damage. Finally, underneath, the Torque Brogan Winter Golf Boot outsole features replaceable soft spikes and a molded bottom plate, delivering excellent grip and support.
A fantastic option for those looking for a more supportive, stabler alternative compared with the Skechers Go Golf Men's Torque Waterproof Golf Shoe.
Pros:
Greater ankle support and stability compared with Sketcher's shoe alternative.
Skechers H2GO waterproof protection with a 2-year warranty
Super comfy (padded collar and tongue, soft fabric shoe lining, and Cushioned comfort insole)
Replaceable soft spikes
Cons:
Slightly bulkier than other winter shoes
Hefty price tag
Adidas Golf Women's Adipower 4orged Golf Shoe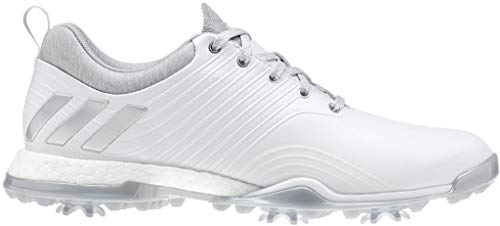 Last update on 2023-09-17 / Affiliate links / Images from Amazon Product Advertising API
The only women's shoe to make the list, the durable upper of the '4orged' features an innovative new design that harnesses heat and pressure in order to strengthen and stabilize key sections of the shoe, maximizing foot stability and support.
Additionally, Adidas has incorporated their Climastorm technology into the 4orged to provide breathable, water-repellent protection while keeping your feet dry and sweat-free. Adidas has also combined a (lightweight) ¾ length BOOST midsole foam and a fit foam sock liner to provide excellent energy return and cushioning. 
All this tech is conveniently wrapped up in a brilliant-looking show, with the Adipower 4orged Golf Shoes coming in as undoubtedly the best-looking shoe on our list. Finally, its modern enhanced outsole features a 6-cleat, thintech low profile design providing fantastic grip, assured footing, and excellent support for total on-course performance.
The only women's shoe to feature here, the Adidas Golf Women's Adipower 4orged Golf Shoes, is a strong option for any ladies looking to continue their golfing endeavors into the winter. A perfect combination of high-level aesthetics and quality functionality.
Pros:
Brilliant looking shoe
Lightweight and snug fit
Excellent outsole for fantastic traction and stability
Fitfoam PU sockliner provides great cushioning, support, and comfort
Cons:
ECCO Men's Biom Hybrid 4 Gore-tex Waterproof Golf Shoe
Sale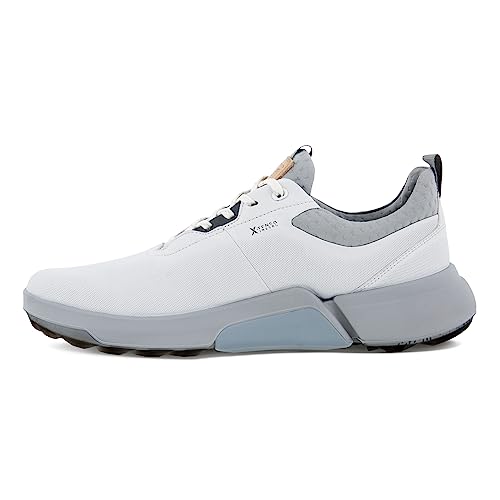 ECCO Men's Biom Hybrid 4 Gore-tex Waterproof Golf Shoe, White/Concrete, 12-12.5
Crafted in durable ECCO leather with 100% GORE-TEX waterproof protection, so your feet stay dry
BIOM NATURAL MOTION technology brings the player closer to the ground using an anatomical last
ECCO MTN GRIP outsole provides stability, durability and rotational support through three different zones
X-TENSA INVISIBLE TECHNOLOGY links the sole unit to the laces via internal enforcement for enhanced stability
Removable and washable Ortholite inlay sole for long-term cushioning and enhanced breathability
Last update on 2023-09-17 / Affiliate links / Images from Amazon Product Advertising API
Over the past 10 years, there has been a shift in the style of golf shoe that is populating golf courses year-round. Clunky metal spikes that leave deep marks in greens have been replaced with forgiving plastic spikes along with spike-less golf shoe technology.
Golfers now have access to footwear that boasts the traction and stability of the traditional spiked golf shoe, as well as the comfort and practicality of a modern trainer. ECCO arguably spearheaded this trend with the launch of their hybrid shoe range at the start of the 2010, and their latest installment in the hybrid series is their most advanced and modern addition to date.
The Biom 4 is an excellent-looking shoe, adopting the design of a high-end trainer rather than golf footwear, offering a sleek glove-like fit. Similar to other ECCO golf shoes, the Biom 4's upper offers 100% waterproof Gore-tex technology within its performance leather, providing ultimate wet and cold weather protection. Like other modern golf shoes, the Biom 4 utilizes a twist-up lace system for convenience and uniform stability.
Underneath, the Biom 4 has been kitted out with a new MTN outsole which is split into three sections, meaning stability isn't compromised in adverse weather conditions. The heel section is specifically designed to maximize traction.
The middle is constructed for both traction and ground penetration, with the front portion providing rotational support during the swing. Finally, similar to previous models, the Biom 4 continues to feature The Ortholite insole, adding appropriate breathability and cushioning (this can be removed if you prefer, however).
The Biom 4 is the ultimate high-performance shoe, offering everything you could want in cold weather golf footwear (and golf shoes too!). If you can handle its hefty price tag, you will be duly rewarded.
Pro's
Ultimate golf shoe
Fully waterproof and equipped with Gore-tex technology 
Excellent design
Twist dial lace-up technology
Our Number one pick if your budget can stretch.
Con's
Best Cold Weather Golf Shoes  – Buying guide
Waterproofing
If you are planning on braving 18 holes in the middle of winter, the last thing you want is to get soggy feet after the first hole. Once your feet get damp, it will be nigh on impossible to dry them out, and you'll spend the next 3 hours wishing you had stayed at home in front of the fire.
Waterproofing is the NUMBER 1 priority when selecting a pair of cold weather, winter golf shoes. Choose a pair with high-quality waterproofing capabilities, even if that means paying slightly extra.
Comfort
Comfort comes in at a close second. If your feet are in pain, then we wish you good luck trying to play 18 holes of quality golf. Comfort is paramount when searching for a great pair of winter golf shoes (or any golf shoes for that matter), and if you're forced to decide between comfort and aesthetics, we urge you to choose the former; we promise you your feet will thank us.
Spikes or No Spikes?
Traditionally, this wasn't a debate, with the underside of every golf shoe historically marked with crisp metal spikes. Nowadays, metal spikes are a thing of the past, with hybrid, plastic spikes, and spikeless golf shoes rising to the forefront.
Some people have a strong preference towards spiked footwear (which may become more important in the winter when the footing is slightly more uneven), especially those who hit with large amounts of torque and are therefore more prone to slipping. However, this will depend on the conditions and your play style.
Our recommendation is that if you know you are going to be regularly playing in wet and muddy conditions, spikes would be the way to go. Otherwise, high-quality spikeless footwear may be a better option.
To lace or not to lace?
Perhaps you hadn't even considered this as a category; after all, who buys golf shoes without laces? Well, many modern-day golf shoes are now choosing to sub out traditional lace-ups for a twist dial system. This can make it easier to quickly adjust your shoes, potentially a more important feature when playing in cold weather where fingers are likely to become cold and numb.
However, in reality, there is little difference between the two and ultimately will come down to personal preference.
Price
Finally, we've added price into this buying guide. Of course, price factors into any purchase you make, whether it be golf shoes or a meal out. However, when it comes to what you put on your feet, it would be inadvisable (in our opinion) to skimp on quality for the sake of a few $'s.
Find a pair that's best for you based on a combination of the above variables, and try not to worry too much about the price tag. Your feet will thank you when they stay warm, dry, and comfortable for all 18 holes.