The ideal golf gloves for hot conditions should effectively keep your hands on the club while being able to make sure your hands do not get too hot. It is definitely not an easy task, but some companies do an excellent job.
To help you find the right pair for your hands, we have put together the best golf gloves for hot weather. This list includes options for all types of players.
In a hurry? These are our top picks.
FootJoy Men's WeatherSof Golf Glove (White)
FootJoy Men's WeatherSof Golf Glove White Cadet Small, Worn on Left Hand
ENHANCED DURABILITY - Advanced Performance Leather increases the feel, durability and grip performance in key stress areas.
EXTRAORDINARY FIT - Exclusive Fibers of material provides the most advanced combination of a consistent fit, soft feel, and a secure grip.
SECURE CLOSURE - Proprietary Comfortable Closure comfortably adjusts for a secure, reliable fit and feel.
BREATHABLE MESH - Soft Power Net mesh across the knuckles improves breathability, comfort and flexibility.
Last update on 2021-09-23 / Affiliate links / Images from Amazon Product Advertising API
First in our selection is the FootJoy Men's WeatherSof Golf Glove that comes in white color. The brand is very popular, especially for the golf shoes that they produce.
The gloves are quite durable, and they are available in various sizes and feel. It is very likely to hold up longer during hot weather, as it is a little thicker than some of the other leather options.
The WeatherSof provides golfers with the thickness in the glove that they need in all appropriate areas. If you do happen to get a blister every once in a while as you play, you will absolutely enjoy how these gloves feel on your hands.
This pair of gloves features a Velcro closure that holds up very well even the weather is hot. They will not feel like they are slipping off your hands while you are playing golf.
Furthermore, what makes the FootJoy Men's WeatherSof Golf Glove a great choice for warmer conditions is the breathable mesh fabric located in the knuckles. This material will provide you with improved comfort, flexibility, and breathability.
Allowing some air to get into your hands will certainly help cool you down when you play golf on extremely hot days.
Features:
Velcro closure – holds up real tight even when worn on warmer days
Advanced performance leather
Breathable mesh fabric – material found in the knuckles, which will provide you with enhanced comfort, flexibility, and breathability
Moisture control feature – makes the glove even more breathable
FiberSof palm and back – ensures a consistently comfortable fit
Breathable, dual PowerNet mesh inserts
Comfy wrist elastic
Three-Directional tab closure
Removable ball marker
Finger Ten Men's Golf Gloves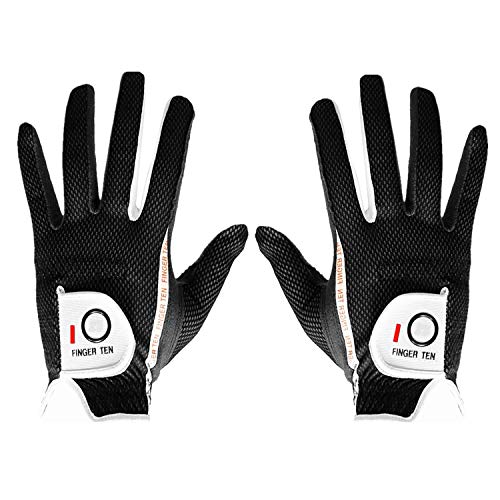 FINGER TEN Men's Golf Glove Rain Grip Pair Both Hand or 2 Pack Left Right Hand, Hot Wet Weather No Sweat, Black Gray Green, Fit Size Small Medium Large XL
DEVELOP YOUR PERFORM IN RAIN, HOT, WET CONDITIONS: A Best Choice for Rain Hot Wet Weather Daily Practice. Unbeatable Wet Weather Grip and Quick- Drying Comfort. Get Ready for Rain Play;
QUALITY MATERIAL TO SOVLE YOUR SWEAT AND MOISTRE PROBLEM: THE High Quality 3D Performance Mesh, Provides Perfect Fit and Solve Your Moisture Wicking& Breathable. Very Lightweight and Flexible. For GOLFERS WHO HAVE MORE SWEAT IN HOT WEATHER, TRY THIS ONE. It will Develop Your Performance in More Sweat and No slip at All;
GLOVE WORN ON LEFT HAND OR RIGHT HAND OR A PAIR IN SIZE S M ML L XL AVAILABLE: Please Check the Attached Picture for Hand Orientation. It is NOT ONLY FOR RAIN DAY BUT ALSO FOR YOUR ALL WEATHER DAILY PRACTICE. Worn on Your Left Hand for Right-Handed Golfer, Worn on Your Right Hand for Left-Handed Golfer. The Sizes Conform with USA Regular Sizes. No Misunderstanding, Happy Purchase;
WELL PACKAGED AND SAVE $1.99 ON ONE 2-PACK: You Will Receive the Product Packaged Well in Good Condition. Each Glove Will be Put in a Small Bag at First and Then put Into the Paper Package. Double Protection. The 2-Pack One Cost $1.99 Less than Two Individual Gloves. About $6.5 for Each;
NO RISK AND BUY WITH CONFIDENCE: ALL Finger Ten Products Are Eligible For Amazon 30 Days Return And Change Policy. Finger Ten Aims To Make All Our Customers 100% Satisfied.
Last update on 2021-09-23 / Affiliate links / Images from Amazon Product Advertising API
The men's golf gloves by Finger Ten are perfect for those looking to keep their hands cool and dry during hot days on the green. With a grip that doesn't let go in wet conditions, these fingerless models have been proven as one of the best options for staying comfortable while swinging away at your favorite hole-in-one!
The gloves come in an exceptional wet weather grip. They also dry quickly on hot days when your hands are likely to sweat a lot.
This pair is made of a high-quality, top-performance 3D mesh that delivers the perfect fit as well as efficient moisture-wicking and quick-drying comfort. If you are searching for gloves meant to help you maintain the level of your performance even during hotter weather, then this amazing product by Finger Ten is what you should have.
These Finger Ten Golf Gloves are designed with the player in mind. Made to prevent your club from slipping off of your hands, they're incredibly lightweight and flexible for increased comfort on those long rounds that can make golfing much more enjoyable when you don't have a blister or soreness anywhere near where it counts!
Features:
High-quality, top-performance 3D mesh – ensures the perfect fit as well as quick-drying comfort and efficient moisture-wicking
Padded thump – provides greater grip
Lycra spandex in fingers – delivers better flexibility
The glove comes with a ball marker
Callaway Golf OptiColor Leather Golf Gloves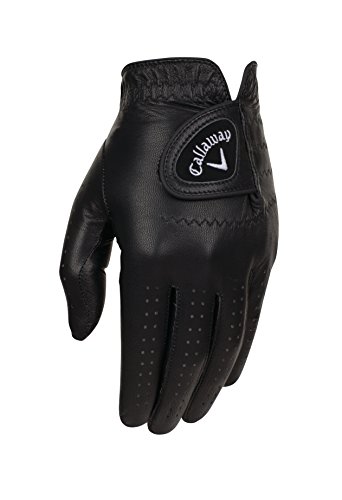 Callaway Golf Men's OptiColor Leather Glove
Full leather construction, perforated palm and fingers for breathability, an optifeel closure and bright colors make Callaway's Opticolor Glove the best choice for performance and fashion.
Opti feel+ leather - premium feel, fit and comfort
Perforations on palm, fingers and thumb - moisture reduction and increased breathability
Opti fit adjustable closure - thin, light and secure fit
Last update on 2021-09-23 / Affiliate links / Images from Amazon Product Advertising API
This product by Callaway is another second-to-none option when you want the best golf gloves for hot weather. It is a pair of luxury leather gloves, which feel as though it is an extension of your palm.
The OptiColor Leather Glove is the ideal choice if you are after both style and performance. It features a full leather construction as well as a perforated palm, fingers, and thumb. These allow for maximum breathability, moisture reduction, and optimal closure.
All of the things mentioned above are the reason why the Callaway Golf OptiColor Leather Golf Glove looks nice and is used for every level of golf competition.
Features:
Full leather construction & perforated palm, fingers, and thumb – provide maximum breathability and optimal closure
Opti feel + leather for a premium feel, fit, and comfort
Opti fit adjustable closure for thin, light, and secure fit
Under Armour Men's UA Iso-Chill Golf Gloves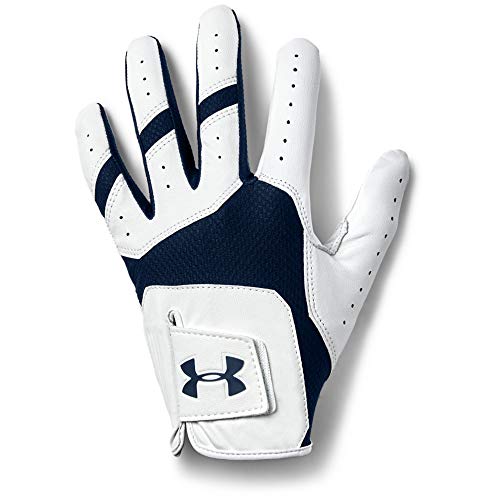 Last update on 2021-09-23 / Affiliate links / Images from Amazon Product Advertising API
If it is time to get a new pair of the best golf gloves for hot weather, Under Armour has made an amazing choice for you. The UA Iso-Chill Golf Gloves are specially made for warmer conditions.
This pair is constructed with UA Tour Cool fabric, which is created to pull the heat away from your skin. It is sort of like an air conditioner equipped with your gloves while you are out on the golf course.
The gloves are made from 84% polyester fabric and 16% elastane. If you find yourself sweating while wearing them, these gloves work real quick to pull away from the sweat from your hands.
As a high-performance company, Under Armour knows how crucial it is for you to have a strong connection with your golf club. You can expect to feel super secure with the club in your hands when you wear these gloves.
Features:
UA Tour Cool fabric – pulls away heat from your skin to make you feel cooler
Soft Cabretta leather – offers extreme comfort, durability, and grip
Micro perforations – deliver increased ventilation
Premium Grip system – provides you with maximum control
Material wicks sweat and dry very quickly
Bionic StableGrip Men's Golf Gloves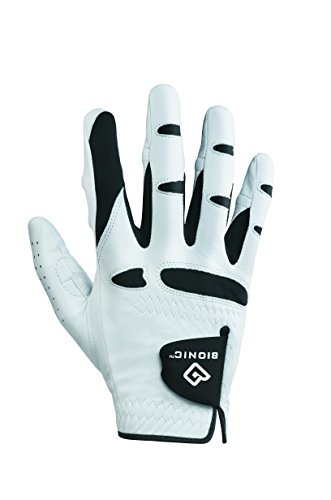 Bionic Gloves –Men's StableGrip Golf Glove W/ Patented Natural Fit Technology Made from Long Lasting, Durable Genuine Cabretta Leather.
DURABILITY – This premium golf glove, made of genuine leather, boasts an additional pad on the palm for extra support and lifespan. This pad offers twice the amount of strength in one of the most common places where other golf gloves break down.
DON'T STRANGLE THAT CLUB–Prevent fatigue and increase grip with our patented anatomical pad relief system evening out the surface of your hand, displacing your grip pressure evenly on the club. Get a lighter grip and stay in full control the whole round.
SECOND SKIN – Say goodbye to baggy fingers and constantly re-adjusting your wrist strap. This glove's pre-rotated finger design follows the natural curvature of your hand allowing it to fit like a second skin. Refer to sizing guide for perfect fit!
PERSPIRATION MANAGEMENT – Lycra between the finger gussets, top of knuckles and running up the pointer finger offer maximum breathability and flexibility during hot, humid rounds. Terrycloth interior on high risk zones manage moisture without losing grip.
WASH ME! – No matter how hot, rainy, good or bad your round was you can wash it away and start fresh. Machine wash on the delicate cycle with mild soap and no bleach products. Cool air dry flat.
Last update on 2021-09-23 / Affiliate links / Images from Amazon Product Advertising API
Last but absolutely not least, the StableGrip Men's Golf Gloves by Bionic would be a great pair when you are going to buy the best golf gloves for hot weather. They are made out of leather and terrycloth Cabretta, which makes them ideal for sweat absorption from your hands.
The gloves are designed to keep your hands dry throughout your game, and they are very durable as well. They feature 3D finger pads that give them the highest level of versatility, which fits the movements of your hand.
These gloves are highly breathable and are great for golfers who have extremely sweaty palms and excellent moisture control. This pair looks fantastic, and it is comfortable, durable, and very efficient in keeping your hands dry.
Features:
Extra pad on the palm – delivers increased support and lifespan
Pre-rotated finger design – follows the natural curvature of your hand to let the glove fit like other skin
Lycra – offers exceptional breathability and flexibility in hot, humid rounds of golf
Terrycloth interior – manages moisture without sacrificing the grip
Important Things to Look For When Selecting the Best Golf Gloves For Hot Weather
Golf gloves are critical for any golfer, but especially those who sweat a lot or live in hot climates. In order to be the best you can be on and off of the green, it's important that your grip is secure with high-quality golf gloves! There are many factors worth considering when buying new ones so make sure you take all these into consideration before making your purchase decision.
Material
Golf gloves come in either leather or synthetic fabric. Leather gloves tend to be more durable and comfortable in comparison to synthetic fabric. Having said that, leather gloves are usually more expensive—gloves made out of synthetic fabric offer superior grip. The right fabric you should opt for depends on your playing style and preference.
Fit
The perfect golf gloves will fit your hand perfectly, and should have the right thickness of material at the fingertips. A well-fitted glove ensures that you can play a competitive game without any adverse effects on performance–especially when they are fitted so tightly!
Closure
Scientifically speaking, a good fit on your golf gloves is imperative to ensuring the right grip. It's important for you to understand that not all closures are created equally and will affect how tight or loose these gloves feel around your hands.
For example, if they're Velcro straps then it'll be easier than regular ones because of their elasticity in fitting snugly against the wrist with just one hand motion. With either closure though make sure there isn't any excess fabric so that when gripping your club you won't have interference from anything other than what should be touching – namely only air between fingers!
Your Personal Preferences
You will find so many types of golf gloves on the market, but not all of them will cater to all your needs. Some players prefer fashionable golf gloves, while others want gloves that are suitable for hot weather conditions. Golf gloves that suit a person may not suit the other. This means it would be best to invest in a pair of golf gloves that will suit your needs.
Budget
The budget that you have is often the most important factor when buying golf gloves. This type of glove can be found at both a low and high price, depending on your financial situation. Choose the golf glove with many features to help improve your game based off what's best for you!
Best Golf Gloves For Hot Weather – Final Thoughts
The importance of wearing the right golf gloves for hot weather is often overlooked when you are going to be out on the course. It can make an enormous difference in your game and also keep you feeling comfortable throughout each round. One thing that makes a big impact is breathability, which should never be sacrificed just because it's summertime!
Choose one from our list of best options above so there will no longer need to worry about sweaty palms or too much heat getting into your hands: The quality selection includes everything needed for any golfer looking for all-weather wear with performance features included as well.
Best Golf Gloves For Hot Weather | Our Top 5 (UPDATED)
To help you find the right pair for your hands, we have put together the best golf gloves for hot weather. This list includes options for all types of players.
Product In-Stock: InStock