It's a scorching summer day and you're looking for some great golf pants to beat the heat?
The summer golf season has officially started! Unfortunately, it's also the hottest time of year. The sun is beating down on you, your shirt is soaked with sweat and sticking to your back, and all you can think about is how much better it would be if only you had a pair of pants that could keep up with the heat.
It's time to start thinking about your wardrobe. With the scorching heat of summer on its way, you need the right clothes for playing in these conditions. One thing that might not be on your radar is what type of pants you are wearing.
This can make a big difference when it comes to how comfortable you feel out on the course – no one wants their precious golf balls frying in their pockets!
The right pair of practical, comfortable pants can make a huge impact when it comes to staying cool on those long hot days. We'll take a look at some of the top options on the market today and compare them side by side.
We carry many different styles that are perfect for playing in hotter weather so take your pick in one of our lists!
Best Golf Pants for Hot Weather – our Top Picks
Adidas Men's Ultimate 3 Stripe Tapered Pants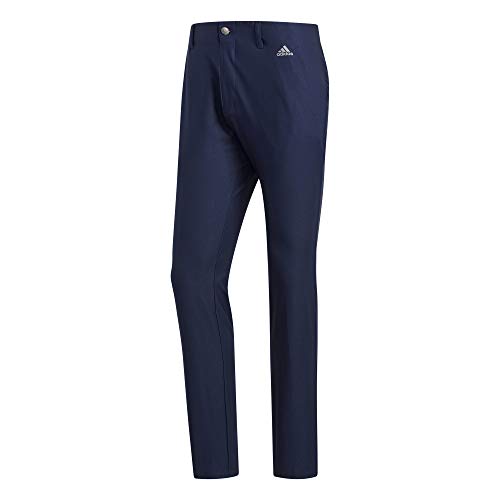 Last update on 2023-03-22 / Affiliate links / Images from Amazon Product Advertising API
The top on the list of recommendations is the Adidas Men's Ultimate tapered pants for a golf round under the sun!
With 55% nylon, 34% polyester, and 11% elastane, they offer you sophisticated style, with extra stretch and silicone gripper tape to ensure the golfer's mobility and comfort. You can also appreciate their tapering legs that add just enough modern touch to make them stand out from other classic styles of men's clothing.
The Adidas Men's Ultimate 3 Stripe Tapered pants strike a comfortable balance between loose and snug, making it the perfect choice for people who want to feel confident without being constricted of their movement.
Amazon Essentials Men's Straight-fit Stretch Golf Pants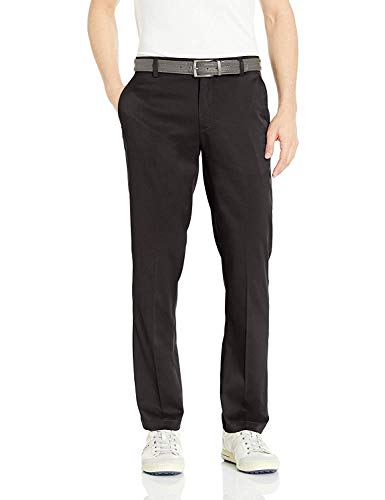 Last update on 2023-03-22 / Affiliate links / Images from Amazon Product Advertising API
For those men looking for straight-fit stretch pants, these versatile golf pants are a must-have for the well-rounded golfer.
Keep your golf game on point, but looking good in the process with these sleek and sharp pants for your hot weather game. Made from 98% polyester and 2% spandex specially designed for moisture-wicking performance to help keep you dry.
These golf pants have slant pockets on both sides and set-in pockets at the back and make them perfect for golfing. They are comfortable and breathable, with the added bonus of making it easier to move around on the course!
Women's Golf Pants Stretch Straight Lightweight Breathable Twill Work Chino Ladies Pants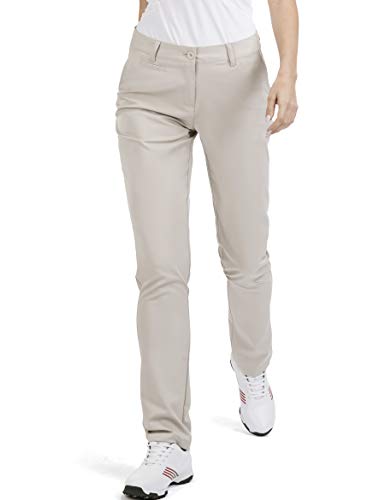 Women's Golf Pants Stretch Straight Lightweight Breathable Twill Work Chino Ladies Pants Size 14 Beige
WOMEN GOLF PANTS MATERIAL: 90% Polyester 10% Spandex; 4-way stretch construction fabric during tech process to make sure the material is smooth, cool feeling, lightweight comfortable, soft breathable, wrinkle free and easy care
STRETCH STRAIGHT LEG GOLF PANTS WOMEN: High stretch classic straight fit type cutting not only offers more room for golf sports movement but also ensures a perfect elegant version
LADIES GOLF PANTS: Focus on UV protection fabric; 31-inch inseam length; lightweight about 9oz; center back wide belt-loop; 5-pockets; it's a flat front twill chino pants
5 POCKETS GOLF PANTS: 2 deep side pockets for golf balls; 2 back pockets one with button; 1 front coin pocket
FLAT FRONT WOMEN PANTS: This is a high-performance women's golf pants with a relaxed fit for your golf fun. It is also great stylish chino pants and checkered pants, can also be worn as dress pants for business office
Last update on 2023-03-22 / Affiliate links / Images from Amazon Product Advertising API
The hot summer sun is shining down on the green grass. You're dressed to play in your favorite golf pants, and you've got this game nailed. Active women, stay cool and classy with this hot summer staple!
Another option we'd recommend is the women's golf pants made from a high-quality polyester and spandex blend, which makes for an ultra slimming look that retains its shape. The four-way stretch fabric in the construction of this material ensures maximum comfort when bending or moving around on course. It is also cool to wear because it repels water while at the same time being lightweight and breathable.
These lightweight women's golf pants focus on material with UV protection. These basically met all of your needs: they're breathable, durable, and provide UV ray blocking to protect against skin cancer in hot weather conditions.
Under Armour Men's Showdown Golf Pants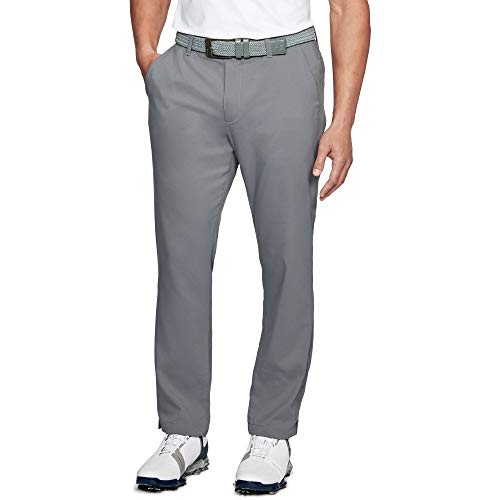 Last update on 2023-03-22 / Affiliate links / Images from Amazon Product Advertising API
Another top-rated product we'd recommend is the Under Armour Men's Showdown Golf Pants that are a perfect investment for any golf enthusiast.
Their polished and simple look enables you to wear them both in the office or on a round of golf with friends! These versatile golf pants cater to the professional man.
These pants work well in both formal and informal settings, which is exactly what you want from a garment that will be worn every day for your 9-5 job but also on weekends at tournaments or with friends out playing 18 holes of golf.
The straight leg fit delivers total comfort with light, stretchy woven fabric. The flat-front design offers superior mobility and insane comfort from the engineered waistband.
And the cool thing is that these pants are made of materials like Elastane, Nylon, and polyester. These fabrics wick sweat away from your body so it evaporates quickly to keep you cooling off in the summer heat! Isn't that a great solution to your problem?
PGA TOUR Men's Flat Front Active Waistband Golf Pant
Sale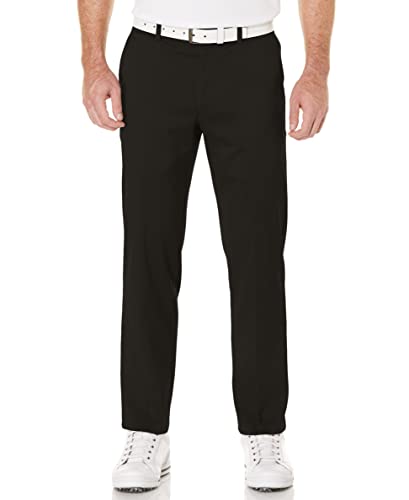 Last update on 2023-03-22 / Affiliate links / Images from Amazon Product Advertising API
This is perfect for those aiming to achieve a traditional golf look.
Experience comfort and performance on the course without sacrificing style in this innovative golf pant. Enjoy unrestricted movement with a blend of 2% spandex and 98% polyester, which ensure moisture-wicking properties, sun protection from UPF grade fabric, and an expandable waistline for a custom fit to your every curve.
The pants are made of a lightweight, yet durable material and have an advanced seam that ensures the player can move freely in both directions.
You'll be prepared for anything that comes your way so don't let fashion get left behind!
GOLF SWINGFLEX SLIM FIT FLAT FRONT PANTS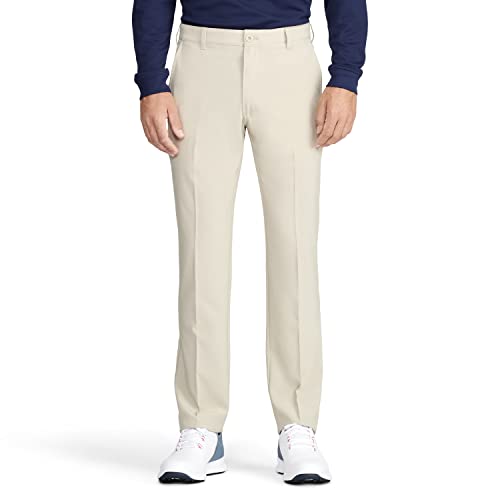 IZOD Men's Golf SwingFlex Slim Fit Pant, red Khaki, 36W X 32L
Slim Fit - moderate rise on waist with a slim leg and ankle
Moisture-wicking properties pull moisture away from the body keeping you dry and feeling cool
4-way stretch fabric allows for maximum comfort and movement
UPF-40 Sun Control
These golf pants are essential for a day on the course. Pair them with the Advantage Performance Polo for your look
Last update on 2023-03-22 / Affiliate links / Images from Amazon Product Advertising API
These golf pants are a slim fit with a moderate rise on the waist so you can achieve that sleek, stylish look.
And last but not the least, the golf swing flex flat front pants. The golf pants are made with 94% Polyester and 6% Spandex. This blend of fabric will keep you dry all day long by pulling the moisture away from your body; keeping you feeling cool no matter how hot it gets outside.
The UPF-40 Sun Control will protect not only against harmful UVA/UVB rays but can also be a great UV Protection for sensitive skin types or those who already have sunburns.
From the fabric that keeps you cool and dry, 4-way stretch for maximum comfort to UV protection technology, this has your needs covered in one piece of clothing.
If you're unsure what and how to pick your next golf pants, refer to these buying tips to ease your frustration.
Your Ultimate Buying Guide
Keep in mind the weather you will be playing in
Consider if you want to wear anything underneath your pants for warmth or modesty when golfing, and make sure they are the right size so you can do this comfortably.
Remember that there is a difference between regular length and short length pants; choose what best suits the course you're playing on.
Consider how often do you play golf
Do you play on a monthly basis? Are playing often to join a certain tournament? Play every day?
If you are a consistent golf player, investing in more expensive pants is a great start. You won't have to buy pants as often as you would with cheaper alternatives due to their durability.
Consider color, type, and fabric
Clothing is a big decision. The colors, types, and fabrics you choose should all be carefully considered before making your purchase.
Clothing can make or break an outfit depending on what the wearer chooses for their entire wardrobe to compliment them best. As such, it's worth considering these three factors from head-to-toe when putting together any new ensemble: color (think complementary shades), type of fabric (polyester? cotton?), and style; like whether they want something casual, classic, or sleek?
Consider the budget you are willing to spend
Golf is a sport that requires players to wear special clothes, including pants. One question you might need to be answered before purchasing golf clothing is what your budget allows and how much care the gear should get in order for it last longer.
Consider the amount of money you're willing to spend on golf apparel because there's no point investing too little if they don't serve their purpose or playing with an outfit that doesn't match well together!
Assess any particular features important to you
What aspects of the design are you most interested in? Are there any specific features that might be important to your needs, such as moisture-wicking fabric or extra pockets for storing golf balls and tees?
These are important when you are eyeing golf pants with a special feature in mind. Look for these details to ensure you get the most out of your purchase.
Final Words
The golf season is just around the corner and if you're not set, you better start looking for some new pants. Whether it's long-sleeved or short, we've got your back when it comes to finding a great pair of golf pants that'll keep you cool in the hot weather.
There are a number of things to consider when purchasing your golf pants, but the most important is how they perform in hot weather. And it's not just about comfort and durability—the right pair can make you more competitive on the course by keeping you cooler.
We hope this buying guide has helped you narrow down your choices for what will be the best golf pant for your needs. Now go ahead and place an order to get the most of your summer golf game!
Best Golf Pants for Hot Weather | Our Top 6 Picks
Looking to find the best golf pants for hot weather? We have put together a list of our top 6 picks.
Product In-Stock: InStock