Getting the right type of shoes and the proper sizing is incredibly important in golf. Although the length of their shoes may be right, if your shoes feel cramped, it's because the width is too narrow. Tight shoes will restrict your toes and feel pain when walking. Golfing requires a lot of walking between rounds; you'll want something lightweight and comfortable. Thankfully, if you're someone with wide feet, there are plenty of golf shoes to accommodate your foot size.
Many golf shoe manufacturers such as Adidas, Puma, New Balance, and others have designed golf shoes specifically for golfers with wide feet. And they include many advanced features to give you every edge on the course. In this article, we'll go over the best golf shoes for wide feet and how to pick the right one.
In a hurry? These are our top picks.
Why Do You Need to Wear Golf Shoes?
If you're new to the sport of golf, you may be wondering why you need golf shoes in the first place. Golf shoes are designed to give players more flexibility, balance, and stability during the motion of a golf swing. If the player is sliding or slipping during the swing movement, it is difficult to make good contact with the golf ball consistently to produce good shots.
What Makes Golf Shoes Different?
Golf shoes are unique in their design and construction, which is why they're solely used for golf. Knowing the characteristics of golf shoes will help you understand the importance of them and why you'll need them to succeed.
Balance
Unlike traditional athletic shoes, golf shoes have a broader shoe base and a larger sole. Since golf swings are performed while standing still, a large shoe base is needed to maintain a good balance. Tennis shoes or running shoes don't have a broad base because it's designed for people to have quick feet movements.
Stability
If you've ever swung a golf club while on bare feet, you'll immediately notice the difference in foot action that you have. Golf shoes add more stability to your stance and motion. These shoes have built-in stabilizers and arches to keep your feet from sliding to the left or right. In addition, there are spikes on the bottom of the golf shoes to prevent your feet from sliding on uneven or wet turf.
Flexibility
Golf shoes tend to have more elasticity compared to other shoes. This supple nature helps golfers stand and swing on irregular and hilly ground. Golfers must be able to swing their club on awkward slopes. Flexible shoes can provide you that flexibility to get good footing and help hold your foot and ankle in place.
Comfort
Playing golf requires you to play 18 holes which usually means walking between four to six miles. Most golf shoes are made to be comfortable walking long distances, waterproof in wet conditions, and allow your foot to breathe. Some golf shoes have padded insoles to maximize comfort.
Best Golf Shoes for Wide Feet – Our Top 6
After trying many brands and doing extensive research, we've found 6 of the best golf shoes for wide feet.
Most Affordable: Thestron Men's Golf Shoes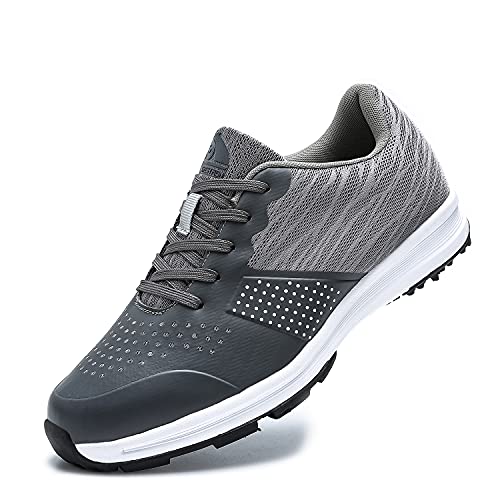 THESTRON Men's Golf Shoes Walking Sneakers Training Sports Golf Shoe Grey
Golf shoes: premium Water-resistant microfiber leather upper helps keep feet dry.
Casual golfing: Comfortable feel and performance last protection and durability makes feet all day comfort.
Golf sneakers: Rubber out sole provides excellent traction and maximum stability to a variety of conditions.
Sport golf shoes fits for club golfing, course team training, walking turf, etc.
We promise fully guarantee without any doubt. Just contact us freely if you have any questions.
Last update on 2023-06-03 / Affiliate links / Images from Amazon Product Advertising API
Golf can feel like an expensive sport, especially if all of the club, devices, and apparel that you'll need to buy. However, the Thurston golf shoes are designed for casual golfers to keep them comfortable while walking the 18-holes. These shoes feature rubber outsoles that are designed to add some stability and traction in any condition.
The shoes use high-quality microfiber leather, which is both functional and provides aesthetic appeal. Leather is a very durable material but also looks stylish while wearing them. Also, the microfiber aspect helps to dry off the water quickly. On the soles of the shoes, you'll find plenty of grips to keep you grounded while you're taking your shots and prevent slippage.
Best for Balance: Adidas Men's Tech Response Golf Shoes
Sale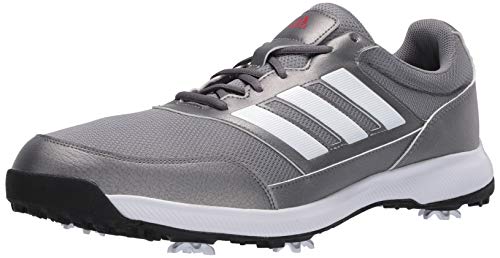 adidas Men's Tech Response 2.0 Golf Shoe, Grey, 10 Medium US
Lightweight, breathable, stable feel
Lace closure
Textile and synthetic upper
Durable non-marking adiwear outsole with X-Traxion primary lugs for grip and balance and green-friendly thintech EXP cleats
Lightweight Cloudfoam sockliner
For tight fit, go one size down,For loose fit, go one size up.
Cloudfoam sockliner and midsole
Adiwear outsole with X-Traxion primary lugs and green-friendly Thintech EXP cleats
Last update on 2023-06-03 / Affiliate links / Images from Amazon Product Advertising API
For golfers who want the comfort of a spikeless shoe with the stability and traction for spiked shoes, the Adidas Men's Tech Response Golf Shoes is a great choice.
What makes the Adidas Tech Response different from many other golf shoes is the six-spikes configuration on the outsoles of the shoe. Spikes d shoes are designed to provide more lateral stability compared to spineless styles. This is especially useful in wet conditions or hilly courses. In addition, you'll be able to better hold your balance on your swings.
The spikes on the shoes are relatively soft, meaning they don't feel uncomfortable walking in. The shoe has a synthetic upper mesh to allow air to pass through and keep your feet cool. Also, for added comfort, it has a lightweight cloud foam cushion to reduce the impact of walking miles throughout the golf course.
Best Overall: New Balance Men's Striker Waterproof Spiked Comfort Golf Shoe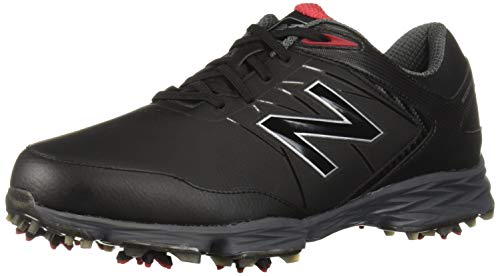 Last update on 2023-06-03 / Affiliate links / Images from Amazon Product Advertising API
The New Balance Striker is one of the most high-tech and ergonomically engineered golf shoes that we've found in the market. It has the perfect combination of insole, outsole, and midsole to ensure a comfortable experience. The insole features a revolutionary foam compound to ease and prevent foot pain. In addition, it helps to support the foot arch for comfort and even walking.
The New Balance Stikre features its signature REVLite midsole that offers rebound and cushioning. In essence, it helps to absorb all the movements while walking. It's quite soft and flexible which is designed for planting and turning your feet during the golf swing. Lastly, it has an exoskeleton TPU outsole which is made to help with the natural motion of the foot. The spikes of the shoe bring stability when you're on a slope or slippery turf. You never want a slip to affect your swinging motion during a game.
Best Grip: PUMA Men's Grip Fusion Sport Golf Shoe
Last update on 2023-06-03 / Affiliate links / Images from Amazon Product Advertising API
The grip is an important component when it comes to golf. The soles of your shoes are the only contact that you make with the ground—any slippage in the turning motion when swinging can ruin your form and affect your shots.
The PUMA Men's uses their unique grip fusion, which was strategically designed with directional lugs in proper zones for better traction and more grip. As a result of a solid grip, you'll be more confident with your swings and deliver more power.
In addition, the PUMA shoes have a high-performance mesh on the upper portion of the shoes, which makes them lightweight and breathable. Sweat can easily dry and flow out, and air can easily come in to cool your feet. The insides use a super soft EVA foam that is ultra-responsive to any foot movement while also keeping your feet comfortable.
Most Breathable: FitVille Extra Wide Walking Shoes for Men and Women
Sale
FitVille Wide Walking Shoes for Men Wide Width Sneakers for Flat Feet Arch Fit Heel Pain Relief - Rebound Core (10 Wide, Majolica Blue)
Wide-Toe-box & High-Instep Design: Including extended room for free movement of the toes, FitVille shoes is designed especially for people with wider feet and people suffering from foot problems like plantar fasciitis, flat feet, bunions and hammertoes.
Patented PropelCore Sole: Provides your feet with both great support and unprecedented cushioning thus maximizes comfort and minimizes foot fatigue.
Premium-Quality & Wear-Resistance : Durable suede & mesh fabric upper ensures your feet stay dry and comfortable all day.
Non-slip Outsole : Rigid rubber outsoles give added gripping and motion stability.
Heel & Knee Pain Relief: The shock absorption pads ease your bounce and the solid heel ring makes your steps steady, which will make you feel less tired even after all day walking or standing.
Last update on 2023-06-03 / Affiliate links / Images from Amazon Product Advertising API
Comfort is always a big factor when it comes to individuals with wide feet. The FitVille extra wide golf shoes have a high-instep design along with a wide toe box which provides plenty of room to wiggle your toes. Wearing shoes that are too narrow or cramped can cause blisters or sores on your feet.
One of its primary features is the PropelCore sole which offers plenty of cushioning and mimics the shape of the foot. As a result, it supports your feet and minimizes foot fatigue.
Lastly, the shoes have an upper three-layer mesh to provide cover on the top but still have ventilation. Keeping your feet cool helps you stay comfortable, especially on those long hot days.
Best for Foot Pain: Orthofeet Men's Sneakers
Sale
Orthofeet Innovative Orthopedic Shoes for Men - Ideal for Plantar Fasciitis, Foot & Heel Pain Relief. Walking Sneakers with Arch Support, Cushioning Ergonomic Sole & Extended Widths - Lava Grey
Comfortable orthopedic sneakers for men with arch support and heel cushioning provide a cloud-like walking experience.
Designed with a rubber sole for advanced grip and excellent stability, ensuring you can wear them with confidence.
Orthofeet shoes have unmatched cushioning and benefit 20+ conditions including foot and heel pain, plantar fasciitis, diabetes, arthritis, bunions, achilles tendonitis, hammer toes, and more.
Includes premium orthotic insole and arch booster in every shoe for innovative comfort, arch support, and advanced pain relief.
Fit & Sizing: True to size. Orthofeet shoes are designed with a wide toe-box and stretchable knitted upper that forms to the contours of your feet, providing a customized fit.
Last update on 2023-06-03 / Affiliate links / Images from Amazon Product Advertising API
Wide feet golf shoes aren't a one-size-fits-all deal. So, just because a golf shoe says wide-fit doesn't mean it'll fit you. The Orthofeet Men's sneakers come in medium, wide and extra-wide widths to fit your exact sizing.
However, the Orthofeet is the perfect solution for people with foot pain or who want to prevent foot injuries. Specifically, these shoes have their patented orthotic insoles that feature anatomical arch support. This support has benefits such as better shock absorption, lessen the plantar pressure and the load on your Achilles tender. The insoles also have multiple layers of cushioning to provide pillow-like support, ease your pain and make walking as comfortable as possible.
Like many other golf shoes, the Orthofeet has a mesh fabric throughout the shoe to keep your feet cool, along with a wide toe box to give your toes plenty of wiggle room. There's even extra heel cushioning which relieves heel discomfort and allows you to plant hard on the ground when you're swinging the club.
What to Look for When Buying Golf Shoes for Wide Feet?
Insole
The insole is an important factor to consider when looking at golf shoes. The insole is the part on the inside of the shoe that touches your foot. Some golf shoes have removable insoles, which frees up more room within the shoes to add more comfort and breathability to your feet. Make sure the insoles provide the stability that you need and feel well supported.
Outsole
Ideally, you'll want to look for rubber outsoles because they are slip-resistant, meaning you'll have a better grip or the turg. This allows you to stay grounded on slippery turf or slopes without worrying about losing your balance.
Comfort
Comfort should be a huge consideration when deciding which pair of golf shoes you should buy. Getting shoes that are too narrow will only put you at risk of injuries and cause a large amount of discomfort. Make sure that you can wiggle your toes. Some golf shoes have plenty of padding inside and outside to reduce the impact while walking.
Breathability
Golf shoes should use a material that offers breathability to your feet. Many are made with Gore-Tex lining to absorb moisture and prevent sweaty feet. The footbed may also use polyurethane and charcoal material to soak up foot moisture. Polyurethane helps to cool your feet and keep them dry.
Choosing the Right Golf Shoes Width
Golf shoes should always fit you well; otherwise, they can cause damage to your feet and affect your balance when swinging. Here are the main reasons why you should get golf shoes with the proper width if you have wide feet.
More padding to protect your feet
Reduce the risk of slipping
Breathability to prevent your feet from sweating
Reduce ankle injuries
Comfortable to walk and play in
How Do I Know If I Need Wide Feet Golf Shoes?
Most people only measure the length of their feet to get their shoe size. However, the width of your feet is also important. In golf, knowing whether you have narrow, medium, or wide feet allows you to choose the right golf shoes. The width of your feet can be measured by getting the distance between the two widest parts of the foot. Typically this is at the base of your toes, called the ball width.
Final Thoughts
Golf shoes are the primary contact when you hit the ball. They are specifically designed to provide better balance, stability, and traction.
As a result, you'll see improved distance and greater accuracy. However, if you have wide feet, you'll need to make sure you get shoes with the proper sizing.
The list we've provided is the best golf shoes for wide feet we've found. Particularly, we like the New Balance Men's Striker because they have spikes to keep you grounded in hilly courses and wet conditions. Also, it has proper insoles, mid-sole, and outsole to deliver ultra responsiveness and cushioning.
We've hoped you found this article insightful in helping you find the right golf shoes.
Best Golf Shoes for Wide Feet | Our Top 6 Picks
This is an article about the best golf shoes for wide feet. We will discuss how to choose a pair that fits your needs, and what features you should look out for when shopping around.
Product In-Stock: InStock