A high-quality pair of golf shoes will make you feel comfortable and help you perform your best on the course. There's a reason many experienced golfers treat golf shoes as game improvement tools.
Many golf shoe manufacturers pour dozens of hours of research, time, and money to determine how to design the best soles, spikes, and even water-resistant technology to enhance the user's play on the course. Here we'll cover the best golf shoes for the money and what to look for when buying them.
In a hurry? These are our top picks.
Skechers Go – Best Traction Golf Shoes
Adidas Men's Tech Response – Best Value Golf Shoes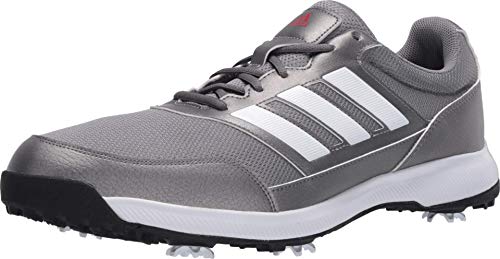 Last update on 2023-12-03 / Affiliate links / Images from Amazon Product Advertising API
When it comes to performance and traction, nothing beats the Adidas Men's Tech Response golf shoes. These shoes have a mesh upper to allow air, water, and sweat to pass through, keeping your feet cool at all times. In addition, the mesh also ensures the shoes are lightweight and easy to walk around in.
The Tech Response features a soft EVA insole for cushioning that minimizes the impact of every step. On the bottom of the outsoles, it has 6 thin-tech spikes to add traction and grip while you're on the course.
Callaway Men's Balboa TRX – Most Waterproof Golf Shoes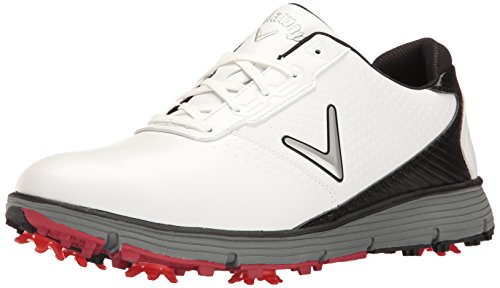 Last update on 2023-12-03 / Affiliate links / Images from Amazon Product Advertising API
Water can wear down your shoes quickly if they don't have water-resistant or waterproofing features. The Callaway Balboa TRX is made from microfiber leather designed to repel and quickly dry off the water when it makes contact with it. Callaway also guarantees at least 1 year of waterproof warranty.
For stability and grip, the Balboa TRX uses 7 rubber spikes on the soles of the shoe. It also features an EVA midsole to provide a natural feel to the ground. The Balboa comes in 4 fashionable styles: full black, white and black, grey, and white and blue colors.
FootJoy Men's Flex – Best Spikeless Golf Shoes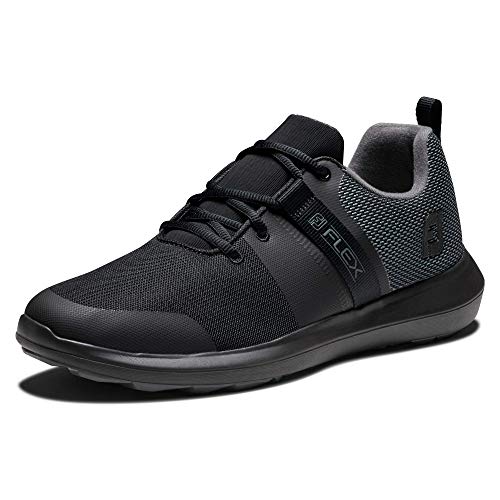 FootJoy Men's FJ Flex Previous Season Style Golf Shoe, Black/Charcoal, 10.5
made in usa or imported
rubber sole
performance mesh - lightweight performance mesh delivers incredible comfort, breathability and all-day comfort.
complete support - a soft eva midsole provides increased underfoot cushioning, enhanced comfort and exceptional stability.
versatile traction - the versa-trax outsole is engineered with traction elements to create an outsole that is perfect for on course performance with wear-to-the-course versatility. each traction zone maximizes traction during your swing and provides exceptional grip when walking the course.
Last update on 2023-12-03 / Affiliate links / Images from Amazon Product Advertising API
Are you looking for a versatile pair of golf shoes that can be worn on and off the golf course? FootJoy Men's Flex is spikeless golf shoes with a very clean and athletic design similar to running shoes.
Although it doesn't have spikes, FootJoy uses their proprietary versa-Trax material, which adds elements of tractions on the bottom for gripping. It provides grip when walking and will maximize traction during the swing.
The FootJoy Flex also features a breathable mesh and rubber outsole for enhanced comfort. Their soft EVA midsole offers increased underfoot cushioning to minimize the impact while walking. As a result, you feel like you're walking on a cloud.
Skechers Go – Best Traction Golf Shoes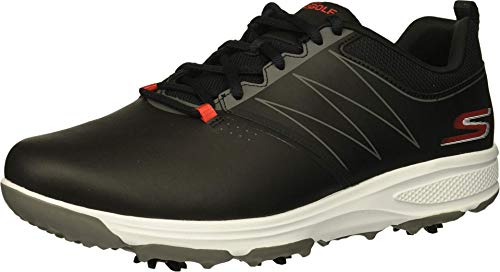 Last update on 2023-12-03 / Affiliate links / Images from Amazon Product Advertising API
For those who want the best traction possible without paying a fortune, the Skechers Go is a great option. It features an extra thick and high rebound cushioning so that you barely feel the ground while walking. This drastically removes foot and ankle pain when you're up on your feet all day.
The soles have soft rubber spikes that can easily be replaced. These spikes are molded to grip the greens and fairway for maximum traction. Since the entire shoe uses synthetic material, it's relatively light and allows the shoe to be incredibly affordable.
Skechers Go Golf Men's Torque Waterproof Golf Shoe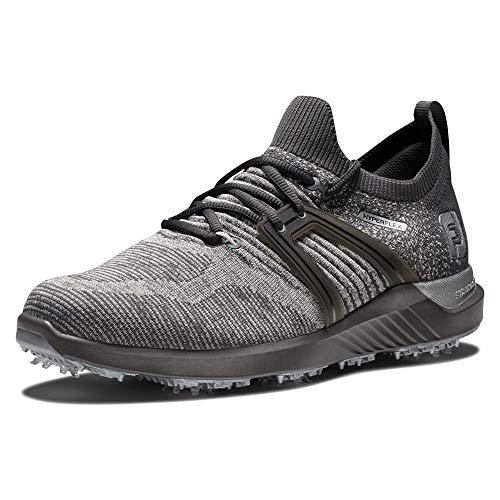 FootJoy Men's Hyperflex Previous Season Style Golf Shoe, Charcoal/Grey, 9
PERFORMANCE MESH - Lightweight performance mesh delivers incredible comfort, breathability and all-day comfort.
MAXIMUM COMFORT - StratoFoam is a proprietary foam compound tuned specifically for golf that maximizes underfoot comfort while providing optimal energy return to reduce underfoot fatigue throughout the round.
WATERPROOF - FootJoy warrants that this golf shoe will be waterproof in normal use for two years (U.S. Warranty).
LASER SPORT FIT - Offers a full rounded toe character with a standard fit across the forefoot and instep. A toe spring and a slightly narrow heel completes the athletic profile.
Last update on 2023-12-03 / Affiliate links / Images from Amazon Product Advertising API
Breathability is an important factor to consider when shopping for golf shoes. You don't want to feel the heat trapped inside because it only causes discomfort and leads to sweaty feet.
The FootJoy Men's Hyperflex uses a mesh fabric throughout the upper portion of the shoe to allow ventilation through the shoe. Despite walking around in the hot sun all day, your feet will feel cool and dry.
In addition, the HyperFlex has a Stratofoam that is placed on the soles of the shoe, and the thickness of foam gradually increases as it reaches the heels. The foam helps to minimize underfoot fatigue and maximize comfort when wearing them.
New Balance Golf 574 – Most Comfortable Golf Shoes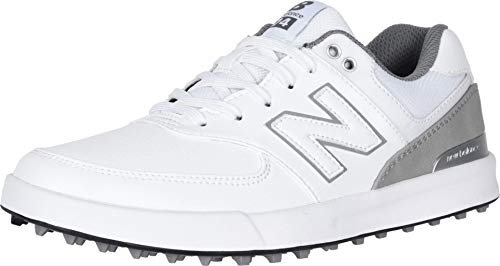 Last update on 2023-12-03 / Affiliate links / Images from Amazon Product Advertising API
The New Balance Golf 574 is perhaps the most stylish and comfortable golf shoe on our list. It offers a sleek white design that looks similar to casual walking shoes. Rather than using synthetic materials, the New Balance shoes use microfiber leather, which enhances the waterproofing qualities. In fact, New Balance guarantees a 2-year waterproofing warranty on these shoes.
In addition, they have an extra thick PU sock liner that absorbs the shock when walking. This prevents any fatigue you'll feel in your soles or underfoot and keeps your feet comfortable throughout the day.
New Balance Women's Fresh Foam Breathe – Best Women's Golf Shoe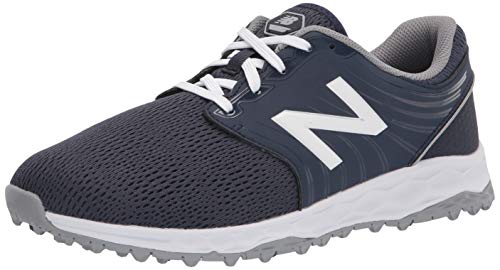 New Balance Women's Fresh Foam Breathe Golf Shoe, Navy, 8.5
Breathable performance mesh upper with supportive synthetic overlays
Smart rubber spikeless outsole has pressure mapping colors to highlight key performance zones
10mm drop* Fresh Foam innovative midsole provides ultra-cush, cloud-like feel
Molded CUSH+ insole for superior comfort
Last update on 2023-12-03 / Affiliate links / Images from Amazon Product Advertising API
Golfing isn't just a men's sport. Many of the top golfers are women as well. The New Balance Women's Fresh Foam Breathe is the best women's shoes we've found in the market.
On the soles, it feels like spikeless rubber traction grips to add stability while walking on the fairway and greens. The rubber material is soft, so you don't feel them, and it is durable to last a long time. In addition, the soles have 10 mm foam cushioning to prevent foot fatigue when standing all day.
The shoes are available in four styles: white and blueprint, black and animal print, navy and white, and blueprint. These shoes have a stylish print inside the shoes, which adds to the visual appeal.
Factors to Consider When Buying Golf Shoes – Buyers Guide
It's not enough to simply buy the cheapest or the highest-rated golf shoes online. That's because your golfing style, preference, and budget play a role. Once you know what to look for, you can easily find the perfect golf shoes. Here are the key factors to look at while shopping for golf shoes.
Type of Golf Shoe
There are many types of golf shoes to choose from. Many golfers either choose spiked or spikeless shoes. Spiked shoes provide a better grip compared to spikeless ones. Generally, spike shoes are better for hilly and wet golf courses. However, on dry surfaces, both provide equal amounts of traction.
However, with spikeless shoes, you get the advantage of having greater versatility due to their flexible soles and lightweight construction.
Cleated or Spiked Golf Shoes
The spike or cleated golf shoes are great for traction, grip, comfort, and breathability. However, the downside to spiked golf shoes is that they can only be worn on the course. When it comes to swinging in wet conditions or slopy hills, you'll need to ensure your shoes have great traction so that your swing stays consistent.
Spikeless Golf Shoes
Spikeless golf shoes have been a recent development for manufacturers. These types of golf shoes are low profile, flat-soled and lightweight. Instead of the standard spikes, these shoes use dimpled soles or rubber studs in their place.
Some golfers who suffer from back or foot pain will wear spikeless shoes for added comfort. However, the disadvantage of these spikeless shoes is that they have less waterproofing, grip, and stability.
Golf Boot
Golf boots are very rare, and very few golfers ever wear them. However, they are primarily worn during the winter months to keep your feet warm. Overall, they have the aesthetics of hiking boots but still offer excellent traction.
The downside to wearing them is that they offer less wiggle room around the ankle which may feel uncomfortable to those who aren't used to wearing boots. And they are much heavier to walk around in.
Golf Sandal
Golf sandals serve the opposite purpose as golf boots. The opened-toe structure allows air to pass through, especially in places with hot climates. Having a design with breathability ensures your feet stay dry and don't become overheated while playing.
However, the downside to using golf sandals is that they have limited lateral movement capability and less water resistance.
Golf Shoe Materials
Golf shoe materials can dramatically affect its features, durability, and comfort. The most common materials used on golf shoes are leather, waterproof linings, and synthetic.
Leather
Leather is the most popular material used since it has great waterproof capabilities while looking visually appealing. It's also excellent for summer use since leather has some breathability to it. In addition, it's also known for its stretch-free and tight-fitting nature. Typically, with leather golf shoes, manufacturers guarantee about one or two years of waterproofing.
Waterproof Linings
The waterproof lining has durable and strong waterproofing due to its thicker material. However, it is heavier and is much warmer than leather. Despite its warmth, the material is breathable, and air will flow through.
Synthetic
Synthetic golf shoes have a similar look to athletic shoes. They are the most affordable material yet still offer great benefits. Synthetics is a nonporous material that is used to cover the upper rather than the entire shoe. The advantage of synthetics is that they're lighter, cheaper, and look better than leather shoes.
Golf Spikes
When swinging a golf club, you need excellent footing and traction. The type of spikes uses on the outsoles will determine your traction.
Plastic or Soft
Plastic or soft spikes are the most common spikes used on the outsoles. They are far less likely to tear up the greens, and they are lightweight. Softer materials like rubber are durable and won't tear down after a year or two. Plastic or soft spikes are easily replaceable.
Metal
Although less common, metal spikes are more effective when it comes to gripping and offering traction on the greens. That's because the metal spikes are longer than plastic ones. However, metal spikes are more expensive and are very uncomfortable when walking on a hard surface. Some of the local golf courses may ban metal spikes, so you'll have to check with the courses. Metal spikes are typically used by experienced and tour-level golfers.
Fitting New Spikes
Not all golf shoes utilize the same fastening system, so it's crucial to ensure they match when buying replacement spikes. Many brands have to wear indicators so that you know when to replace the spikes. Replacing your spikes can often feel like wearing new shoes. 
Lacing Systems
Although typical shoelaces are the most popular types of lacing, there are other options. Velcro fastening systems allow you to secure your shoe and unfasten them quicker. However, with velcro, they can wear down over time.
Some golf shoes have mechanical lacing systems similar to a ski boot. They offer greater stability since they fasten around the entire shoe and have multiple fastening points.
Traditional or Athletic
Traditional golfing shoes typically have a distinguished look and are made from leather. In addition, they are long-lasting and sturdy. Due to their leather construction, they tend to be waterproof and very comfortable to wear. However, the disadvantage to traditional shoes is that they lack breathability.
In contrast, athletic golf shoes have a similar look to everyday cross-training or running shoes. They are extremely flexible, lightweight, and breathable. As a result, they can be worn in all types of conditions.
Best Golf Shoes For The Money – Final Words
Face it, golfing is an expensive sport. There is plenty of equipment you'll need to buy such as golf balls, various types of golf clubs, swing trainers and more. Golf shoes are critical in providing grip and traction to your golf swings. This is especially useful so that your feet aren't slipping when the grass is wet. Not to mention, you wouldn't want to wear uncomfortable shoes in an 18-hole round!
Our best value golf shoes are the Adidas Men's Tech Response since they offer the perfect combination of breathability, traction, durability, comfort, and performance. However, the other golf shoes mentioned are also great options as well!
Now you're ready to get your new shoes and get on the course!
Best Golf Shoes For The Money | Our Top 7 Picks
Looking for the best golf shoes for the money? Check out our list of top 7 picks.
Product In-Stock: InStock