Once you get past the beginner phase, playing golf becomes more fun! You can chip, putt, hit the ball straight down the fairway and even make birdies. For mid handicappers, hitting the greens can be a struggle, especially once the holes get further out. At this stage, you'll want to focus on achieving those coveted birdies and parts by hitting straighter and longer balls. Modern technology that is built-in to irons has made this much easier.
In this article, we'll discuss when to replace your irons, the best irons for the average golfer, and how to look for ones that match your situation.
What is Considered an Average Golfer?
It's difficult to know which irons you buy without having a clear understanding of your skill level. On average, golfers shoot about 91 on a par 72 course. Typically, an average golfer will have a handicap of over 20. Mid handicaps are considered to have about 11 to 19, while anything under 10 is a low handicapper.
However, this can be quite misleading since many casuals don't track their handicap scores at all. Here are a few considerations you should follow to determine whether you're an average golfer or not.
Low handicappers shoot under 80
Mid handicappers shoot between 80 to 90
High handicappers shoot above 90
When Should You Upgrade Your Irons?
There are many things you can do to take your golf game to the next level. Sure, you should continue practicing your swing and learn better techniques. One way to immediately improve your scores is to upgrade your clubs. So when is it time to upgrade your irons?
Out of Date
If your clubs have been around for over five years, it's time to get rid of them and find new ones. New irons will allow you to launch the ball higher, have greater forgiveness, and hit the ball longer. Getting a new iron can easily shave a few strokes off your game.
You Don't Love Your Clubs
Over half of the clubs in your sets are irons meaning you'll likely use them for over 50% of your shots. If you don't love the feel, grip, or feel comfortable to swing with, you should get new ones. The grip plays a big role in comfort. For example, you may want a rubber or synthetic grip if you like a soft feel. However, if it's too slippery in wet conditions, you can opt for a corded grip. There are many aspects to comfort, such as the shaft length, flex, and clubhead design.
Moving from High to Mid Handicap
For players who've moved beyond the beginner stages of learning the game and perfecting their form, you may want to upgrade your iron. Moving from a high to mid handicap means that you need irons more suitable to your skill level. It's possible that you could break below the 80s with game improvement irons, but it's better to find some that give you better control and more greenside spin. And frankly, beginner club sets don't give you the same versatility that higher-level clubs do.
6 Best Irons for Average Golfer
Without further adieu, here's our list of the six best irons for the average golfer. These sets have the right club combination and modern technology to uplift your game on the golf course.
Lazarus Premium Golf Irons Set – Best Overall
LAZRUS Premium Golf Irons Individual or Golf Irons Set for Men (4,5,6,7,8,9,PW) or Driving Irons (2&3) Right or Left Hand Steel Shaft Regular Flex Golf Clubs (RH, 4-P Set 7 pcs)
HANDS DOWN THE BEST QUALITY: This Lazrus golf irons set is made in the same place as some of today's "top" golf iron sets - For 1/4 the price!
THOUSANDS OF LAZRUS CLUBS SOLD: Our premium golf irons were created for normal everyday golfers like you or weekend warriors but without the crazy price tag. Truly amazing golf club irons that will shave strokes at an amazing price.
SET OF 7 GOLF IRONS: Individual golf 4 iron, 5 iron, 6 iron, 7 iron, 8 iron, 9 iron and pitching wedge make up this 7 piece golf set.
SPECS: Right handed, stepped steel shaft, regular flex with custom lazrus grips. Deep grooves for great spin, control and consistency from the fairway, fringe or rough.
BUY WITH CONFIDENCE: Absolute 100% risk free purchase. Don't LOVE them? Simply return them! A deal that cannot be beat anywhere in the golf industry!
Last update on 2023-09-09 / Affiliate links / Images from Amazon Product Advertising API
The Lazarus premium golf irons have a similar look, feel, and function to many of the top-performing game improvement irons, yet they are sold at a much affordable price. It has a regular flex steel shaft, which aims to provide accuracy and control while still being light enough to produce good distance. All of the irons have a clean look, which will appeal to a wide range of golfers.
Also, these irons have a wide sole, which delivers great turf interaction and has a wide face design to enhance their forgiveness. In addition, it features a steel shaft, which provides a solid feel and better workability than graphite shafts.
The grooves on the irons help keep your club sharp by allowing the debris and water to slide off easily. This gives you cleaner contact and better control when the iron comes in contact with the ball.
Callaway Big Bertha B21 Iron Set – Best for Distance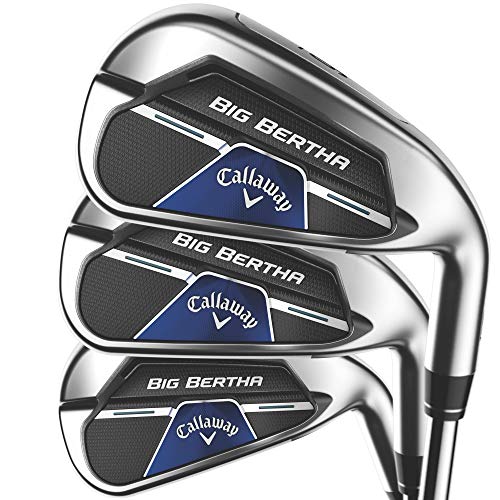 Callaway Big Bertha B21 Iron Set (Set of 5 Clubs: 6IR - PW, Left , Graphite, Regular), Silver
Big Bertha B-21 is the first Big Bertha Iron with our A.I.-designed Flash Face Cup.
This industry-leading Flash Face Cup is in each club. We've created high ball speeds and increased spin robustness with a sophisticated face architecture that's unique to every loft.
This club profile is engineered to give you more confidence over the ball with noticeably wider soles. For easy launch, lower spin and straighter shots, we've added more offset.
We've added a significant amount of custom tungsten weighting. So we can deepen the CG in each iron with extraordinary precision, while still maintaining ball speed in the Flash Face Cup.
Our patented urethane microspheres comprehensively absorb unwanted vibration for exceptional feel, while also maintaining fast ball speeds.
Last update on 2023-09-09 / Affiliate links / Images from Amazon Product Advertising API
Compared to other brands, the Callaway Big Bertha B21 Iron Set blows them away. These irons are designed for easy launch, maximum distance, and forgiveness. Ultimately, it'll help golfers who frequently slice and are looking for straighter shots. Sound can have a psychological effect on players. Crisp and loud shots created by hollow metal club heads tend to give golfers the impression that the ball went further and faster.
The Callaway Big Bertha has urethane microspheres that absorb vibration and make all the shots feel extremely pure. In addition, these irons have an integrated tungsten weight and wide soles to help get the ball in the air with little effort. Each iron has a low center of gravity to ensure excellent precision while still maintaining the ball speed. The engineers of the Big Bertha B21 decided to add more offset to these irons to ensure straighter shots, lower spin, and easy launch.
TaylorMade SIM MAX Irons – Great for Distance and Ball Speed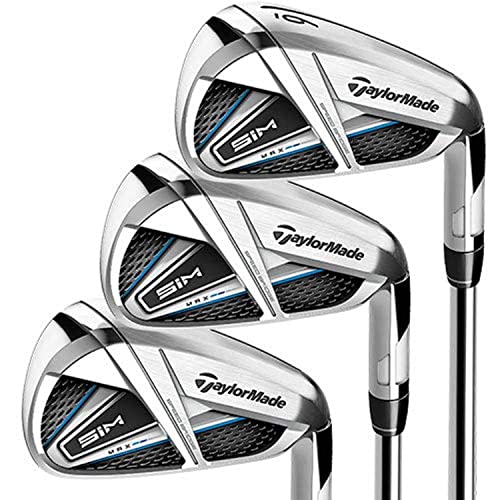 TaylorMade SIM MAX Irons, Steel Shaft, KBS Max 85, 5-PW, AW, Right Hand, Regular Flex
Speed Bridge: Revolutionary Speed Bridge technology strategically supports the topline of the iron to unlock explosive distance and forgiveness with improved sound and feel
ECHO Damping System: Designed with energy channeling geometry to quickly eliminate harsh vibrations at impact delivering better feel without sacrificing face flexibility
Speed Pocket: Patented TaylorMade technology engineered to maximize face flexibility for increased ball speed and forgiveness on low face strikes
Ultra Thin Face: Ultra thin 1. 5mm face design with Progressive Inverted Cone Technology delivers extreme ball speed across the face with an enhanced sweet spot designed to promote a straighter ball flight
Progressive Inverted Cone Technology: Inverted Cone Technology (ICT) is now uniquely positioned on each iron face to both increase the sweet spot and minimize side spin on mishits promoting a straighter ball flight
Last update on 2023-09-09 / Affiliate links / Images from Amazon Product Advertising API
No matter your skill level, it can be difficult to find the right mix of irons that matches your needs and style as a player. For players who struggle with a slow swing speed or struggle to get enough distance on their shots, we recommend the Slim Max irons. TaylorMade incorporates their patented Speed Bridge technology which connects the top line to the iron's back bar to increase the perimeter rigidity. As a result, the face can achieve greater flexibility and produce more ball speed.
The irons have an ECHO damping system to minimize unwanted vibration, developing a better feel and a little extra ball speed. This system sits right inside the help and runs from the heel to the toe of the iron. As the club makes contact with the ball, it produces a loud and crisp sound, which can boost your confidence on every shot.
Unlike other irons, the SIM MAX has an ultra-thin 1.5mmm face to allow for excellent flexibility across the face. In addition, they use their patented Inverted Cone Technology, which provides larger sweet spots and aids in mis-hits.
Callaway Golf 2020 Mavrik Iron Set – Best for Launch and Ball Flight
Sale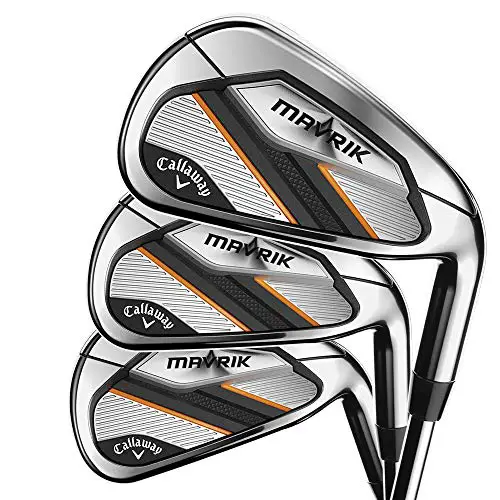 Callaway Golf 2020 Mavrik Iron Set (Set of 6 Clubs: 5 Iron - PW, Right Hand, Steel, Regular)
Due to unprecedented demand across the industry, causing a shortage of shafts and grip, we may need to substitute for an equivalent premium shaft/grip.
With MAVRIK, we're using Artificial Intelligence for the first time in an iron. Ball speed is further enhanced by our 360 Face Cup that flexes and releases at impact.
We've created a sophisticated face architecture that's unique to every loft, so we can create a significant boost in ball speed and increased spin robustness off of every iron.
The custom tungsten-infused weights in each iron allow us to locate the position of the CG in each iron with extraordinary precision while still maintaining ball speed in the Flash Face Cup.
This is how we can provide optimum launch and ball flight through the set.
We've implemented our patented urethane microspheres to comprehensively absorb unwanted vibration for pure feel, while also maximizing COR for incredible ball speed.
Last update on 2023-09-09 / Affiliate links / Images from Amazon Product Advertising API
Every year Callaway invests a lot of resources into their R&D, and recently they have launched their new Mavrik Iron Set. One of its prominent features is the Flash Face cup, which creates a sophisticated and unique face architecture. Unlike most club faces which don't have a flat design, the Mavrik is different. It has a 360 Face Cup, bending and flexing at impact to generate greater ball speed.
The iron is designed with custom tungsten-infused weights in their irons to promote optimal ball flight and launch. Since the weight is focused on the bottom, meaning there is a low center of gravity, it prevents the club from catching the turf and gets your ball out in the air quicker.
Cobra Golf 2020 Speedzone One Length Iron Set – Great for Forgiveness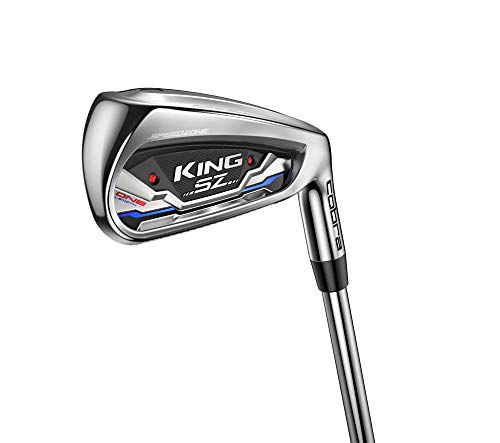 Cobra Golf 2020 Speedzone One Length Iron Set (Men's, Right Hand, KBS Tour 80-90-Wedge, Stiff Flex, 5-GW)
Carbon Topline-The Light Zone-Carbon fiber inserts are 40% lighter than steel, saving 3 grams to move the CG lower and increases ball speed.
Speed back Shaping-The Stability Zone-Extreme heel and toe weighting creates a lower CG and higher MOI than most traditional iron shapes.
PowerShell Technology-The Power Zone-A PWRSHELL face insert is forged with a larger think pocket from heel to toe, and deeper undercut to enhance ball speed and launch across the face.
Co-Mold Medallion-The Feel Zone-A Co-Mold medallion dampens vibration for exceptional sound and feel, even on off-center hits.
Last update on 2023-09-09 / Affiliate links / Images from Amazon Product Advertising API
The Cobra Speedzone features a carbon fiber insert specifically on the top line, available on their 4 through 7 irons. This carbon fiber material is about 40% lighter than steel, which allows you to increase your swing speed, and helps to lower the overall center of gravity. In addition, it features wide soles and an elevated chrome center with a matte finish. It has PowerShell technology only with a PWRSHELL face insert which has a deeper undercut across the face for better ball speed and flight. The forged face wraps around the edge to expand the sweet spot by at least 35%.
What makes this set different from others is its various zones. Cobra has broken down the club's performance into four zones: the feel zone, light zone, stability zone, and power zone. Each part of the club aims to enhance these ones. For example, the stability zone of the iron has a low center of gravity due to the extremely high heel and toe weighting. This helps to offer great stability and better forgiveness of mishits.
Cleveland Golf Launcher Turbo HB Iron Set – Best for Game Improvement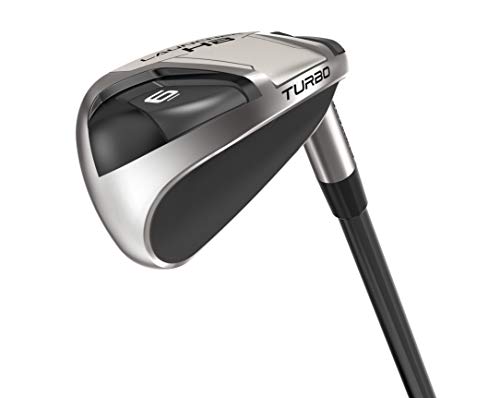 Cleveland Golf Launcher Turbo HB Iron Set 4-P GR S RH
Turbocharged face - each launcher HB Turbo iron features a turbocharged, high strength steel face that is thinner and hotter for increased ball speeds and explosive distance.
Hollow construction - fully hollow construction along with internal stabilizing ribs provides ultimate forgiveness.
HI bore Crown - the redesigned HI Bore Crown features low, deep weighting to produce an easy to hit, high ball flight.
Progressive hollow shaping - progressive shaping provides a smooth transition from hybrid-like long irons to iron-like short irons. It's a seamless changeover with forgiveness where you need it and control where you want it.
Last update on 2023-09-09 / Affiliate links / Images from Amazon Product Advertising API
The Cleveland Golf Launcher Turbo HB Iron set provides excellent forgiveness, straighter balls, and higher launch. It features many game-enhancing features to level up your performance.
The Cleveland Irons have a turbocharged face that uses a high-strength steel and thin clubface designed to provide explosive ball speed and distance. The clubhead face has a hollow construction and stabilizing ribs in the inner portion to increase the forgiveness of the club. If you're someone who isn't used to using a wide variety of clubs, the Cleveland set helps with that. It features a progressive hollow shaping to smooth transition from long irons to short irons and even hybrid irons. The seamless changeover lets you easily change clubs depending on the situation without losing performance.
When first receiving these irons, you may notice that they're a little larger than usual. However, the topline is very thick, and it has a nice mix of matte chrome and polished finish. Despite having a bulky look, the club has a very balanced feel, which puts you in control at all times. You'll hear a clear and crisp sound on every hit, giving players immediate feedback on their swing.
What to Look for in Irons for the Average Golfer
Depending on your handicap level, you should look for features that suit you. In general, you should be looking for clubs that are forgiving on mishits and provide higher ball flight to increase your distance. If you get an iron that produces a lower ball flight, it'll require a greater swing speed to get the distance you're looking for. Unless you're an advanced player, you should always be looking for forgiving irons. High and mid handicappers tend to miss the sweet spot frequently. The larger the sweet spot, the better!
Head Design and Weight
The shape of the head will tell you a lot about whether a club is forgiving or not. The most common clubhead designs are cavity back and muscle back. Cavity backs are usually the most affordable and generally are the most forgiving as well. Average golfers should choose cavity back irons. This means that the irons have a larger clubface, more offset, and a thicker sole to work with. In addition, these clubs have perimeter weighting and a large sweet spot to maximize forgiveness.
In contrast, there are muscle-back irons, which are thin and solid, which allow for greater flexibility. The advantage of this design is that it improves playability. Users have more control of their shots to produce fades and draws.
Weight
Also, consider the weight of the clubhead. As mentioned, you want a clubhead with the weight focused around the perimeter instead of the center. The middle should be hollow, which ensures a bigger sweet spot.
Sole
It's also beneficial to consider the sole or bottom of the club. Wider soles help to improve the ball flight because there's more weight under and behind the ball. Also, you're less likely to get chunky shots meaning the iron won't dig into the ground.
Offset Hosel
An offset means that the shaft is positioned in front of the clubhead. Players with an offset hosel can easily square the club during impact and get more draws. Many beginners or average golfers tend to get unintended slices on their shots. Having an offset will straighten out your shot and increase the distance. Advanced players may prefer not to use offset because they want to curve the ball more to use fades and draws.
Shaft Flex
The shaft flex is one of the most overlooked aspects of an iron set. The wrong shaft can cause inconsistency in your shots and generate bad results. A shaft that is too stiff for your skill level may produce low slices, while a shaft that is too whippy will cause hooks.
The easiest way to determine the right shaft flex for your skill level is to figure out your swing speed. You can figure out your swing speed by using a launch monitor. Here is a good guideline to follow to find out the ideal flex option for you:
If your swing speed is below 80 mph, you should get a senior or lady to flex
For people with a swing speed between 80 to 90 mph, it's best to get a regular flex.
If your swing speed is between 90 to 100 mph, we recommend a stiff flex.
And lastly, if your shaft is over 100 mph, you can receive an extra stiff shaft.
Types of Irons
Iron sets usually come with about seven or eight clubs: irons #4 through #9. In addition, they may also come with various wedges like a pitching wedge, gap wedge, or sand wedge. Sometimes, beginners may want to use a hybrid iron that replaces the long irons with a shorter hybrid one. These ones are much easier to hit, have a higher launch, and have more forgiveness.
Irons are separated into three different sets: long irons, which are 2, 3, and 4-irons, mid-irons which are 5, 6, and 7-irons, and short irons, 8 and 9-irons along with a pitching wedge. Short irons don't produce much distance, but they have a higher loft to get the launch angle much higher. These short irons are very useful in getting yourself out of the sand, bunkers, or just getting a nice drop onto the greens. In contrast, long irons hit the ball further but have a lower loft angle. Here is the general rule of thumb to use each iron:
105 to 210 yards = 2-iron
100 to 205 yards = 3-iron
90 to 190 yards = 4-iron
80 to 175 yards = 5-iron
70 to 165 yards = 6-iron
65 to 155 yards = 7-iron
60 to 145 yards = 8-iron
55 to 135 yards = 9-iron
Now that you know the different irons and when to use them, you're ready to take advantage of everything you've learned!
Final Thoughts
Whether you're someone who has recently transitioned from a high handicapped to a mid handicapper or you're a player who has been stuck in the average purgatory for a while, it's time to make a change. Getting better golf clubs will boost your confidence and performance instantly.
Although high handicap game improvement irons are excellent, they have a few drawbacks that restrict your accuracy and control. These clubs provide a balance between accuracy, control, feel yet still producing excellent ball flight and distance. Follow our buyer's guide and go through our list of top irons to give yourself an edge the next time you're on the course!
Best Irons For Average Golfer | Our Top 5 Picks
We review and rate the top 6 best irons for average golfers based on price, quality, consistency of play. The best part is you don't need to spend a fortune on equipment!
Product In-Stock: InStock