A putter is one of the most used and important clubs that golfers carry in their bag. It is a club designed to help players make shorter and slower swings, with the goal to roll the golf ball into the hole from a small distance away. Plus, with the right putter, you can start improving your score in no time.
With all this in mind, choosing a putter that will suit your game is highly necessary. But it may not be easy, as you will find a wide variety of putters available on the market.
If you are already a skilled golfer but do not have an idea of which putter is right for you, then this article is for you. We have listed some of the great options for those who are looking for the best putter for low handicap.
Cleveland TFI 2135 Satin 8.0 CB Putter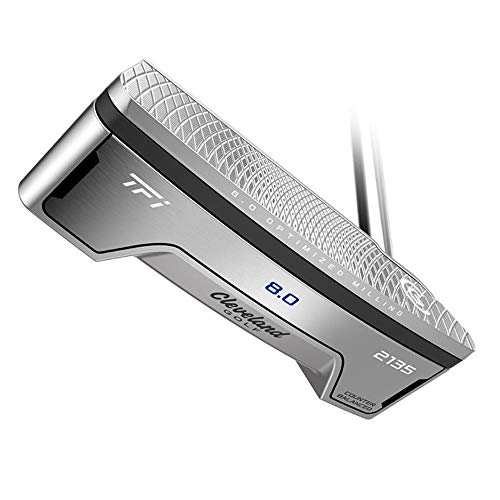 Last update on 2023-11-13 / Affiliate links / Images from Amazon Product Advertising API
The TFI 2135 Satin 8.0 CB Putter by Cleveland is an advanced blade putter that offers the bells and whistles, which the brand has become known for with their flatsticks. It features high-end milling that makes a wide sweet spot, providing incredible forgiveness on off-center shots.
This putter has a TPU Insert that increases feel with excellent accuracy from within 15 feet, helping you make more birdie putts. The optimized CNC Face milling produces one of the softest faces available on the market for a blade putter. Impressive putting accuracy is also provided by the outstanding alignment guide on the top of the putter's head.
The Cleveland TFI 2135 Satin 8.0 CB could be the right one for you if you are looking for the best putter for low handicap. It may not be the most eye-catching putter around, but that is actually what the company wants as they have focused on other aspects that are much more important.
Features:
TPU Insert – enhances feel with great precision from inside 15 feet, resulting in more birdie putts
Optimized CNC Face milling – makes one of the softest blade putter faces on the market
Excellent alignment guide – placed on the top of the head; provides amazing accuracy
Odyssey Stroke Lab Triple Track Putter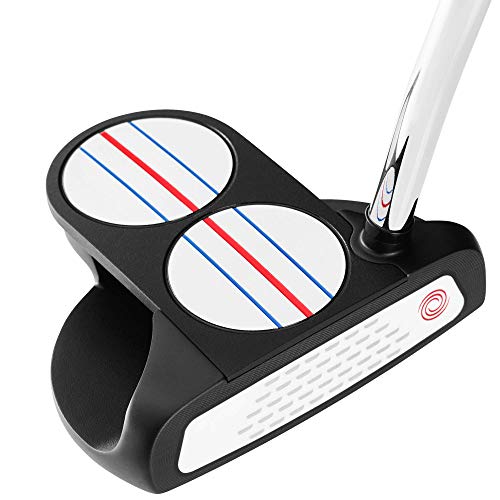 Odyssey Golf Triple Track Putter (Right Hand 33" 2 Ball Oversize Grip)
Odyssey Triple Track Putters combine an impressive grouping of premium technologies for exceptional alignment, consistency, and performance.
Developed from Callaway's innovative golf ball alignment system, the three Triple Track lines are prominently featured to help improve your putting accuracy.
Triple Track uses Vernier Hyper Acuity for better and more consistent alignment, from a design that's incredibly intuitive and easy to use.
Innovative multi-material shaft saves 40 grams of weight, which is redistributed to the head and grip end of the putter. This completely rebalances the putter for improved tempo and consistency in the stroke.
Provides a firmer feel and enhanced sound at impact compared while maintaining the same roll benefits of our popular White Hot Microhinge Insert.
Last update on 2023-11-13 / Affiliate links / Images from Amazon Product Advertising API
The Odyssey Stroke Lab Triple Track by Callaway is another great option for those who want the best putter for low handicap. It combines exciting technologies for superior alignment, reliability, and performance. This putter gives you a wide range of models to choose from in either mallet or blade form.
Callaway has developed the new Triple Track alignment system based on their innovative golf ball line. Prominently featured with the science of Vernier Hype Acuity, these lines are meant to help increase your putting accuracy.
The Stroke Lab weighting completely rebalances the putter for optimized consistency and tempo in the stroke, while the new Microhinge Star Insert provides an improved sound during the impact and a super firm feel off the face.
Callaway's Odyssey Stroke Lab Triple Track is an extremely sturdy putter with a  minimal face rotation just like the heel to toe balanced putters. Its head sits square and aligns very well with the X Triple Track on the brand's Chrome Soft golf ball, which delivers confidence for a great stroke.
Features:
Triple Track lines – enhance your putting accuracy
Stroke Lab weighting – rebalances the putter for superior tempo and consistency in the stroke; this technology continues to dominate on tours all over the world
Microhinge Star Insert – provides a better sound at impact and a very firm feel off the face; preferred by today's best golfers worldwide
Scotty Cameron Newport 2 Putter
Last update on 2023-11-13 / Affiliate links / Images from Amazon Product Advertising API
Scotty Cameron has been producing some of the best blade putters the world of golf has ever seen, and the Newport 2 model is no exception. This putter has a soft feel, but the feeling is stable most of the time. The top-down look is classic and square, and there is no twisting at impact.
The Newport 2 putter is a combination of a 303 stainless steel inlay with a stainless steel body. It is a heel-toe weighted blade that is most appropriate for a flowing putting stroke. Since this is a blade putter, it would work best if you swing your club straight back or if you prefer a bit of an arc to your putting stroke.
While the Scotty Cameron Newport 2 Putter has been around for quite a while, this 2018 model has been slightly facelifted in terms of weighting. The company calls their weighting system "four-way sole balancing." This putter has been completely balanced, from its face to its cavity and from its heel to its toe.
Having said that, the cost of this putter is its downfall. The price of Scotty Cameron putters has been at the top end of the scale for quite a long time. And if you think you just need to wait about a year to get it at a low price, it actually does not work like that.
The Scotty Cameron Newport 2 is worth your consideration if you need the best putter for low handicap. It is an investment in your game that you won't regret you made.
Features:
Multi-material technology – face inlays or face-sole components that are performance-matched to any putter style
Heel-toe weighting technology – perfectly matched to shaft length; provides great balance and forgiveness
Modern aesthetics – sole to topline inlays, refined graphics, and colors, as well as misted finishes
Integrated vibration dampening system – connects mid-milled face inlays or face-sole constructions to putter heads, which ensures a soft but firm feel
TaylorMade Spider X Putter
TaylorMade Spider Tour Black Putter #3, Right Hand, 34 IN
Modern mallet putters designed with multi-materials for high MOI, stability and better roll
Lightweight 6061 aluminum core paired with heavy 304 Stainless Steel frame for high MOI to designed to ensure that the face stays square to the path
Based on robot testing of Pure Roll groove vs. solid face, Pure Roll insert increases topspin and improves forward roll for distance control
Vibration damping PU foam embedded between the body and frame for enhanced sound and feel
SuperStroke GTR 1.0 Grip. Chrome Finish Steel Shaft.
Last update on 2023-11-13 / Affiliate links / Images from Amazon Product Advertising API
The Spider X by TaylorMade is also one of your fantastic options for the best putter for low handicap. It features a revolutionary X-shaped design for better stability at impact.
It is believed that a thinner, lighter blade putter tends to wobble during the impact. The more the head of a putter shakes, the worse the outcome will be. Don't forget that putting is all about proximity to the hole.
The Spider X Putter is available in a variety of color choices. Some feature a few lines on top, while others have only one solid line. No matter your visual preference, you will likely find a model that works for you. Aside from the color selection, there are also a few different options for the hosel type on this mallet putter.
With the True Path Alignment System, you can aim the face and return it to the square during the impact. This makes the putter easy to align. In addition to that, this putter comes with three weights that you can adjust to get the feel that you desire.
Features:
Revolutionary X shape design – improves stability at impact
True Path Alignment System – helps you aim the face and return it to square at impact
Adjustable weights – allow you to get the feel that you want
Bloodline RG1 Stand Up Putter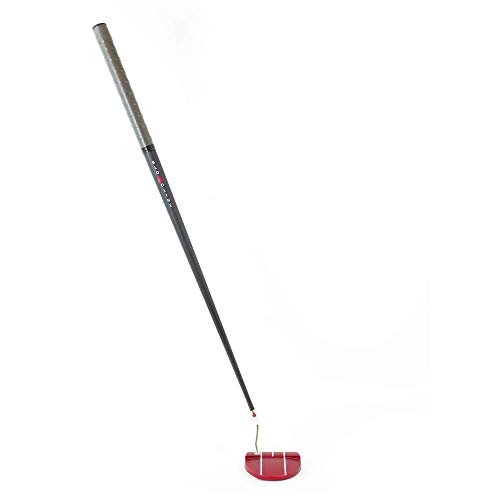 Bloodline Stand Up RG-1 Mallet Putter - 5 Wins on Tour - Premium Components- Perfect Aim, Magic Putter. (Mallet, 34)
The only tour quality putter that stands alone. 5 tour wins & used by Hall of Fame golfers in Majors.
Tour Caliber Head CNC machined, multi-piece head with performance groove face technology combined with an Integrated/Oversized Grip section that morphs into the shaft section to provide the ultimate in feel and feedback to the hands
Ultra-Low Balance Point is around 2" (lowest in industry) from the base of the head and delivers optimal feel and stability of the putter
From the BLOODLINE that brought top putter, shaft, and metal-wood brands to tour.
Patented features that deliver industry leading performance including its ability to stand alone
Last update on 2023-11-13 / Affiliate links / Images from Amazon Product Advertising API
You have a lot of options when it comes to the best putter for low handicap, and the Bloodline RG1 is one of them. This mallet putter is designed to improve your game by ensuring that you know exactly where it is aimed when you hit a putt.
The company began with a simple idea of designing a premium putter head and matching it with a high-performance carbon fiber shaft. They have made a putter that offers the benefits of stand-up features without sacrificing anything when it comes to feel through impact, distance control, and consistent, accurate golf ball striking.
The brand has combined stability and tour feel/roll to create their patented and conforming technology, helping you to become a better putter.
Even on a relatively short and straight putt, you may not realize that your alignment is off. This usually brings about the subconscious manipulation of the face of your putter during your stroke. The Bloodline RG1 Stand Up Putter is made to give you a better perspective by enabling you to see where it is aimed as you align from behind the face.
Starting with your hands in the proper position all the time will help you hit the golf ball more consistently while confirming where you are lined up will provide you with more confidence and help you focus on striking the ball with the right speed. With the Bloodline RG1 Stand Up Putter, you will have better accuracy right away by aligning from behind on each putt.
The downsides of this putter are that you have to be careful when you use it on windy days and that the pricing is right at the top end of the scale. Be that as it may, the functional and captivating design of the Bloodline RG1 will certainly elevate your putting in a number of ways.
Features:
CNC-milled aluminum RG-1 putter head with integrated shaft/grip/hosel
Head construction – body/face: CNC machined, anodized aluminum
Head design – Weight – 395 grams; Loft – 3.2°; Face length – 3.75"; Depth – 3″;  Lie – 69.5° (standard)
Shaft/grip construction – carbon fiber
Shaft/grip design – sub-50 grams with integrated, oversized, round grip
Hosel – CNC machined aluminum, interchangeable
Ultra-Low Balance Point – about 2 inches (lowest in the industry) from the base of the head; promotes maximum stability and feel of the putter
Patented features – deliver industry-leading performance, such as its ability to stand alone
S7K Standing Putter For Men And Women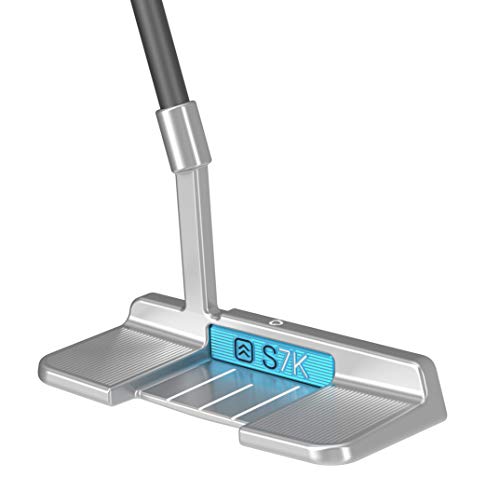 S7K Standing Putter for Men and Women –Stand Up Golf Putter for Perfect Alignment –Legal for Tournament Play –Eliminate 3-Putts (Left)
NEVER MISS ANOTHER EASY PUTT; Stop missing putts from 10 feet and in; Drain more putts for birdie and par; Lag it close from long distance and hole pressure putts like a seasoned pro
TRUST YOUR LINE EVERY TIME; No guesswork lining up your shots; Check your aim from behind the ball and down the line and watch your ball roll on line every time; The S7K fixes your ai
NO PRACTICE, INSTANT HELP; The S7K putter is so easy to use - just line it up, step back, adjust the aim and putt; Save 5 strokes or more the very first time you use it; The S7K eliminates 3-putts and helps you shoot lower scores fast
SUPERIOR WEIGHT AND FEEL; The S7K's lightweight shaft and solid head give it extra stability and smooth balance; The S7K makes it so easy to roll it pure to the cup; Golfers love its accuracy and feel
LEGAL FOR TOURNAMENT PLAY & 1-YEAR MANUFACTURER WARRANTY; High-quality construction backed by unbeatable one-year manufacturer warranty against defects
Last update on 2023-11-13 / Affiliate links / Images from Amazon Product Advertising API
The S7K Standing Putter is also one of your choices when you need the best putter for low handicap. It is a unique standalone putter that is designed to help you in the alignment of your aim, promoting confident strokes. The three-line path guide on this putter enables you to align it right in line and hit the golf ball more accurately on each and every stroke.
This putter features a graphite shaft that is super sturdy and lightweight. It is made of a graphite material, which has no flex and provides you with enhanced overall control over your swing.
The 7k Standing Putter comes with an EVA foam grip that makes it feel extremely comfortable to handle and swing. It weighs only ten grams and is made especially for improving the performance of the putter.
The grip is highly responsive to your hands. Along with the ultra-low balance point, the 7k putter helps you have a better speed and distance control, delivering enhanced acceleration at impact for clutch putts.
The simple neck hosel connects the shaft to the club's head. It is well-built, secure, and gives minimum lateral movement.
The head is the main attraction of this putter. It has a half mallet design as well as a 3-line alignment guide. The mallet base is flat, and the weight of the head is 350 grams. With the exceptional head design and weight balancing technology, the putter has the ability to stand on its own with ease. This allows you to align the ball to the hole for striking putts in just one hit.
The S7K putter is very lightweight, and the head is heavy in design to provide the user with extra handling over the strokes. This improves your speed and distance control. And since the head is heavy and the overall weight of this putter is relatively low, the S7k standalone putter is also easy to swing and has greater forgiveness.
The face of this putter features a deep fly-cut mill pattern that provides a smooth and soft feel at impact. With the very high MOI rating, you can count on the putter to give you better acceleration at impact and maximum forgiveness when you miss.
Finally, the S7K standalone putter is completely legal even though its attributes make it seem like it would not be allowed in tournament play. The USGA and R&A rules give players permission to use this putter freely, even for advancing to tournaments.
Features:
Standalone feature – lets the putter stand on its own on the greens
Triple-Line Path Guide – makes it quick and easy to accurately align your aim
Stroke-balance construction – delivers enhanced acceleration
Deep fly-cut mill pattern – ensures a softer feel through impact
Extremely high MOI – for improved accuracy
Mid-size, EVA foam grip – offers comfort for your hands
Legal for tournament play
Ping Heppler Fetch Putter
Last update on 2023-11-13 / Affiliate links / Images from Amazon Product Advertising API
Give your golf game a proper roll with the Ping Heppler Fetch Putter. It has an incredibly high MOI as the putter head features a ball-sized hole in the middle that boosts forgiveness. The color contrasting allows golfers to focus on the alignment cues, causing the holed-out area to fade and not be the main focus. The entire putter head fits inside the hole to retrieve holed putts, which is perfect for straight strokes.
The Ping Heppler putters provide a machined, solid face, particularly for golfers who want a firmer feel and sound at impact. Multi-material (cast aluminum and steel) mallets and mid-mallets offer incredible forgiveness and optimal center of gravity for precision and consistency. A premium, contrasting black and copper putter head finish delivers alignment lines and creates visual interest. The stiffer adjustable-length shaft in an exclusive black chrome is standard, and players can be fit for all types of stroke, which are Straight, Slight Arc, and Strong Arc.
The Ping Heppler Fetch Putter promises to help you experience the best of forgiveness and firmness in your short game. Made with a machined, solid face, the brand's line consists of mid-mallets and multi-material mallets, which give ultimate forgiveness and optimal center of gravity for better consistency and precision.
The lighter aluminum was built with steel through weight placement and strategic shaping, producing the high MOI models. The stiffer adjustable shaft length technology that is concealed with the grip assists golfers in finding their ideal fit.
For those seeking the best putter for low handicap that will cater to all your needs, the Ping Heppler Fetch Putter could be the right one for you.
Features:
Multi-material mallets and mid-mallets – offer the best of forgiveness and excellent center of gravity for better precision and consistency
Circular shape – allows for efficient perimeter weighting, which makes this putter an outstandingly high MOI model for its size
Distinctive golf-ball-size center hole – allows you to pick up the ball and remove it from the cup without the need to bend down
Unique mallet profile and 365g head weight – provides optimum stability on short putts
Face-balanced design – targets golfers who have little to no putting stroke rotation
Lighter aluminum combined with steel through strategic shaping and weight placement to produce high MOI designs
Premium, contrasting black and copper finish ensures timeless quality and style
Frequently Asked Questions About The Best Putter For Low Handicap
What length of putter do I need?
Putter length will vary from golfer to golfer. At the end of the day, you need one that will enable you to get your eyes over the ball. If your eyes are over the ball at the address and you are looking down the line, that putter is the perfect length for you.
For most golfers, the right length will be right about 34 inches. For male players, putters are usually sold standard in 33, 34, and 35-inch lengths. A putter that is too short is going to be a bigger problem than a putter that is too long. There are retailers that allow you to get a putter fitting prior to making a purchase.
Which putter type is best for a low handicapper?
Traditionally, blade putters are the most suitable for low handicap golfers. Low handicap players often look for excellent feel and distance control, particularly on fast greens. Many of the low handicap golfers prefer the look and design of a simple blade for their putting stroke.
As other manufacturers have made such significant advances in their putting technology, the pro players have begun to switch over to a mallet putter. It all comes down to selecting the one that works best for your stroke.
What is the most widely used putter on the PGA Tour?
The answer to this is the TaylorMade Spider X. It is widely used by the pros on the PGA Tour, as it is incredibly forgiving as a putter and its balance makes it easy to use.
The Spider X putter has been really popular not just among professional golfers but also among amateur golfers. It has a mallet head and offers amazing overall stability. If you are looking for a game-changer for your putting game, the TaylorMade Spider X would be the best choice for you.
There are a few other putters that led the way in terms of money earned on the PGA Tour, which is the Scotty Cameron Newport Putters and the Odyssey Stroke Lab Series.
How much should I expect to pay for a new putter?
Some players tend to have trouble spending much more money on a putter after they have bought a $500 driver. If you think of all the clubs in your bag as well as how frequently you use them, it becomes very reasonable to spend a large amount of money on your putter.
The cost of putters usually range from 40 dollars to 500 dollars. If you are capable of spending somewhere in the middle of this range, you can expect to get a high-quality option that should stay in your bag for many years.
The technology in putters does not change as quickly as it does in drivers and irons. The one you chose to buy should serve you for an average of 5 to 10 years. If you take into consideration the number of putts you will make in a 5 to 10 year period; a putter is actually not an expensive club.
Is grip size very important for putters?
Yes. Grip size matters in putting but in a totally different manner than it is for your driver or iron.
When you use the wrong grip size with a driver or an iron, you may find it difficult to square up the clubface, or the face may close too fast. Making sure that the size of your hand matches your grip size is of vital importance for all other types of clubs except putters.
The grip of a putter should feel good and perform well. The thicker the grip, the easier it is to keep your hands out of your putting stroke. If you are having trouble using those larger muscles when putting, then try switching over to one with jumbo or midsize grips; they can be more advantageous for players who need help in that department.
Players with small hands can still use a larger grip, which is absolutely fine. Many popular brands produce putters with the jumbo grip on the club as the stock grip. Golfers feel as if the thicker grip provides them with more stability during the swing and particularly at impact.
Is shaft important when selecting a putter?
If you think you require a specific shaft due to flex or weight, then focus more on the overall weight. Flex should stay constant among putters so that you will not have a lot of problems with that. A male golfer that swings at 120 mph and a woman with a swing speed of 70 mph can use the same putters easily.
Can I cut my putter to change its length?
Yes, you can cut your putter off and draw on a new grip, but you will highly likely throw off its weighting. Depending upon how the weighting would be affected, it might take your game to the next level or the other way around.
The safest thing to do is to get a qualified professional to get the job done for you. They have the ability to make sure your putter is still well-balanced. There are ways to counter the weight changes when you cut your putter down, but it has to be done with the proper scales and an expert.
Are men's and women's putters different?
Some of the best putters you can find on the market do not have a version that is available for female players. This may look like it is unfair, but that is not the case. Putters can be for both men and women. Gender does not have any effect on a putting stroke.
While you may find a number of putters exclusively made for ladies, the only difference on those would be the length and the colors. Most of the time, the actual technology in the putter's head will perform and feel the same way.
Mallet vs Blade Putter
Not only did we do some research on the best putters for low handicap, but we have also assessed the reasons for players choosing their ideal putters. These are the key factors that you should take into account when deciding on whether to buy a mallet putter or a blade putter.
Putting is a part of the golf game where feel plays the most important role, and the wrong choice of your putter is very likely to affect your game in a bad way.
A mallet putter basically has better forgiveness compared to a blade. However, if you are a golfer with an arc stroke, it can be more difficult for you to turn the head of the putter within your hands. A mallet's face is more square-shaped than a blade, which means you will get a really different feel when you switch between the two.
If you are unable to spend hours fixing your putting stroke, you will want to choose the putter that will provide you with the highest chance to make more putts. The mallet putter is obviously the right choice for this due to its forgiveness on off-center shots. However, feel also plays such a big part, so the putter should be forgiving and also feel right on those mishits that are all too often.
Begin by choosing a putter that suits your stroke.  A square-to-square stroke is more fit to a mallet putter, while a more arced stroke is more ideal for a blade putter. Upon figuring out your stroke pattern, try out some of the selected types, but do not disregard the others.
At the end of the day, if your putter helps you to hole putts more often than before, then you will know that you are on the right track and will be able to lower your handicap in no time at all.
The Pros and Cons of Mallet vs. Blade Putters
Mallet Putters
More forgiving
May look weird
Typically more expensive
Lower MOI
More centered weight to ensure a straight back straight through the swing
Fewer options for shaft positioning and design
It May feel a bit awkward to some players
Blade Putters
Allow you to develop a more sound putting stroke
Traditional design
Higher MOI
Better feedback on off-center hits
More options for balance and shaft position
Traditional feel
Less forgiving
Face Inserts
When you are looking for a great putter, be sure to test out the different face inserts. You'll find that there is one just perfect for your game! The hardness or softness of your club head will depend on personal preference- so have fun with it and try them all!
Hosel and Shaft
The hosel and shaft position is also a highly personal preference. There are three primary options:
The center shafted putter – connects in the middle of the putter head
A heel-shafted putter – connects to the putter at the heel, as its name suggests
The most common style is an offset hosel putter. It appeals to many golfers because it keeps your hands forward while hitting the ball, and it also enables the face to be easily squared up.
Final Thoughts
Putters are more of a personal choice, and what works great for you might not do as well for other golfers. So in order to give you an idea and make it easier for you to decide, we have created a list of some of the best putters for low handicap.
Most of the putters that we have included in the list have an advanced design with some combination of state-of-the-art technologies that will help you get the most out of your golf game and may also save quite a few strokes.
Consider your specific needs, putting style, and budget in order to choose the right putter for low-handicap golfers like you. Your next putter should be something that will last for about five to ten years and one that will provide you with the confidence you need to improve your game and make more putts.
Best Putter For Low Handicap | All Golf Reviews
The #1 Guide To Find the Best Putter for low handicaps. This guide will help you choose which model is best, and how to choose between models if they aren't clearly differentiated.
Product In-Stock: InStock