Most golfers know the feeling of trudging along up to the 18th fairway and feeling your feet are numb from all the walking. The heavy spikes weigh on your feet and feel like you have ankle weights on you. Not to mention, you're locked into the turf with less mobility. You just long for the moment you can slip on some casual street shoes.
Luckily for you, spikeless shoes provide quality grip and traction without all of the problems that spiked shoes bring. Some spiked shoes are so lightweight and well-cushioned that it feels like you're walking on a cloud. Many of them have a lot of treads and lugs to keep you from slipping during your swing. In this article, we'll discuss the most comfortable spikeless golf shoes for men and women, along with a buyer's guide on how to select the right ones for you. Let's get started!
Women's Top Pick
Adidas Women's Adipure
Popular
Skechers Men's Max
Comfortable
Puma Golf Men's Grip Fusion Sport
Highly Reviewed
Adidas Men's Tech Response 2.0 Golf
Breathable
New Balance Men's Breeze Breathable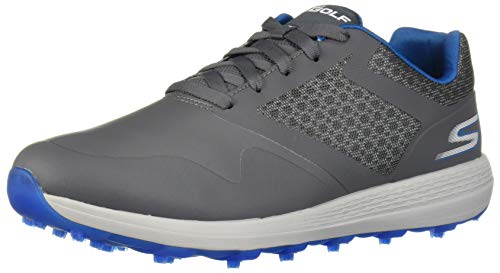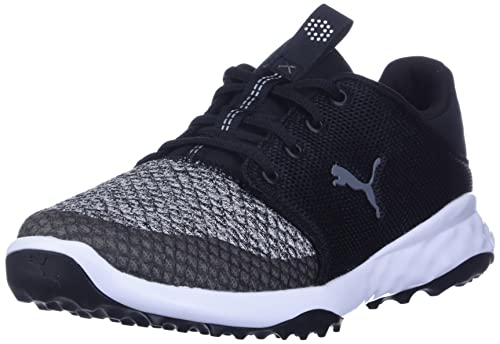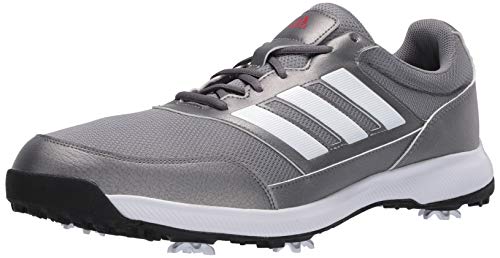 Women's Top Pick
Popular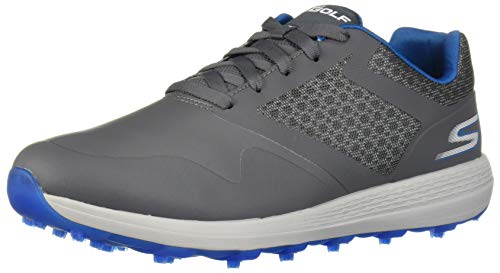 Comfortable
Puma Golf Men's Grip Fusion Sport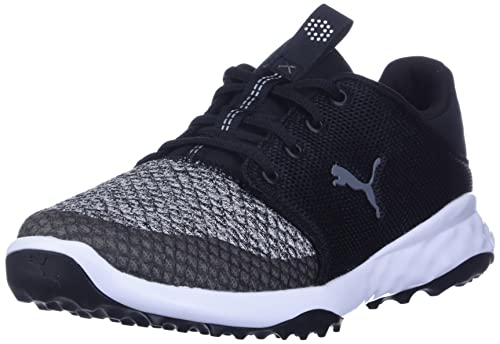 Highly Reviewed
Adidas Men's Tech Response 2.0 Golf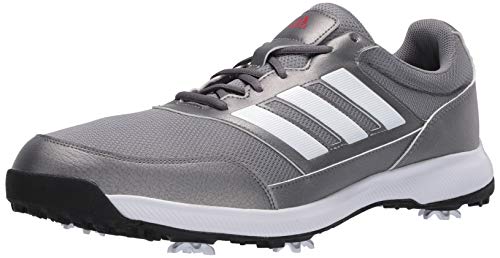 Breathable
New Balance Men's Breeze Breathable
Last update on 2023-09-24 / Affiliate links / Images from Amazon Product Advertising API
Most Comfortable Women's Spikeless Golf Shoes
The sport has become increasingly popular for women. According to the National Golf Foundation, there are 6 million female golfers, and they account for 24% of the total number of golfers. Here are our favorite spikeless golf shoes for women.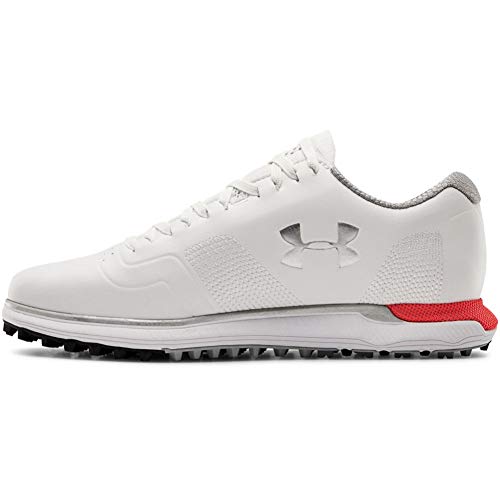 Under Armour Women's HOVR Fade Spikeless Golf Shoe, White (101)/Beta, 7
Breathable microfiber upper provides comfortable, lightweight support
1 Year Limited Waterproof Warranty
UA HOVR technology placement supports natrual movement of the foot during your swing & provides 'zero gravity feel' to maintain energy return that helps eliminate impact step after step
Compression mesh Energy Web contains & molds UA HOVR foam to give back the energy you put in
Knit tongue construction for enhanced fit & breathability
Last update on 2023-09-24 / Affiliate links / Images from Amazon Product Advertising API
The Under Armour women's HOVR is the latest example of incorporating high-tech features into a golf shoe. Its primary feature is the UA HOVR technology which provides high-rebound cushioning and a zero-gravity feel to maintain a good energy return. Thus, it'll eliminate the impact step after step. The technology is designed to absorb shock and feel effortless to walk and drive the weight from heel to toe on your swings.
Also, the UA HOVR shoe has plenty of features to ensure breathability, comfortable fit, and lightweight support. Under Armour even offers customers a complete 1-year limited waterproof warranty demonstrating their confidence in constructing their golf shoes. There's a breathable microfiber upper allowing airflow and ventilation through the shoe. As a result, you won't have sweaty feet. Not to mention, the UA HOVR foam molds protect your feet from the impact and gives you a nice cushion while walking.
Pros:
Available in many sizes
Relatively affordable golf shoes
HOVR technology minimizes impact and provides energy return during the swing
1-year waterproof warranty
Breathable microfiber upper
Cons:
Some customers have complained that the shoe slid up and up
Last update on 2023-09-24 / Affiliate links / Images from Amazon Product Advertising API
At first glance, you'll immediately notice the trendy design that the Adidas Women's Adipure offers. It comes in three distinct colors: White and Chalk Coral, White and Grey, and Black and Real Coral. The accented colors pop out, which draw attention to the shoe and make them incredibly fashionable. The Adidas logo always adds a nice touch and complements any outfit as well.
On the outsole, the Adipure features their unique pure motion lugs. They are designed with deep and thick indentations to improve traction and stability. These lugs have some PVC injected and are made of rubber to ensure slip resistance. Thus, you won't have to worry about shifting forward or side during your golf swing.
Also, the Adipure has comfortable Fitfoam PU sock liners incorporated to provide heel support and prevent blisters. It also gives much-needed breathability and strips away moisture from your feet.
Pros:
Very trendy designs that can be worn for on-course or off-course
Available in three colors
Fairly inexpensive golf shoes
Fitfoam PU sock liner provides extra padding and support in your heels
Pure motion lugs provide optimal traction and stability at all times
Cons:
It doesn't have a wide tox box
Most Comfortable Men's Spikeless Golf Shoes
Wearing golf shoes isn't required, but it sure can make a big difference on the golf course. They prevent you from slipping in wet conditions or slopes. Also, they keep you extremely comfortable while you're on your feet all day. Let's cover the most comfortable men's spikeless golf shoes on the market.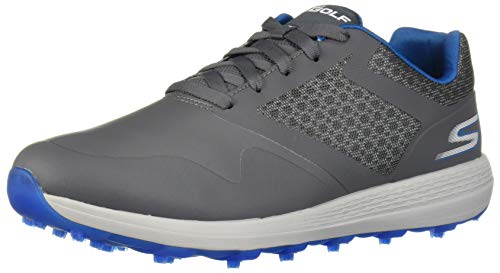 Last update on 2023-09-24 / Affiliate links / Images from Amazon Product Advertising API
Golf might seem like a calm and slow-paced sport, but you still need to exert a lot of force to hit the ball. On top of that, you're required to walk around a lot between the 18 rounds. Thus, your golf shoes should be incredibly comfortable and performance-enhancing.
The Skechers Go Golf is the perfect option that blends comfort and performance. One of its most prominent features is the Goga Max insole. It infuses the technology into the footbed to provide high-rebound cushioning and ultra-soft comfort as you walk.
In addition, the Go Golf has an Ultra Flight midsole, which is responsive and has lightweight cushioning to prevent blisters and pain. Unlike most golf shoes that are narrow and feel restrictive, the Skechers Golf Golf is available in extra wide widths giving you a wide toe box for people with foot conditions or who just want a little bit of extra room. On top of the shoe, there is a soft woven mesh fabric and smooth synthetic upper to allow airflow to keep your feet cool. Also, the synthetic overlay repels water and moisture out of the shoes.
Pros:
Available in many color options
Synthetic upper repels water from coming in
GOG Max technology insole delivers high-rebound cushioning to maximize comfort
Rubber sole prevents you from slipping on the course
Soft woven mesh fabric provides breathability to the shoe
Cons:
The design doesn't look very stylish
Sale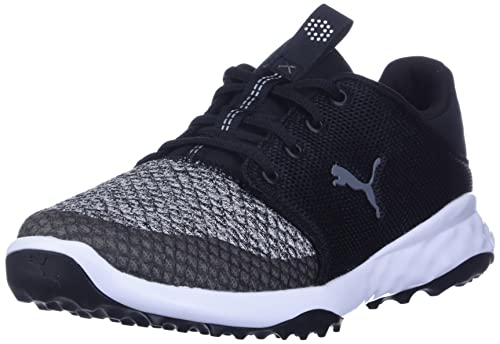 Last update on 2023-09-24 / Affiliate links / Images from Amazon Product Advertising API
Finding a good comfortable shoe with lots of traction can be difficult. But the Puma Golf Men's Grip Fusion is the perfect solution. These shoes offer a durable, lightweight tread designed for gripping the turf and provide maximum stability. The Puma Grip Fusion has an extra cushion in the sole to absorb high-impact foot striking and provide flexibility. Flexibility is crucial when it comes to your golf swing because it allows you to seamlessly shift weight in your feet and pivot to drive the club.
The fusion foam covers the full length of the bottom of the shoe. It provides a high rebound and energy return. This gives you additional energy to walk easier, so it feels like you're using less effort to walk or run. Also, it gives you more force when hitting the ball on your swing.
On the top of the shoes is surrounded by performance mesh. It enables air to pass through, which keeps your feet cool and dry. The last thing you'd want is sweaty or overheated feet as you stay on your feet for hours.
Pros:
Quite inexpensive for golf shoes
Incorporates a full length cushioning for energy return and minimize shock
Treads provide organic traction to keep you balanced at all times
These shoes have a modern and fresh look
Soft foam insoles make walking for hours very comfortable
Cons:
Only available in two colors
Sale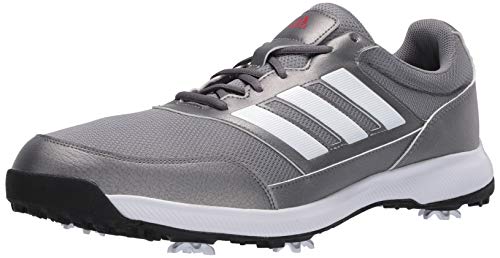 adidas mens Tech Response 2.0 Golf Shoe, Grey, 11 US
Lightweight, breathable, stable feel
Lace closure
Textile and synthetic upper
Durable non-marking adiwear outsole with X-Traxion primary lugs for grip and balance and green-friendly thintech EXP cleats
Lightweight Cloudfoam sockliner
Last update on 2023-09-24 / Affiliate links / Images from Amazon Product Advertising API
Most golfers spend hours at a time on the course, so why not invest in a pair of high-quality spikeless golf shoes. One of our favorite shoes is the Adidas Men's Tech Response fold shoes because it's remarkably lightweight, comfortable and helps you to improve your game.
The upper is made of 25% synthetic mesh and 75% microfiber leather. The leather material is useful in repelling water and keeping it out of the shoe. This makes it usable on rainy days, allowing you to golf in all conditions. Also, the synthetic mesh material allows your feet to breathe and lets the sweat wick away.
Instead of the cleat and spikes, the Adidas Tech Respond uses Traxion lugs designed with a wide profile grip to ensure maximum stability. There isn't a ton of foam padding, which means these shoes have a low-profile design. As a result, it brings you closer to the ground, so you have a better ground feel. The six-spike Thintech lugs are made to grip the turf and provide optimal traction.


Pros:
Low-profile ThinTech design brings you closer to the ground for a better ground feel
Six-spike ThinTech outsole gives you exceptional traction
Lightweight cloud foam sock liner provides all-day comfort
EVA midsole offers shock absorbent characteristics
Breathable mesh upper keeps you cool while walking
Cons:
All of the color options are plain
Last update on 2023-09-24 / Affiliate links / Images from Amazon Product Advertising API
Although the New Balance Men's Breeze has somewhat of a basic and plain design, it has plenty of innovative and high-tech features to keep you comfortable for a long day on the golf course. These shoes feature a forefoot water guard, which is a material that repels water off your shoe. This means moisture or water won't enter, and you can be assured that your feet won't soak even on rainy days.
In addition, the shoe has remarkable midsole, outsole, and insole tech. The REVLite midsole comprises an innovative foam compound that offers the same durability and responsiveness as other foams that are 30% heavier. It offers lightweight construction without sacrificing stability and underfoot cushioning.
On the outsole, it has a rubber compound with heavy-duty treads to maximize grip and traction. Since the treads are heavy-duty, they are durable and won't wear over time. Lastly, the cushion and insole have a thick layer of padding. Even the sides and collar have an ultra-soft foam compound for ankle support.
Pros:
The forefoot water-guard repels moisture and keeps it out of the shoe
NDurance rubber outsole maximizes durability and prevents you from slipping
Revolutionary foam compound provides responsive and ultra-soft cushioning for comfort
REVLite midsole is incredibly lightweight while providing underfoot cushioning
Breathable mesh upper keeps your cool fresh and dry
Cons:
Design is relatively plain and basic
What to Look for in Spikeless Golf Shoes
Everyone has different needs, meaning there isn't a once size fit when buying comfortable spikeless golf shoes. Some may prefer better lug support, while others need better breathability. You'll want to understand what's important for you and what features and designs will help make you feel comfortable and improve your golf game.
Spikeless Design
Spiked shoes provide better traction, especially for slopes and wet surfaces. However, the cleats on them can wear or break. Not to mention, they are incredibly uncomfortable walking in on concrete grounds. Therefore, they cannot be worn in off-course situations.
On the other hand, spikeless shoes are becoming more advanced and improving their grip. Spikeless shoes tend to have a better ground feel and be much more flexible than spiked shoes. In addition, they weigh less because they won't have metal spikes shooting out from the outsole.
Even in many wet conditions, spikeless shoes should get the job done. They have rubber soles along with various types of lugs or traction technology to keep you from slipping. Spikeless-designed shoes are more comfortable and give you the versatility to wear them casually off the golf course.
Breathability
A golf course is designed with a lot of open turf with very little shade from the sun. Therefore, it can be quite a heated environment. Your spikeless golf shoes should be sufficiently breathable, allowing airflow to come in and out of the shoe. But, it should be moisture resistant where it keeps water from getting inside the shoe. As a result, your feet won't feel overheated, and it keeps them fresh and dry. Most spikeless shoes use a breathable mesh upper or tiny holes in the shoe to let airflow and ventilation. Furthermore, the shoes may have a synthetic mesh overlay to repel water or use a water-resistant leather material.
Balance
As a golfer, you need good balance to ensure you're getting accuracy and distance on your shots. Without it, you won't get consistent results. A balanced swing enables you to better control the club and delivery the swing squarely on the ball. Thus you'll be able to generate sufficient clubhead speed to maximize power. Golf shoes should have various traction treads and lugs to provide a stable and secure swing., Also, you want to make sure you feel a good connection to the ground. If you feel wobbly during the swing, you may lean forward or back, which will disrupt your golf swing.
Consider Your Arches
Lateral arches are often forgotten about when considering golf shoes. Shoes with proper arch support will ensure you won't wake up with swollen or sore feet the next day. Your spikeless golf shoes should provide support for the lateral arch, medial and transverse arches. Make sure the golf shoes have properly cushioned footbeds. This means they have a good cushioning mechanism that can shock absorbent qualities and supportive orthotics.
Lugs
Lugs are little circular portions on the outsole that are designed to replace spikes or cleats. However, the lugs are molded in for more comfort. They are typically strategically positioned to maximize your balance and keep you feeling stable. Although they don't provide as much traction as cleats, they still are more than enough for most golf courses and playing conditions.
Comfort
Many factors make a spikeless golf shoe comfortable such as breathability, insole cushioning, ankle foam padding, lightweight, and waterproofing. It's important to analyze the makeup of the shoe to ensure they have all of these qualities in them. Golf requires a lot of walking, and you don't want to drag your feet or hurt yourself while playing.
Most Comfortable Spikeless Golf Shoes – Final Thoughts
Spikeless golf shoes are much more comfortable than spiked golf shoes. You don't have to worry about switching golf shoes mid-game because the cleats are hurting your feet. The right golf shoe will vary and depend on your needs.
Many brands such as Skechers, Adidas, FootJoy, PUMA, and New Balance are incorporating treads and lugs to deliver similar traction and performance as spiked shoes. However, you get the benefits of a high rebound shoe with shock-absorbent characteristics. With that being said, we've hoped this review guide was helpful in the process of finding the perfect golf shoes!
Most Comfortable Spikeless Golf Shoes | Our Top 6 Picks
Spikeless golf shoes are designed with comfort in mind. Find out which are the top 6 most comfortable spikeless golf shoes. We have looked at comfort, traction, stability, durability, and of course, value. Read more here.
Product In-Stock: InStock