Comfort plays a major role when it comes to playing golf. Many golfers utilize every little advantage they can get to improve their game and performance. Golf shorts are one of the most overlooked aspects of golf. These shorts allow you to move freely, which impacts your swing. Also, during hot weathered days, you don't want to be sweating through your pants. Golf shorts have a unique construction, material, and fabric to maximize your game and keep you comfortable.
In this article, we'll cover the eight best golf shorts for hot weather and a buyer's guide on how to choose the right ones for you.
In a hurry? These are our top picks.
What are Golf Shorts?
Golf shorts are specifically designed to keep you comfortable when playing golf. They are worn during hot weather so that air can flow easily in. So why should you wear golf shorts instead of regular pants?
There are a few reasons that make golf shorts ideal:
They are lightweight and allow more freedom of movement
These shorts are made with breathable material to keep you cool at all times
They look great and are a casual fit
Although they are labeled as golf shorts, that doesn't mean that they are only limited to playing golf. They are excellent for any type of outdoor recreation activity.
8 Best Golf Shorts for Hot Weather
After extensive research on many golf shorts, we've narrowed our findings to the eight best golf shorts in the market. These offers have a great mix of comfort, breathability, flexibility, and style.
Most Flexible: PGA Tour Men's Flat Front Golf Shorts with Expandable Waistband
Sale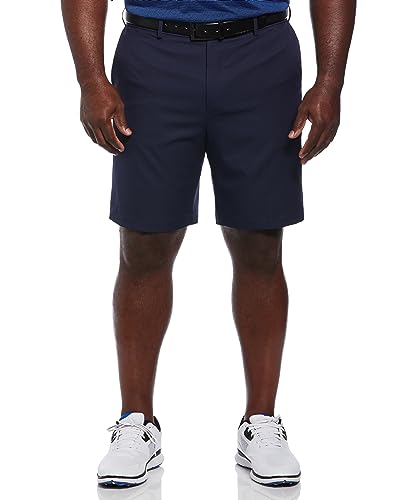 PGA TOUR Men's Expandable Flat Front Golf Short, Black Iris, 38
MOISTURE WICKING: Built-in moisture-wicking technology in the men's golf shorts moves perspiration away from the body to provide a dry fit that's comfortable for all day wear.
STRETCH: Mechanical stretch inherent in the weave of the fabric of the comfortable golf shorts allows for greater comfort and movement while playing.
EXPANDABLE WAISTBAND: For greater flexibility and comfort, the men's golf wear features a hidden elastic waistband that expands and contracts up to 4 inches to move with you.
SUN PROTECTION: Sun protection prevents damaging UV rays from penetrating the fabric of the golf apparel to help protect covered skin on sunny days.
CLASSIC FIT: These performance golf shorts come in a classic fit that has a straight leg with a little extra room in the thigh for a comfortable style that can be worn on or off the golf course.
Last update on 2023-11-11 / Affiliate links / Images from Amazon Product Advertising API
For golfers who prefer a little stretch in their golf shorts, the PGA Tour men's golf shorts are made with 100% polyester and have an expandable waistband. This helps you to swing, move, squat, and walk freely without feeling restricted. The expandable waistband expands and contracts up to 4 inches so that you can get the perfect fit without needing a belt. When playing golf, belts can feel extremely uncomfortable, especially when you're twisting your body during swings.
In addition, the PGA Tour golf shorts have a mechanical stretch in the weave of the fabric, allowing you more flexibility than other pants do. It comes with two side pockets and two back pockets to hold your phone, wallet, and other small golf accessories. Lastly, these pants come in many colors: asphalt, black, white, caviar, chinchilla, quiet shade, and silver cloud.
Best Moisture-Wicking Properties: Three Sixty Six Seersucker Golf Short for Men
No products found.
Many manufacturers claim to have moisture-wicking properties but not all do. The Three Sixty Six Seersucker Golf Shorts offer excellent sweat-wicking technology we've seen. 52% of the material is made from polyester, and 48% is made from nylon. Nylon is a material with properties that can wick moisture away from the body, specifically the inner thighs and crotch area. Polyester is designed for long-term durability and prevents wrinkling.
These pants are available in five neutral colors: cypress olive, grey, khaki, navy blue, and sky blue. With its pinstripe design and two-quarter deep front pockets, it's quite versatile to use in any situation.
Best for Women: Three Sixty Six Women's Golf Shorts
Last update on 2023-11-11 / Affiliate links / Images from Amazon Product Advertising API
Unfortunately, female golfers tend to have fewer options available when it comes to golf apparel and clubs. However, the Three Sixty Six Women's Golf Shorts are an excellent choice for female golfers. They are short and provide a sporty look. It measures a 4.5-inch short inseam and comes in many available colors, so you still get an attractive look.
What separates the golf shorts from others is it's a 4-way stretch fabric. The material has a mechanical stretch, which provides your legs with a full range of motion and flexibility. This ensures you won't feel restricted or hampered by your shorts. There are slits in the seams and middle to prevent it from tightening during the swing.
In addition, the fabric is dry-fit which means it can evaporate sweat at lightning speed and allow air to flow through easily. Now you can stay cool all day long with these golf shorts.
Best Variety: Men's Dry Fit Golf Shorts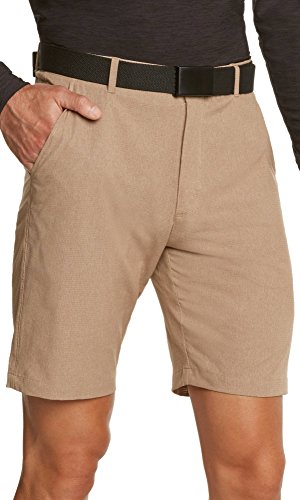 Mens Dry Fit Golf Shorts 10 in Inseam - Quick Dry Casual Chinos w/Elastic Waist
EASY DRY, MOISTURE WICKING FABRIC - These mens flex shorts are crafted from drifit material and do a great job wicking away sweat. With tiny ventilation holes, these chino shorts will keep you cool on the course, during casual activities, or even at the beach.
10 INCH INSEAM, COMFORTABLE CLASSIC FIT - Discover a great pair of golf shorts for men that fit true to size. The four way stretch fabric allows for maximum mobility during every swing or activity.
ELASTIC WAISTBAND - The expandable elastic waistband on these mens golf shorts is stretch-engineered to fit you perfectly and will give you the option to wear with or without a belt.
LIGHTWEIGHT, BREATHABLE MESH FABRIC - These mens casual cargo performance shorts have a mesh fabric that allows for great ventilation while you play golf and keeps you cool on warm, summer days.
BUY WITH CONFIDENCE - NO HASSLE RETURNS - Buying clothing online can be a little daunting at times right? This is why we at Three Sixty Six make it super easy for you. Our policy is simple: We offer full 100% refunds on ALL returns for ANY reason. So if the sizing didn't work out, you didn't like the color or style, you can return it directly from your Amazon account for a full refund, no questions asked. Thank you for shopping Three Sixty Six!
Last update on 2023-11-11 / Affiliate links / Images from Amazon Product Advertising API
Besides functionality, many golfers also want to look stylish on the course. Most golf shorts only offer neutral colors, which can be quite boring. The Men's Dry Fit Golf Shorts offers eight attractive colors to choose from. These colors include bunker beige, championship black, steel shaft grey., classic blue, sage green, twilight blue, maroon, and deep teal.
In addition, it comes with all of the features you'd want in golf shorts. It is an elastic waistband that stretches, allowing you to wear it without using a belt. Wearing belts will only tighten up the fit in your pants, which restricts the movement in your swings. If the thigh area is more narrow and the crotch rides higher, it might not be very comfortable when you're performing your golf swing.
These golf shorts also are made of a lightweight, breathable mesh fabric which allows ventilation to keep you cool all day long.
Most Stylish: Under Armour Men's Tech Golf Shorts
Sale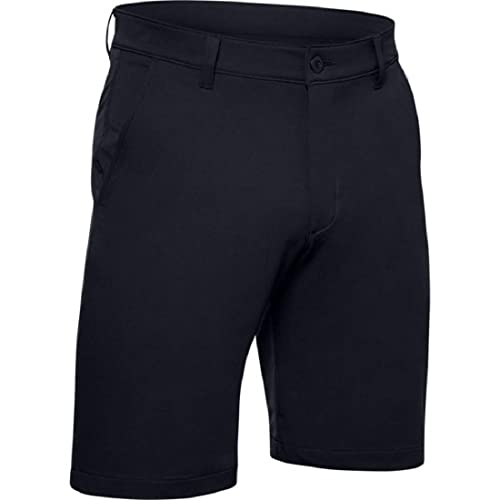 Last update on 2023-11-11 / Affiliate links / Images from Amazon Product Advertising API
When it comes to buying apparel, sometimes you want to buy from a trusted brand. Under Armour is one of the top sports brands in the world. The Under Armour men's tech shorts come in a very smooth and stretchy woven fabric. Many people find them to be much more stylish and wrinkle-free compared to other golf shorts.
This fabric has a 4-way stretch construction allowing you to move better in every direction. When moving your swing, it requires a full twist in legs and torso, so a roomy pant is very important. Also, the material has moisture-wicking properties that absorb and dry sweat quickly.
These pants come in 4 colors: blue, black, khaki, and pitch grey. In addition, it comes in men's sizes between 30 and 42.
Most Affordable: Amazon Essentials Men's Classic-Fit 9″ Short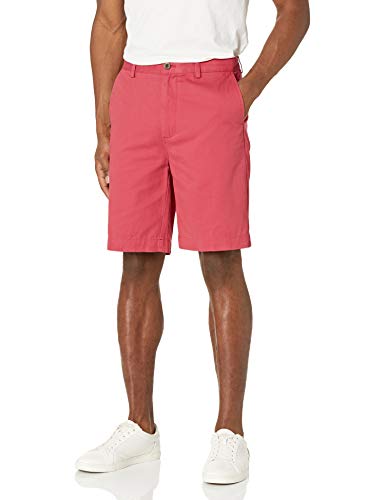 Amazon Essentials Men's Classic-Fit 9" Short, Washed Red, 32
CLASSIC FIT: Roomy through hip and thigh with straight leg. Sits at the waist.
COTTON TWILL: Gently structured cotton twill that is naturally breathable with a garment wash for a soft, durable hand.
EVERYDAY SHORTS: Classic khaki chino shorts in a non-stretch, garment-washed fabric for a versatile warm-weather wardrobe staple.
DETAILS: Zip fly with button at waist, front slant pockets, and button-through back welt pockets.
INSEAM: 9" on US size 32.
Last update on 2023-11-11 / Affiliate links / Images from Amazon Product Advertising API
If you're new to golf, it can feel like golf is an expensive sport with all of the golf apparel and equipment you need to buy. Luckily, the Amazon Essential's Men's Classic-Fit 9″ Shorts are incredibly affordable. It comes in many different colors and patterns, including various plaid designs.
These pants are made from 100% cotton, which is useful because it transmits moisture away from the body and removes liquid from the skin. In addition, cotton fabric tends to be very soft and comfortable to wear while also being breathable. The Amazon Essential pants have a straight-leg design which provides a lot of room in the hip and thigh area.
Best Overall: Adidas Golf Men's Ultimate 365 Short
Sale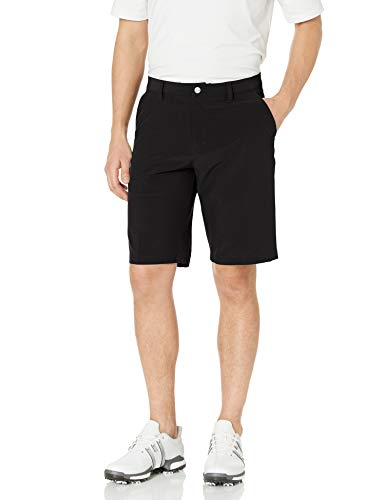 Last update on 2023-11-11 / Affiliate links / Images from Amazon Product Advertising API
Throughout our process, we judge these golf shorts by analyzing their features such as breathability, moisture-wicking properties, design, and comfort. We believe that the Adidas Golf Men's Ultimate 365 Shorts checks all of those boxes and is the best one in the market.
These shorts are made up of 88% polyester and 12% elastane. The main advantage of elastane fabric is that it's incredibly elastic, meaning it can stretch, which provides you more flexibility and a full range of motion when swinging a golf club. Whether you're squatting down, sitting, walking, or even running, these pants won't feel tight. In addition, these materials are designed to be soft, water-resistance, and extremely lightweight.
The Adidas shorts also are UPF 50+, meaning they'll protect against the sun's harmful UV rays and prevent potential skin damage from staying out in the sun all day. These shorts come in many vibrant colors, which are greater for the summer styles and keeps you cool.
Excellent Fit: Dockers Men's Perfect Short
Sale
Last update on 2023-11-11 / Affiliate links / Images from Amazon Product Advertising API
Finding the right fit for your golf pants is a very important aspect to consider. You don't want your golf shorts to feel too tight or too baggy. The Dockers Men's Perfect Shorts uses a stretchy twill material to provide more flexibility and range of motion. Also, twill fabric is designed to prevent any shrinkage or wrinkles.
These pants have an elastic waist so that users can have a personalized fit so that the pants fit snugly around your waist without needing a belt. These pants have a roomy fit, especially around the thighs and crotch area.
In addition, these pants are made of 100% cotton, which is extremely soft to the touch for enhanced comfort. They are available eight different colors all of which are light colors so that it doesn't absorb extra heat.
Buyers Guide for Golf Shorts
As the weather heats up, it can be incredibly uncomfortable to wear pants or even regular shorts. Luckily, many golf brands make golf shorts that look stylish and keep you comfortable throughout a full 18 rounds.
Moisture-wicking Properties
Moisture-wicking properties are perhaps one of the most important factors to consider. During hot days, it's easy to start sweating. Many golf pants use materials with moisture-wicking properties that keep your body sweat-free by transferring the body heat past the shorts and allowing air to flow. Expect many golf pants to use some variation of a dry-fit material.
Color and Style
Golfing has become more fashionable over the years. Not only do people care about its function, but its style as well. Think about whether the color will help you stay cool or not. For example, you may want to avoid black or other dark colors because they easily absorb heat. You'll want to pick lighter colors that reflect UV rays naturally to keep you cool.
Pocket Design
Most golfers carry many tools, such as their scorecard, spare golf balls, tees, and divot repair tools. Some people like to carry them in their golf pants pockets for easy access. Typically, these pants have two pockets on the side or two pockets on the back.
Final Thoughts
If you live in a warm-weather place or it's the summer season, you'll want to get golf shorts that keep you cool and provide plenty of flexibility. It's best to find fabric that is stretchy and has a straight-leg design. In addition, you'll want to look for pants that have moisture-wicking properties to dry sweat quickly. That's why we believe the Adidas Golf Shorts are the best in the market. It has everything you can ask for, such as its stretchy fabric, UPF sun protection, pockets for storage, and even plenty of vibrant colors to choose from. We hope you found this article helpful in finding the right pair of golf shorts. Now you can comfortably play golf all day long without feeling restricted or uncomfortably hot!
Best Golf Shorts For Hot Weather | Our Top 8 Picks
In this article, we'll cover the eight best golf shorts for hot weather and a buyer's guide on how to choose the right ones for you.
Product In-Stock: InStock