Are you a lefty golfer but unsure what golf set to buy? It can be difficult to find quality left-handed sets since many golf manufacturers don't produce as many. In fact, lefties only account for about 10 to 12 percent of the entire golfer's population.
Fortunately, even with the limited options, we've found 5 of the best golf club left handed sets in the market. These sets are also made by very reputable manufacturers that produce only high-quality products.
In a hurry? These are our top picks.
Precise M5 Men's Set – Best Overall For Beginners And Intermediate
5 Best Golf Club Left Handed Sets
After extensive research, we've found five of the best golf left-handed sets in the market. These vary in price and skill level, so we'll tell you who these sets are best for.
Precise M5 Men's Set – Best Overall for Beginners and Intermediate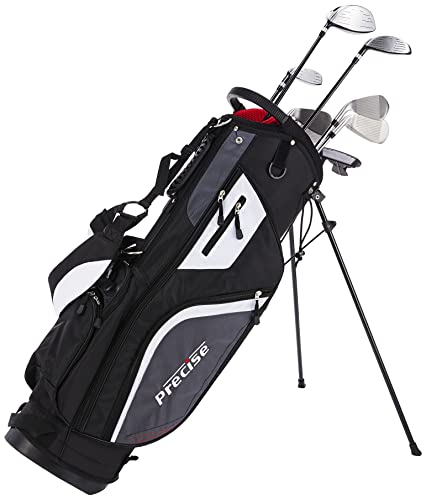 Top Line Men's M5 Golf Club Set , Left Handed Only, Includes Driver, Wood, Hybrid, 5, 6, 7, 8, 9, PW Stainless Steel Irons with True Temper Steel Shaft, Putter, Stand Bag & 3 Headcovers
Men's left handed golf set includes: 460cc driver, #3 wood, 21 Hybrid, 5, 6, 7, 8, 9, PW stainless irons, putter, bag and 3 headcovers
460cc driver for extensive distance and forgiveness
Great aiming mechanism putter
Premium stainless steel irons
Deluxe stand bag with spacious pockets and 3 matching head covers
Last update on 2023-11-18 / Affiliate links / Images from Amazon Product Advertising API
For beginner and intermediate golfers, we recommend the Precise M5 Men's Set. It offers excellent value because it has features that cater to less skilled golfers. This allows you to enjoy playing golf and stay competitive even if your skills aren't sharp yet. The set itself comes with many of the foundational clubs you'll need, such as a 460cc titanium driver, fairway wood, hybrid, putter, and 5-PW irons.
The Precise M5 Men's Set comes with many forgiving features. For example, the clubs have oversized heads allowing the user to easily find the sweet spot and get a clean shot on the ball. It also has an offset design allowing players to get the ball airborne much more easily.
The shafts are either built-in graphite or steel to produce top-notch performance and ensure that they'll last you a long time. In addition, the set comes with three headcovers to protect your clubs and a dual-strap stand bag allowing you to easily roll your clubs around the course.
Callaway Strata Men's 12 Piece Set – Best Variety
Sale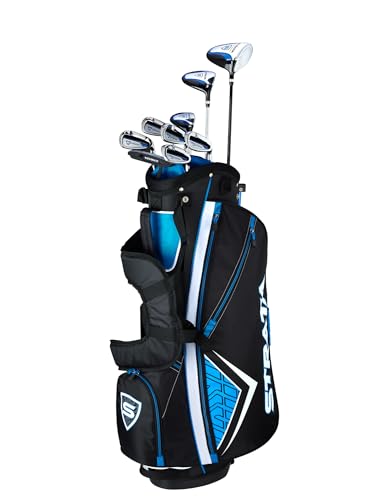 Callaway Golf Men's Strata Complete 12 Piece Package Set (Left Hand, Blue)
The Strata 12 piece set is designed for maximum performance right out of the box; The set includes: Driver, 3 Wood, 5 Hybrid, 6 - 9 Iron, PW, Putter, Stand Bag and 2 Head covers
Woods: Lightweight 460cc forged driver that has a large sweet spot, a titanium head, and provides more forgiveness to help you hit it farther off the tee. An oversized 3 wood is forgiving with a more aerodynamic head shape for long, high flying shots
Hybrid: A 5 Hybrid is a great alternative to difficult long irons that gives you more confidence on a variety of shots
Irons/Wedge: Stainless steel irons (6 9 irons, PW) offer a great combination of forgiveness and control
Putter: A mallet putter with alignment to help give you incredible accuracy
Last update on 2023-11-18 / Affiliate links / Images from Amazon Product Advertising API
We recommend the Callaway Strata Men's 12 pieces set for those looking for a good variety of clubs. Also, for more advanced players, the Callaway Strata comes in a 14-piece or 16-piece set. Its 12 piece set includes four irons, three woods, one driver, one putter, one wedge, and a stand bag. Also, it includes two head covers to prevent your clubs from getting dinged up.
Like many beginner golf sets, it comes with the 460cc driver, which has a very wide speed spot allowing for off-center strikes and plenty of forgiveness. The set also comes with a low-profile 3-wood with a loft of 15.5 degrees, making it ideal for high handicappers to use off the tee box. This allows beginners to improve their skills and gain some distance. Since the low profile helps maintain a low center of gravity towards the rear of the club. As a result, beginners get maximum carry and distance on their drives. Also, there are four cavity-backed irons from 6-iron to 9-iron. The cavity-backed design pushes the extra steel outward to the rim for maximum forgiveness and better balance.
It has quite the handy stand bag with multiple pockets and multiple pockets for utility. Users can carry their other golf equipment such as golf balls, rangefinders, drinks, and more. It has an oversized shoulder strap and two legs, so golfers can easily roll the bag around.
Cobra Men's Fly XL Set – Best for Senior Golfers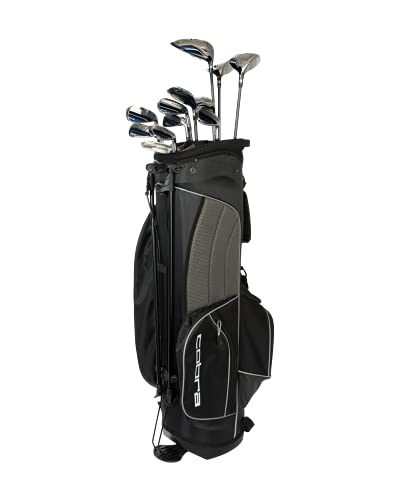 Cobra Golf 2021 Fly XL Complete Set Stand Bag Black-Blue (Men's Left Hand, Graphite Woods-Graphite Irons, Senior Flex, DR-11.5, 3W-14.5, 5W-18.5, 4H-20.5, 5H-23.6, 7-PW, SW, Putter, Stand Bag), Standard
Driver-A titanium driver (105 in Reg flex and 115 in Senior Flex) has an oversized shape and heel-biased weighting for longer and straighter drives
Fairway-3-wood and 5-wood feature a shallow profile and heel-biased weighting for accuracy and distance off the tee and from the fairway
Hybrids-4-hybrid and 5-hybrid creates perfect gapping between the fairways and irons for longer approach shots into greens
Irons-The irons (6-PW, SW) have a traditional cavity back design and perimeter weighting for effortless launch and distance
Irons-The irons (6-PW, SW) have a traditional cavity back design and perimeter weighting for effortless launch and distance
Last update on 2023-11-18 / Affiliate links / Images from Amazon Product Advertising API
For senior golfers looking for the perfect set of clubs to improve your game and maximize your potential, we recommend the Cobra Men's Fly XL Set. The set includes a driver, 4 and 5 hybrid, 3 and 5 wood, SW putter, 6-PW, headcovers, and a premium cart bag. Due to its senior-rated shaft, the driver is incredibly flexible with an 11.5 loft degree. The head shape is oversized, and the weight shifts towards the heel of the club, ensuring that your drives are straight and long.
The hybrids are especially useful if you end up in the rough or areas you need to get out of. They play exceptionally long and ensure the ball goes higher. Also, unlike many of the previous sets mentioned, these include a pitching and sand wedge. If you're ever in the bunkers or sand, these wedges will help you get out of them. These wedges also have precision grooves which provide enough feel to obtain the spin you'll want on the green.
Personally, we like the layout of the cart bag. It has a 14-way top divider to easily store your clubs. And there's plenty of storage space to hold other golf accessories as well.
RBZ Speedlite 13-Piece Set – Best for Game Improvement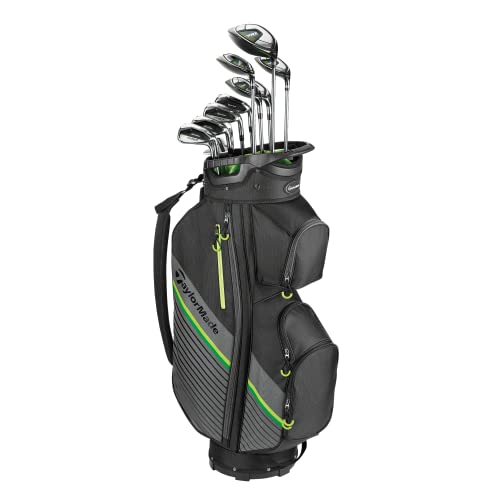 TaylorMade RBZ Speedlite Complete 13-Piece Set, Steel, Right Hand, Regular Flex, Titanium, Black, White, Green
Driver: A lightweight 460cc titanium head features advanced aerodynamic shaping for faster swing speeds and is aided by an ultralight 50g RBZ shaft. Has a high MOI head design with Speed Pocket flexibility deliver optimal launch and enhanced forgiveness.
Fairway: Lightweight 180cc clubhead. Low CG encourages higher launch. Speed Pocket provides more face flex & greater performance on shots struck low on the face. Rescue: Versatile sole design for high launching shots. Lightweight construction.
Irons: Advanced perimeter weighting designed for added forgiveness; concentrated mass near sole of the club creates lower CG for higher launch. The multi-function sole geometry provides added playability from various lies and smooth turf interaction.
Wedge: High-volume grooves for improved spin & control. C-grind sole to navigate variety of conditions. Putter: High-stability mallet features patented Pure Roll. Multi-alignment technology allows for aim w/topline, sight dot, or cutaway channel.
Bag: Taking inspiration from the racing world, this lightweight cart bag is the essence of speed & style. Featuring 8 pockets, including an insulated cooling pouch, 14-way top and structured base, it's a combination of functionality and clean aesthetics.
Last update on 2023-11-18 / Affiliate links / Images from Amazon Product Advertising API
Many golf sets claim to take your game to the next level, but only a few actually do. The RBZ Speedlite is perhaps one of the best game improvement sets in the market. That's because all of the clubs in the set have high-tech features to enhance your game. For example, the 460cc driver included has a titanium head design to keep the club very light. In addition, it uses its proprietary SpeedPocket technology, which enables the clubface to flex to improve ball speed.
The $3 and #5 fairway wood in this set is designed to increase the height and trajectory of your shots. They also have a SpeedPocket, but with a more CG-focused lower in the clubhead. This ensures that you obtain the apex height on your shots. These fairway woods cut through the rough lies well and can be utilized to effectively get a better launch off the tee.
What separates the RBZ Speedlite from other sets are the two rescue woods that are included. They are designed with soles that are rounded to ensure optimal turf interaction. These woods are excellent to have for both high and mid-handicappers. The #4 and #5 rescue woods provide sufficient offset to get square easily and cut through the rough like butter.
Wilson Men's and Teen Set – Best for Budget-Conscious Golfers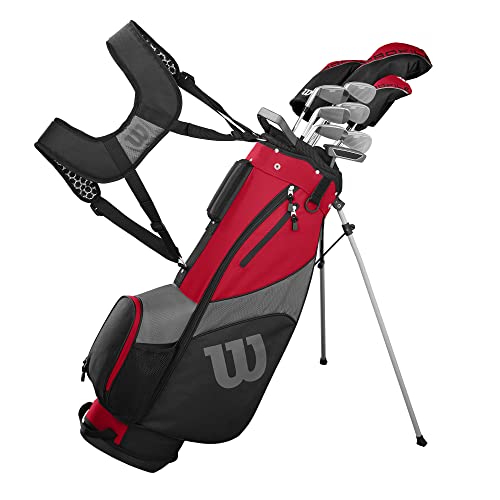 WILSON Golf Profile SGI Men's Complete Golf Set — Senior, Left Hand
Designed specifically for senior players with lightweight Senior flex graphite shafts (except putter) and soft, slightly larger diameter all weather grips
High-lofted driver has large sweet spot and is swing speed matched to improve ball flight for greater distance
Deep, perimeter weighted 431 stainless steel irons with very low center of gravity for improved accuracy
Lightweight, premium Cart bag features double padded should strap, easy to lift handle top, fleece lined valuables pocket and three roomy pockets
"Easy Launch" Sand Wedge features very low weighting and wide sole for better greenside control and improved shot making
Last update on 2023-11-18 / Affiliate links / Images from Amazon Product Advertising API
For high handicappers who are budget conscious, you can't go wrong with the Wilson Men's and Teen golf set. It features four irons, three woods, one putter, one wedge, three cushioned head covers, and a stand bag. Arguably, one of the most important clubs is the driver because it allows you to get a solid start to each round. This set comes with a 460 cc titanium driver lofted at 10.5 degrees. It has an aerodynamic design and a large sweet spot, which ensures greater distance and better head speed.
When you need an accurate show through a tight window to the fairway, the hybrid provided is an excellent option. It is shaped similarly to a fairway wood due to its wider body and a large flat sole. This larger sweet spot and box shape maximizes forgiveness.
All of its irons have a stain steel cavity back design, which is engineered for straighter and longer shots. Scoring clubs such as the putter are surprisingly lightweight and offer better shot-making and greenside control.
How to Choose the Best Club Sets for Left-Handed Golfers
Unfortunately, golf club manufacturers don't produce as many left-handed clubs as right-handed ones. As a result, there is a small selection to choose from. However, you still need to due to your due diligence and understand what you'll need in your golf clubs.
Budget
Generally, left-handed clubs cost just as much as right-handed clubs. If you're a beginner, you may want to get a relatively inexpensive set until you better understand your preferences, swing speed, and other factors. Also, you can get a feel for whether you want to commit long term to improve your craft.
Cart or Bag
Most golf sets come with either a cart bag or a stand bag. For golfers who love to walk around the course, the stand can be very useful. These bags have a base with wheels allowing you to roll them along with the payment of the course. Also, it stands up nicely to keep your bag from accumulating dirt.
On the other hand, the golf bag is excellent for storage; however, it is very inconvenient to carry it around while you walk. Also, if you're walking 18 holes, it can cause fatigue and slow down your swing speed.
Forgiveness
Forgiveness in golf clubs refers to the design and construction elements to reduce the effects of poor contact and bad swings at the ball. A golf club that has plenty of forgiveness will allow beginners to erase some of the off-center hits. The higher your handicap is, the more forgiveness you'll want the clubs to have. For low handicap players, you may want a less forgiving club since it adds more feel, playability, and trajectory control to your strikes.
Shafts
Depending on your club swing speed, you'll want a shaft that is conducive to your skillset. The flex of the shaft determines its ability to bend while you swing, which affects the direction and distance. For beginners who have a slow swing speed, you'll want a shaft with a lot of flexibility, allowing you to propel the ball farther. In contrast, a golfer with a fast and powerful swing speed should get a club with a stiff shaft and less flex, so you can better control your shot's exact direction and distance. The flex ratings of a shaft are extra stiff, stiff, firm, regular, senior, amateur, and ladies.
Here are the general guidelines for selecting the right shaft flexibility:
| | | |
| --- | --- | --- |
| Swing Speed | Carry Distance | Flex |
| Under 75 mph | Below 200 yards | Ladies or Senior |
| 75 to 95 mph | 200 to 240 yards | Regular |
| 95 to 110 mph | 240 to 275 yards | Stiff |
| Over 110 mph | Over 275 yards | Stiff or Extra Stiff |
Set Makeup
Anytime you're looking at a particular left-handed set, you'll want to make sure that you have a good variety of clubs. For example, the set should have some irons, fairway woods, a really good wedge, and some hybrids. If you're someone who hits many balls in the bunkers or sand, consider the pitching wedge or sand wedge. Also, make sure that the putter is something that you'll like since this is a big component of your game.
Frequently Asked Questions
There are famous southpaw or lefty golfers in the past and present. This includes golf legends like Phil Mickelson, Bubba Watson, and Mike Weir. If you're an amateur golfer, here are some common questions you may have asked yourself.
How Are Left-Handed Clubs Different?
Lefty golfers set up their stance and position the opposite way as right-handed golfers do. Southpaw golfers will have a slightly different posture and a different orientation. Even the strike angle is marginally different as well. One of the biggest challenges that lefty golfers face is finding the right training aids, guides, or coaching pros. Most training is geared towards right-handed players.
Should You Get a Full Set?
If you're a beginner, it's best to buy a full set of clubs rather than trying to pick them out individually. Many of the top golf club manufacturers will give you an excellent variety so that you'll be set for all facets of the game. Also, you'll have a consistent look and feel while also saving a bit of money.
Wrapping Up
Whether you're an amateur or an intermediate golfer, the Precise M5 is the best golf left-handed set we've found. This set has an excellent variety and high-tech features to make the game much easier on the course. As a result, you can quickly improve your handicap and golf scores much faster. No matter what the situation is, you'll have all the clubs you need at your disposal.
Finding lefty clubs isn't easy. That's why we've broken down our top picks and shared a buyer's guide on how to choose the one that fits your needs.
Golf Club Left Handed Sets | Our Top 5 Picks
Here's our list of the best golf club left handed sets. Everything you need to know before you decide to invest in your next set of clubs.
Product In-Stock: InStock